One of the things I look forward to at the beginning of each new year is seeing the HGTV Dream Home. Some years I love them and some years I wonder what in the world they were thinking (ha). Their Dream Home 2013 is a "Low Country Zen cottage nestled along verdant marshland on Kiawah Island in South Carolina." Take a look!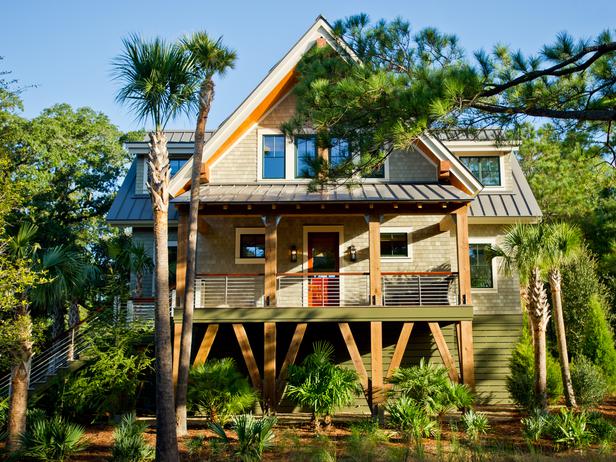 You can enter twice a day between now and February 15 to win this vacation home.
"The great room provides a front-row seat to Kiawah Island's dramatic marsh views."
Above the fireplace are two 150-pound gates from an architectural salvage store in Charleston. "It was a story of scale, trying to find something very interesting, very bold for the fireplace,"designer Linda Woodrum says. "And they just were perfect."
One decorating trend I just can't get on board with are the painted ceilings. I know it's the big thing and everyone is doing it, but I don't like 'em. Especially not when they're this dark.
The pantry…which would never look this nice if my family lived there unless I stashed all the cans of soup and bags of chips, etc., on the bottom shelves.
Last year's Dream Home 2012 in Utah was nice but it had mostly grays and browns and muddy colors that didn't do much for me. This year's went in the opposite direction–lots of color here.
One lucky winner will get this fully furnished vacation home, a GMC Acadia Denali SUV, and $500,000 to help cover the taxes.
Visit HGTV's official Dream Home page to take the full tour and enter the sweepstakes.
P.S. Do you like it better than last year's Modern Rustic Ranch House in Utah?
(Visited 5 times, 1 visits today)