The Bolton/Culbertson House in Pasadena was built in 1906 by notable architects Charles and Henry Greene, but many of the original details had been lost over the years. Enter Tim Andersen, the architect who restored the beautiful Craftsman with gleaming woodwork and built-ins to die for. It's on the market, so take a look…
Dr. William T. Bolton commissioned the house from Greene & Greene but died before he could move in. His widow sold it to the Culbertson sisters, who made some changes to the original plan.
One of the biggest alterations came in 1929, when Garrett Van Pelt was asked to design a leaded-glass bay window to the main stairway, which you can see above. (You can see a photo of the original windows in the Greene & Greene archives.)
This house was designed during a transitional stage between the simpler, earlier Craftsman houses that Greene & Greene architects built and the more impressive "ultimate bungalows" that characterized their later work, such as the famous Gamble House nearby.
This photo of the entry hall was once featured in Popular Woodworking (below). The front door is 58″ wide and the glass has a trailing vines motif that they carried into the living room when they restored the original fireplace:
This staircase is one of my favorite things in the house. Simple, classic, beautiful.
Architect Tim Andersen, who led the restoration efforts, says the original features were reproduced in the living room "based on a tiny pre-1918 photo." Here's how it looked when they were working on it:
He says, "When we removed canvas that had been glued to living room walls and ceilings in 1918 remodel, we found the Greenes' original paint colors and a perfect impression of box beams and trim. We rebuilt these in Port Orford cedar. Small casements (found in the basement) above new bench, box beams, and trim were all installed by master craftsman Glen Stewart." Here's how it looks now:
That's Grueby tile on the fireplace, which was known for its popularity during the Arts and Crafts movement. They found the tile behind a wall that was added during the 1918 remodel. Here's a photo taken while they were working on the fireplace:
He explains, "To cover damaged tiles, we designed a new cooper firebox header. Metalsmith cut design from a full size drawing we provided. Trailing vine leaps at the right moments to cover holes in tiles." Pretty clever solution. Here's how it looks now, with the new design elements blending seamlessly with the old:
"The house had been modified and enlarged over its 74 year history, and many original features lost. Where possible we recovered the Greenes' designs. Much of the interior was restored, but living room, exterior terrace, and kitchen had to be entirely rebuilt."
The Greenes used mahogany for the paneling and trim. The alcove was a later addition. Andersen says, "We added posts, benches and paneling to better integrate it with dining room." Gorgeous.
I'm always nervous that we'll get to the kitchen in a house like this and it will be totally updated and modernized (and out of place), but this one looks right at home with the rest of the rooms:
Andersen says, "Original kitchen was lost decades earlier, but its narrow footprint remained. Our kitchen design replaced a 1952 remodel done in Chuckwagon Modern. New cabinets were modeled on those in the Gamble House. Glen Stewart built them on-site in clear heart redwood."
A reader was intrigued by a photo of this house in the January 2015 issue of Better Homes and Gardens and asked me to find out more about it for her (on page 14). When I learned it was a Greene & Greene that had been restored, I got all kinds of excited. So thanks to Christine for telling me to look into it!
The 6-bedroom, 7-bath house is listed in the National Register of Historic Places.
It's currently on the market for $2.845 million. Here's hoping the new owner is someone who appreciates its history and maintains its Craftsman details! Check the Crosby Doe Associates website for more information. (Listing photos by Cameron Carothers.)
There's more information about the restoration on architect Tim Andersen's site with photos by Alex Vertikoff and John Muir. Some of these are older listing photos I found via Curbed. The Greene & Greene archives have the original house plans and black and white photos, which are pretty cool to see, too.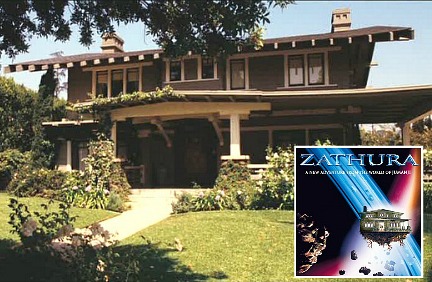 (Visited 11 times, 1 visits today)