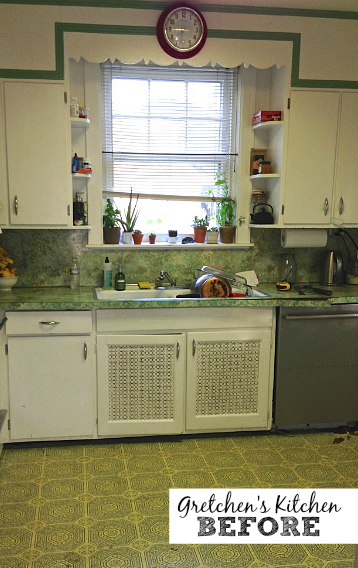 Gretchen told me that when she and husband Steven bought their house near Philadelphia, she liked the quaint vintage 1950s kitchen that came with it.
But the longer they lived (and cooked) there, the clearer it became that it needed some updates: "It felt old and dingy, and the fluorescent light didn't do it any favors."
So they gave it a facelift that didn't cost a fortune. Take a look!

An Old Kitchen Gets a New Look for Less than $1,500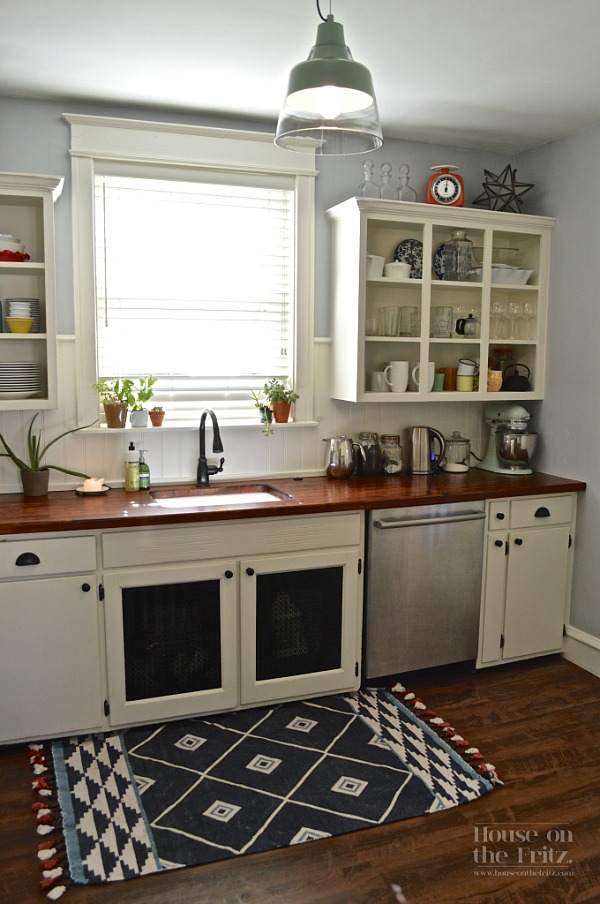 Gretchen says they wanted "just enough of an upgrade that I didn't loathe being in there; something that was clean, tidy and user friendly."
Not only that, but it had to be "a new kitchen on the cheap."
They wanted to keep it under $1,500.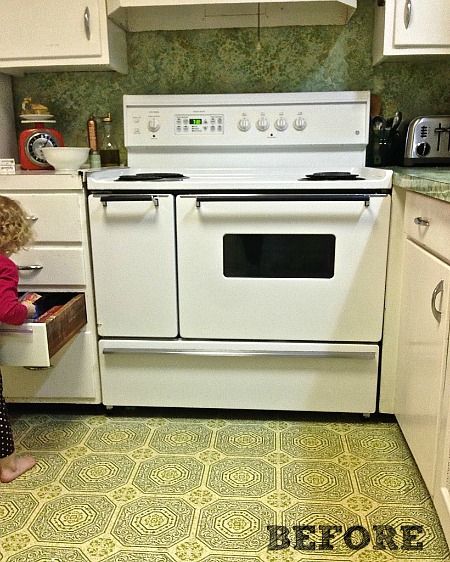 The textured linoleum floors were impossible to keep clean, and the "petri-dish" countertops "literally looked like a sixth-grade science experiment where you grow bread mold."
So they both had to go.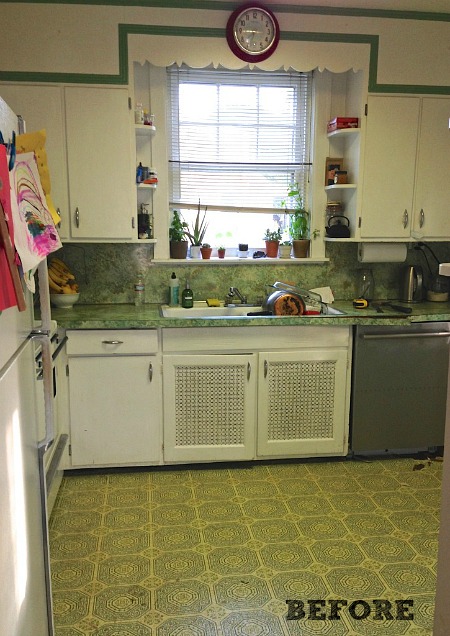 "We had a long debate about whether or now to modify the cabinets and remove the (unusable) portion that met with the ceiling. I won — they were taken out. We ordered maple countertops from Lumber Liquidators and the lead time was 10 days. That gave us 10 days to get everything else in order before they arrived."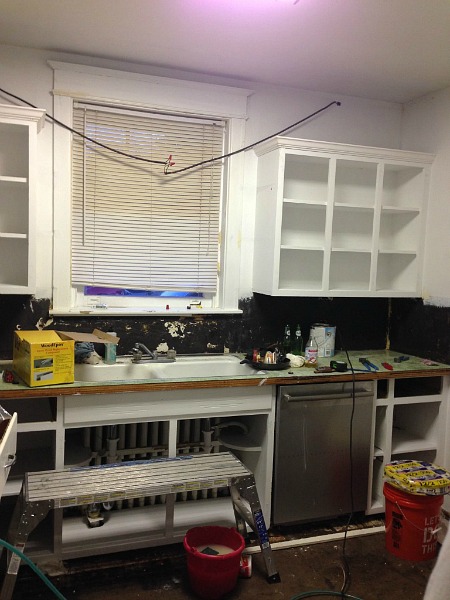 "After taking out the bulkhead, Steven installed crown molding to the tops of the cabinets. I think this made them look complete, but also gave the sense that the room was bigger. Visually there was nothing blocking your vision to the four corners of the room."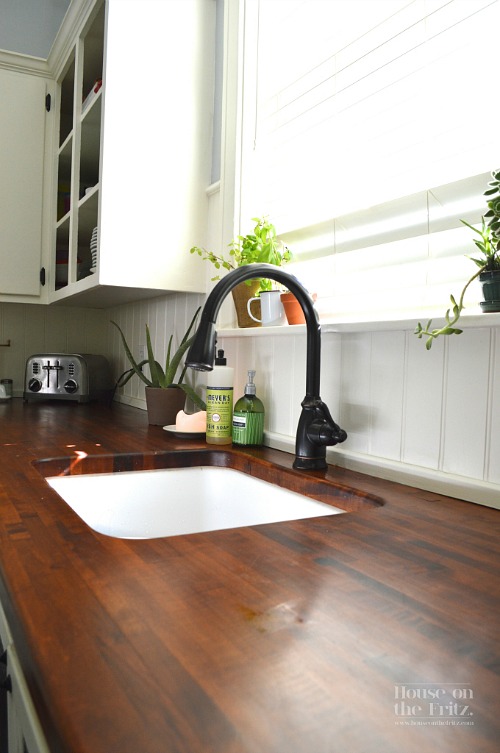 They sanded, primed, and then painted the original cabinets and found that they had been painted green and pink in the past. Old newspapers stuffed in the walls dated back to the 1940s.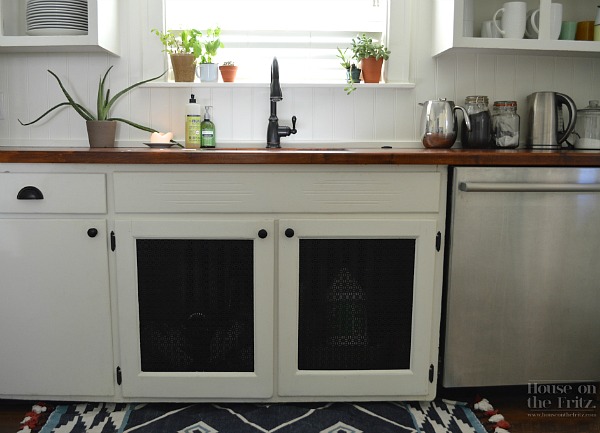 "We painted all of the cabinets the same white that we had been using on the rest of the trim (Sherwin Williams Dover White 6385). I really liked the look of open shelving, so we used the cabinets and just removed the doors from the cabinets flanking the sink."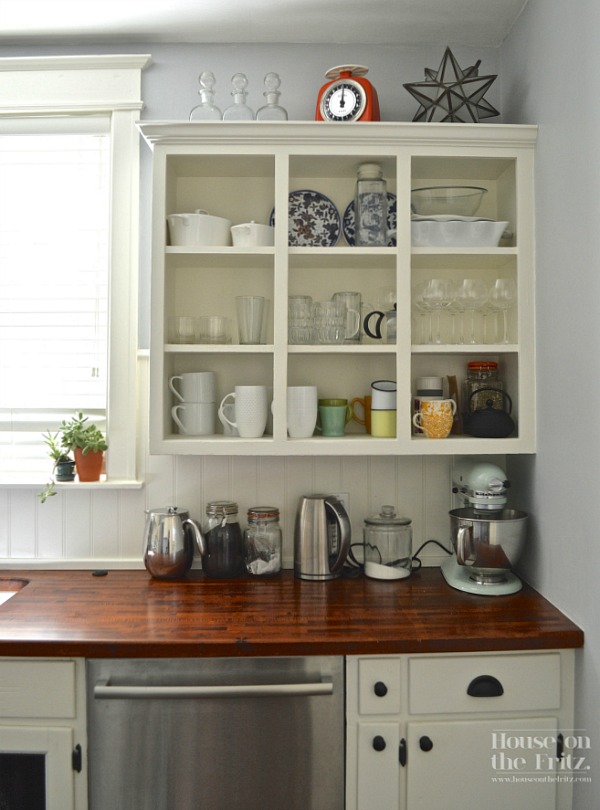 The floors look like hardwood but are actually laminate, which was easier on their budget.
They're making do with the original stove and refrigerator for now, but the changes they made, she says, "have really increased my quality of living. It's now my favorite room of the house and I am cooking up a storm. I couldn't be happier with the transformation and that we were able to do it all under $1,500."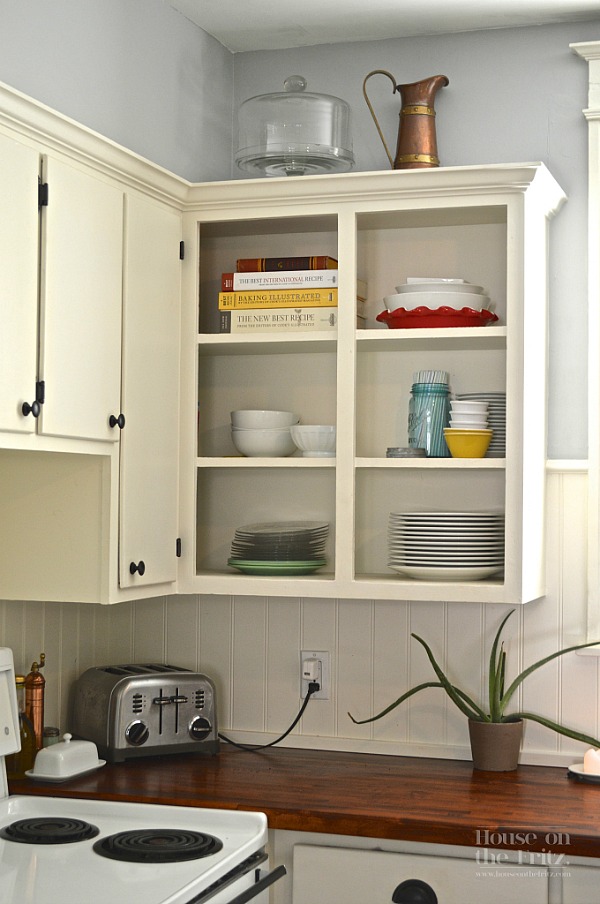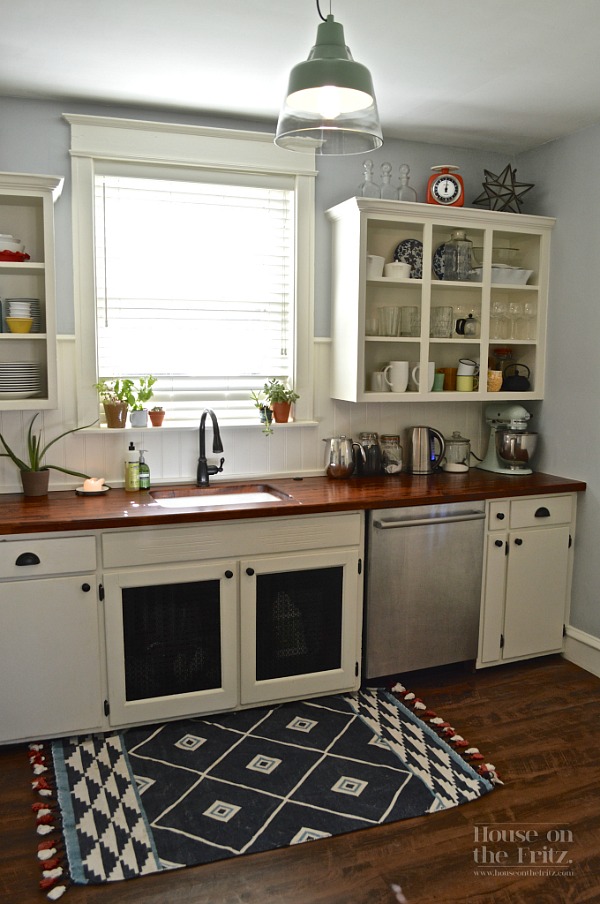 It looks great! Thanks to Gretchen and Steven for sharing their kitchen makeover with us.

For more photos and information, visit their blog House on the Fritz.