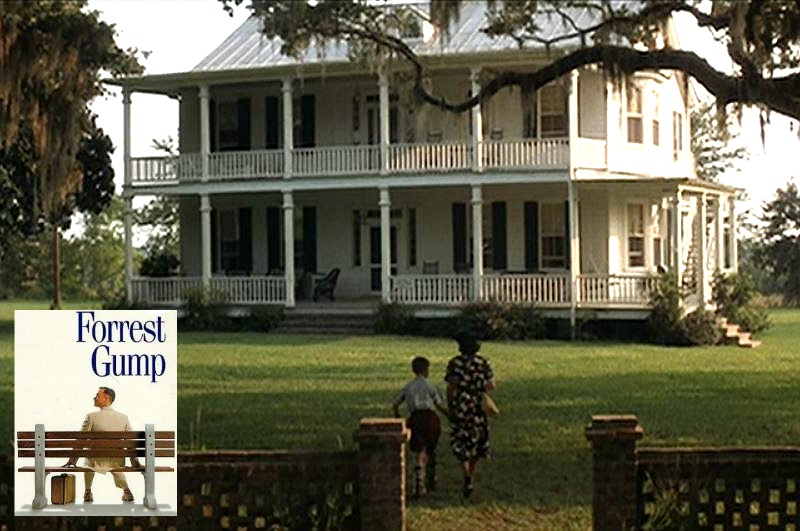 Twenty years ago the movie Forrest Gump hit theaters, so let's take a look back at that wonderful old house in Greenbow, Alabama, that Forrest Gump and his mama lived in.
I've had a lot of readers ask me where it is and whether it's still standing, but I'm afraid I've got some bad news on that front…
*UPDATE: There's a new post about this movie answering questions about Jenny's farmhouse
and whether Forrest's house was in the Mel Gibson movie The Patriot. Read it here.*

Forrest Gump's House in Greenbow, Alabama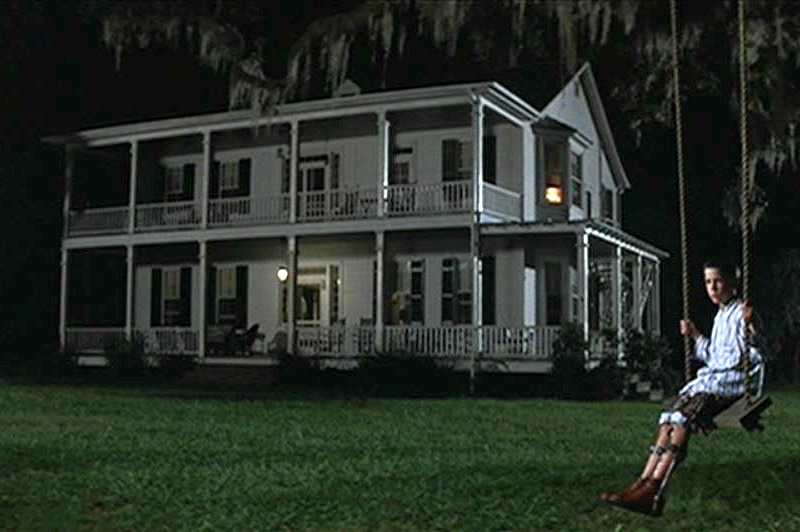 Although it looked like a real house that had been around for decades, it was actually built for the movie "hastily and not to code," and was torn down after shooting ended.
Also? It wasn't even in Alabama.
Note: There are Amazon affiliate links in this post that may earn me commission.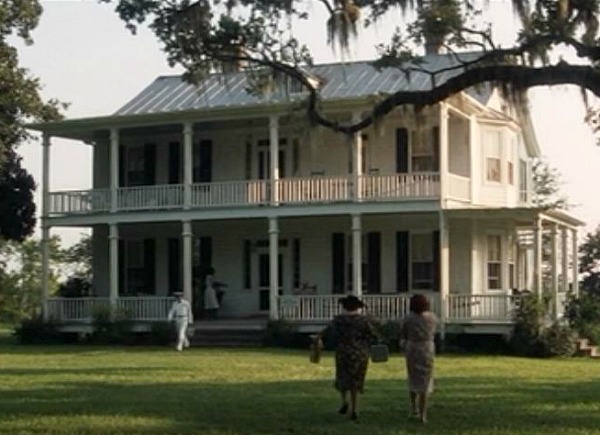 Besides the town square scenes, which were filmed in Savannah, Georgia, most of the movie was actually shot in South Carolina.
Both the Gump house and Jenny's farmhouse were reportedly built on the Bluff Plantation on the Combahee River between Varnville and Beaufort.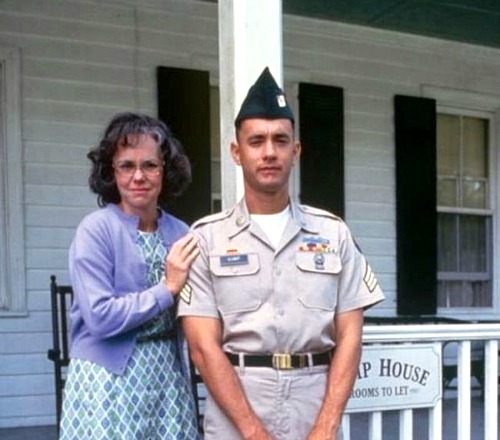 Mama Gump took boarders, and there was a sign on the front porch that said, "Rooms to Let."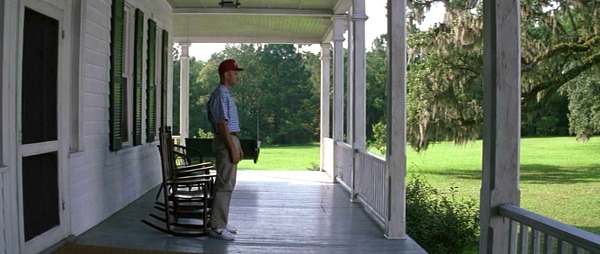 Standing in for the fictional town of Greenbow was Varnville, about 35 miles outside Beaufort.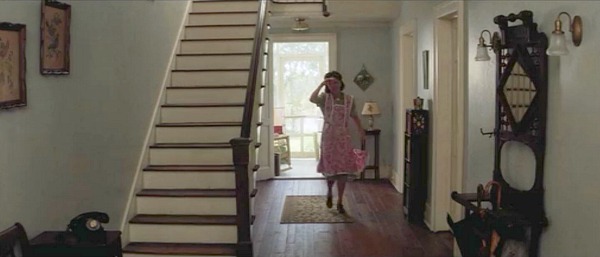 Even the Vietnam scenes were filmed in South Carolina on Fripp Island and Hunting Island State Park, off the Beaufort coast.
Those mountains, like so many other things in the movie (the ping pong balls, Lt. Dan's missing legs, etc.), were created with CGI.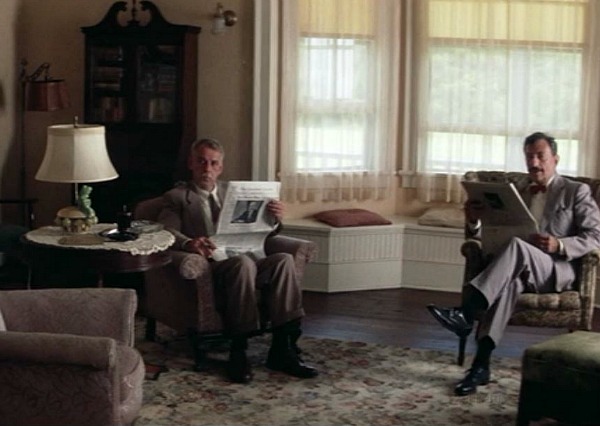 Hard to believe these rooms were built for the movie. They have an authentic old-house look to them.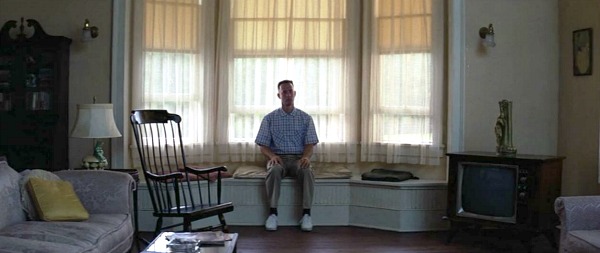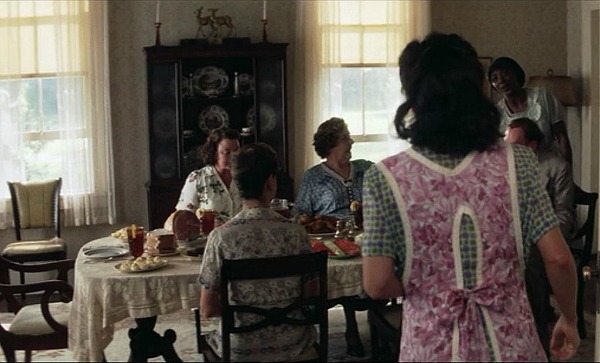 Bill Murray, John Travolta and Chevy Chase all reportedly turned down the role of Forrest, and both Demi Moore and Nicole Kidman are said to have passed on the role of Jenny.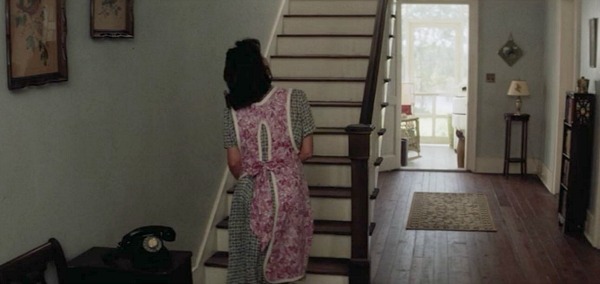 Tom Hanks's distinctive accent in the movie was inspired by the actor who played Forrest as a kid and really spoke that way (Michael Conner Humphreys).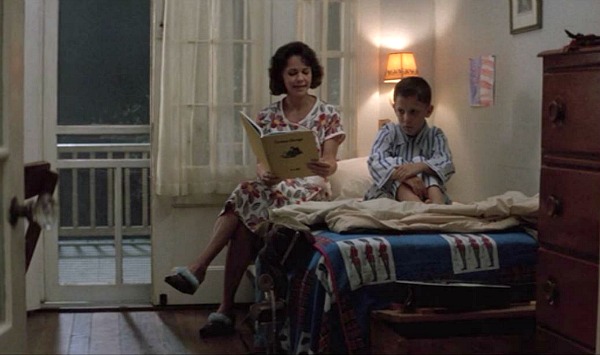 Sally Field, who played his mother, is only 10 years older than Tom Hanks in real life.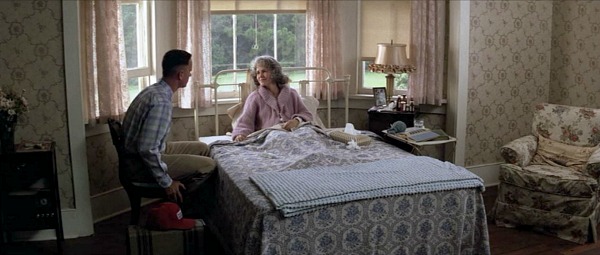 We saw the bedroom when Mama Gump lay dying in the bed, and then again years later when Jenny was sick.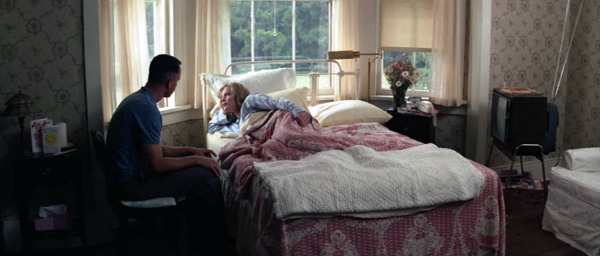 When Jenny rejects Forrest, he says, "I may not be a smart man, but I know what love is."
That pretty much sums up the theme of the movie, doesn't it?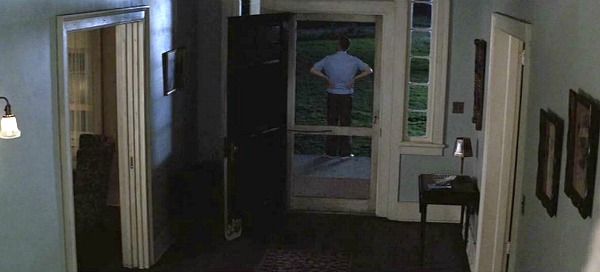 After Jenny leaves him, he decides to run.
He takes off down the long lane in front of his house and then spends over three years
running from one side of the country to the other…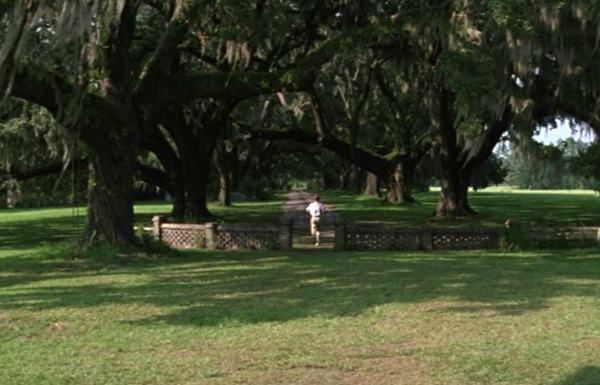 I wish we'd gotten to see more of the rooms inside the house, like the kitchen and the screened porch!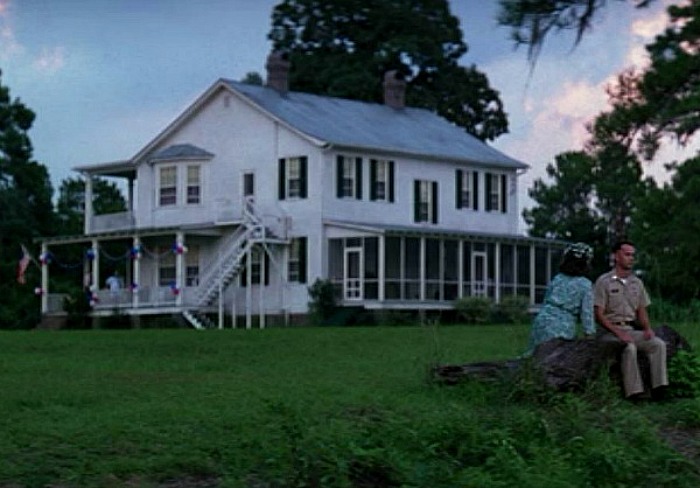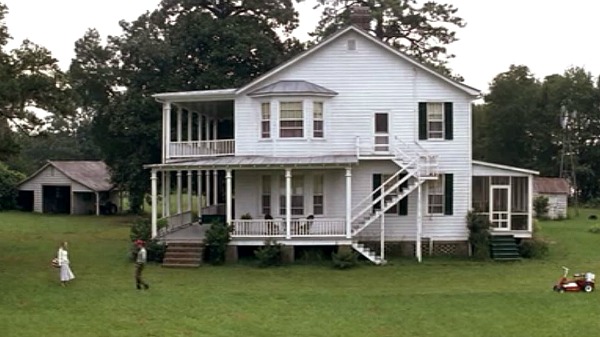 The house was decorated for the wedding with pink ribbons and flowers: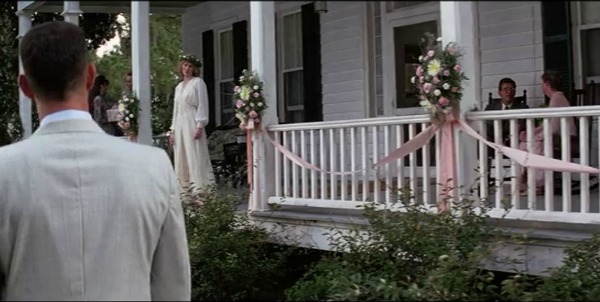 Robin Wright was so good in this movie. I tear up every time I see the scene where she throws rocks at her (abusive) dad's old farmhouse and Forrest says, "Sometimes I guess there just aren't enough rocks."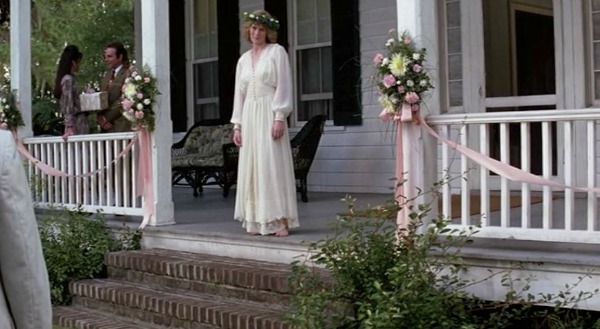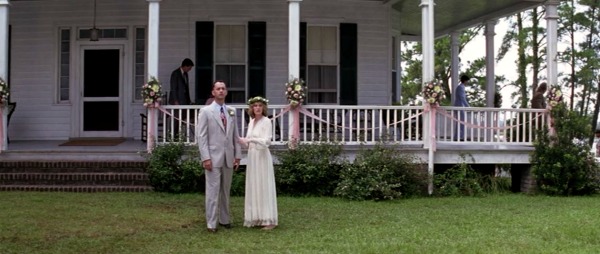 People has an article about all the ways the movie influenced pop culture since it premiered 20 years ago.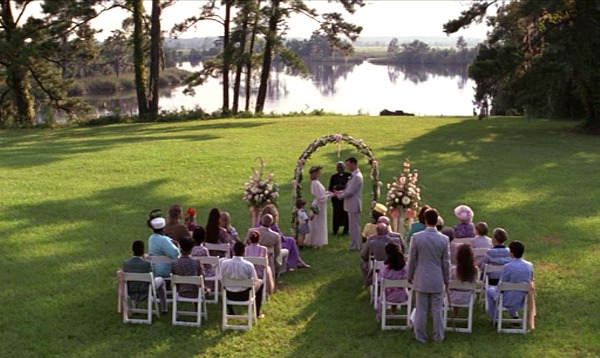 Haley Joel Osment made his big-screen debut as Forrest, Jr.
The three of them walk down the drive to the house near the end of the film:
(Amazon affiliate links)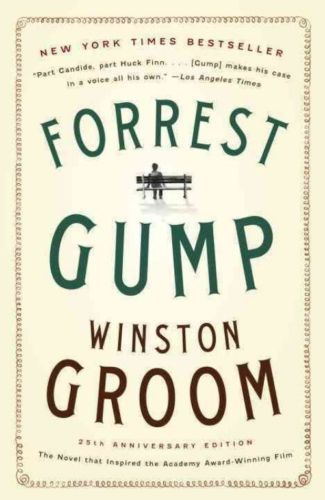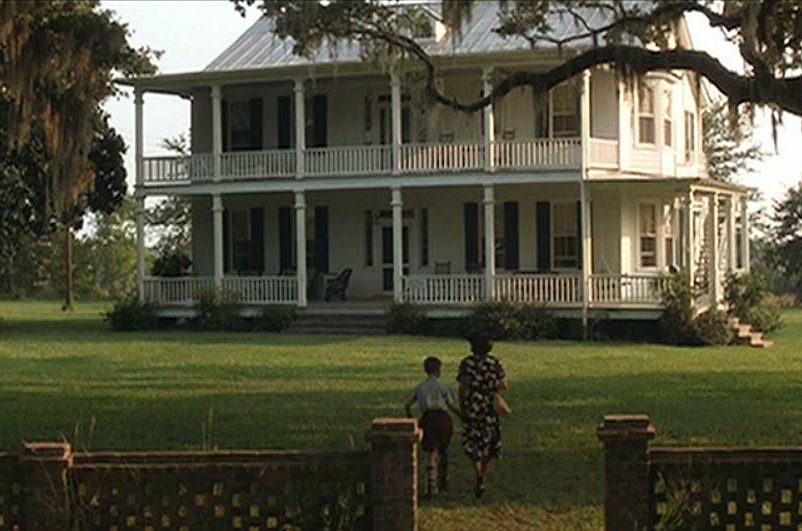 *UPDATE: I have a new post with better photos and information here.
For more information about the Forrest Gump house,