When I saw Dimitra Anderson's colorful California ranch in a recent issue of Better Homes and Gardens, I liked it so much that I tracked down more photos of it online. It's always interesting to see how they style rooms differently for magazine shoots, so let's compare them to see what they did to make the rooms "pop."
Her cheery "tangerine and cornflower blue" family room grabbed my attention first — maybe because it reminds me of my blog? 😉
Dimitra is a designer who remodeled her 1950s ranch in 2010. She wanted a "neutral canvas" to build color on without committing to any kind of permanent color scheme.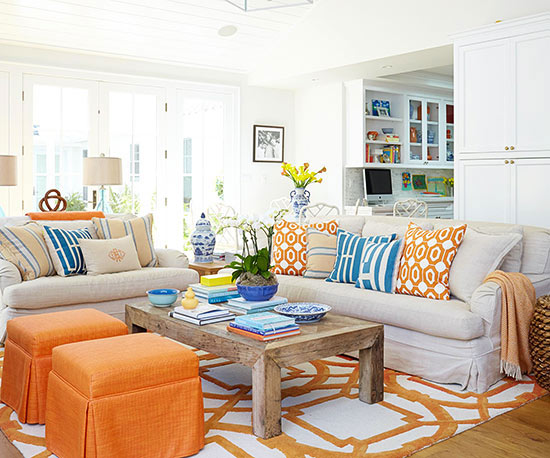 I found additional photos of her house on her site Evars + Anderson. Here's one that shows how the family room looks from the same angle:
A few changes I noticed right off: they swapped out the coffee table and piled it with books for the magazine shoot. There's a different mix of pillows. And the orange ottomans sit closer to the fireplace in her photo:
There's a round table with chairs behind the sofa. Here's how it looks on her website:
And here's how the corner was styled for the magazine with a family photo on the wall, a pillow on one of the chairs, and flowers to add more color:
Mag photos are generally taken closer up, too. You don't see as much of the room in them. For instance, in this next photo from her portfolio, we see not only that table and chairs to the left, but glass-fronted cabinets with a collection of blue and white pieces:
But for the magazine, they focused on the cabinets and styled them with more orange and yellow. The chair cushion is now orange instead of white (with a yellow purse sitting on it!), and they broke up the blue and white with orange pieces, as well as artwork and flowers:
It's amazing to me what a few small changes and additions to a space like that can make in a photo. The stylist for this shoot was Scott Horne. I wish he'd come style my house!
Another room I liked was her "jungle green" living room. Here it is on her website:
For the magazine they just made a few small changes by bringing in a blue chair, styling the coffee table with hydrangeas, and swapping out the bench in front of the fireplace as you can see here:
Did you notice that the coffee table in the magazine photo (above) is the one we saw in the family room in the portfolio photos (above-above)? There's definitely an art to styling them, so I always pay attention to how the pros do it.
The BH&G article says: "In daughter Charlotte's room, a preppy green on the walls is paired with turquoise accents and grounded by a tween-friendly black and white rug."
The room was painted Ralph Lauren's Lime Green in the magazine. So I was surprised to find another photo of the room on Dimitra's website and see that the walls look more kelly green:
I like them both. It's fun to see how a different shade of the same color changes the mood.
And finally, I'm jealous of her sunny mudroom with the Dutch door and built-in corner cubbies, so I've gotta throw in a photo of it while I'm at it:
See anything in the styling of these rooms that you could try at home? There are more photos on BHG.com (photography by David Tsay; story by Kristine Kennedy). And be sure to check out Dimitra's website Evars + Anderson to see more of her house and other projects she's worked on with her designing partner Nancy Evars. Love their clean but colorful style.
 P.S. More fun with magazine styling before & after pics:
Welcome to my sunroom! I get a lot of questions about it from readers wanting to know everything from how big it is to how well…
Boy, was this old cottage in bad shape when the Morgan family bought it. The tiny farm manager's house was one of four buildings on auto magnate Henry Ford's…