When I saw designer Dimitra Anderson's colorful California 1950s ranch featured in a recent issue of Better Homes and Gardens, her cheery combination of tangerine and turquoise caught my eye.
Take a look!

A Colorful Ranch
She wanted a "neutral canvas" to build color on without committing to any kind of permanent color scheme.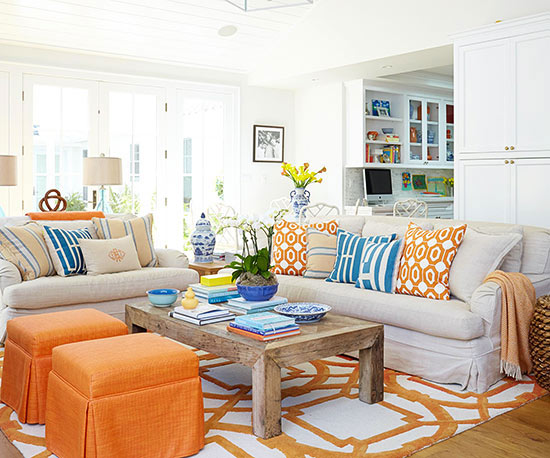 It's amazing to me what a few small changes and additions to a space like that can make in a photo. The stylist for this shoot was Scott Horne. I wish he'd come style my house!
The BH&G article says: "In daughter Charlotte's room, a preppy green on the walls is paired with turquoise accents and grounded by a tween-friendly black and white rug."
And finally, I'm jealous of her sunny mudroom with the Dutch door and built-in corner cubbies:
See anything in the styling of these rooms that you could try at home? There are more photos on BHG.com (photography by David Tsay; story by Kristine Kennedy). And be sure to check out Dimitra's website Evars + Anderson to see more of her house and other projects she's worked on with her designing partner Nancy Evars. Love their clean but colorful style.
 P.S. More fun with color:
(Visited 5 times, 1 visits today)