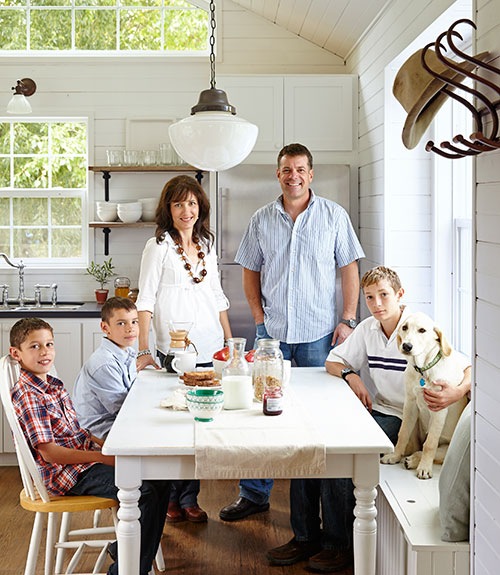 Carmella Rayone and her husband Russ live happily in a small (some would say tiny) 665-square-foot cabin in Wyoming with their three boys and a dog named Nellie.
After some dark financial days that included unexpected layoffs and selling their former $240,000 house in Florida for only $80,000, they realized they could live with less. A lot less.
Let's take a look at how they're making their little house work for their family of five.

Carmella Rayone's Tiny House in Wyoming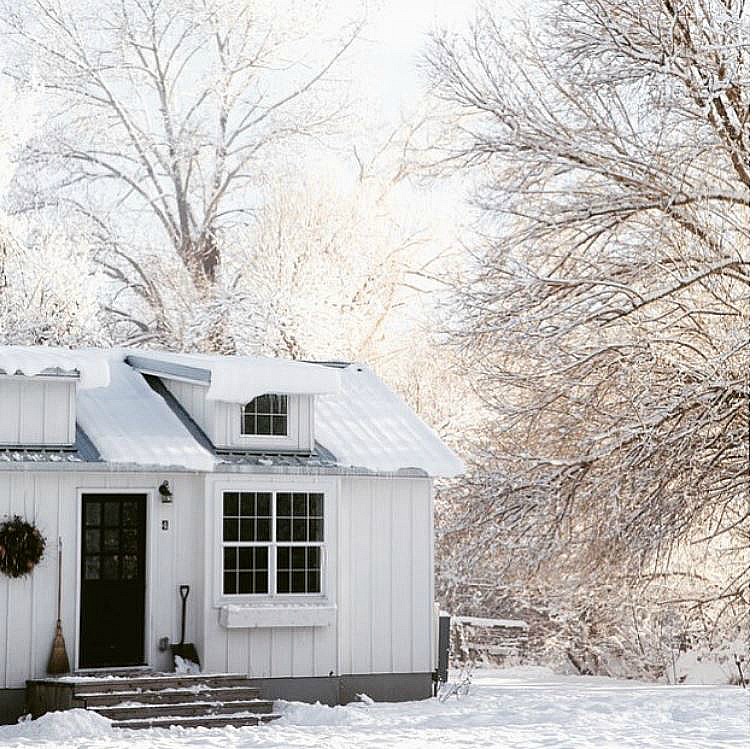 I find Carmella's blog and the stories she tells from her small house truly inspiring.
Apparently so does Country Living magazine, which featured it in their February 2014 issue: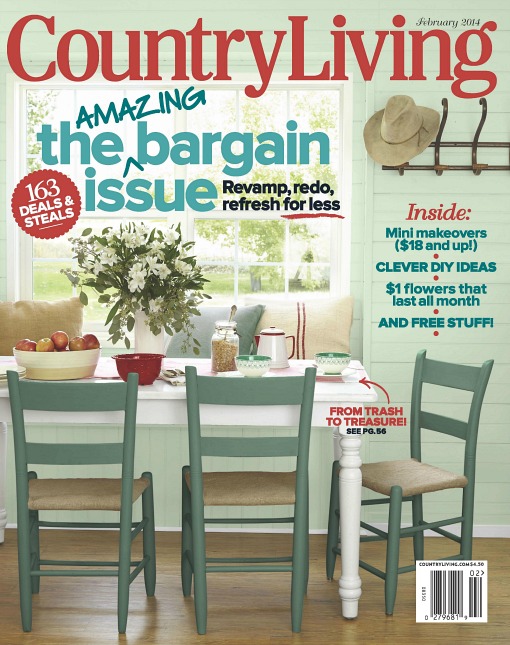 It's always fun to see how magazines stage a room. For instance, in that cover shot, Carmella's kitchen walls are green.
In real life? "Pure White" by Sherwin Williams.
She says the chairs were brought by the production crew and actually painted green on site!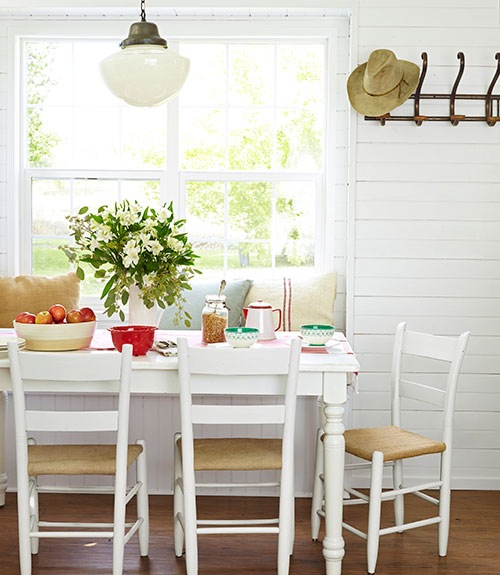 Carmella says they created "sunlight" for the photos with a strobe light set up outside the window.
Another thing they brought with them — a Dash & Albert rug for the kitchen: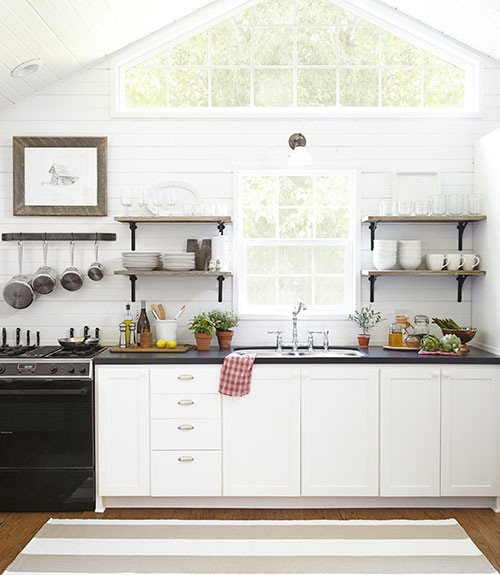 When circumstances took their family back to "financial square one," Carmella says they started to have "a small vision that was large with life. And everything about it pointed toward simplicity."
They moved to a small town in the Wyoming Mountains to start their new life: "It's living smaller in order to live larger. Here, we learn, we love, and we live . . . with less."
I just love her outlook: "When the world turns upside down, things shake loose. Curiously, after the dust settles and you take a look around, you may just find that those things that were falling fast needed to go anyway."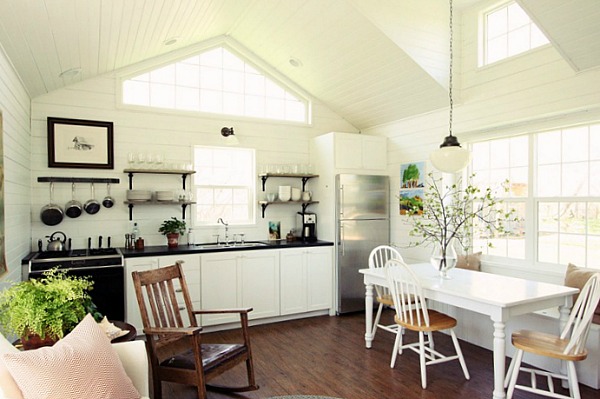 In 2012 Carmella drew up the plans for the kind of house they wanted for their family of five. She had worked as an interior designer and knew how to sketch plans to give a builder.
Amazingly, they spent well under $100,000 building and finishing the tiny house and didn't go into debt doing it.
Here's how it looked when the cabin was first built: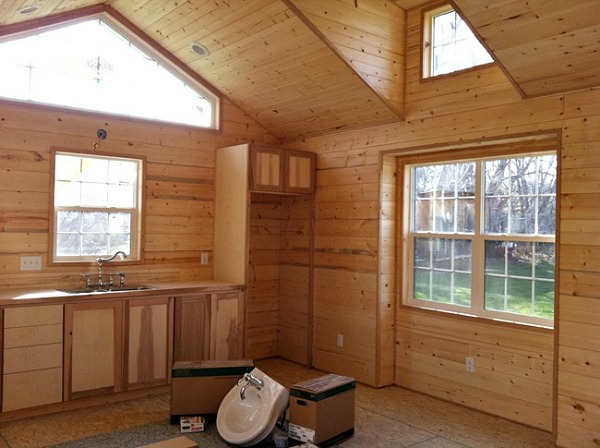 Amazing the difference some white paint can make in a space like this!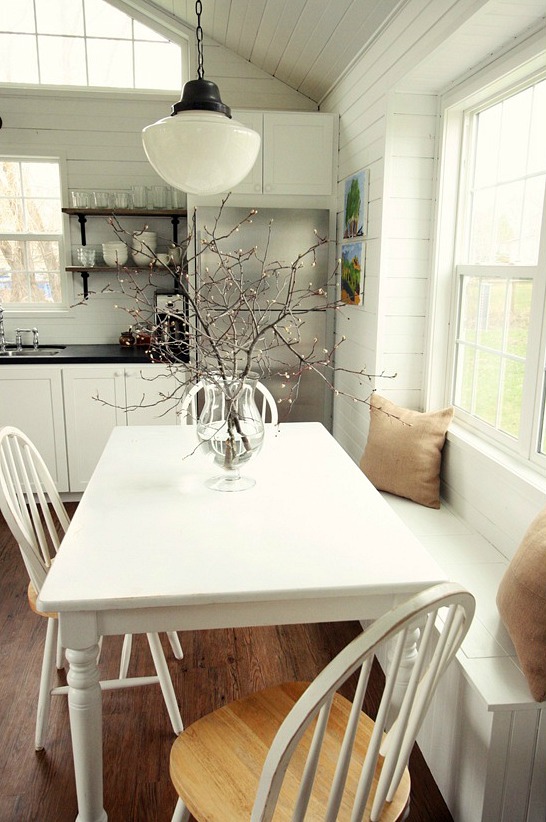 It's not easy to downsize this much, that's for sure:
"We gave up much. We gave away much. We sold much. But we gained even more. For us, financial security was no longer linked to the size of the portfolio or the potential of real estate holdings; financial security now meant zero debt and a job well loved.
"Home security meant building a 665 square foot portable guest cabin, placing it on rented land, and living there while saving our cash to buy land and build a house. Life security meant adjusting parameters to ensure more time for passions, and less for obligations."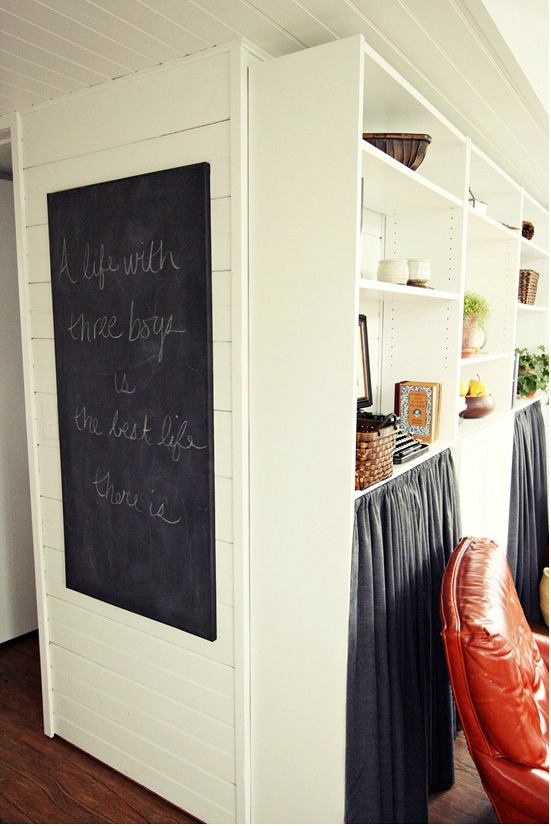 "We look back now on the bit we've come, and we can't help but smile. Now, we live with intention; purpose marks our days as we learn and we grow, with falling down and rising up, in this new life.
"We've traded burdens for breath.
"We will never go back."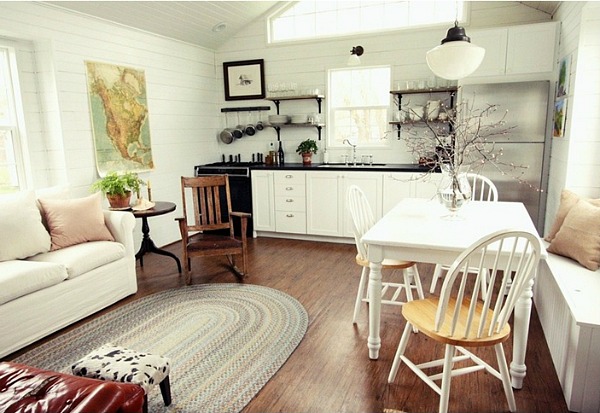 The kitchen countertops look like expensive soapstone but are really only $200 worth of plywood,
coated in chalkboard paint and sealed with paste wax. Which is similar to how they created fake soapstone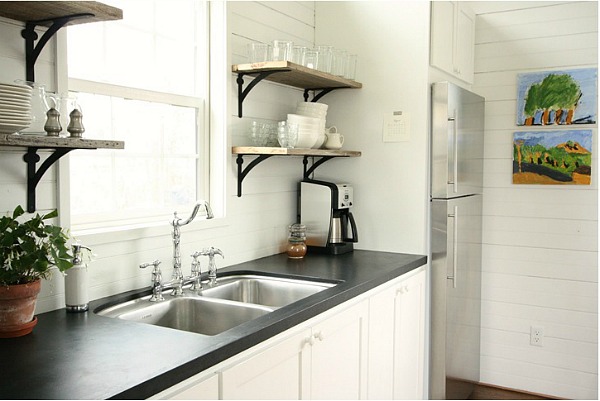 Carmella is working on plans for a modified foundation-built version of their cabin
for other people who are interested in building one and living a simpler life, as well.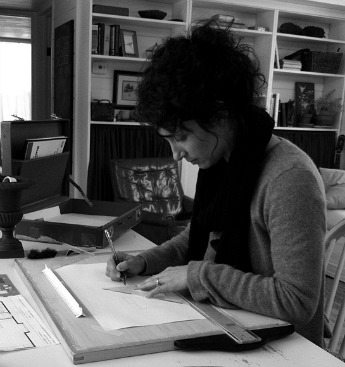 Thanks to Carmella for sharing her story and her house with us.

Visit her blog to learn more about their adventures in simplicity.

You can also follow her on Instagram.

Go to Country Living to see their article about the house.