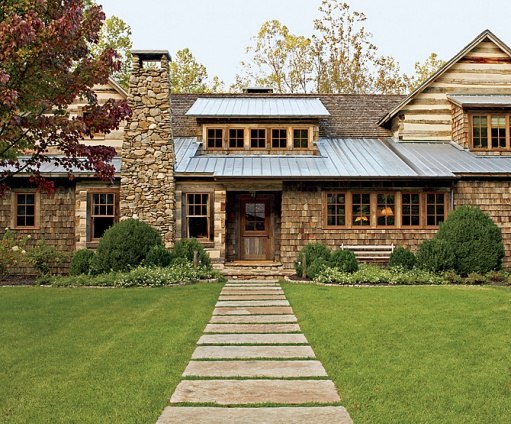 Featured in Architectural Digest, Toad Hall belongs to Kreis and Sandy Beall, and it sits on 32 acres in Tennessee.
The architect was Jack Davis, and they brought Atlanta-based designer Suzanne Kasler in to give the log house some English Country Style.
The timber used for the buildings was gathered from old log barns around Tennessee:
"They form a robust and richly textured background for the Bealls' vast collections of 18th- and early-19th-century European furnishings and household ornaments."
Decorating the interiors of a log house proved to be a bit of a challenge.
Kasler told AD: "It's an English country house made out of logs—a dark surround you're working with, and everything had to have texture and dimension. Fabrics had to have enough weight to hold their own. Scale and strength were key elements."
The English-style gardens were designed by Mary Palmer Dargan and are found all around the property.
There are also some guest cottages on the property.
Suzanne Kasler tells AD that the two-room Tadpole Cottage was "built from a simple sketch. The builder just put it together." She adds that two words that embody the property are "charm and folly!"
You can read the article by John Loring and see