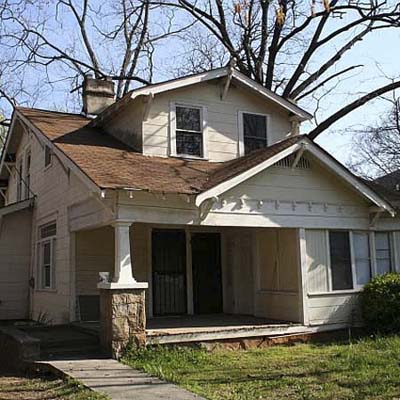 This bungalow in Atlanta's Kirkwood neighborhood built in 1911 had seen better days.
There were iron bars on the doors and windows and bullet holes in the siding. But when Kara O'Brien saw it, she knew she had to buy it: "It was just so sad looking. I thought, I need to fix it up."
I'm not sure I would have seen the potential that they did in this "hybrid Craftsman bungalow with Victorian detailing," as she describes it.
But she and her partner Paula Rose began renovating it in 2005. Take a look at it now:
Kara and Paula own Laughing Sun Renovations, and their experience with projects like this shows.
When this bungalow was featured in This Old House magazine, Kara said:
"Sadly, the house had fallen into terrible disrepair from years of sitting vacant. Before renovation, it was a home to squirrels, birds, bugs and the floor system had vines growing up between the joists and the rotted floorboards. Adding to the wildlife, the home was chopped up into three apartments; its grand rooms bisected by makeshift walls."
The bungalow was built as a spec home in 1911 by builder Frank Ruggles: "The house was light-filled and featured original wavy glass windows with interesting mullion patterns, heart of pine floors, an original but deteriorated sunroom, and a magnificent original dining room mantel."
Read the full story and see interior photos at This Old House

(photos by Deborah Whitlaw Llewellyn and the homeowners).