In the early '70s, a now-classic documentary was made about Jackie Kennedy's aunt, Edith Bouvier Beale, and her daughter, known as "Little Edie," who were living together in a broken-down family mansion in East Hampton. In 2009 the HBO movie Grey Gardens introduced a new generation to the story–and the beautiful old estate they lived in.
There's a new house on the market in Massachusetts that was inspired by the HBO version of Grey Gardens in its heyday (shown above). But first, let's take a look at how it looked in the movie.
Sets from the HBO Movie "Grey Gardens:"
Production designer Kalina Ivanov did an amazing job recreating the rooms and bringing them to life.
In the movie, Jessica Lange played the eccentric Big Edie, and Drew Barrymore was her daughter, Little Edie.
Sadly, by the time the documentary was filmed in 1973, the real-life Grey Gardens had deteriorated to this: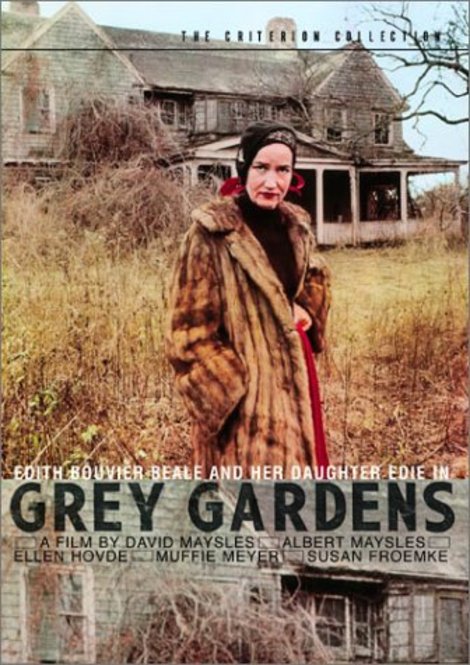 Hard to believe the women were still living there amid the filth and rotted floorboards–not to mention raccoons and other critters. Albert Maysles, one of the directors of the documentary, said the most difficult thing about filming it was the condition of the home: "The first thing you noticed was the smell from all the animals," he said.
Grey Gardens in the 1973 Documentary: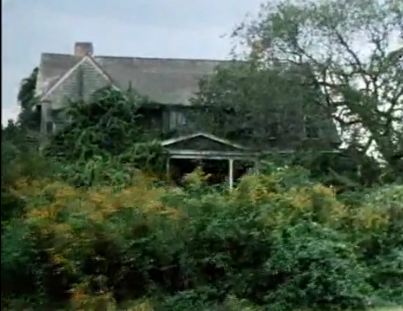 In 1984, Architectural Digest featured the iconic house, which had been bought in 1979 by Washington Post editor Ben Bradlee and his wife, writer Sally Quinn (photos by Peter Vitale).
Grey Gardens in 1984:
You can see how similar the real entry hall and staircase is to the one in the movie I showed you above:
Even if I hadn't told you these photos were taken in the '80s, I bet you would've guessed, right?
Grey Gardens Today:
Which brings me to the reason why I started looking at photos of Grey Gardens again in the first place–a newly built home in Falmouth, Massachusetts, which was inspired by it.
The homeowner, Michael E. Jaye, saw photos of the house from the HBO movie and told his architect, Leonard J. Baum, that he wanted the exterior to look like it (shown at the top of the post, with the shutters).
Newly Built House in Massachusetts Inspired by Grey Gardens: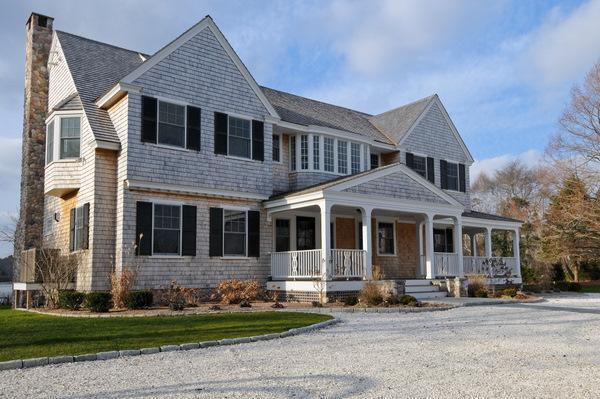 It's not as large as the original, and the interior layout isn't the same, but the front and sides look the way the real one did at the turn of the century, shutters and all.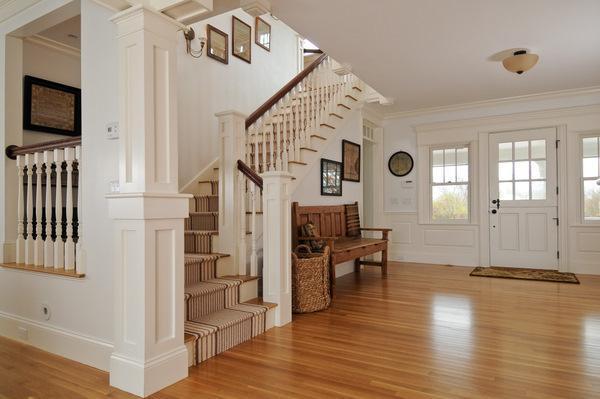 The interior has a lighter, less formal feel to it than the original.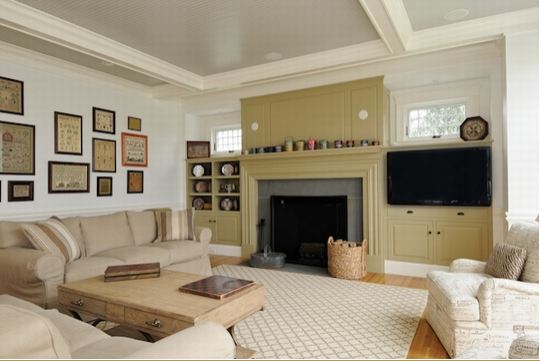 The new house has 5 bedrooms, 4.5 baths, and about 4,000 square feet. It's on the market for $2.995 million.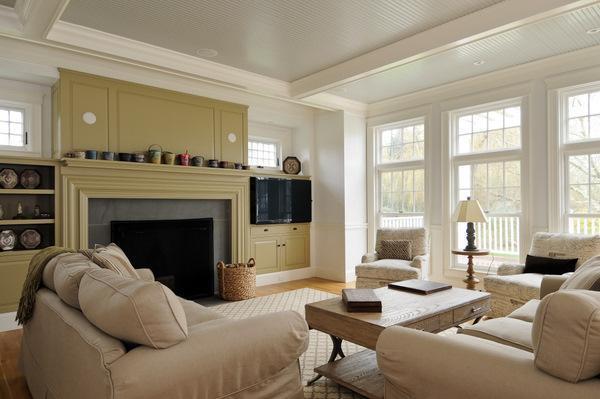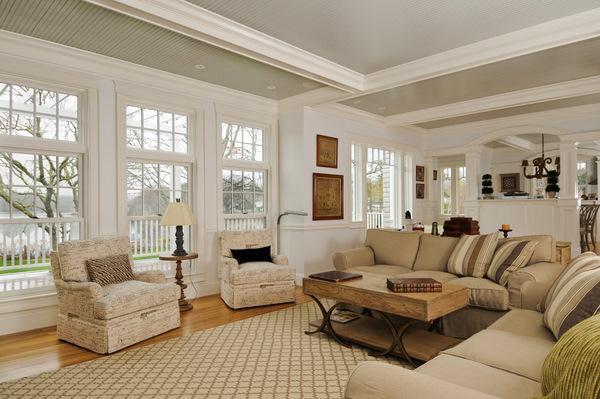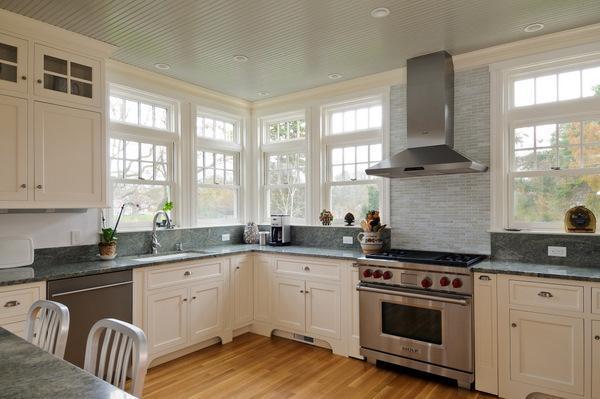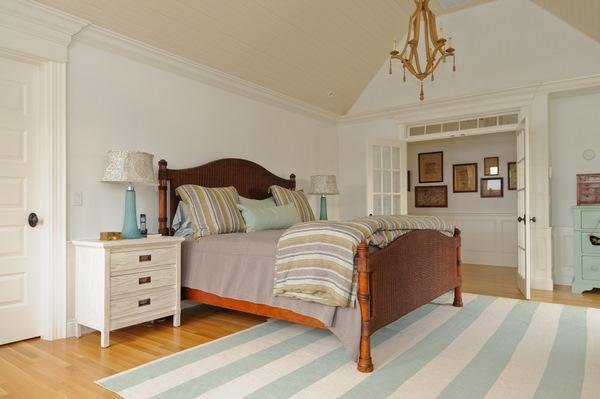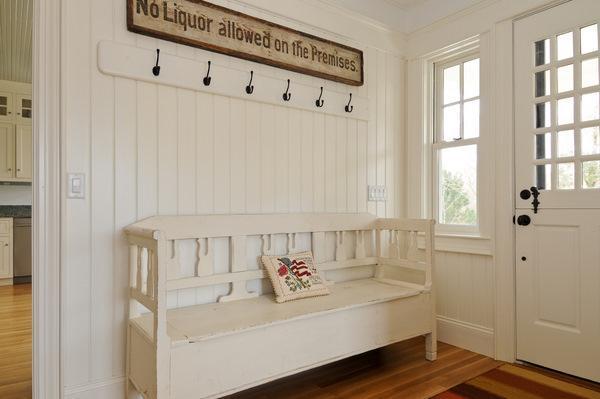 Thanks to Betty for telling me about this house. I love it!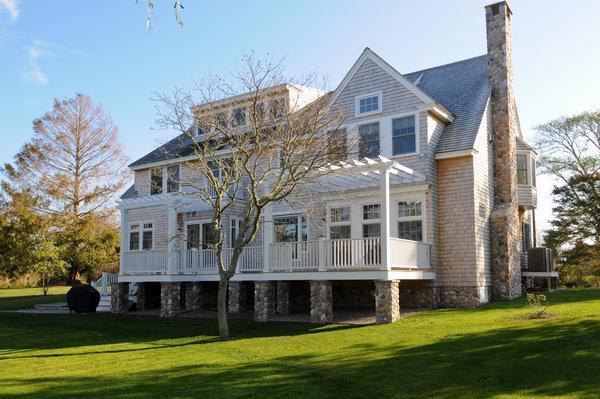 It sits on nearly 2 acres overlooking Oyster Pond in Upper Cape Cod. The listing says:
"Enjoy swimming from your private dock, exploring the Salt Pond Bird Sanctuary Conservation area across the street, walking to the sandy beach on Vineyard Sound or biking the Shining Sea Bikeway."
If you could build a house inspired by one you've seen on TV or in the movies, which one would it be? Right now I could go for the beach house from Something's Gotta Give. 🙂

P.S. Click here to see more new houses built to look old, including…
(Visited 46 times, 2 visits today)