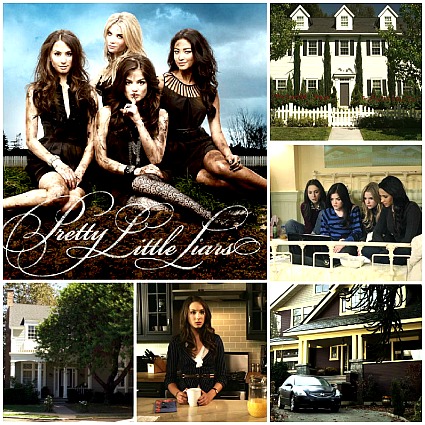 When I heard that Pretty Little Liars is filmed on the same backlot used for Stars Hollow on Gilmore Girls, I knew I had to take a closer look.
Sure enough, you'll recognize a lot of same houses and streets if you're a G.G. fan like I am.
The show is about four high school girls — Aria, Spencer, Hanna, and Emily — who are dealing with the mysterious disappearance of their friend Alison.
They live in the posh town of Rosewood, Pennsylvania, in these four houses. Take a look!

The Houses in "Pretty Little Liars"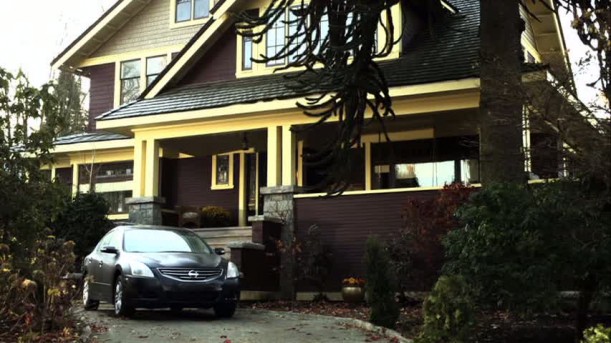 Aria's House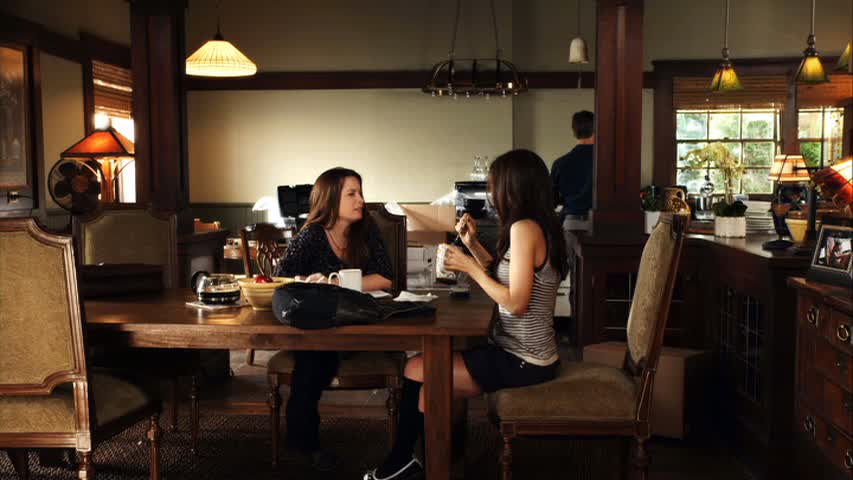 Aria's family lives in a beautiful old Craftsman-style home in Rosewood.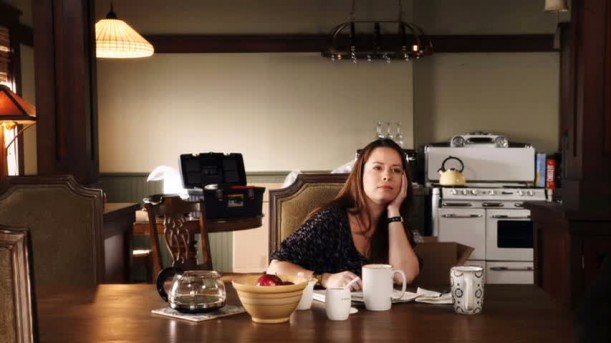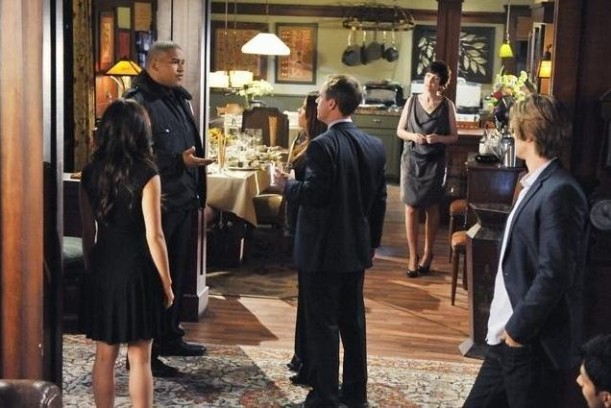 Chad Lowe plays Aria's dad Byron.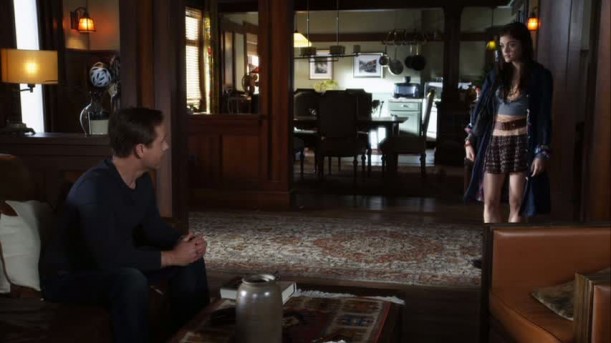 Aria's Brother Mike's Bedroom: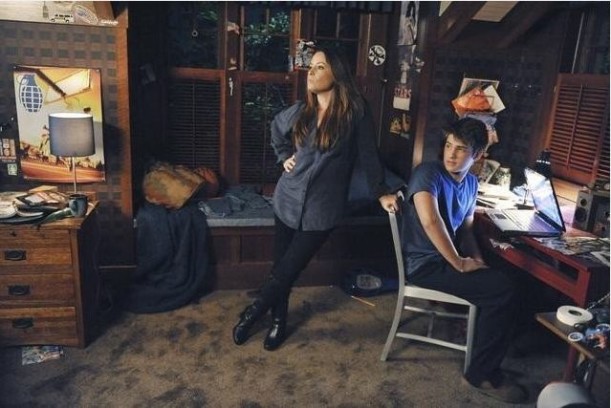 Aria's Bedroom: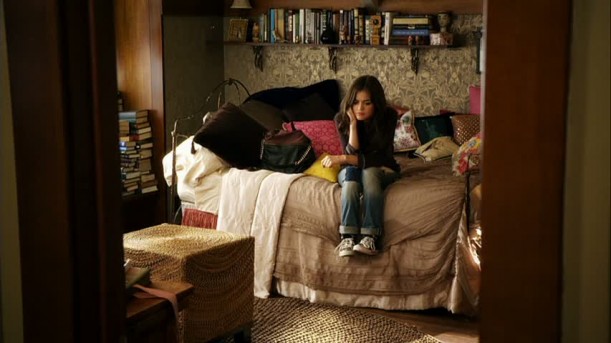 Aria is played by Lucy Hale. How I Met Your Mother fans may recognize her as Robin's little sister.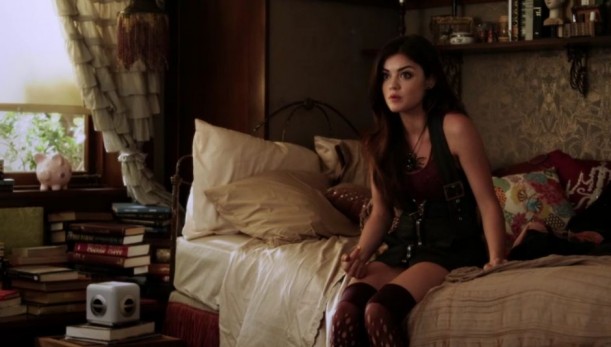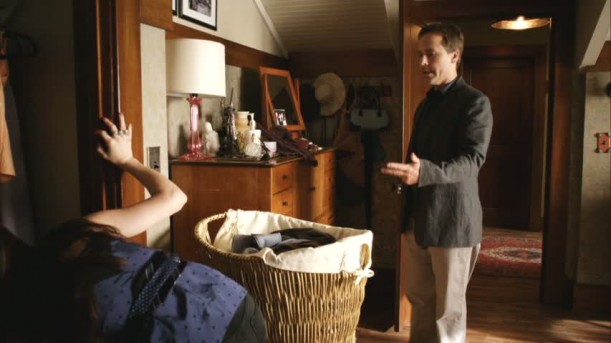 Spencer, Hanna, and Emily gather in Aria's bedroom: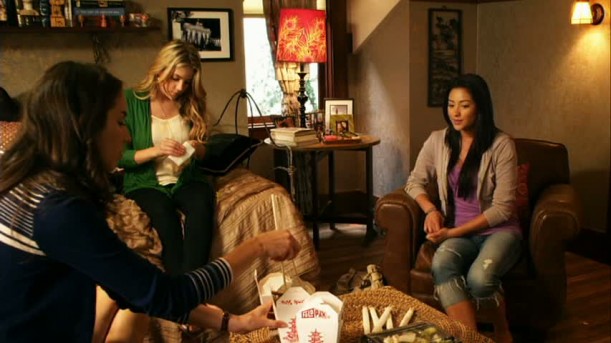 The show is based on a popular book series by Sara Shepard.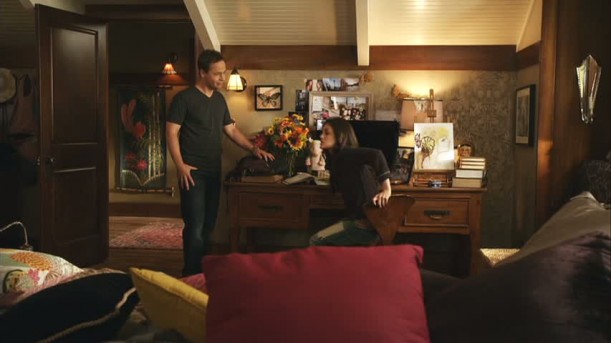 A close-up of Aria's desk:

Hanna's House on "Pretty Little Liars"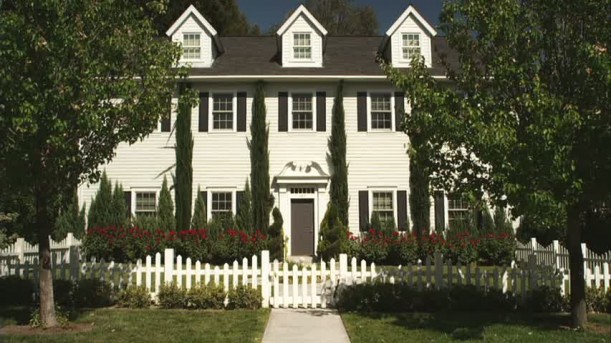 Hanna Marin (Ashley Benson) lives in a traditional two-story with a white-picket fence.
Since her dad left them, she and her mom Ashley (played by Laura Leighton) are having to work hard to keep up appearances.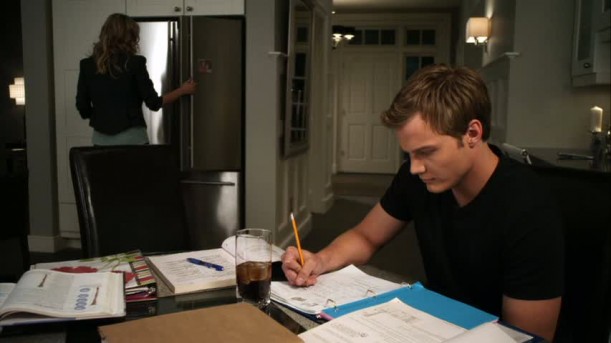 Most of the scenes in Hanna's house play out in her white kitchen: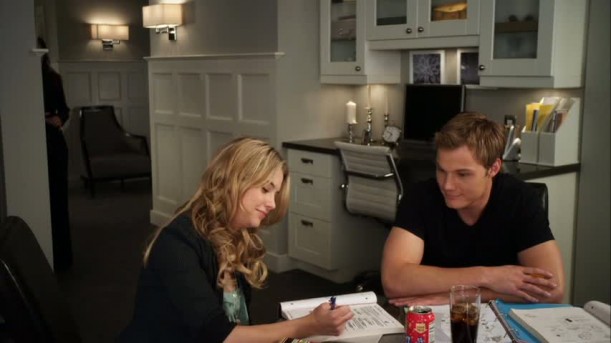 Hanna was supposedly "the fat one" who went to great lengths to lose the weight and reinvent herself after Alison disappeared.
In flashbacks they make her wear baggy sweats to try to convince us she was chubby.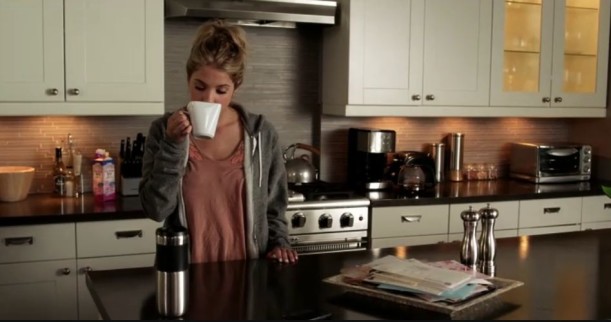 We finally got a look at Hanna's bedroom in Season 2.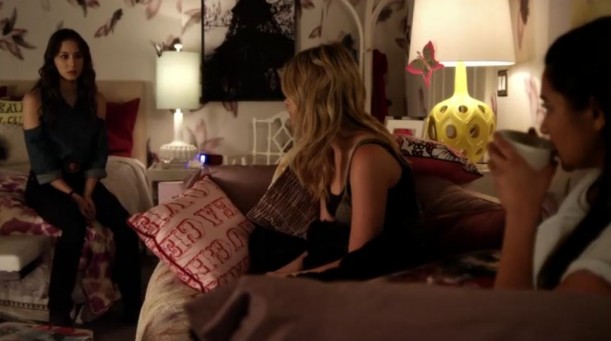 All wallpapers are available on designyourwall.com, except for Hanna's which is by Trove.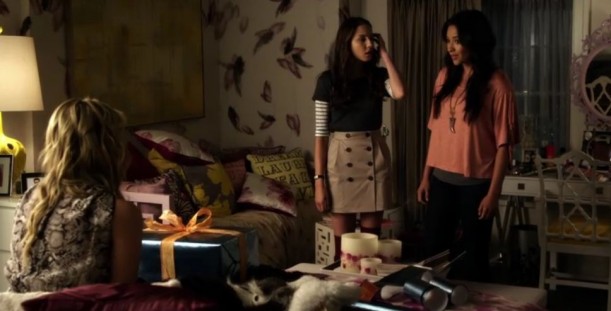 Emily's House on "Pretty Little Liars"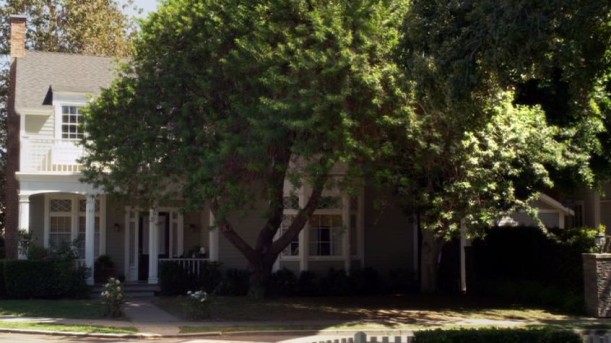 Emily Fields (Shay Mitchell) and her mother Pam (Nia Peeples) in the kitchen: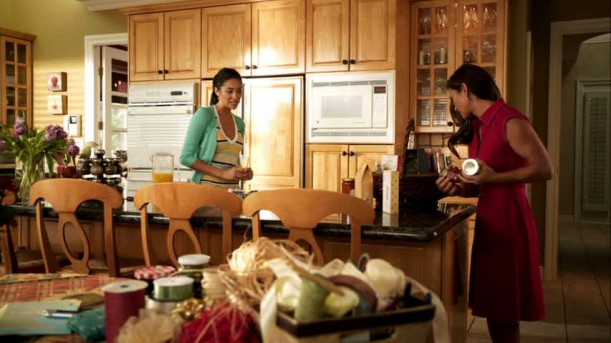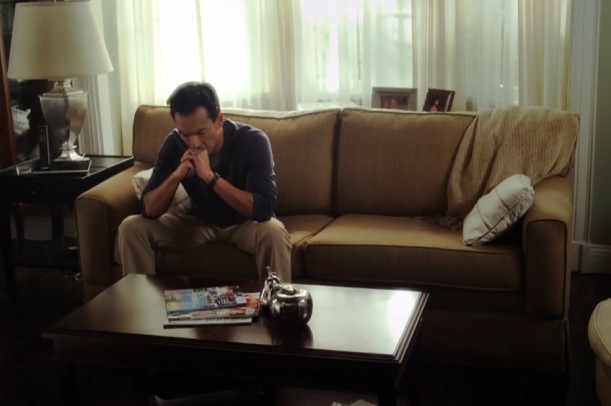 The house is painted in shades of soft green and tan.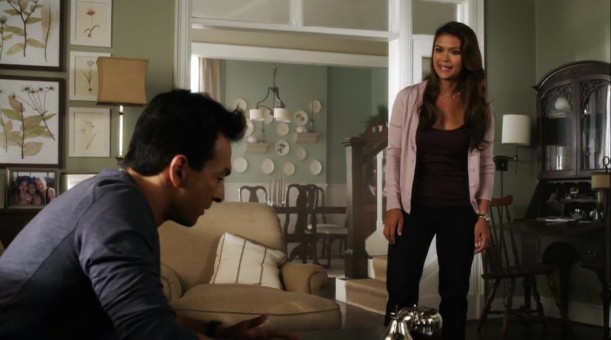 It almost feels like pages out of a furniture catalog to me.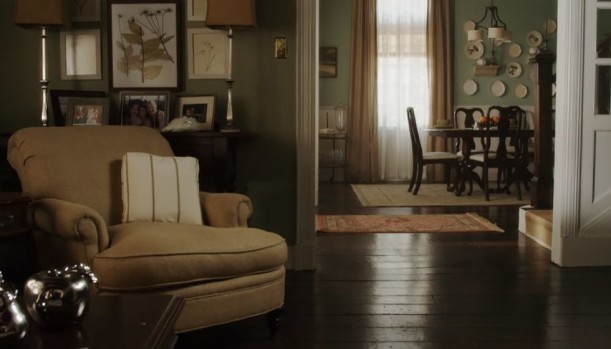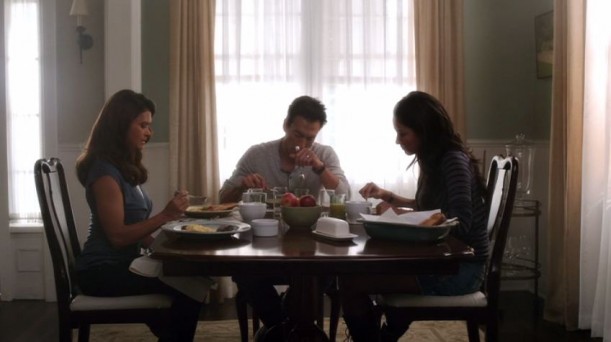 Emily's Bedroom: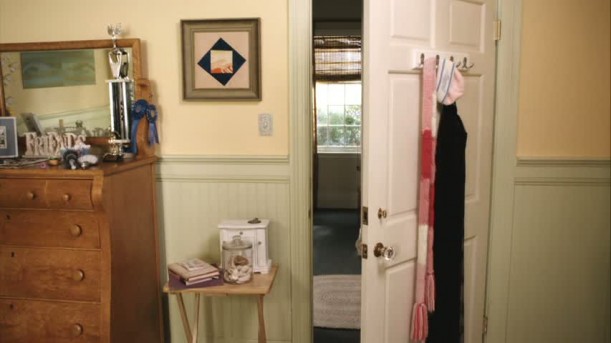 Norman Buckley, who has directed episodes of the show, wrote about creating the look for it:
The town of Rosewood doesn't feel so much like a real town as a state of mind. Since PRETTY LITTLE LIARS is shot almost completely on the Warner Brothers lot, there is a dream-like quality to some of the compositions that feels melancholy and mysterious, very Hopper-esque.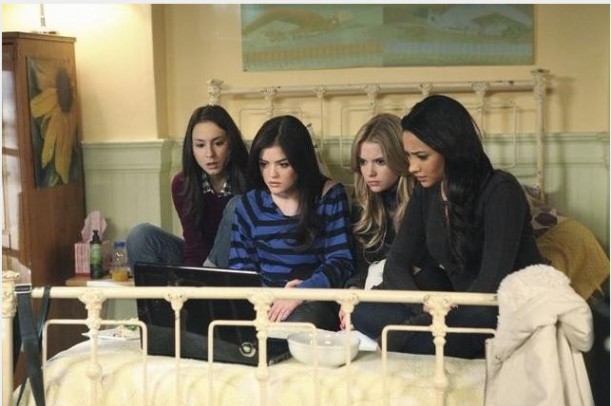 There's an interesting discussion about how Edward Hopper's paintings have influenced the show on Buckley's blog.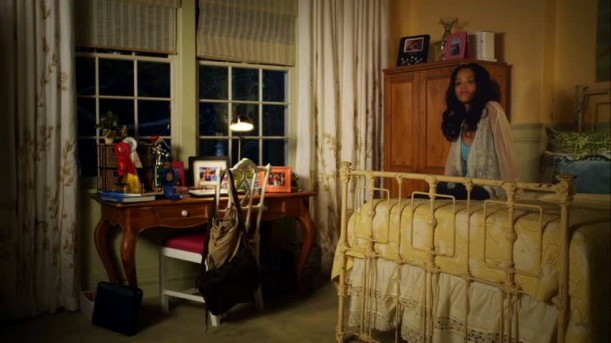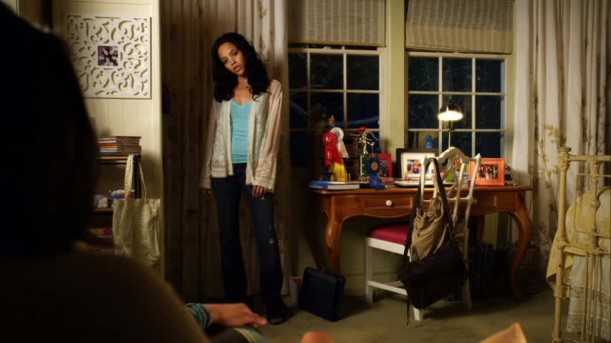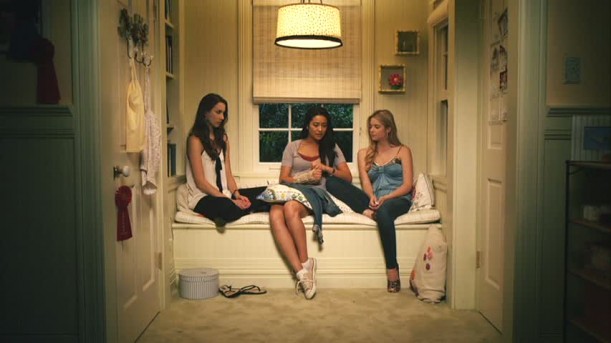 Spencer's House on "Pretty Little Liars"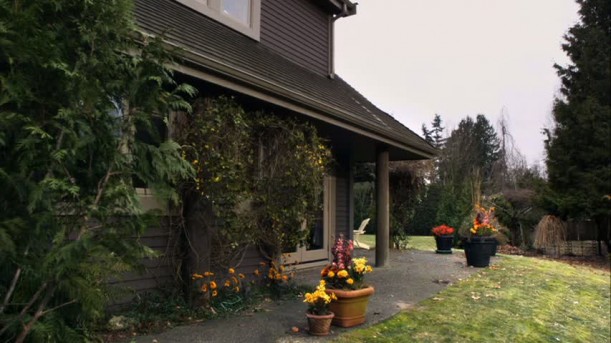 They typically come and go through this back door to the kitchen.
Update: in later seasons when they show the back of the house,
it's actually what was once the front of Lorelai's home on "Gilmore Girls."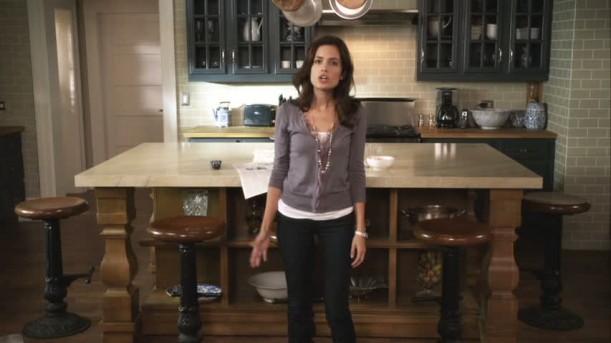 At the beginning of the series, the kitchen looked like this: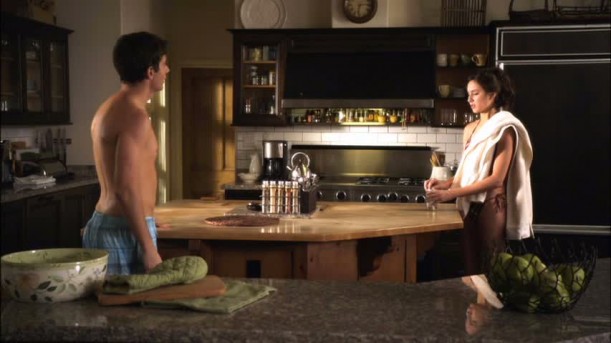 At some point during Season One it got a makeover: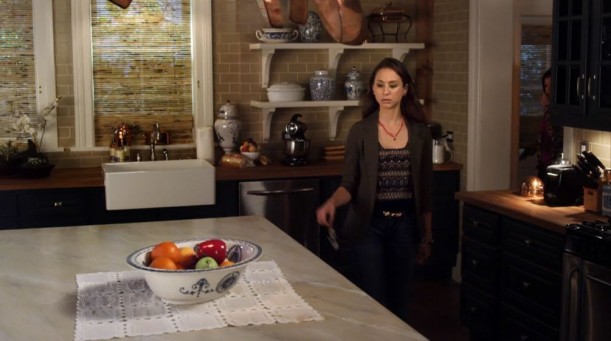 Rich-girl Spencer Hastings is played by Troian Bellisario.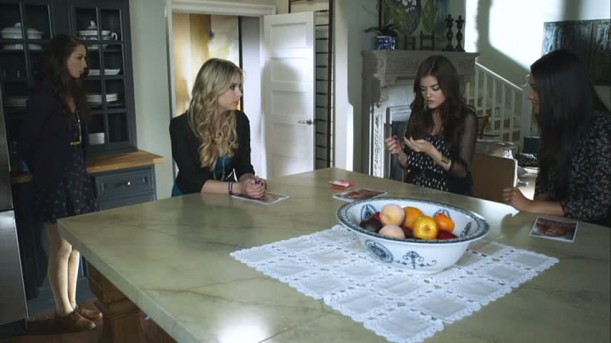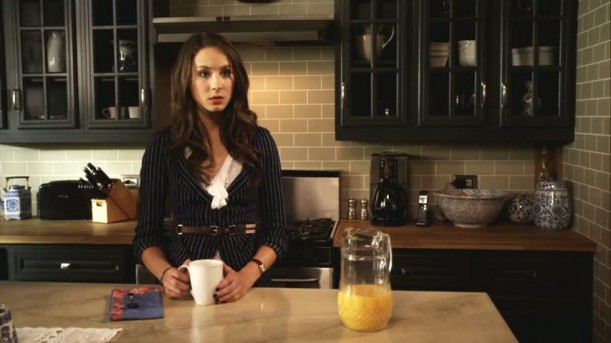 Spencer's Bedroom: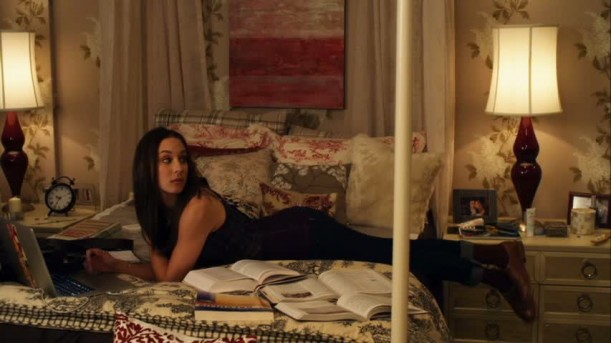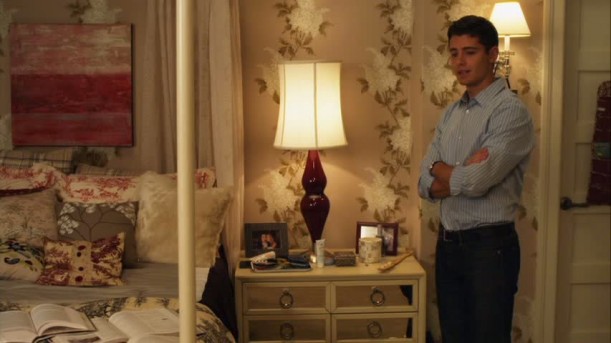 If you watch closely, sometimes you can spot landmarks from Stars Hollow, like the classic white church in the center of town.
Interesting to note the production designer is Rachel Kamerman, who also worked on "Gilmore Girls."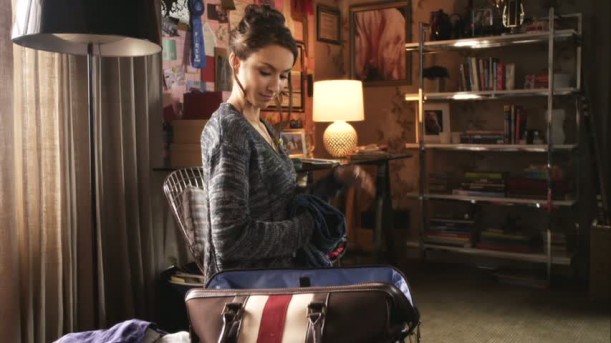 Production Designer Rachel Kamerman wrote me about the sets, explaining:
All of the girls' bedrooms are built on a soundstage at Warner Bros, as are Spencer's kitchen and Hanna's kitchen/foyer.
Aria's house is a custom build with an existing shell of a house on the backlot (funny i used in numerous times on 'gilmore' as different sets).
It differs from what many would think of as true craftsman style… i purposely designed an open floor plan which makes it very camera friendly and offers a large field of depth.
Emily's living room is also on the backlot but we have to share that space with other shows believe it or not.
The exteriors with the exception of Hanna's were originally shot in Vancouver for the pilot… and that is why you noticed the difference in Spencer's kitchen.
The pilot used the location kitchen but I designed the other on one of our soundstages… and please remember all on what is considered a tight budget for TV.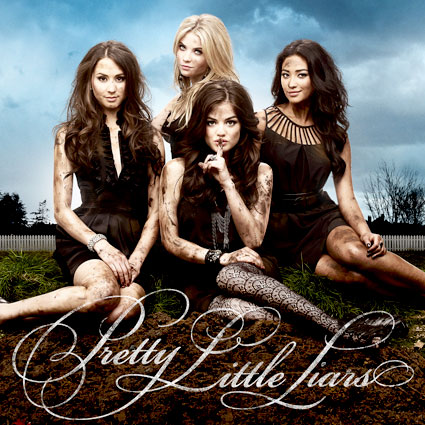 Visit my Houses Onscreen page to see the other shows I've featured, listed A-Z.