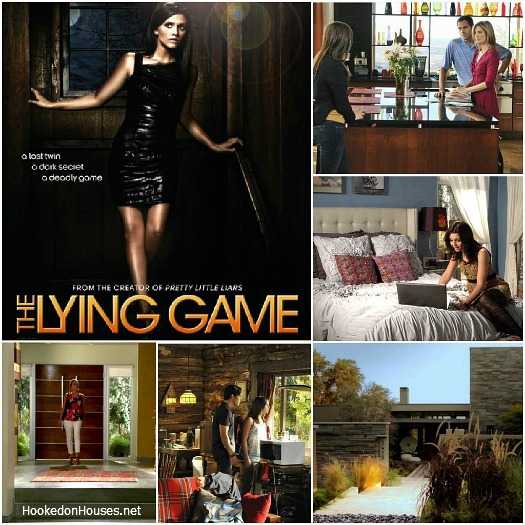 Each episode of the series The Lying Game starts with a voice-over from Emma, who explains, "A few months ago I discovered I had a twin sister. Then she asked me to take her place, keep her secret, and try to stay alive. Put yourself in my shoes. How long could you keep up the lying game?"
Not only do the unraveling mysteries about the twin sisters keep me watching, but the great sets have me hooked.
Let's take a closer look at the houses on the show.

The Sets from "The Lying Game"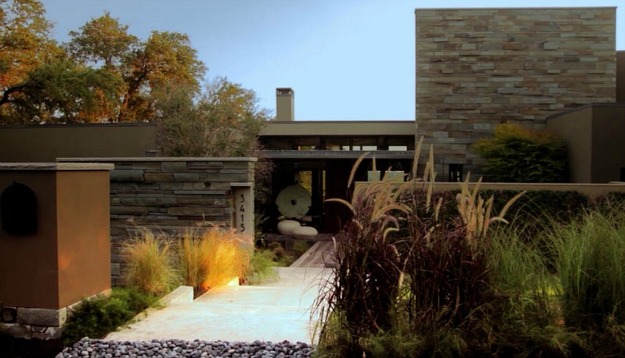 The Mercer Family House
Emma has grown up in a series of foster families. When she discovers that she has a twin that she never knew about, they arrange to meet in her sister Sutton's hometown in in Scottsdale, Arizona.
But at the bus station, Sutton gives Emma the keys to her car and says, "I'm leaving town to search for our birth mother. Go back to my house and pretend to be me for a few days." And then she disappears.
Emma, who has never had a real family and has struggled her whole life, can hardly believe it when she pulls up to this beautiful house and meets her sister's wonderful adoptive family–parents Ted and Kristin, and sweet sister Laurel.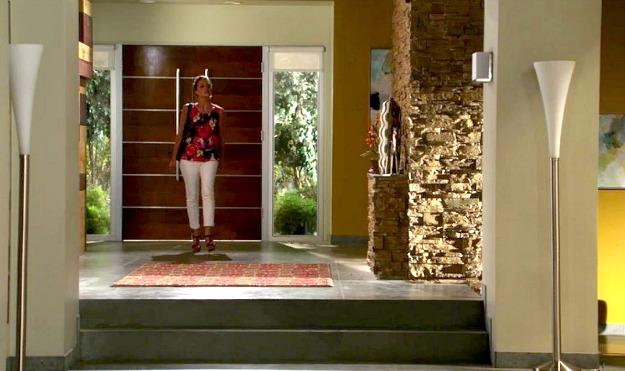 The double doors in the entry make a dramatic statement.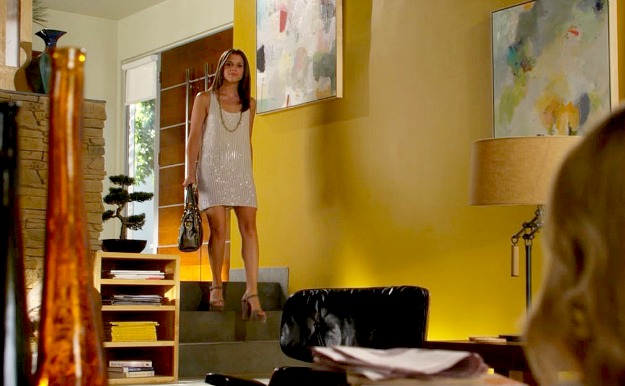 Although the house is only one story, there appear to be several levels.
They're always walking up and down steps from one room to another…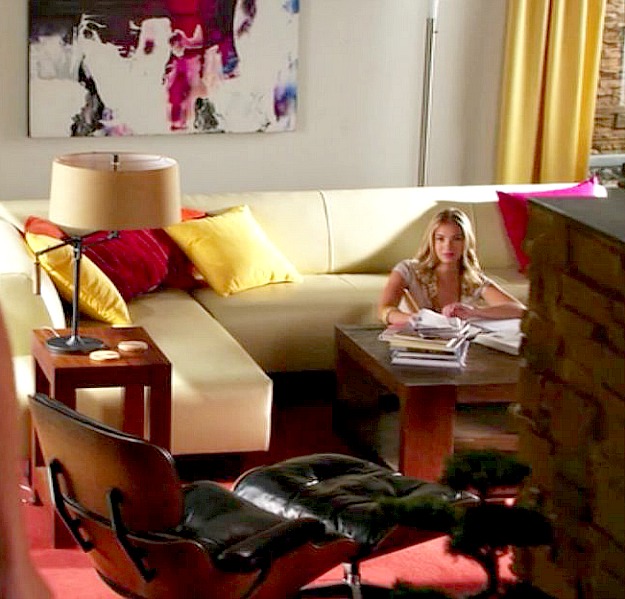 Allie Gonino plays Sutton's sister Laurel. Like her character on the show, Allie's a singer and violinist in real life. She's in the band The Good Mad, which makes frequent appearances on The Lying Game as a band called "The Strangeworthy." I love their music. She has a beautiful voice.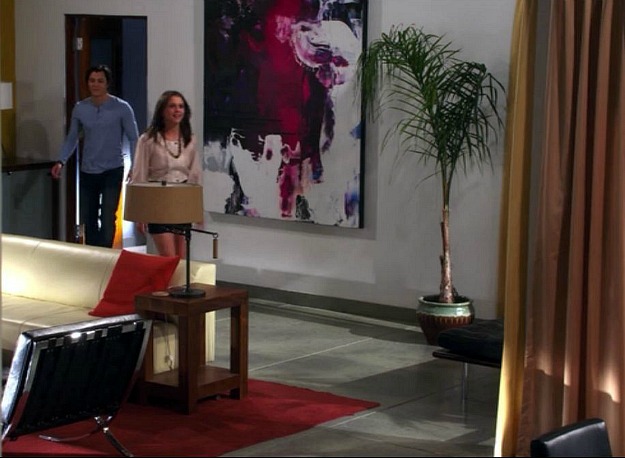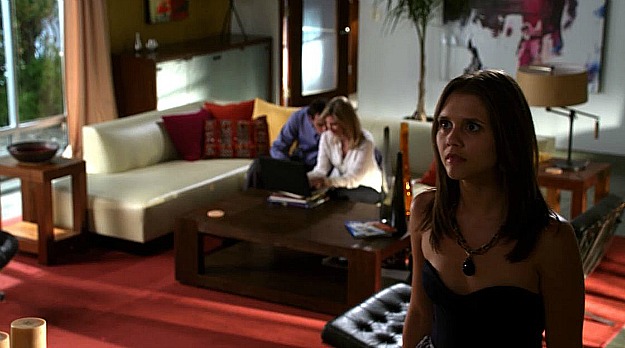 The show is based on the popular Lying Game book series by Sara Shepard.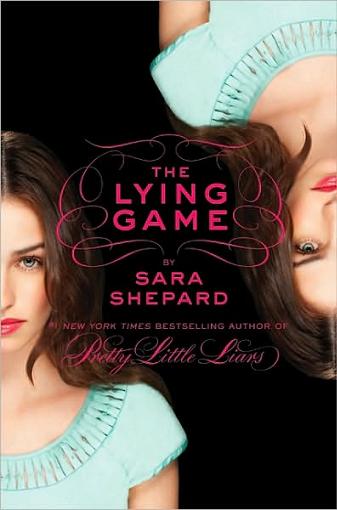 The novels are a little darker, though, and some key details have been changed for the show.
For one thing, in Shepard's books Sutton is dead and following Emma around as a ghost, watching her try to solve the mystery of her disappearance and murder.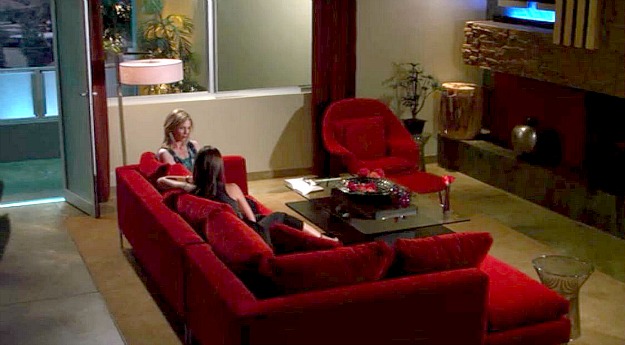 The Mercer house has a contemporary vibe to it with big, open rooms and concrete floors. They have a couple of large sectionals in the house like this red one off the kitchen. And the stone fireplaces have a cool mid-century modern vibe.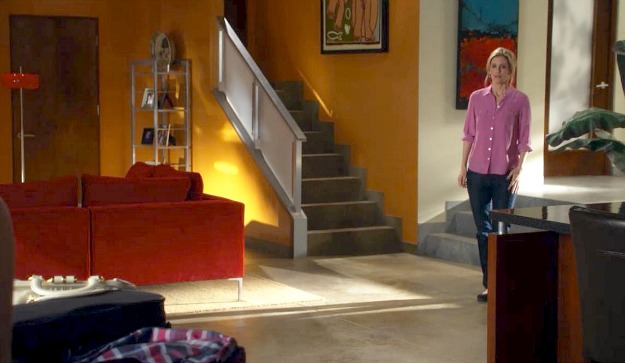 Andy Buckley, who I will always think of as David Wallace on The Office, plays their dad.
He has some big secrets he's keeping from them…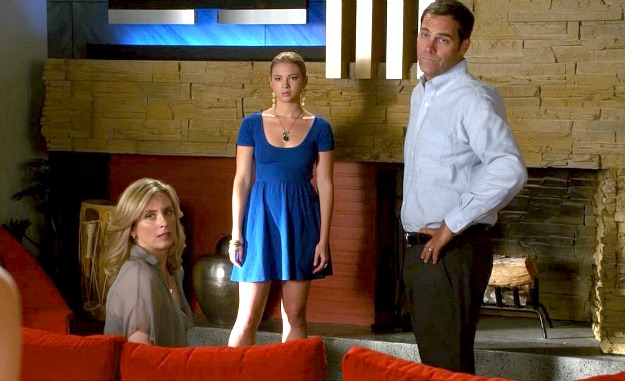 It's fun to see Helen Slater playing their kind-hearted adoptive mother Kristin.
(Raise your hand if you remember her from the '80s in roles like Supergirl!)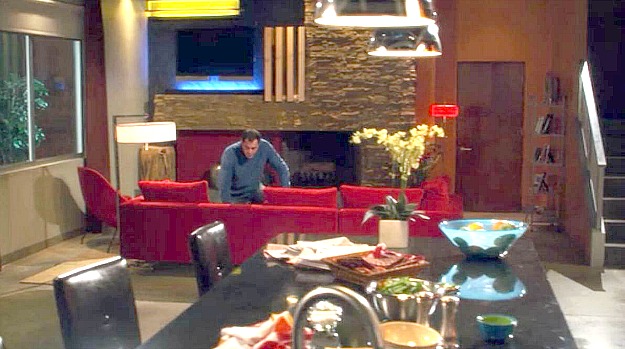 The Mercer Family Kitchen: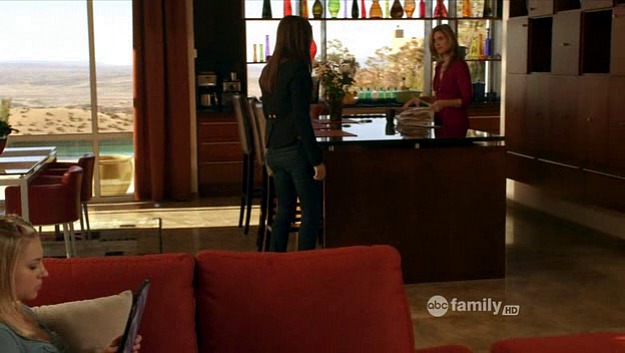 The kitchen looked slightly different in the pilot (above) than it did in later episodes–for one thing, the steps leading down to it were in a different spot. I suspect it was initially filmed in a real house that was recreated later on a set as they often are after a show is picked up.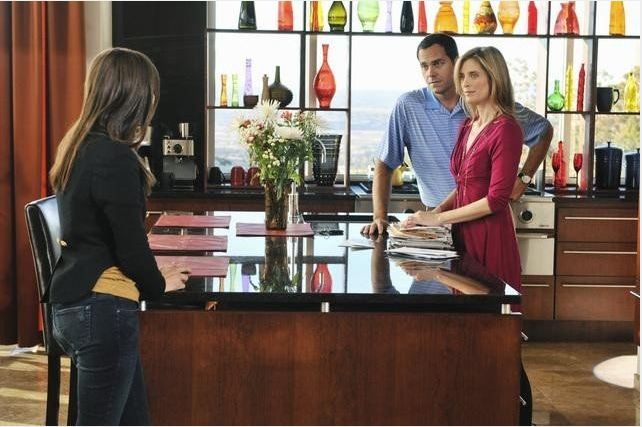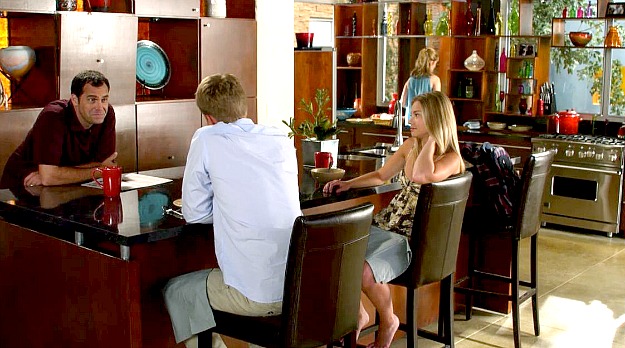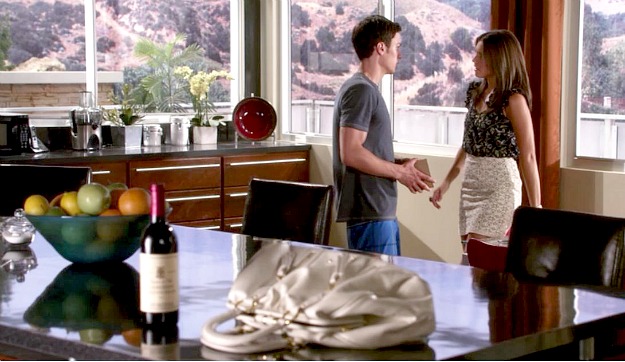 Alexandra Chando plays both sisters, Emma and Sutton, and is so good at it that you can usually tell which one she is before she even says a word. Emma is kind hearted and vulnerable, but Sutton is tough and manipulative.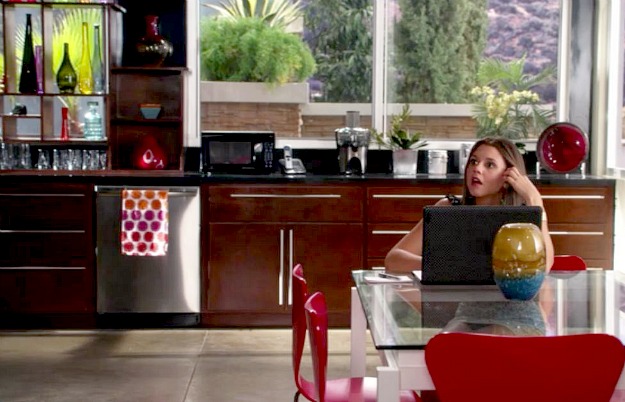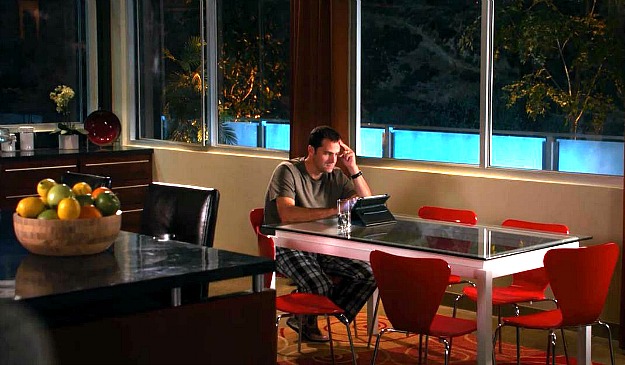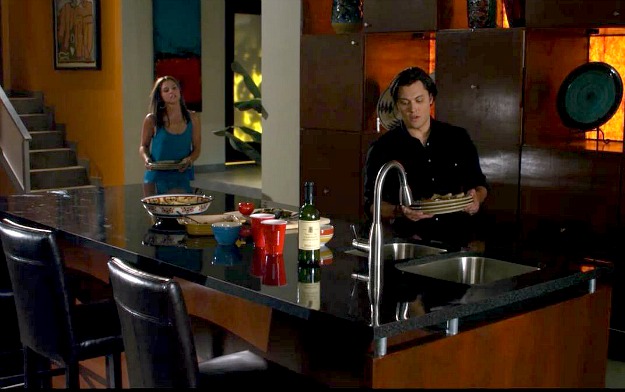 Philip Toolin is credited with the show's production design. He has also worked on shows like No Ordinary Family and The Starter Wife (great houses on those, too!).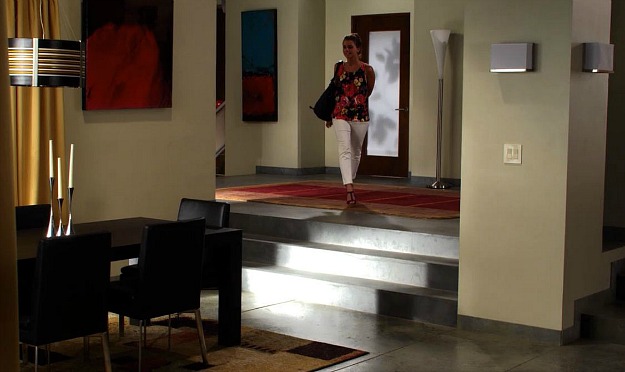 Sutton stands in front of another big fireplace in the house: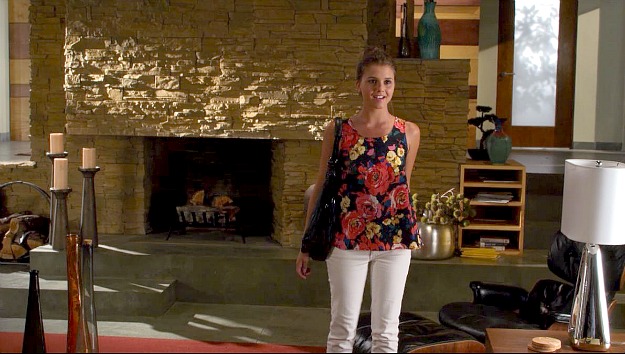 Sutton's Bedroom: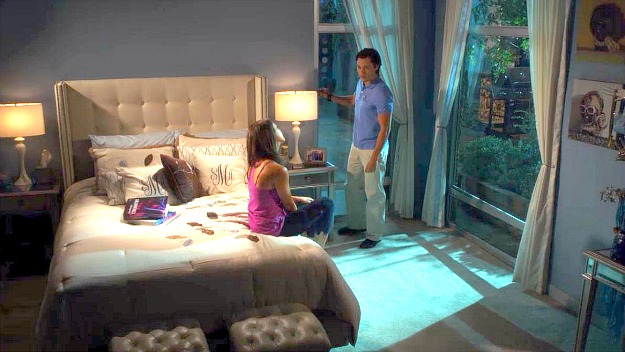 One thing I've learned from the show: never put a window big enough for people to walk in and out of in your daughter's first-floor bedroom. More characters use that window to get into the house than they do the front door! They'd have a much harder time keeping up "the lying game" without it…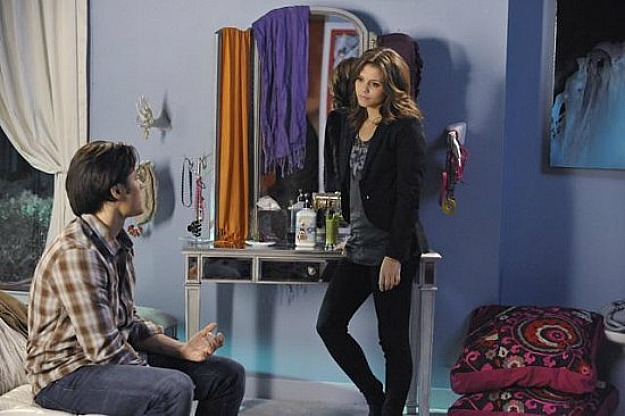 In the first season, Sutton's bedroom had lavender walls with a white bed and window treatments.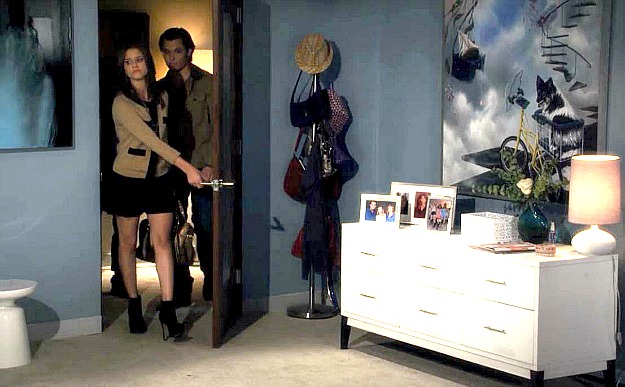 In the novel, Emma comments that Sutton's bedroom is bigger than some of the houses she's lived in.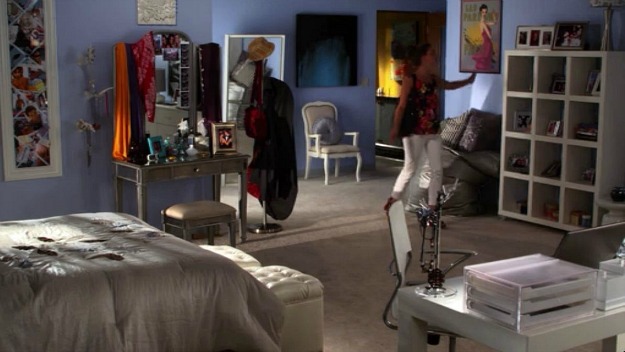 After Sutton returns and reclaims her life toward the end of the first season, her bedroom is decorated a little differently. There are new pillows on the bed, different lamps, and the wall color is now blue: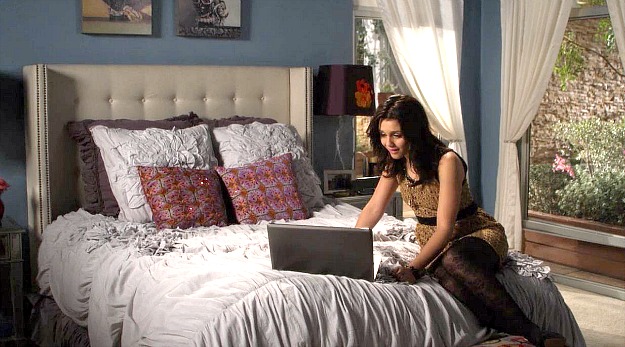 Sutton's Closet: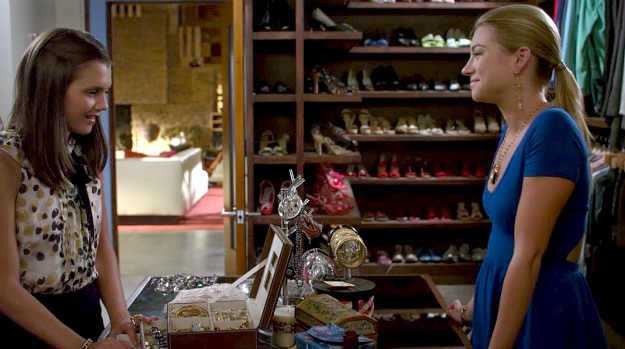 Sutton's closet is huge and impeccably organized. Fashion is her thing. I haven't figured out why there's a door opening into the living room on one side of it, although it does come in handy for when she's spying on her parents' conversations out there…
The Mercer Courtyard: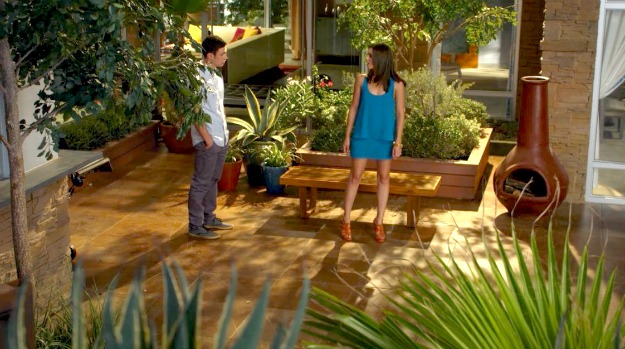 Here's how the house looked in the pilot when Emma drove up to it for the first time. I wonder if this is the house where the pilot was filmed. The exterior looks like it would match the interior sets from it.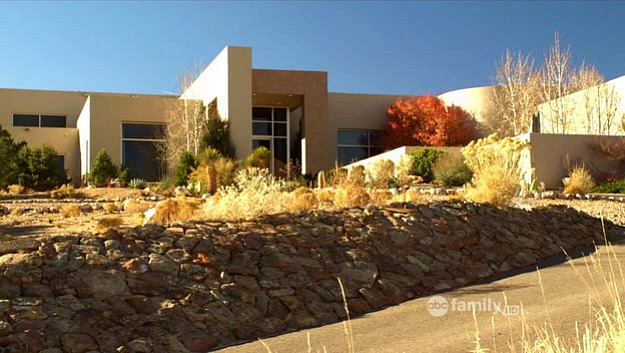 The Mercer Family Cabin: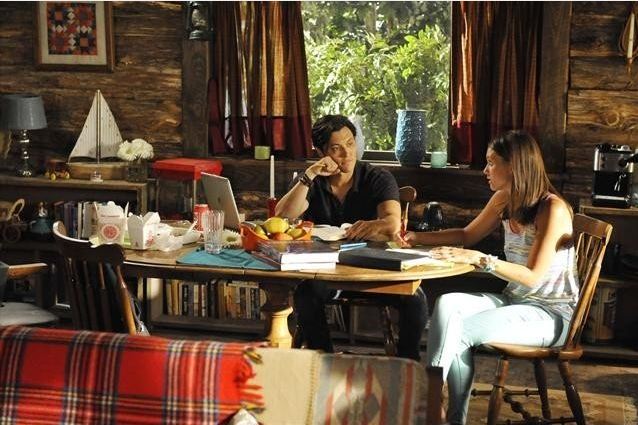 What would they do without the family cabin? Emma and Sutton take turns hiding out here in the woods so no one will discover that there's actually two of them.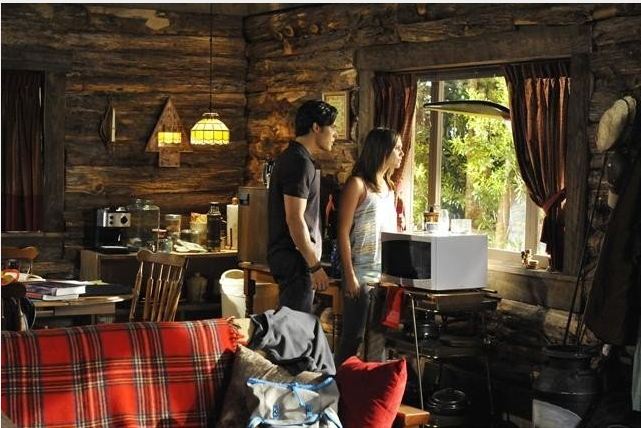 This season Alec and his new bride Rebecca had their honeymoon at the cabin: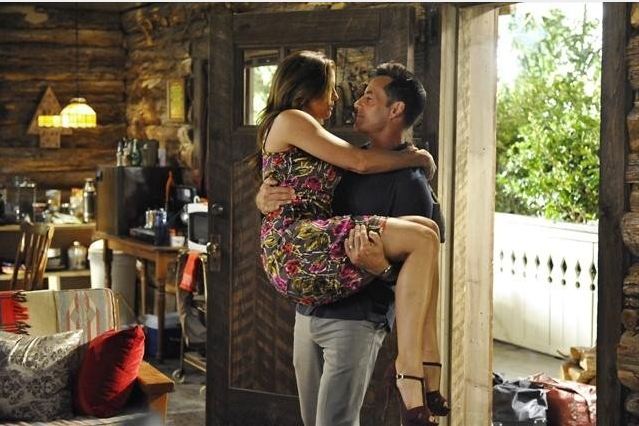 Charisma Carpenter plays the scheming Rebecca, who we just learned is…well, maybe I shouldn't spoil it in case you haven't seen it yet. Let's just say she has a few secrets (and lies) of her own. (When I see her in any role, I figure she's probably up to something. Anyone else remember her as Kendall Casablancas on Veronica Mars?)
The Rybak Family House (Alec, Mads and Thayer):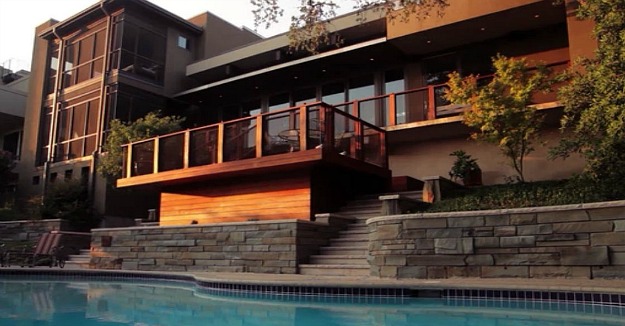 For some reason we always see the back of their house with the pool in exterior shots.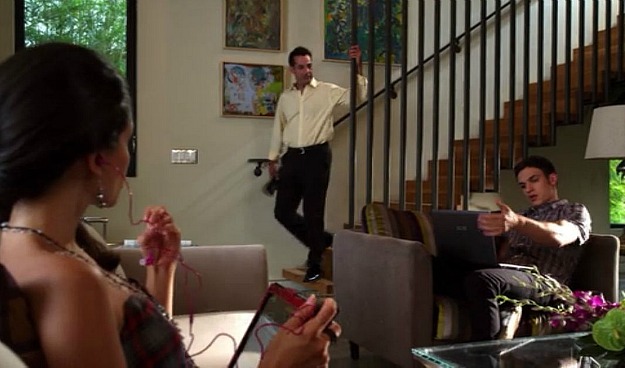 Adrian Pasdar plays Sutton's godfather Alec Rybak. His daughter Mads is her best friend.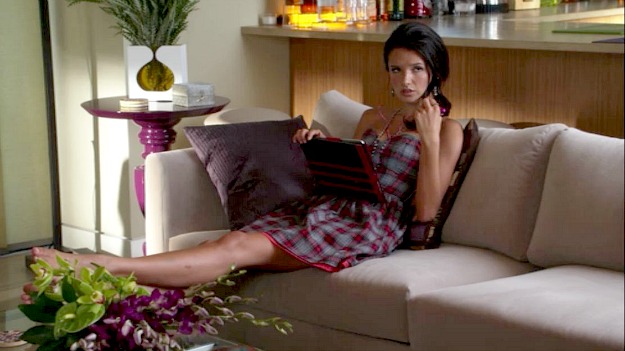 Alec and Sutton's dad Ted have been best buds since high school and they share some big secrets that are just now coming to light.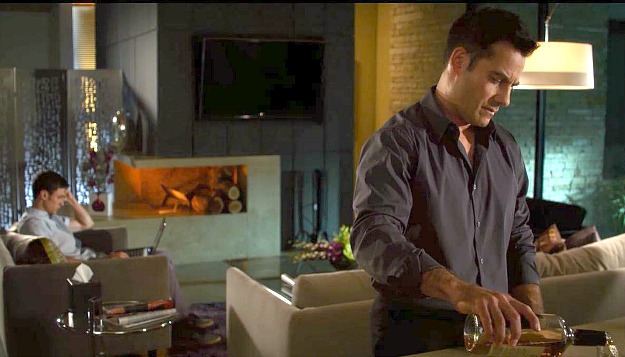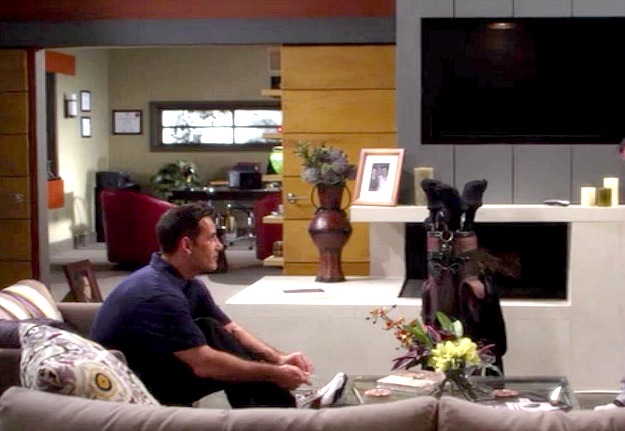 The kitchen always looks like it has more wine in it than food.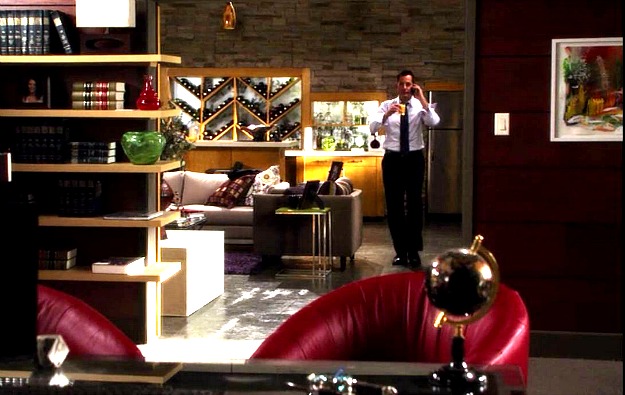 Charlotte and Rebecca's House: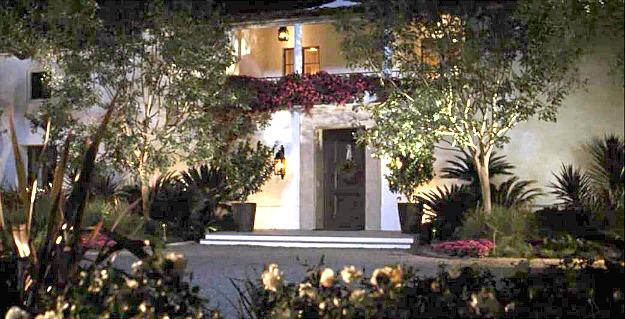 In the first season, one of Sutton's best friends was Charlotte (Char), and this is the exterior they gave her house. Look familiar?
If you recognized it as Cameron Diaz's (Amanda's) house in The Holiday, you really are hooked on houses. 🙂
By the end of Season 1 on The Lying Game, Char had gone to live with her father and her aunt Rebecca had moved into the house.
They started showing this as the exterior instead, at least some of the time.
Now and then the Holiday version popped up into an episode. Anyone else notice that?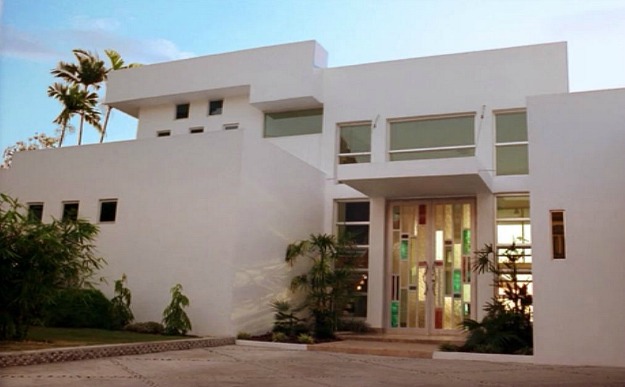 They mostly just showed the pool in back of the house for scenes with Char when she was on the show.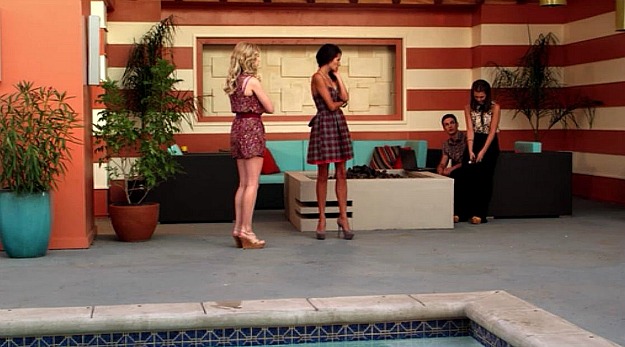 It always looked to me like they shot the pool scenes on location behind a real house…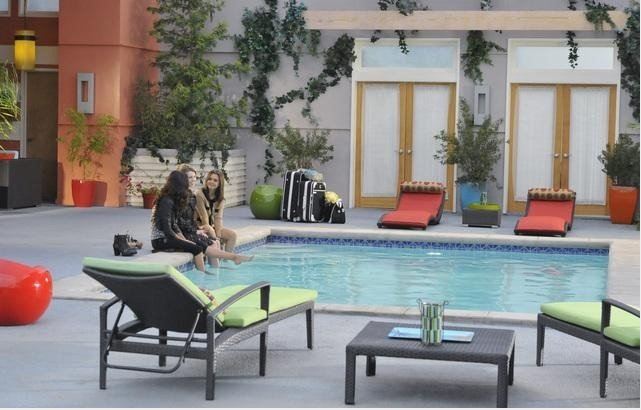 But this photo from behind the scenes shows that it's just a set built on what used to be a parking lot,
according to Allie Gonino, who gave a video tour of the set: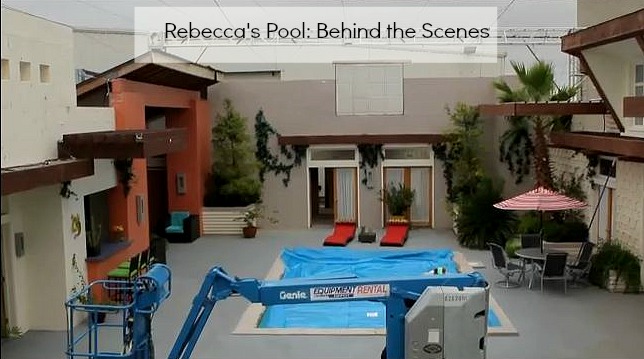 In the current (second) season, as Rebecca has become a regular character and her new husband Alec moves into the house with her, we're getting more glimpses of the interiors: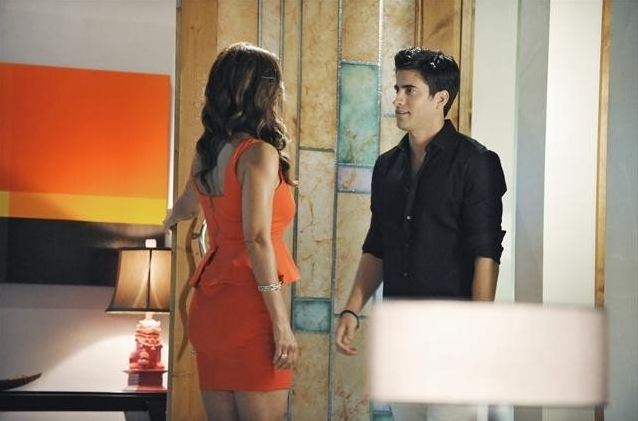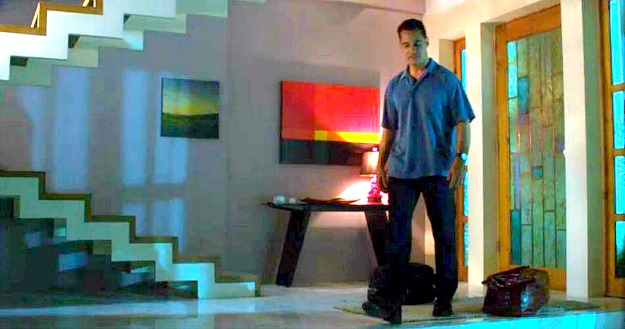 I'm kind of fascinated by the open staircase in the entry.
I'm always trying to get a better look at it…and wondering how Rebecca keeps from falling over the side of them in her stilettos!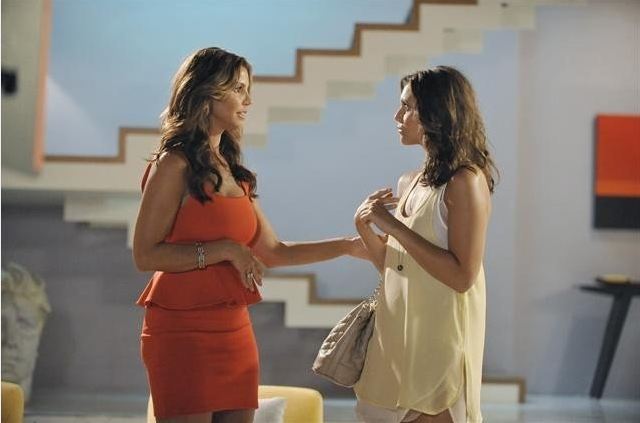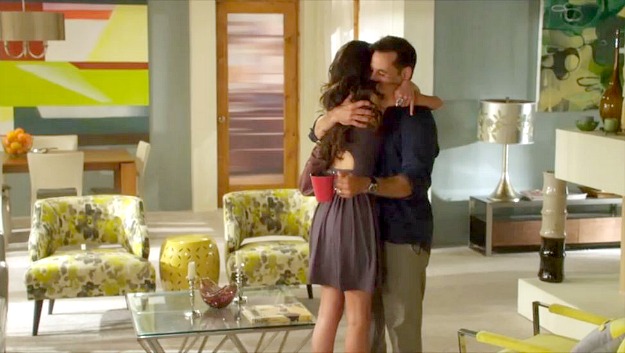 Although the setting for the show is Arizona,

it's actually filmed on sets built in Austin, Texas, at Austin Studios.

Visit my Houses Onscreen page to see the other shows I've featured, listed A-Z.