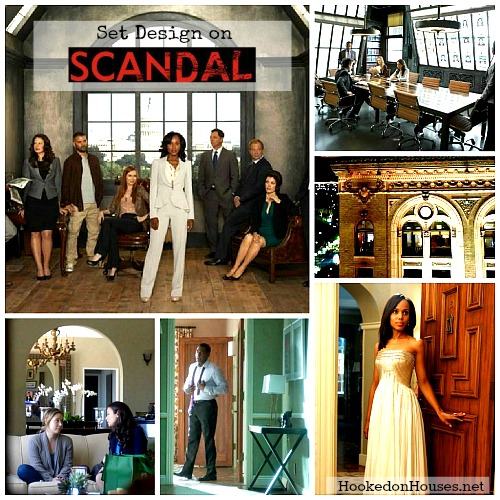 Once I started watching Scandal, the juicy new drama on ABC, I couldn't stop. The first season was streaming on Netflix over the holidays and I spent an entire weekend burning through one episode after another. It's addictive. Now the show's well into Season 2 and the twists and turns just keep on coming.
Kerry Washington stars as D.C. "fixer" Olivia Pope. Let's take a look at her chic apartment and office on the show.

The Sets on the TV Show "Scandal"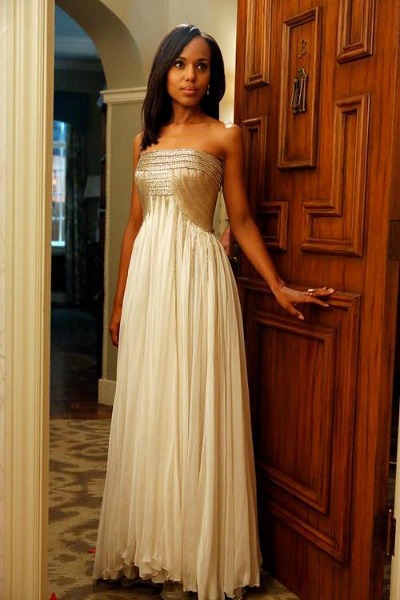 Olivia Pope's Apartment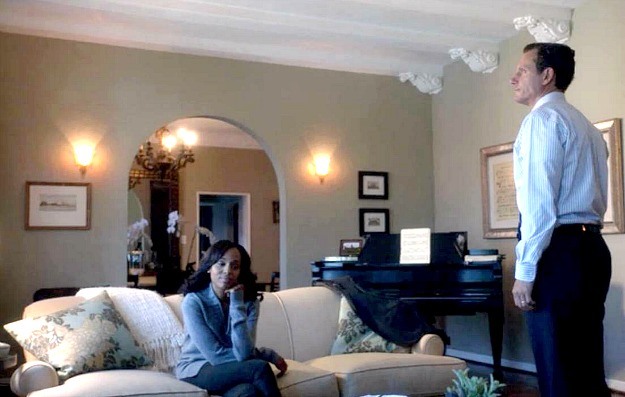 Olivia has a piano in the corner of her living room, but she doesn't have a lot of time to play it. She's one busy lady. I don't think she ever eats or sleeps!
When Fitz (also known as the President, played by Tony Goldwyn) visits Olivia's apartment for the first time, he says,  "I imagined your place a thousand times. I like it. It's very you."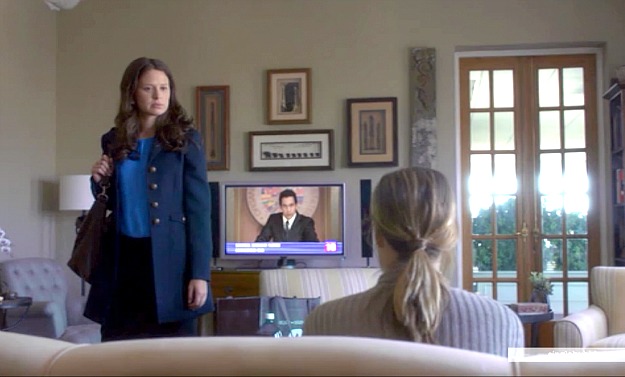 Anyone else get excited when Gilmore Girls' Liza Weil appeared on the show? (She played Paris Geller on G.G.) Without spoiling anything for those of you who haven't watched all the episodes yet, let's just say her story arc didn't end well for her…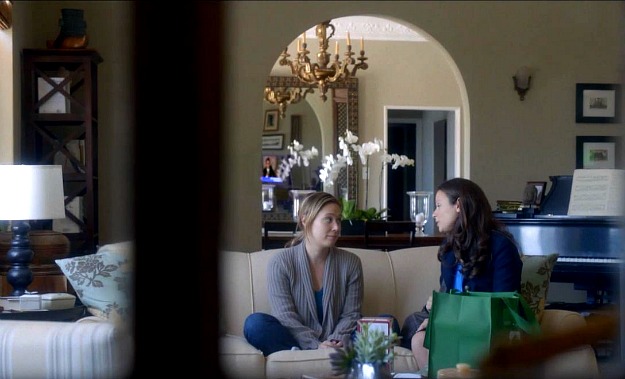 Sometimes the show can get a little too violent for me–I'm a total wuss about that stuff, like the torture scenes with Huck, or when his "family" was found dead. I have to watch some scenes through my fingers or do some fast-forwarding. Just thought I'd warn those of you who are as squeamish as I am!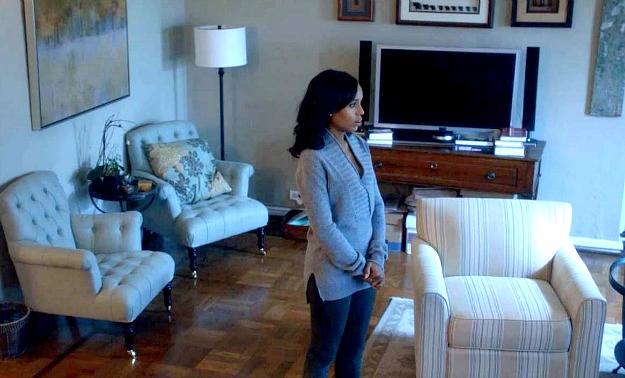 On a recent episode of the sitcom Happy Endings, Penny and Brad are alone with Alex's parrot when it suddenly keels over, dead. They panic, and ask, "Quick! What would Kerry Washington on Scandal do?"
The answer: "Demand to see the President and almost make out with him." Yeah, that's pretty much it!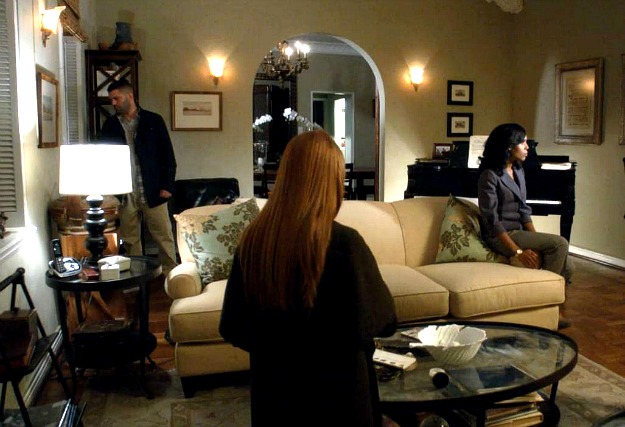 When the show returned this January, Olivia's apartment looked different. My guess is that the earlier episodes were filmed on location and now they're using a set. It's similar, but not quite the same. Here's how the entry and living room sets look now:
4/13 UPDATE: People magazine just published photos of the apartment set:
Production Designer Corey Kaplan told the mag, "The space is based off of apartments in the El Royale in Los Angeles, designed by William Douglas Lee of the Chateau Marmont in 1927. We loved the moldings and the embellishments, but we made it a little bit larger scale with larger arches."
Vulture featured a couple more set photos in May 2013 (courtesy Danny Feld and ABC):
In her apartment there aren't any signs of Olivia's childhood: "You don't see baby pictures, a mother or father," Production Designer Corey Kaplan explains, because we don't know a lot about her past–and show creator Shonda Rhimes wants to keep it that way.
Vulture reports: Because Pope is always working, "she doesn't do much entertaining," Kaplan says. The goal, then, was to keep her place simple. "She decorates for comfort. She isn't that fussy."
Olivia's kitchen is small but striking with black subway tile and white cabinets. I always want to see more of it, but she's not the kind of woman who cooks a lot…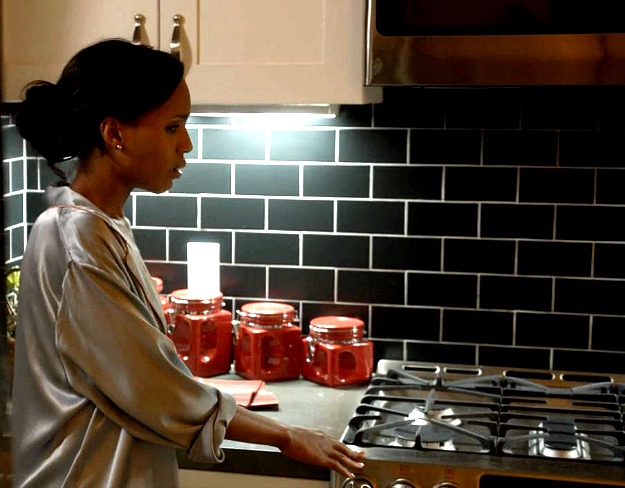 There's an official Scandal blog devoted to the sets where you can see lots of behind the scenes photos.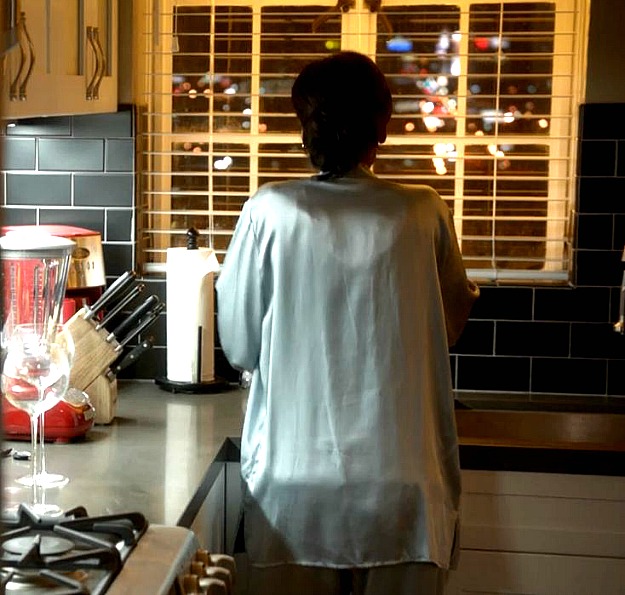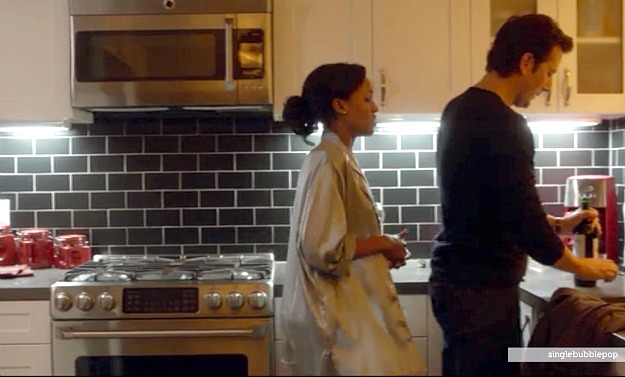 Looking down the hall into her bedroom: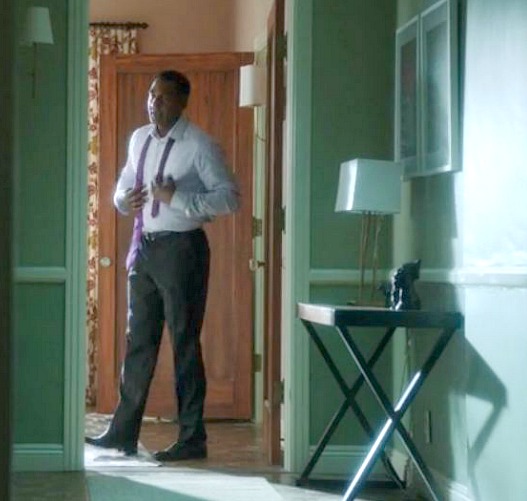 It's hard to see much in this nighttime shot of Olivia's bedroom,
but that bedding of hers made an impression on viewers: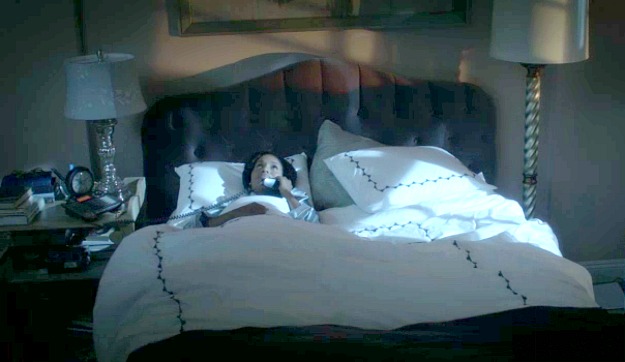 If you're one of the readers who was searching for it, it's from West Elm: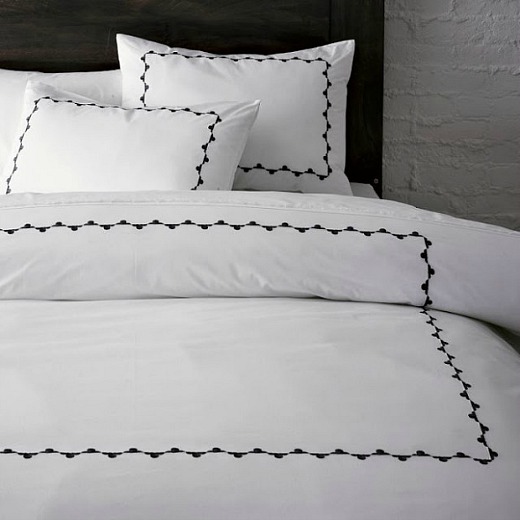 We also got a look at her bedroom in the daytime on a recent episode–although it was just a teaser of a glimpse. (Someone please tell the photographers we want them to back up and show us more of the rooms instead of herky-jerky bits and pieces!)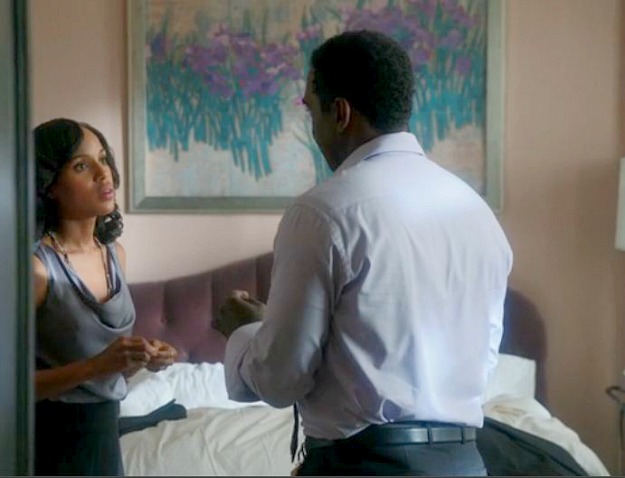 We also got a quick glance at the closet doors next to her bed: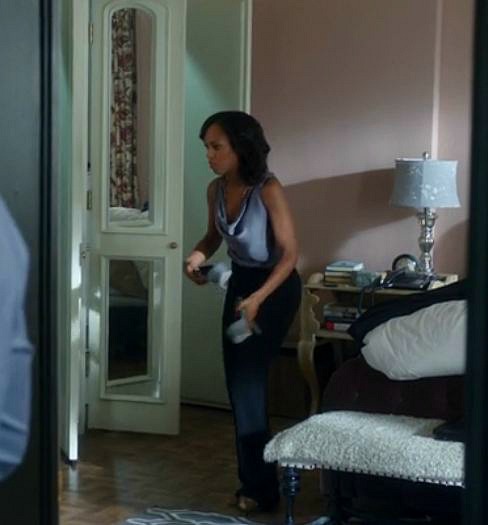 And the dresser on the other side of the room: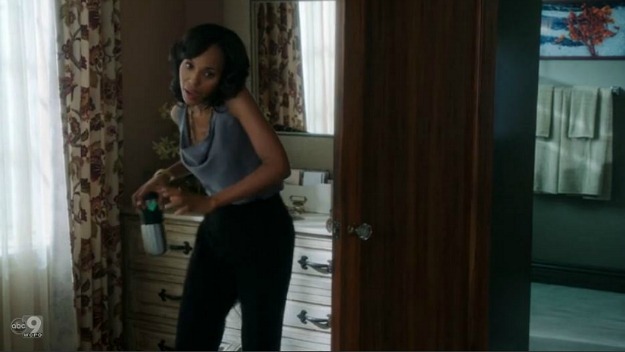 Kerry Washington's wardrobe on the show has gotten a lot of attention — especially
that signature white trench coat of hers: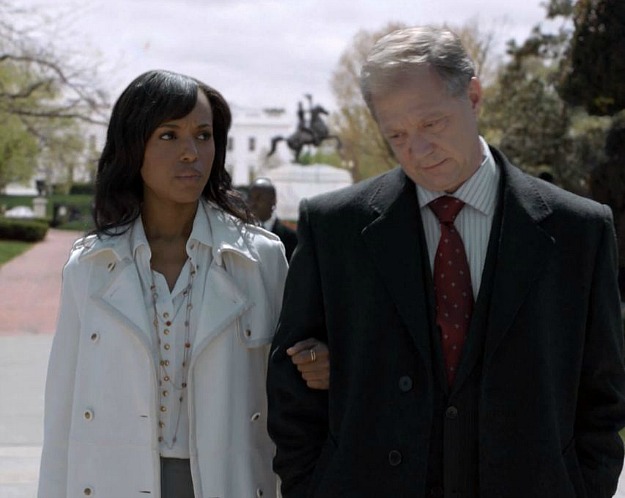 Scandal was inspired by Judy Smith, a real-life "fixer" based in D.C. and L.A.
Olivia Pope's Office on "Scandal"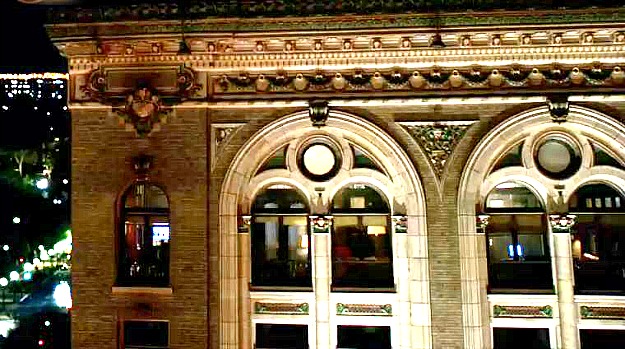 Entertainment Weekly recently ran an article about the show: "The dirty secret of 'Scandal': One of TV's most ridiculous, chaotic bat#@!*-crazy shows is also one of its best."
They went on to say that Scandal "is the new Revenge" (another fave of mine, although this season hasn't been nearly as good as the first!).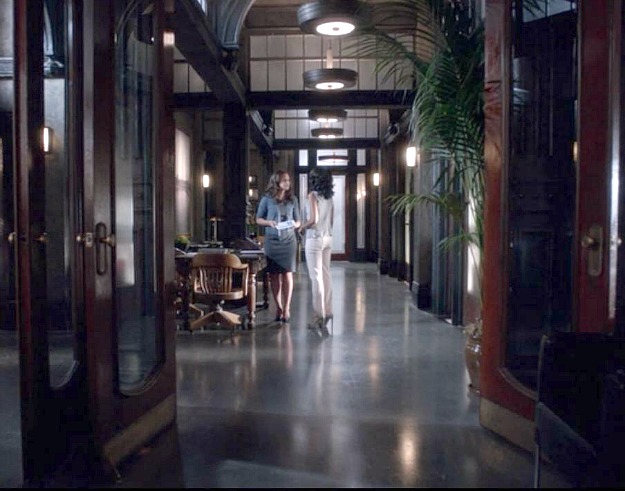 The set designers went all out when they created Olivia's office. There's not a standard cubicle in sight.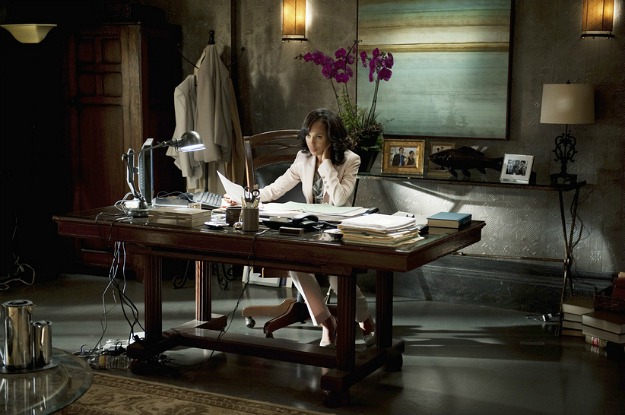 I love all the gleaming wood and the interesting windows it has.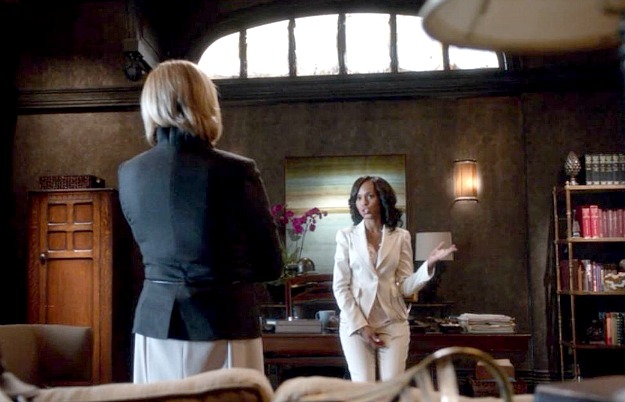 Her team uses the windows in the conference room to hang notes and photos about cases they're researching. They are constantly rearranging them like giant bulletin boards.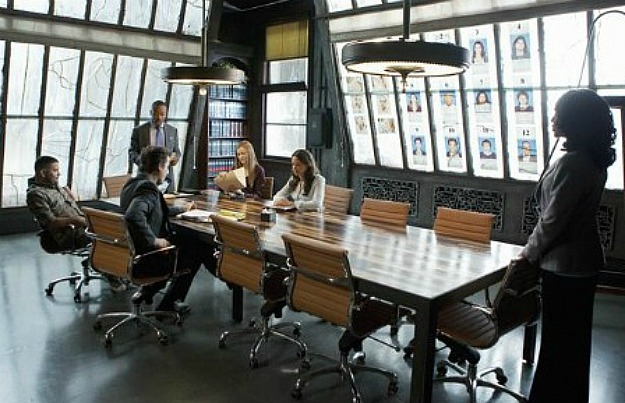 ABC introduced the show last year this way:
From the creator and executive producers of "Grey's Anatomy" and "Private Practice" comes a drama revolving around the life and work of a professional crisis manager and her dysfunctional staff."Scandal" was written by Shonda Rhimes ("Grey's Anatomy," "Private Practice").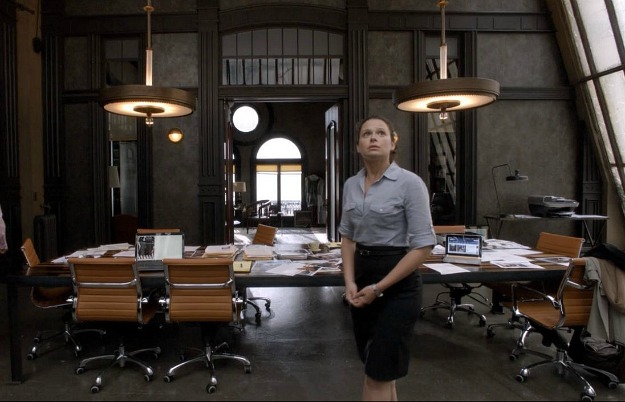 Any Everwood fans out there? I was ridiculously excited when Scandal had an episode with two Everwood alums–Tom Amandes who played Dr. Harold and Brenda Strong who played Dr. Andy's belated wife–as a married couple. (Their storyline was a lot more twisted than anything we would have seen on Everwood, however!)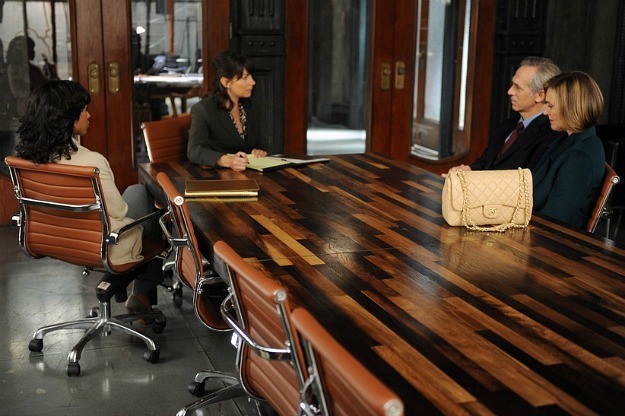 Not only that, but Debra Mooney, who was Harold's mom on Everwood, is Verna Thornton on Scandal. Could you believe how her storyline ended last week? Shocker!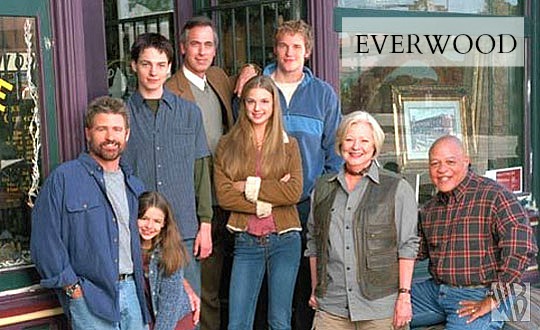 The dramatic wood table makes a great centerpiece for the room
(note: a reader left a link to the manufacturer in the comments):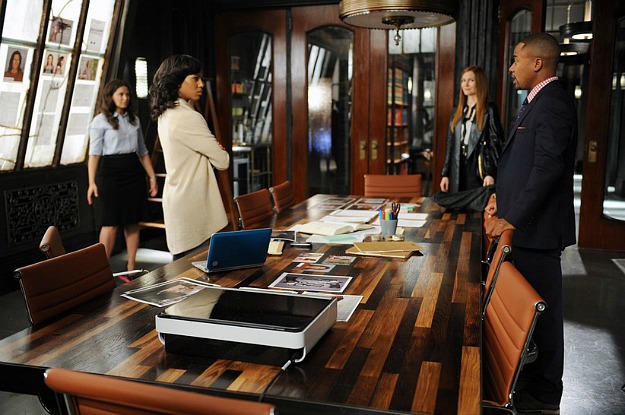 Henry Ian Cusick played Stephen Finch, Olivia's right-hand man in the first season, but he left before the second. He was also in that spooky Demi Moore movie Half-Light that I featured last year.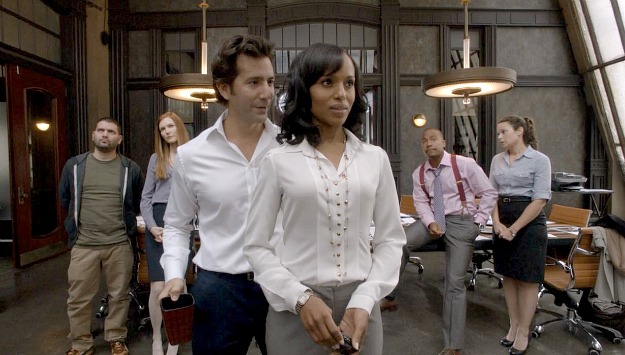 Anyone else hooked on "Scandal" and its sets?

(Visited 216 times, 1 visits today)