Paula Patton plays Sabrina in the movie Jumping the Broom, a bride-to-be who's getting married at her parents' waterfront mansion on Martha's Vineyard. And what a mansion it is! Let's take a look…

Most of the movie was filmed on location at a house in Nova Scotia, Canada, which doubled for Martha's Vineyard. The interiors as well as exteriors were used.
In this scene, T.D. Jakes (who was also one of the producers on the movie) meets with the couple as the minister who is going to marry them: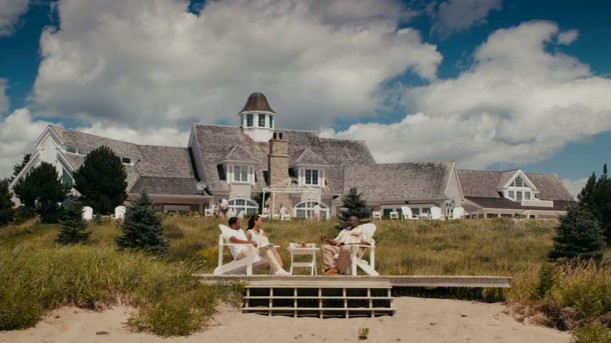 Jason (played by Laz Alonso) and Sabrina walk through the front gates and up the driveway to the house: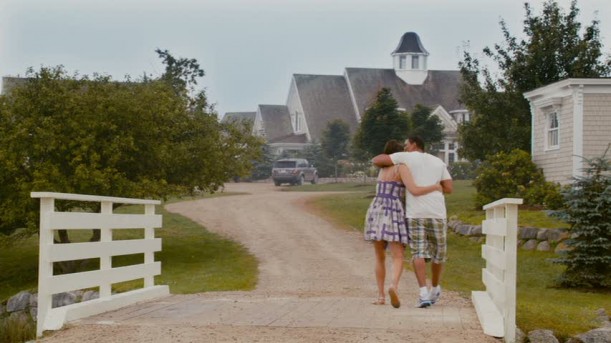 The groom's family and friends arrive for the weekend and enter through the front door: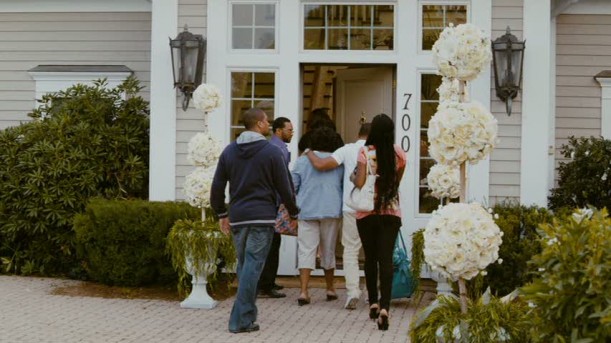 Set Decorator Brian Enman told MSN Lifestyle in an interview that the house was pretty much camera-ready when he got there: "The home was 90% there and very tastefully done." He says he only had to add some additional artwork, accents, and greenery.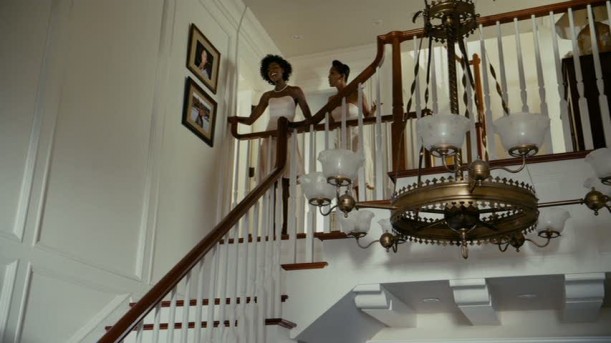 Angela Bassett plays Sabrina's mom to chilly perfection.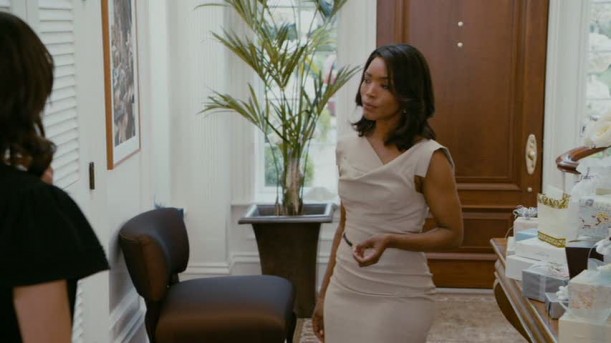 I love Julie Bowen as Claire Dunphy on "Modern Family" (pics of those houses here), but her character Amy the wedding planner in this movie was so irritating that I found myself cringing every time she was onscreen. I snapped this photo of her walking into the house because you could see the living room with the fireplace straight ahead.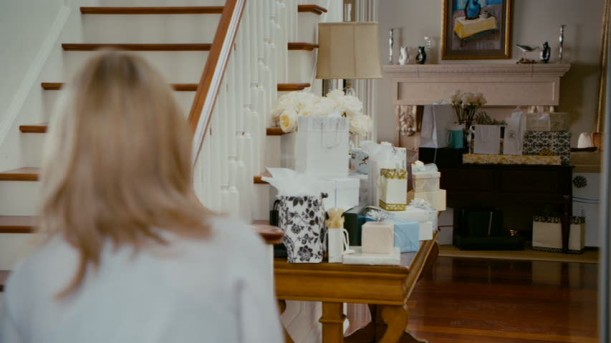 When Jason's mom, played by Loretta Devine, walks down the hall, we get to see the beautiful woodwork. Kind of odd how they hung the third framed photo (the ceiling is lower there, but it looks strange to me):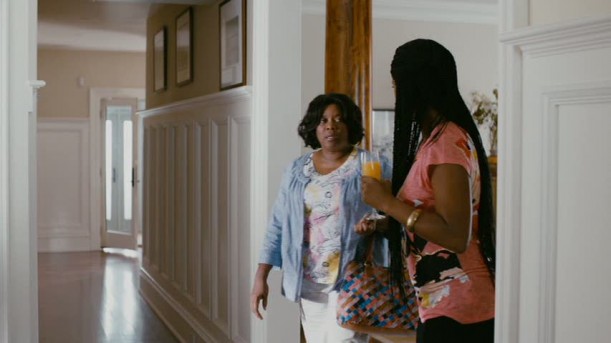 Mrs. Watson leads her guests into the living room: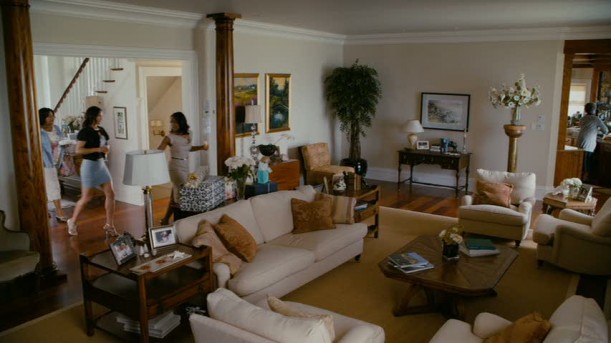 A production photo (via Sony Pictures) shows the corner close up:
The kitchen was shown mostly in close-up shots when it was crowded with people, so it was hard to get a good feel for the size of it. The stainless-steel backsplash really stood out against the stained wood cabinets: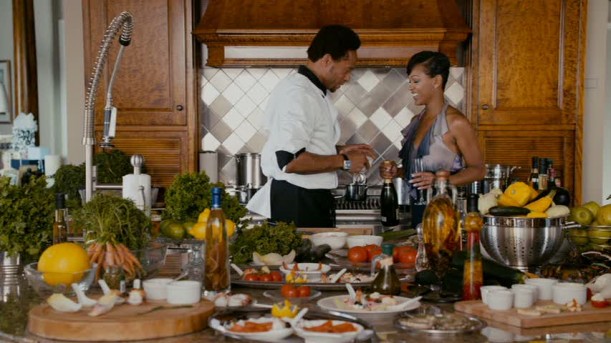 In this shot you can see that the kitchen opens up into a large eating area: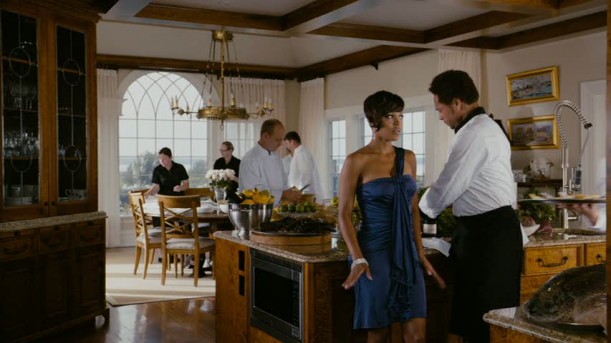 Sabrina's bedroom is pretty simple with white walls and pale wood furniture: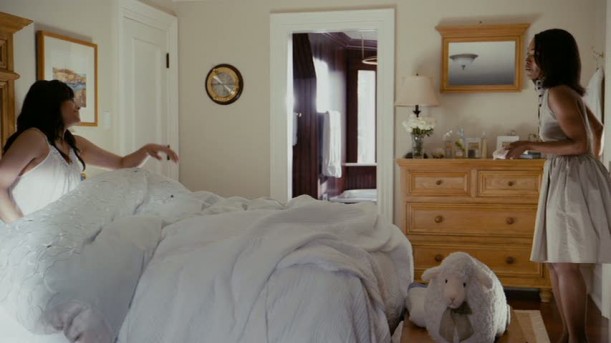 I wonder why the mirror over her dresser is so small and hung so high?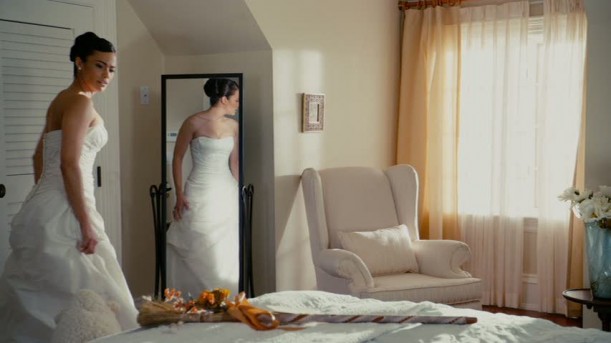 When I see rooms that are this sparse and undecorated, it usually means they were shot inside a real house. Sets built on soundstages always seem to look a little more "done" and layered.
The master bedroom is pretty plain, too, considering how much this couple (and their house) is worth: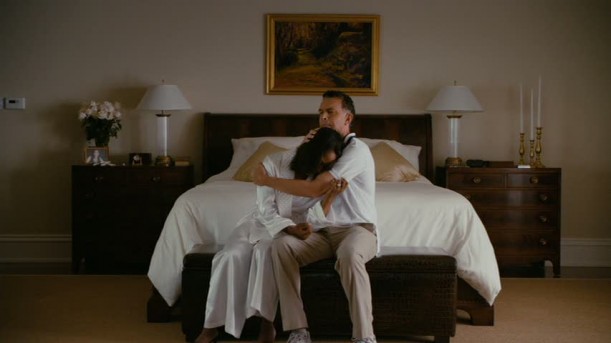 Jason's mom stayed in a guest suite upstairs that featured this lovely sitting room with vaulted ceilings: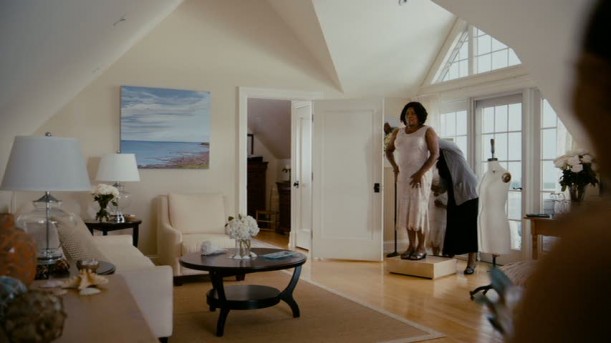 Mr. Watson's wood-paneled den has a pool table and a record player: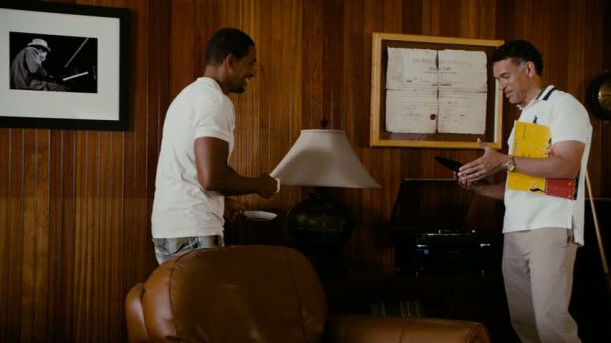 The screened porch: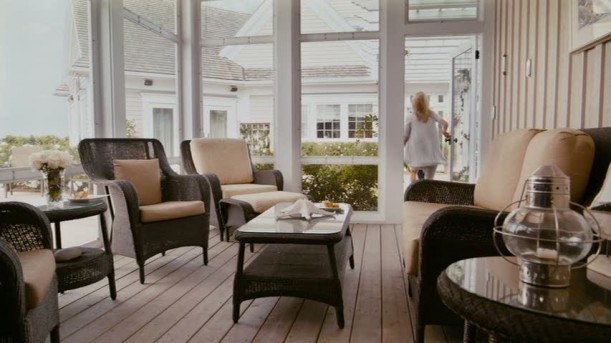 Wedding guests lounge on white slipcovered furniture on the lawn, overlooking the water: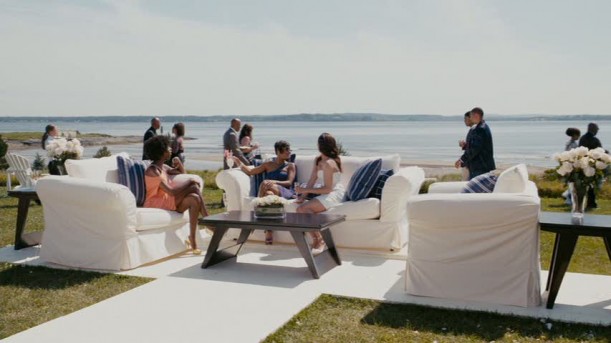 The wedding tent:
A peek inside:
The bride gets walked down the aisle by her dad (played by Brian Stokes Mitchell) in the backyard :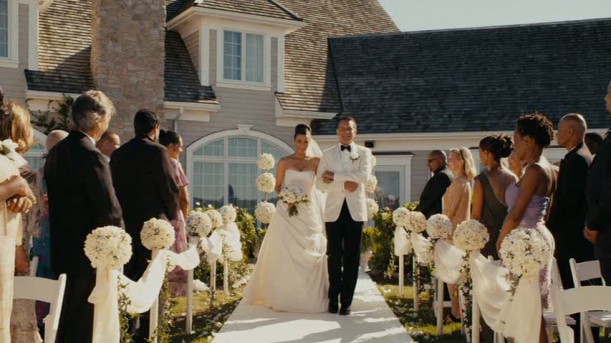 Paula Patton brought her newborn to set with her, having given birth to a baby boy named Julian a few months before. You'd never know it to look at her!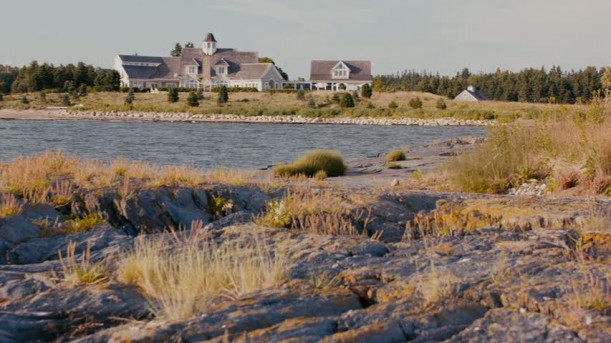 Jumping the Broom got mixed reviews, but hey, it had gorgeous actors, beautiful clothes, and a great house to look at–not to mention a happy ending. I always give movies points for things like that. Ha. What did you think of it?
(Visited 62 times, 13 visits today)