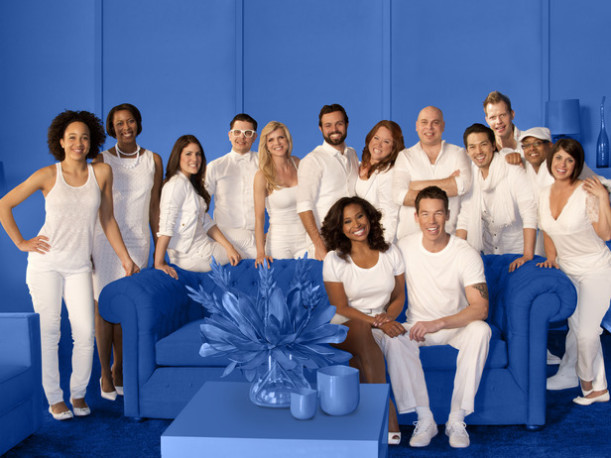 Well, we started with 12 bright-eyed, white-wearing hopefuls in a very blue room this summer who all wanted to be HGTV's next Design Star. Week after week their various decorating blunders  gave judges Vern Yip, Genevieve Gorder, and (when she wasn't a no-show) Candice Olson reasons to thin the herd.
Finally, this week we were down to the last decorators standing: Karl Sponholtz and Meg Caswell.
They were each given a producer, a carpenter, a couple of former-contestants as helpers, and a camera crew to film short pilots in a couple of row houses in Harlem.
Karl went with the uninspired title "Inspired Design" for his show.
Here's the room he was given to make over:
When I see rooms like this on TV I imagine the producers gleefully tossing toys and pillows everywhere before filming to make it look as awful as possible. Because you know no homeowner is going to let a camera crew show up without picking up a little first, right?
The couple told Karl they wanted a Tuscan look. And a downtown "street" look. Both. He definitely had a challenge on his hands pulling that off. His solution was to buy an armoire for the TV that kind of "looks Tuscan," and paint graffiti on it to give it a cool and gritty vibe. Um, okay. Here's how that turned out:
I'm a little puzzled as to how this has any Tuscan elements at all. The homeowner stressed that she loves those warm Tuscan colors and he gave her pale green and taupe.
He did a great job giving them storage and functionality in the room, though, and I loved the way he trimmed it out with moldings to give it more character.
Meg decided that for her show she would be a Design Criminologist, hunting down Design Crimes and rectifying them. The judges flipped over it. They thought it was the most clever, most entertaining concept they'd ever heard.
I thought it kind of fell flat, though, when the only "crimes" she could really cite were things like "The Buddha head shouldn't be in the window!" and "I can give those curtains covering your windowless wall a more designer look."
She also had a much easier challenge with her homeowners, who told her they like Tiffany blue but want the room to look warm, maybe with some leather? And they needed a more functional dining area so they could entertain.
Here's how the living slash dining room looked when Meg was finished with it:
I can't figure out why the black and white family photos appear to be scaling up the wall like they're trying to escape. I don't think they showed that on TV, did they? I'm just noticing it now.
Meg gave them faux windows on their windowless wall, framed with curtains. Does it bug anyone else that the mirrors are hung lower than the real windows? Would have been nice if they had matched up a little more. And I'm just not sure how I feel about the fake-window look in general, although I'm sure the mirrors do open the room up and make it feel brighter.
Judges Candice Olson, Genevieve Gorder, and Vern Yip–plus this season's mentor and former Design-Star winner David Bromstad in a shiny gold jacket that I couldn't stop staring at when he was onscreen–viewed the pilots and were impressed with both of them.
There could be only one winner, however, and it is…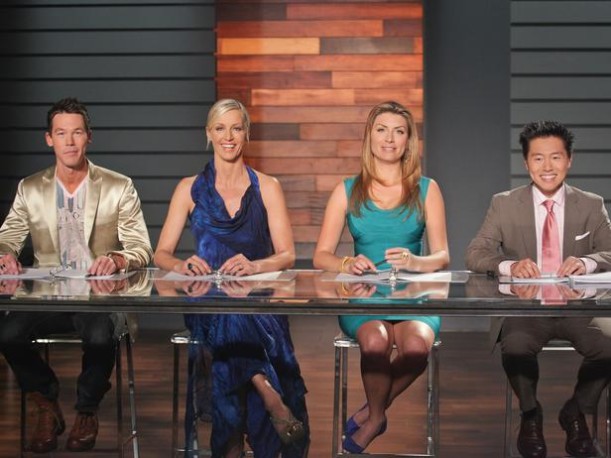 Meg Caswell! Cue the confetti.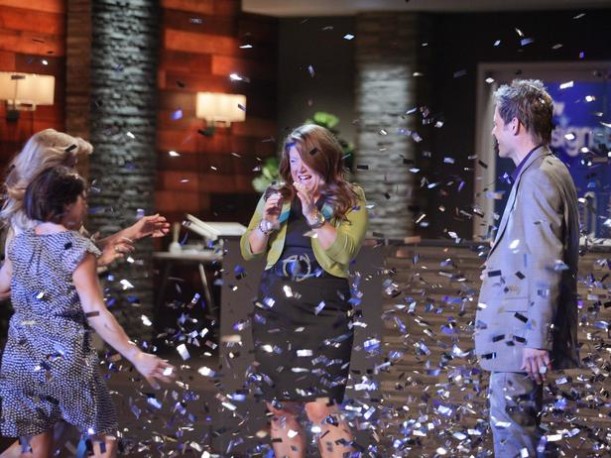 I was surprised that she won, especially since she is far from the fan favorite. In the poll they've been taking all season long, Meg has been stuck in the middle of the pack while Karl has held a spot near the top. Based on the comments that lit up the HGTV blogs after the announcement, I'm not the only one who expected Karl to win.
I'm not sure how much confidence HGTV has in the choice, either. They announced that Meg will star in a limited, five-episode series called "HGTV Great Rooms" that will air on Saturdays…at 6:00 in the afternoon. Maybe if it does well they'll give her something more permanent, but the time slot doesn't bode well for her, I'm afraid.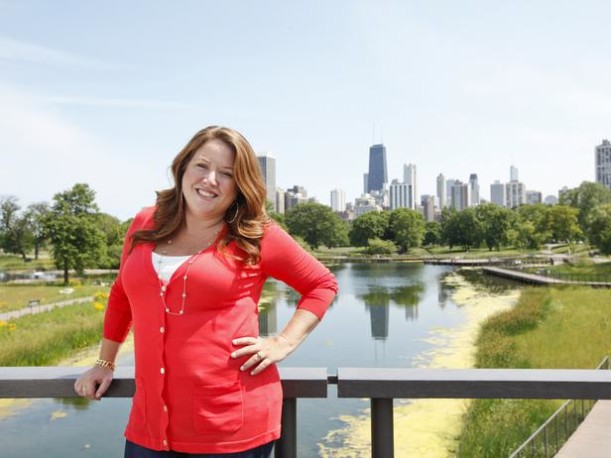 Also, the title of the show is a little vague. I thought maybe it was about Great Rooms (as in family/gathering rooms). Or maybe it would showcase great rooms from past HGTV shows. But it turns out she'll be giving various types of rooms great makeovers in her hometown of Chicago. The episodes have apparently been filmed already because you can see the before and afters featured in them here.
Were you rooting for Meg to win? Will you watch her new show?
(Visited 1 times, 1 visits today)