The HGTV Smart Home 2014 is described as "an English country home" in Nashville, Tennessee. Fancy futuristic tech wizardry in houses doesn't excite me much, I've gotta admit, although it's interesting to see the things they come up with. I'm always more interested in how designer Linda Woodrum decorates them.

HGTV Smart Home 2014
A few things about the house surprised me, starting with the red dining room. We don't see many painted dark red like this any more. Are they staging a comeback?
They seem to have scattered books and papers around the dining room to show that it can serve double duty as a home office (according to the video tour). Not sure I could get much work done in a red room, though.
From this angle you can see that there are barn doors that can close the room off from the foyer, which would come in handy if you used it as a home office.
Another thing that surprised me: the master bedroom is right inside the front door, off the entry hall. I'm not sure I'd want visitors to see my bedroom right off the bat when they walked in. I'd have to remember to keep the door closed (ha).
Not only that, but they used a dark brown color in the master suite (Sherwin-Williams Foothills 7514). Another color we don't see as much of as we used to since gray tones took over.
One of my favorite rooms has to be the upstairs den with the blue board and batten and planked ceiling:
I'm loving all the blue and white in general that started with the front door.
They used Indigo Batik SW 7602 as a signature color that we see again in the kitchen and adjoining family room.
It's a great little kitchen…although I'm not sure about those bar stools at the island. They don't quite look like they fit with the rest of the space to me. An easy fix if I win the house, though! 😉
The window treatments can open and close with the touch of a remote, and there's a whoppin' 60″ flatscreen TV that can swing away from the wall whenever you want to watch it from the kitchen:
Do you watch The Little Couple on TLC? This family room reminded me of theirs. Different colors but a similar layout. I had to go look up a picture of it to compare them (you can see my post about their house here).
One more thing that I didn't expect to see in the house: a stage set up in the lower level. Kind of a fun nod to the fact that the house is in Nashville.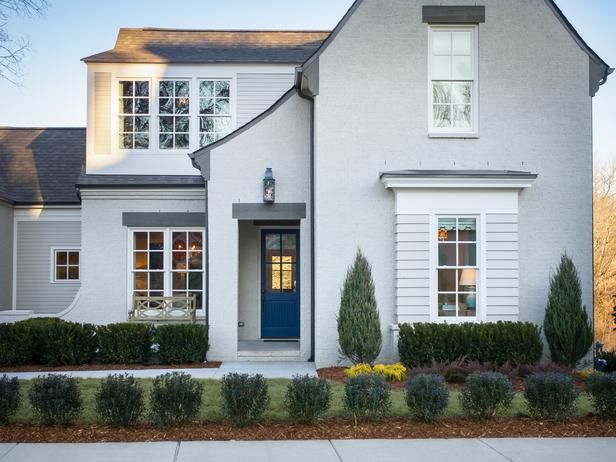 What do think about this year's Smart Home? Wanna win it? Visit HGTV for more photos and information about entering the contest. Beth got a personal tour of the house and wrote a fun post about it on her blog Unskinny Boppy, too.

P.S. Visit my HGTV page to see more, including…
(Visited 27 times, 1 visits today)