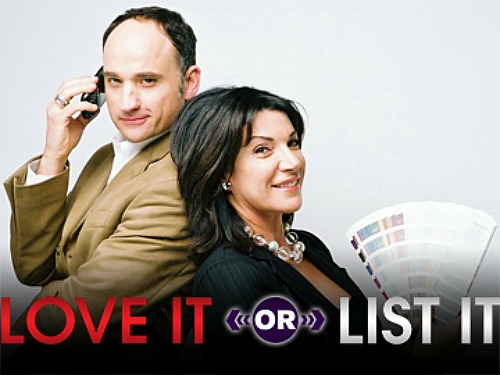 My favorite show on Oprah Winfrey's new OWN network is "Love It or List It," a clever spin on house hunting and design shows.
I just finished a marathon of episodes and I'm totally hooked. I thought it was a new series created for OWN, but as my Canadian readers probably know, it's been filming in Toronto since 2008.
Here's how it works. In each episode, the homeowners are assigned a designer (Hilary Farr) and a real estate agent (David Visentin).
The couple tells Hilary what they require to be done in their current home in order to stay put, and they tell David what they'd need to see in a new house to convince them to move.
So not only do we get to see them house-hunting, but there are major (and impressive) renovating and redecorating projects to follow, too.
The homeowners give her a budget to work with, which is usually in the $30,000-$70,000 range. Even if they don't stay in the house, her renovations make their homes worth more when they go to sell it, so they can afford a more expensive new place than they would have otherwise.

After watching a season of "Love It or List It," I noticed a pattern:
1) The homeowners never trust Hilary's decisions and argue with her. They are caught on "hidden camera" complaining about her and questioning whether she knows what the heck she's doing.
2) They rarely like the first house David shows them and say things like, "I wouldn't pay ten dollars for this place!" and "I don't think he was really listening to what we said we want!"
3) Hilary runs into a major problem with the renovation, which means she's not going to be able to make all of the changes she promised them. The homeowners get mad (even though it's not her fault) and say things like, "If you're a professional, you should be able to figure this out!" Her response to one homeowner: "I can't print money."
4) David finds them their dream home, and they LOVE their renovated house. They pretend to debate what they're going to do, saying things like, "I'm really torn over this," and "This is a really tough decision!"
(My guess, having heard the behind-the-scenes stories about how "House Hunters" is filmed, is that the decision was probably before filming even began.)
Despite the predictable pattern of possibly-manufactured drama, I get a kick out of it. Hilary and David bicker like an old married couple all the way through it, with banter like, "I hate to rain on your parade, Hilary." "When you're around, David, I always bring my umbrella!"
At the end of the episode, the couple announces whether they're going to love their house and stay in it or list their house and move on.
Out of the episodes I've seen so far, I think only one couple chose to move, but according to message boards I was reading about the show, it's split a little more evenly than that.
Is anyone else hooked on "Love It or List It"? Or got any behind-the-scenes scoop for us about it? I'd love to hear!
Update: OWN dropped "Love It or List It," but HGTV has picked it up and you can now watch it there.