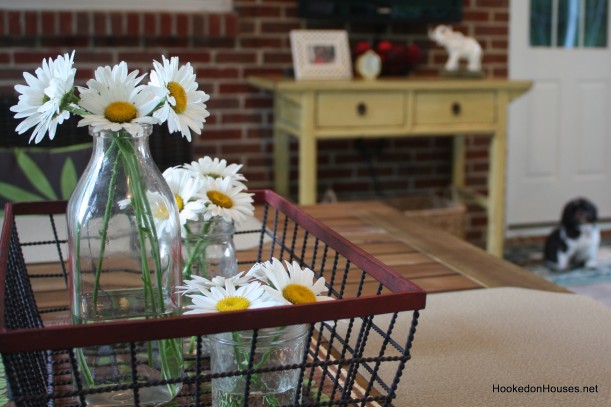 Just a little update on the decorating progress I'm making in our new sunroom. Those of you who followed along with me while it was being built last winter may remember how it looked right after the room was finished in December, when things were still pretty bare: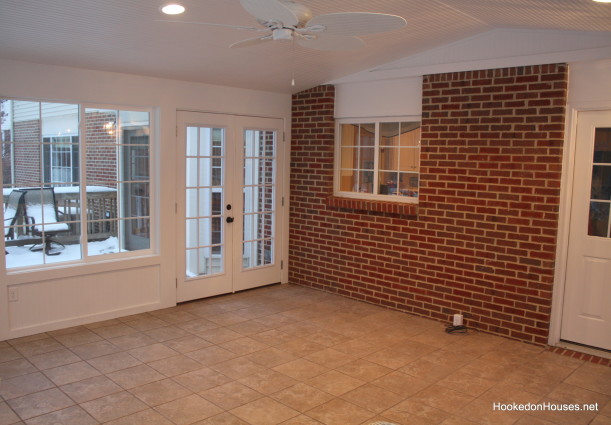 Brrr…makes me shiver just seeing that snow outside. It was a long, cold winter!
Since then we've been using an old patio table against the wall as a catch-all until we could afford some proper furniture: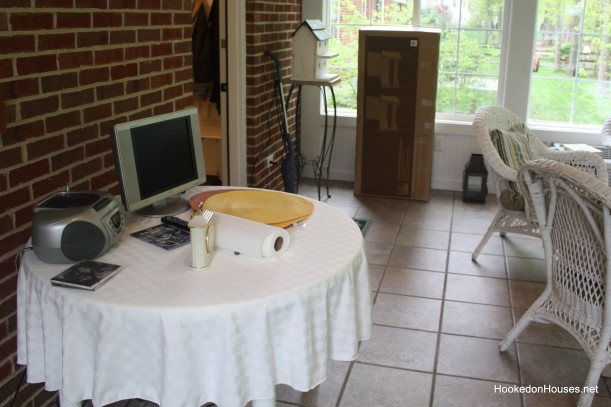 Isn't that a pretty scene? We were in the middle of assembling the chairs for our new table that day, which explains the big, empty box. You can see photos of the table and chairs here if you missed that post.
Since this has kind of become our new family room this summer, we decided to buy a 32″ flat-screen TV with a built-in DVD player to hang on the brick wall, and we needed some sort of console or buffet table to put under it. I knew I wanted it to be a painted table (not stained wood and not white), so the search began.
I hoofed it through furniture store after furniture store without finding anything that I was even a little tempted to buy. Everything we saw was so dark and serious (and expensive). Nothing remotely sunroom worthy.
Finally, I checked out Merridian Home Furnishings and fell in love with half of their inventory. When I spotted this little yellow table with two drawers–and saw that it was on sale for 30% off, which brought it close to $300–I grabbed it.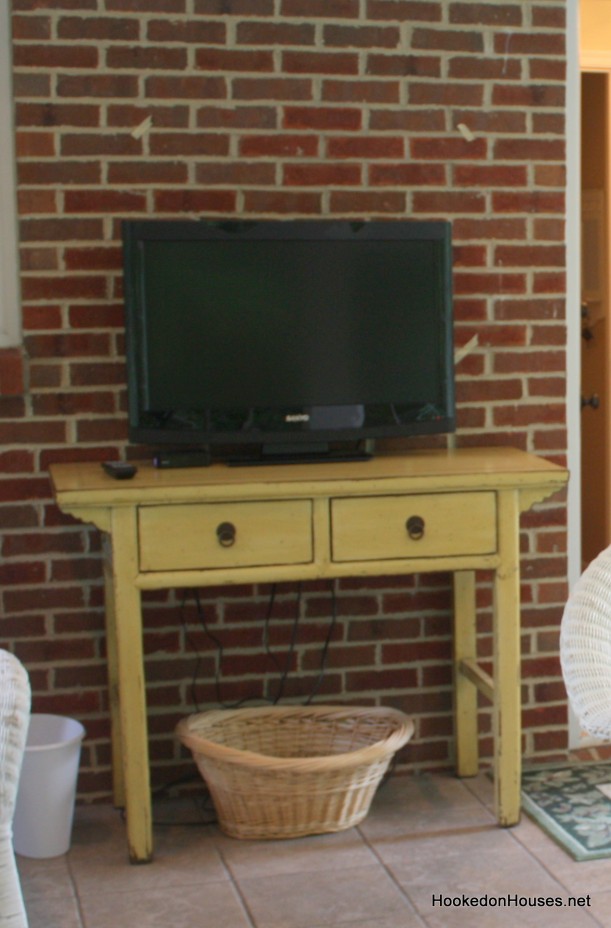 That's how it looked when we first got it home and put the TV on it.
We tried to hang the TV on the wall, but the drill wouldn't go through the brick at all. Our helpful neighbor Tony explained that we were supposed to drill the hole in the mortar, not the brick. Oops. He was right–it worked! Here's how it looks now:
Imagine that–"House Hunters" was on!

I bought a bigger basket at Home Goods to camouflage the power strip and outlet on the floor. I'm also using it to store things like paper towels and placemats.
I'll be playing around with what I want to display on the table, but I put a basket with some apples under the TV for now to hide some of the wires, at least, and that white framed photo of me with my daughter and my niece hides the Roku box. (Love that little thing. It lets me stream movies from Netflix, etc.)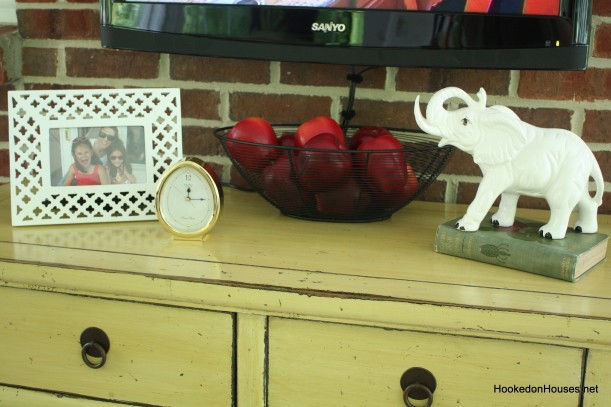 I think the yellow table brightens up that dark brick wall. And it looks a heck of a lot better than that old resin table did here! So things are starting to come together.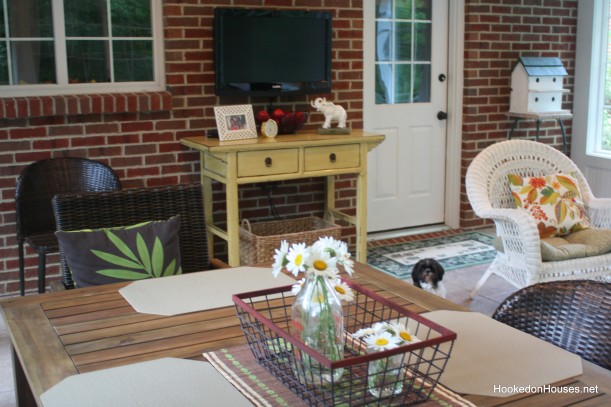 Now I just have to figure out what to put on the other side of the door, where the birdhouse is. Some shelves would be nice. I still need a place to put my CD player. Not that it doesn't look lovely right here on the dog crate…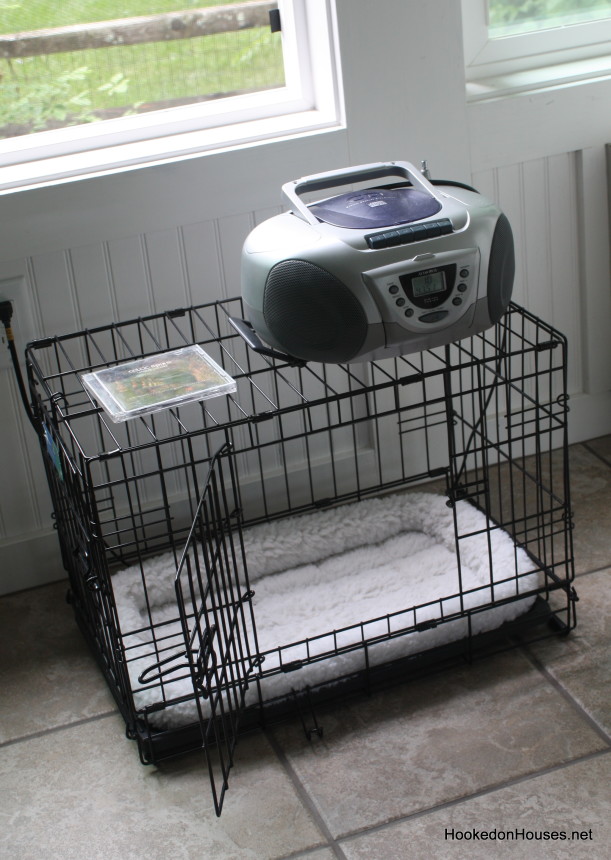 Yeah, I'm fancy like that. 😉
By the way, for those of you who have asked, our pup Maizie is doing great. She gained some much-needed weight, healed completely from her jaw surgeries, is finally house trained, and is actually taking long walks on a leash now–something I never thought we'd get her to do! She keeps a close eye on me at all times, as you can see. (You can read her adoption story here–sad beginning, but happy ending.)
Stay tuned because we just bought an Ektorp sofa from IKEA for this space that we're putting together. It'll replace most of this wicker in the room and (hopefully) make it a much more comfortable place to hang out!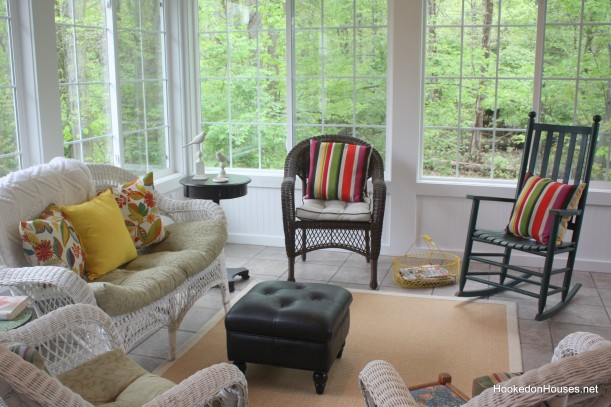 I also have a new rug ordered and am on the hunt for an ottoman so this one can go back to the family room where it belongs. Wish me luck, and I'll show you how that turns out soon!
More deets about my sunroom here and here, if you want 'em.
(Visited 7 times, 1 visits today)