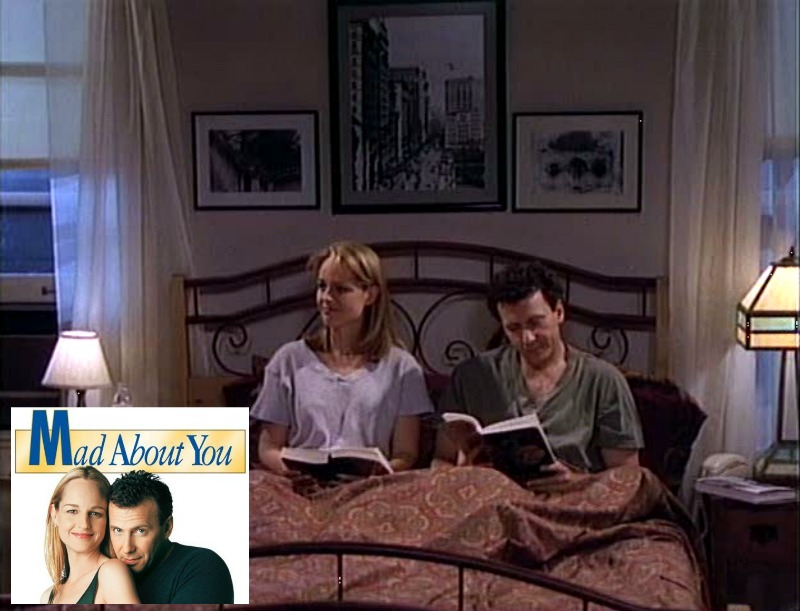 One of the most popular sitcoms in the 1990s was Mad About You. Paul Reiser and Helen Hunt played Paul and Jamie Buchman, a young, married couple living in New York.
The series ran for 7 seasons, from 1992-1999, and almost every episode took place in their one-bedroom apartment in Greenwich Village.
The building used for the exterior shots of their apartment is located on the corner of 5th Avenue and 12th Street in Manhattan. The interior scenes were filmed at Culver Studios in California.
Let's take a look back at the iconic sets from the show!

Paul & Jamie's Apartment in "Mad About You"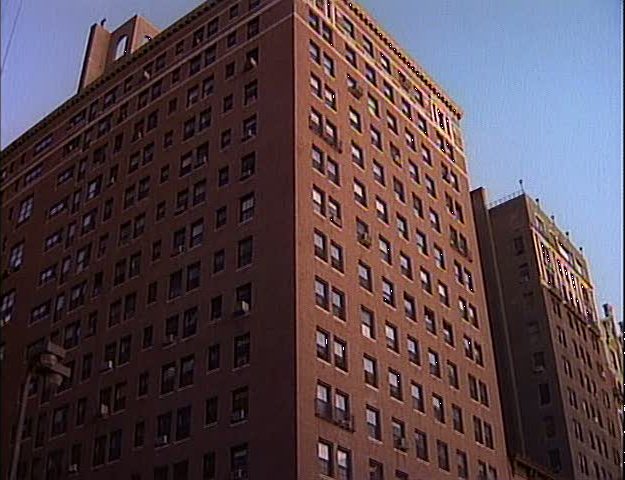 The Hall Outside Their Apartment: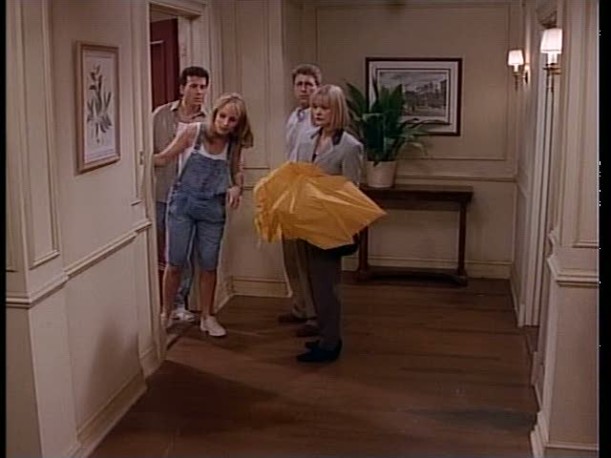 When the series premiered, critics weren't crazy about it.
Entertainment Weekly gave it a C+ and quipped that they were "Ambivalent About You." Ouch.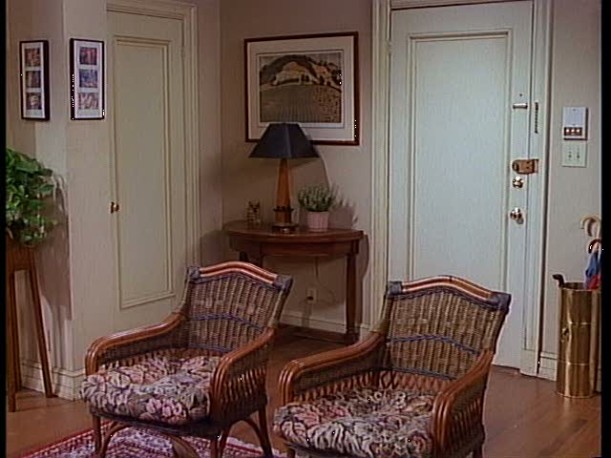 The EW article also noted:
"Paul and Jamie's biggest problems in life seem to be deciding which sofa to buy and which restaurant to choose for a leisurely brunch."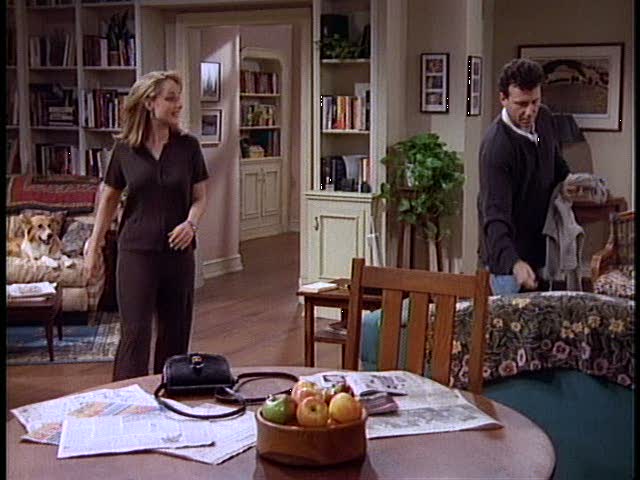 One of the first episodes did revolve around furniture shopping. And I remember being flabbergasted when that odd little loveseat with the patchwork of patterns on it was what they came home with.
Here's a publicity shot of the couple sitting on that loveseat: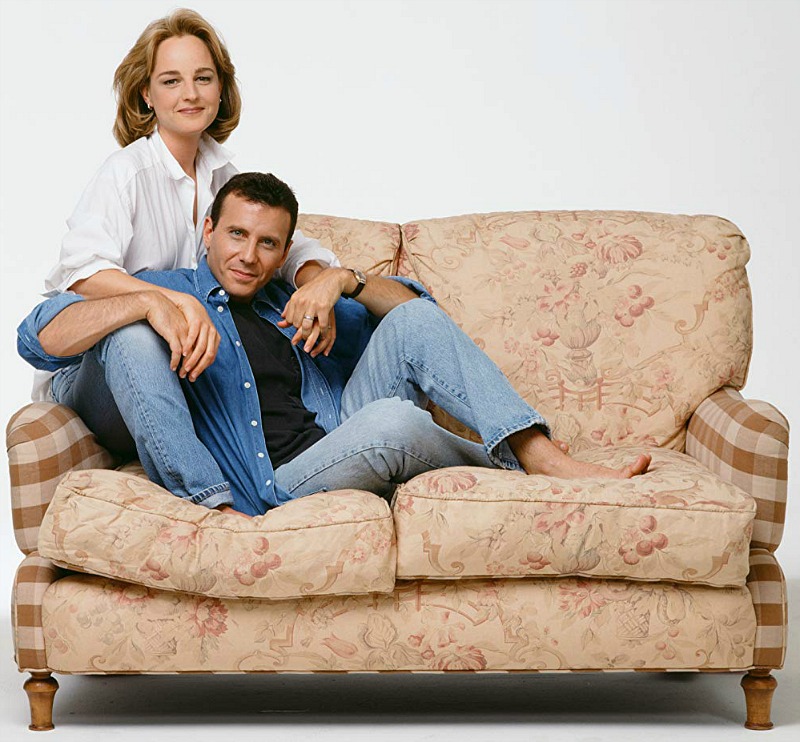 The Buchmans' dog Murray was played by a Collie mix named Maui who was found in a California animal shelter
by animal trainer Boone Narr. He started out in TV commercials before becoming famous as Murray.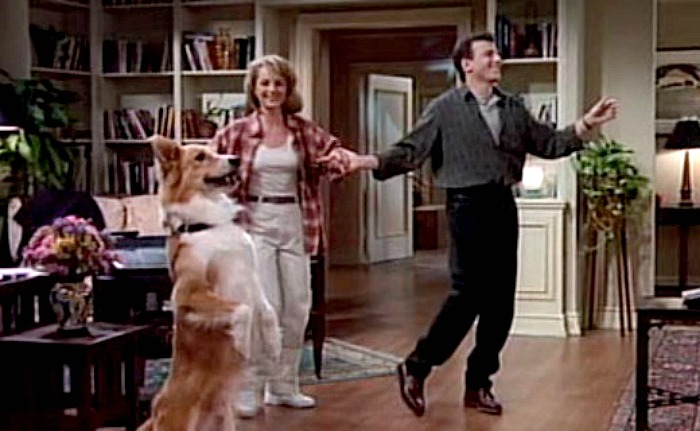 According to an article in Mutt News:
"Maui's favorite skills are 'hiking' (making people believe he is relieving himself), sneezing, crawling, shaking his head and rolling over. In the summer of 1994 he shared the cover of TV Guide with fellow NBC star Moose (Eddie, the dog on 'Frasier')."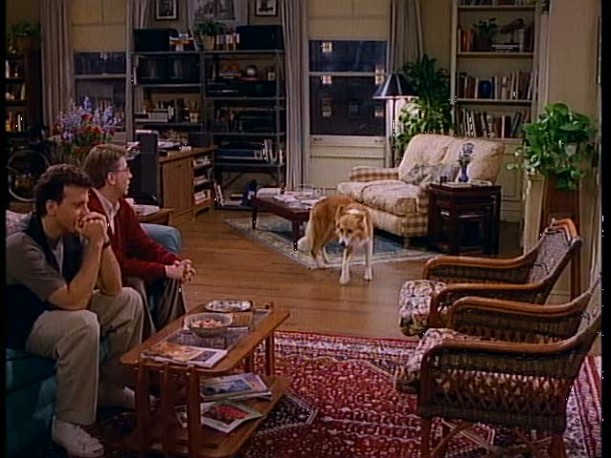 Paul Reiser's production company (which produced Mad About You) was named Nuance Productions after a line in Diner, the first film he appeared in (1982):
"You know what word I'm not comfortable with? Nuance. It's not a real word. Like gesture. Gesture's a real word. With gesture you know where you stand. But nuance? I don't know."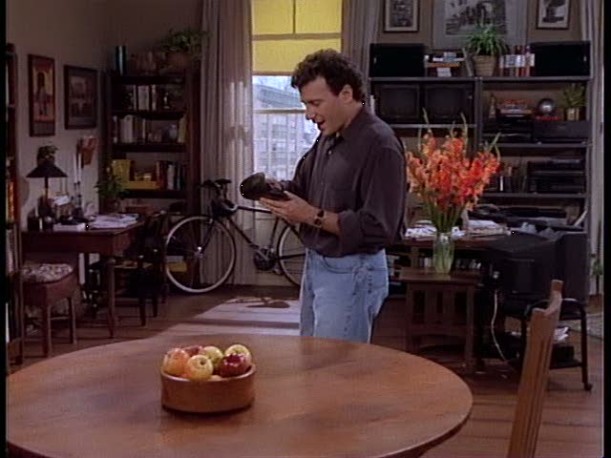 Paul and Jamie's Bedroom on "Mad About You:"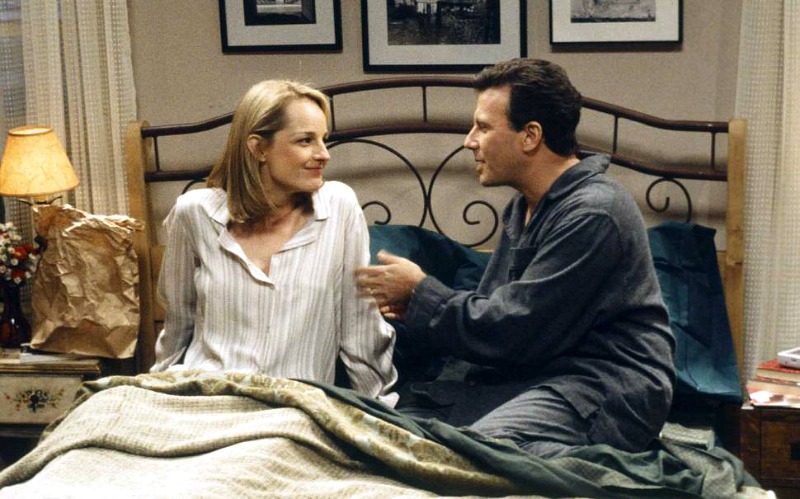 They had black and white photographs of New York over their bed…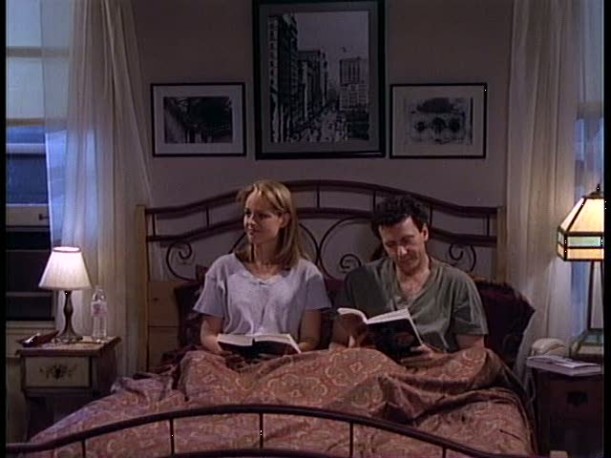 …and an old piano in the corner.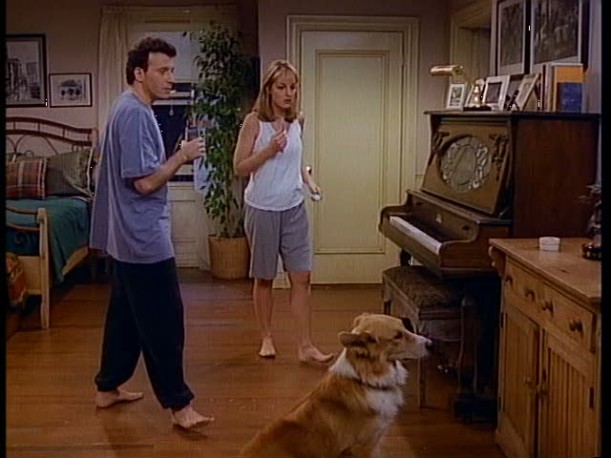 Their Retro Pink Bathroom: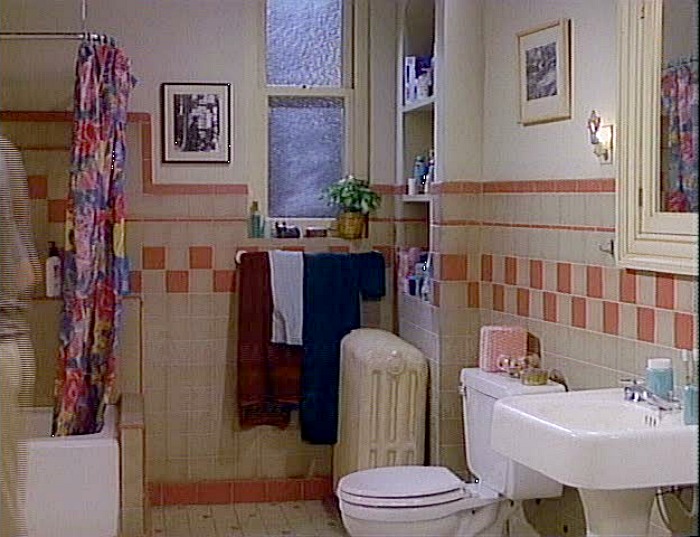 Jerry Adler played Mr. Wicker, their friendly superintendent: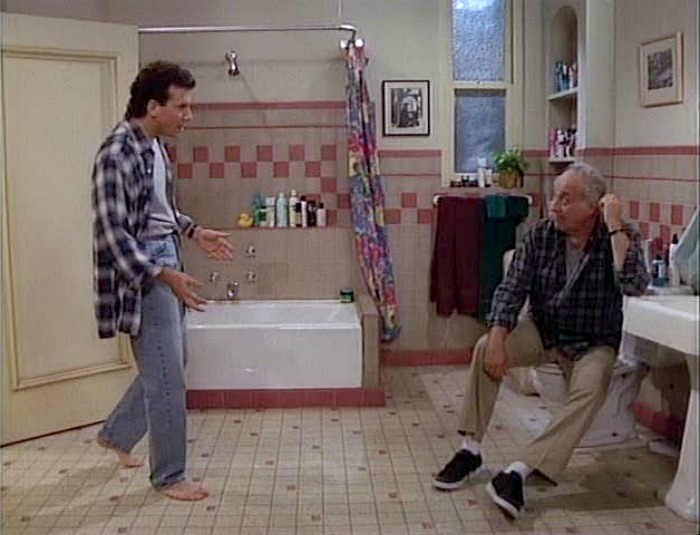 Back out in the living room (with apologies to Helen Hunt this horrible screenshot of her),
we see the swinging door that leads to the kitchen: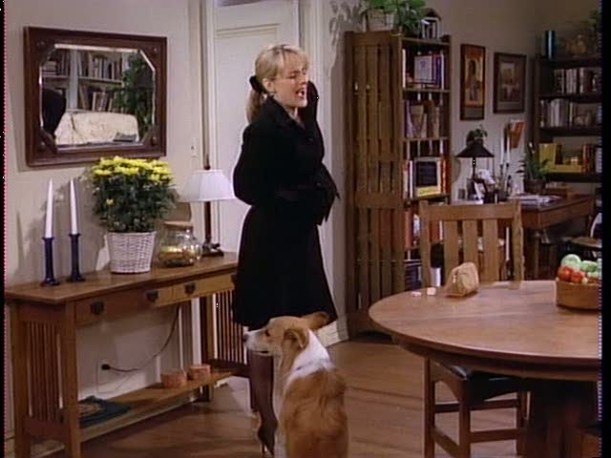 Paul & Jamie's Apartment Kitchen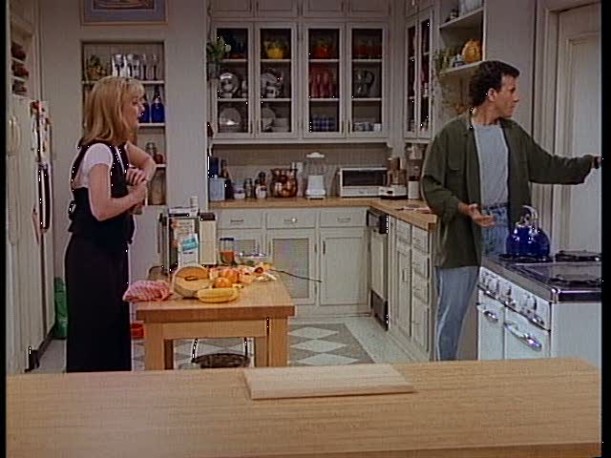 In this screenshot from a Thanksgiving episode, Paul and Jamie tried to distract their family
until a new turkey could be delivered through the window (long story!):

Jamie demonstrates how the floor is sloping in the kitchen: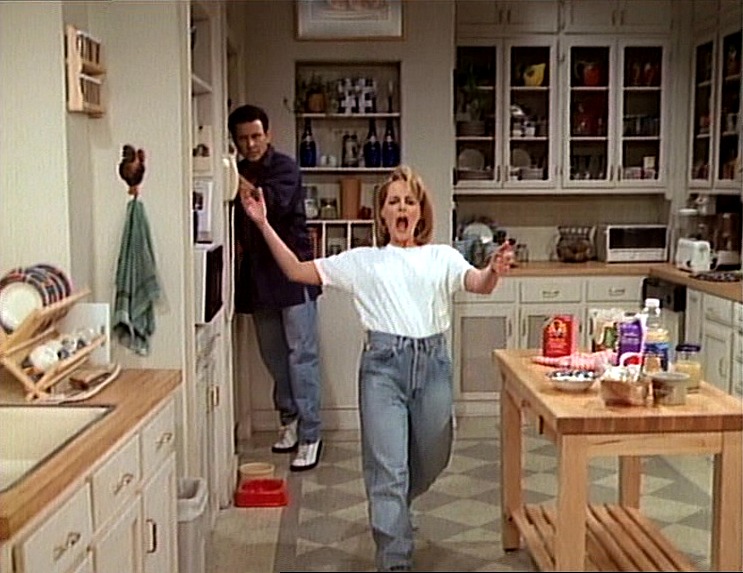 In an interview, Paul Reiser said that in the audition he was impressed by the way Helen just walked in and started puttering around in the kitchen like it was hers while they read their lines.
He thought she was a natural, and perfect for the kind of comedy he wanted to do. It's hard to imagine anyone else in that role now. She won 4 Emmy Awards for this role from '96-'99.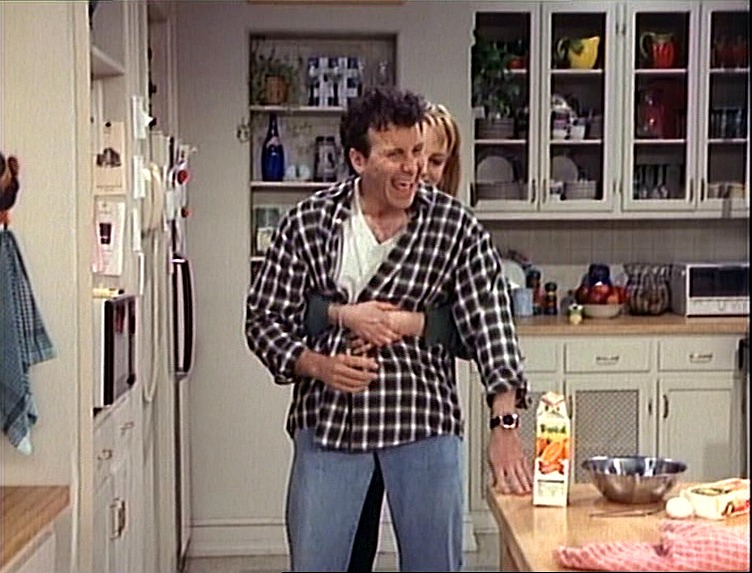 Paul & Jamie's Living Room: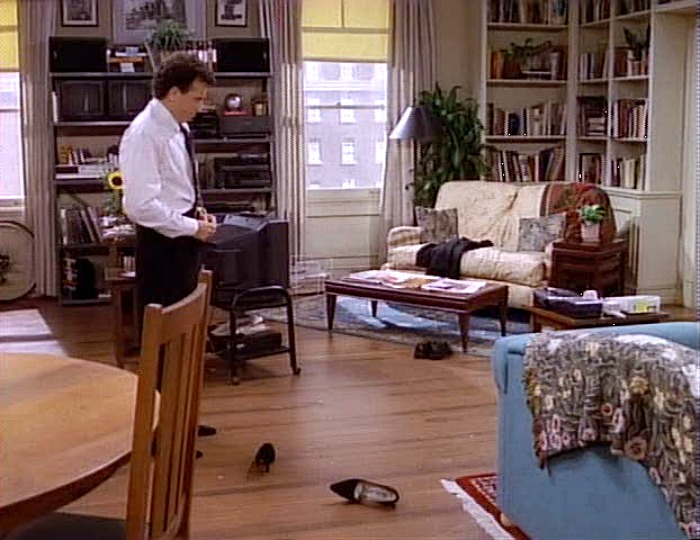 In this GIF, you can see the hall behind the living room that leads to the bedroom and bath: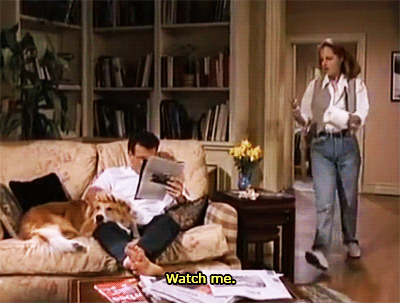 A big part of the appeal of the apartment were all the bookshelves and those HUGE windows: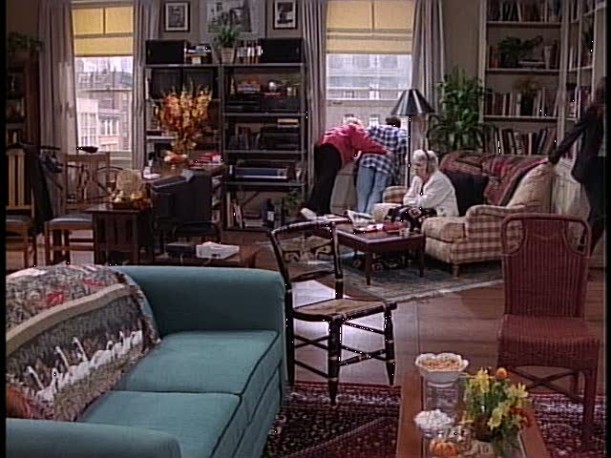 The living room was large enough for two separate seating areas and a dining table.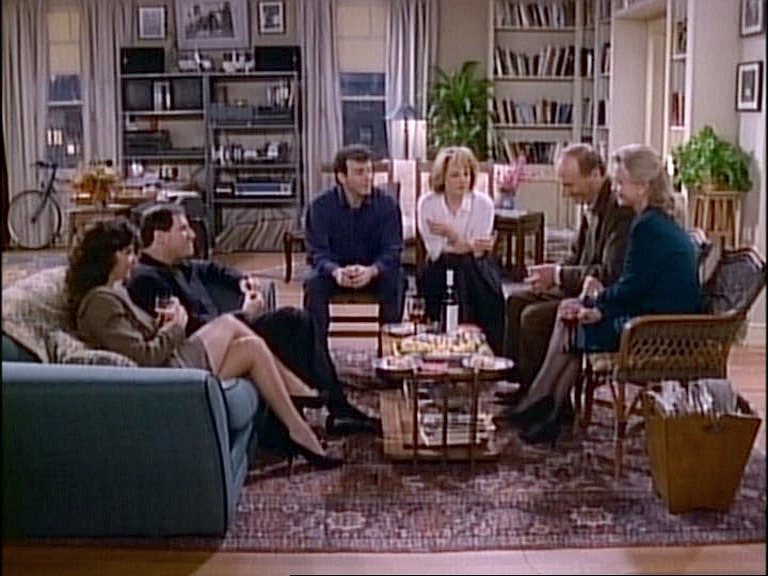 Thirty-nine million people tuned in to see the birth of their daughter Mabel in 1997.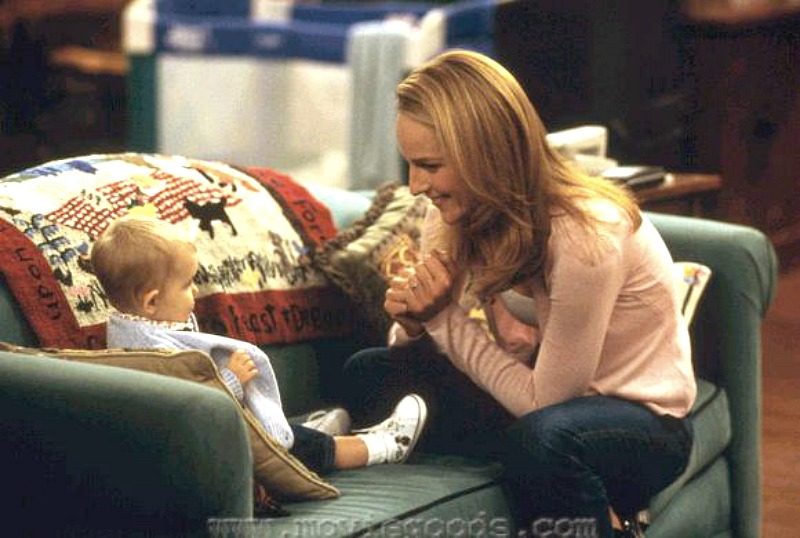 They named her that after Jamie's mother (played by Carol Burnett) suggested it could stand for "Mothers Always Bring Extra Love," and I think 39 million people collectively rolled their eyes (or maybe it was just me!).
However, I did like that it was a nod to the classic "Dick Van Dyke" episode in which Rob Petrie explains why his son Ritchie's middle name is Rosebud!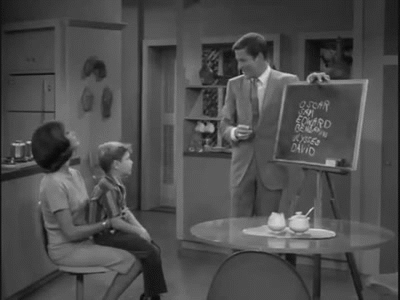 Ellen DeGeneres appeared on the show's finale as Mabel's new nanny: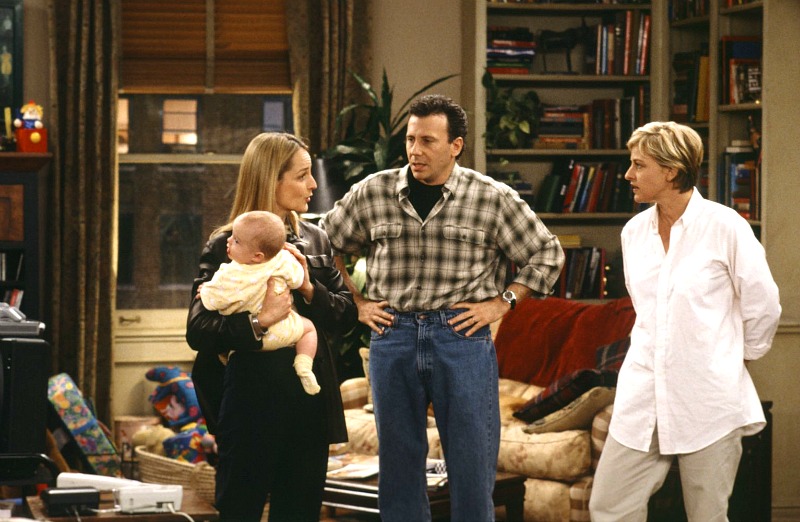 Ellen's sitcom, called "The Ellen Show," premiered a couple years later.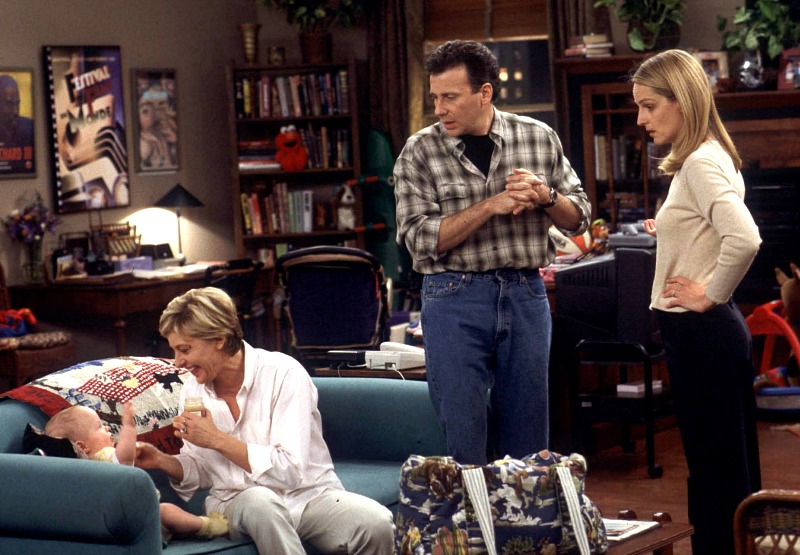 Lisa Kudrow had a recurring role on "Mad About You" as the inept waitress Ursula Buffay
until she was cast as Phoebe on "Friends." They later created a cross-over episode with her.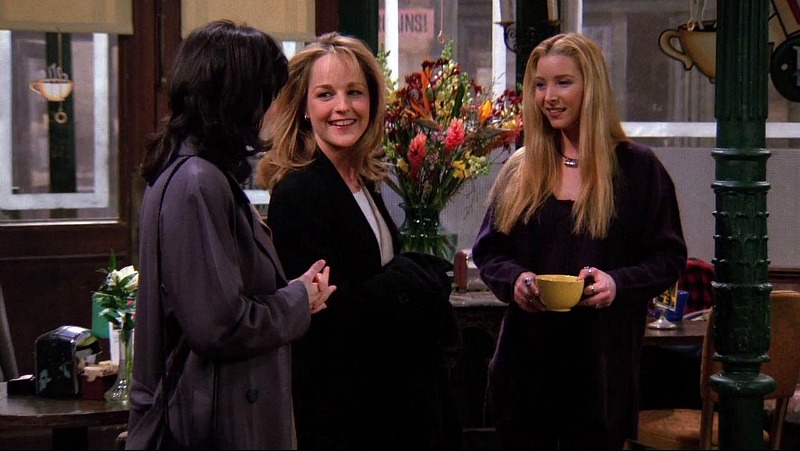 It was not only a show about a "real couple." It was a show about living in New York.
The skyline appeared in the opening credits: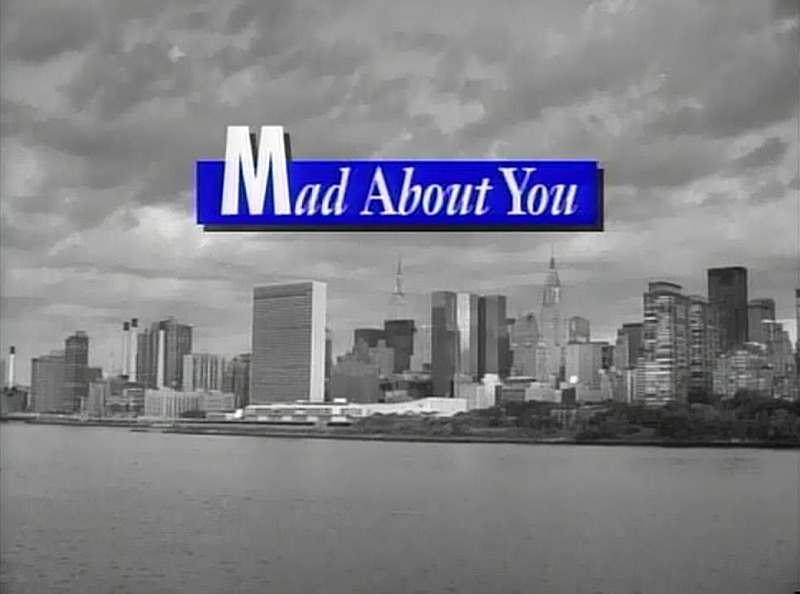 By the final season, both Reiser and Hunt were being paid $1 million an episode, but the ratings took a nosedive after the show was moved to Monday from its former Tuesday night slot.
In the series finale we saw a flash-forward in which a now-grown Mabel was played by Janeane Garofalo.
2019 Update
A "Mad About You" reboot has been announced and is set to air on Spectrum Originals later this year.
In a joint statement, Helen Hunt and Paul Reiser said, "We promise you the same funny and heartwarming show."
Can't wait to watch — and see if they're still in this same apartment nearly 20 years later!
Visit my Houses Onscreen page to see the other shows I've featured, listed A-Z.