When this month's Better Homes & Gardens arrived in my mailbox, I was excited to find photos of novelist Mary Kay Andrews' charming "Breeze Inn" inside. When she and her husband Tom bought the Tybee Island cottage, it was painted "egg-yolk yellow with circus-blue trim." They wanted it to resemble the Florida beach houses of the '40s, so they repainted it a mint green with a hot-pink door.
I always thought I'd be a novelist myself. I studied English with a concentration in writing in college and had to write a novel for one of my classes. I taught creative writing workshops for years and sold some of my short stories, but the novel-thing never really worked out for me. I had no problem writing them, but then I was too shy to actually let anyone read them. Crazy, right?
But for some reason I don't have any problem writing blog posts and having you guys read them every day. Apparently I was intended to be a blogger instead…
I always thought it would be cool to frame my book covers. You know, after I actually published a few novels. So when I saw that she had framed hers, I immediately pinned the photo to my "dream board."
Another fantasy of mine is having a screened porch, so this goes on the board,too:
After discovering one of her books at the library last summer (Deep Dish), I Googled Mary Kay Andrews to see what other books she had written. Imagine my surprise when I found her blog and saw that she has Hooked on Houses on her blogroll! (Blogging certainly does lend itself to some surreal moments…)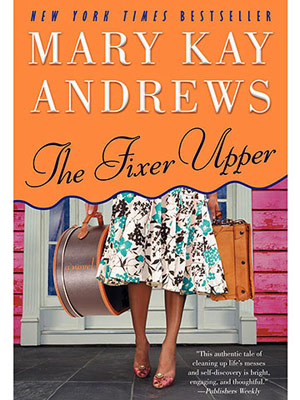 She just sent me a copy of her newest novel, called The Fixer Upper. It's about a woman who loses her job and takes on the task of restoring "Birdsong" for her father–a run-down, Pepto-Bismal-pink Victorian mansion in a small town that needs more work than she imagined. I'm reading it right now and really enjoying it.
To celebrate the release of The Fixer Upper in paperback, Mary Kay Andrews is hosting a Little Pink Tools giveaway for the woman who wants to fix up her house in style. You can read more about her novels on her blog. And you can see the rest of the photos of her Breeze Inn at BHG.
Any other Mary Kay Andrews fans out there? I recommended more Good Summer Reading for House Lovers here.

It's almost the weekend, and this beach house in Queensland (Australia) looks like the perfect place to spend it. The listing says it overlooks "the…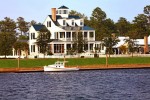 I was really sad to read on the Town Dock news site that lightning struck the 2007 Coastal Living Idea House at River Dunes  in…