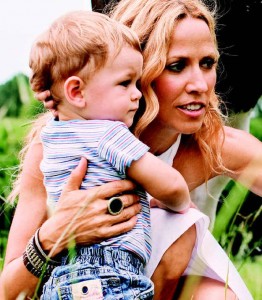 Singer Sheryl Crow, who moved from L.A. to Tennessee in 2008 with her son Wyatt in search of the simple life, has put her 150-acre farm outside Nashville on the market for $7.5 million. The main house has three stories and over 10,000 square feet.
It's a "Solar Farm" that comes with stables and a barn. Crow says it was "a very peaceful place to call home." Now the question is why she's leaving such a peaceful place, and where she's heading next?
Interesting choice to have an aquarium in the kitchen:
Looks like that might be a photo of her son Wyatt over the stove:
In these photos that I took from the listing video, it looks like the house has been cleaned out and staged (which is smart when it's a celebrity house that you're selling, I'd think):
You can see four of the home's five bedrooms in the video.
The house includes nanny quarters and a separate guest house with 3 bedrooms of its own.
Her new CD called "100 Miles from Memphis" came out over the summer, and I read somewhere that she worked on it right here in her lower-level studio (love her music):
In the video you can see all the sound equipment she used and rows of guitars.
People magazine published an article about her life on the farm in 2008 in which she said she moved to Tennessee to get back to her roots and closer to her family.
11/10 UPDATE: According to The Luxist, Crow is tired of waiting for the house to sell and is putting it up for auction. You can bid on the website Sheryl Crow Auction between now and November 23. You can see more photos and videos of the house there.
P.S. Visit Celebrity Houses to see more, including…
As People magazine announced in a recent cover story, Sandra Bullock has filed for divorce from Jesse James, secretly adopted a baby boy named Louis,…
Jane Fonda recently announced on her blog that she is leaving Atlanta after 19 years and moving back to L.A. She says, "It has been…