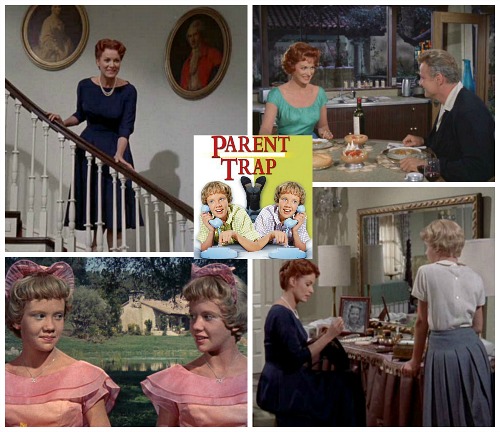 Disney's classic movie Parent Trap premiered in 1961 with Hayley Mills playing twin sisters Susan and Sharon, who plot to get their estranged parents back together.
Let's take a look back at the two houses that were featured in the classic film: the townhouse in Boston where their mother lived, and Dad's ranch in California.

The Boston Townhouse in "Parent Trap"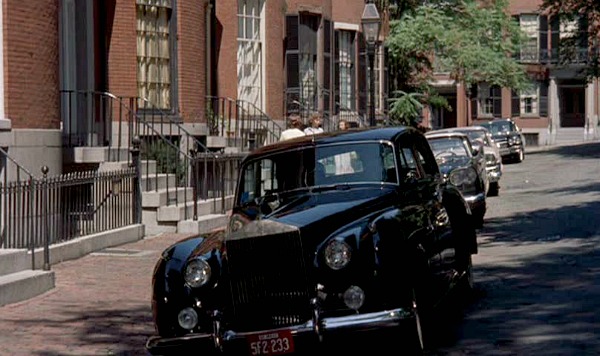 Sharon lives in this Boston townhouse with her mother and grandparents.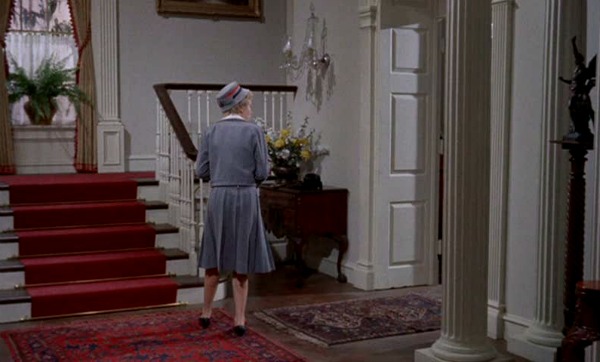 Maureen O'Hara played their mother Maggie, who inexplicably gave up one of her twin daughters at birth to her ex-husband Mitch (Brian Keith). It's one of those "suspension of disbelief" things… 😉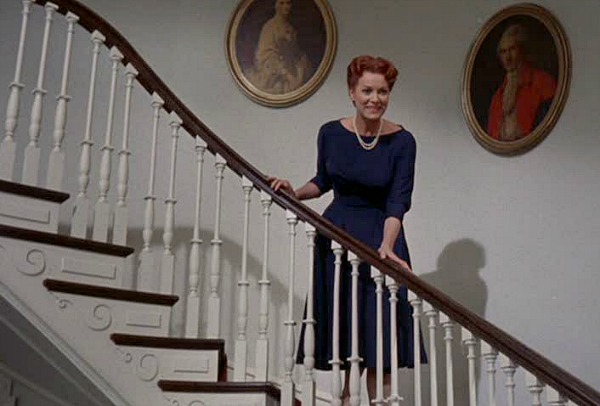 Hayley Mills says that at times she would be so confused about which girl she was playing from scene to scene that "I was only saved by the wig."
If she had the short wig on, she knew she was Susan, the "tomboy" twin from California. Her real hair was long like the "proper" twin Sharon's, but, she points out in the movie commentary, in some scenes it looks as bad as a wig.
After Susan chops Sharon's hair off at summer camp so they'll "match," they both have the short wig on for the rest of the movie.
It became even harder for Mills to remember who she was playing from scene to scene.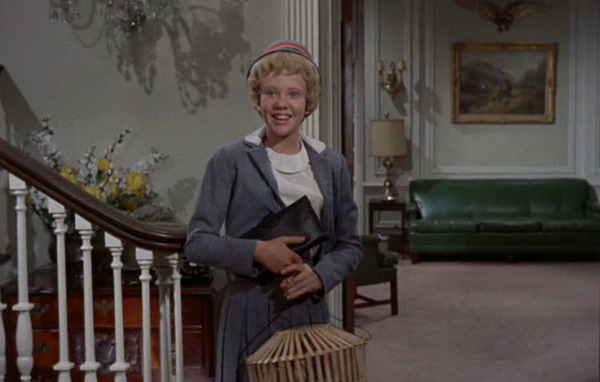 In the remake, one of the twins lived in London instead of Boston.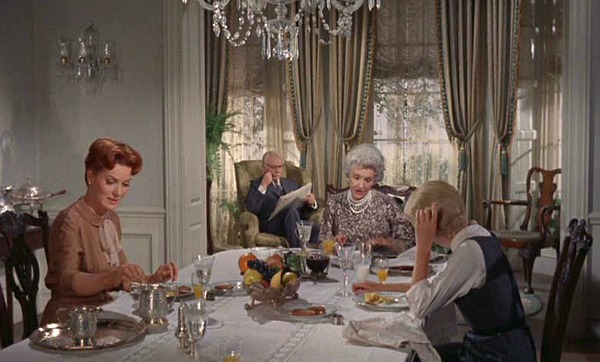 Some of the titles they almost used for the movie:
His and Hers
Susan and I
We Belong Together
For Now, For Always
Petticoats and Blue Jeans
They even held a contest and to see if anyone could come up with a better name.
Writer-director David Swift recalls that one day, Walt Disney walked in and announced that they were going with Parent Trap, and that was that!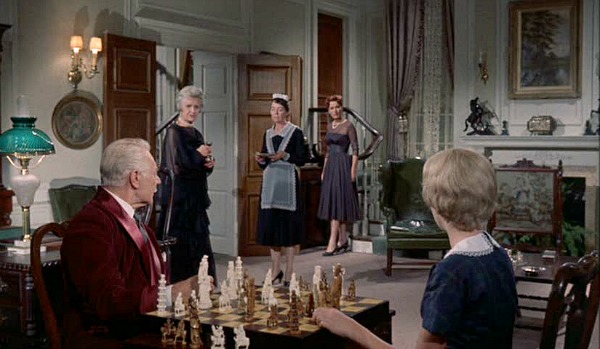 The movie especially struck a chord with children of divorce.
Hayley Mills says that she still hears from fans who tell her that watching the girls work to get their parents back together was "empowering" for them because they felt so helpless in their own lives when their parents separated.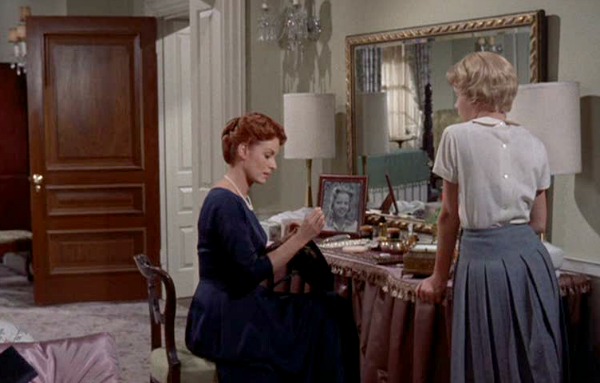 The "Parent Trap" Horse Ranch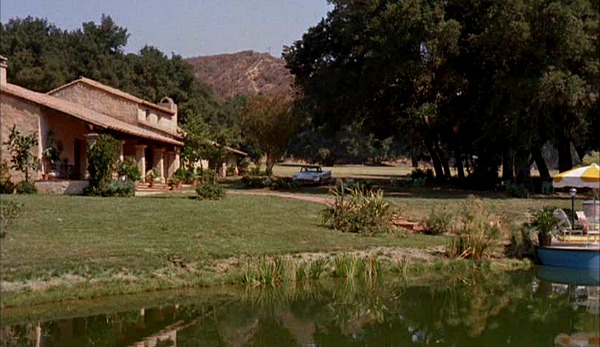 Mitch lived with his daughter Susan at the Golden Oak Ranch in the Carmel Valley.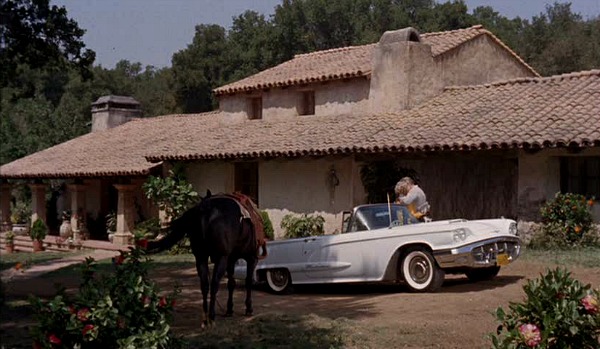 This was land owned by Disney South of Carmel on Placerita Canyon Road.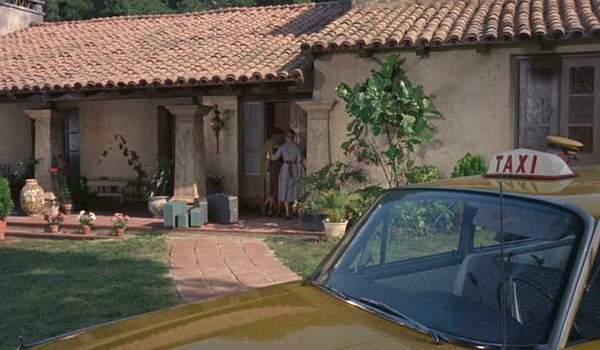 They built a shell of a house on the property with nothing but exterior walls and a roof.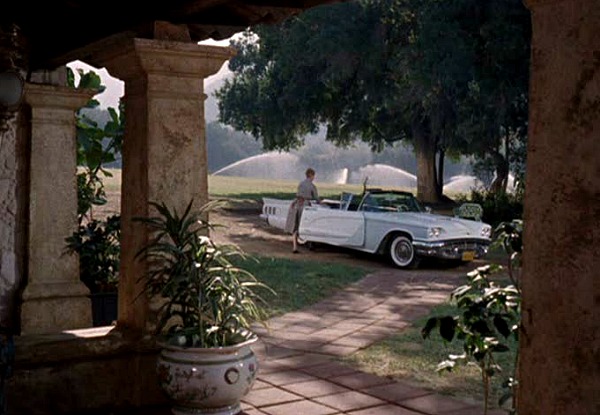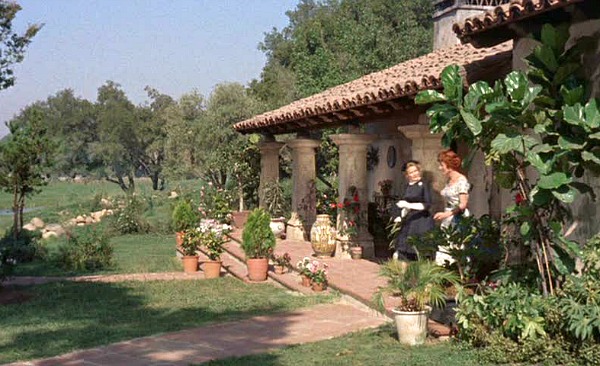 The Great Room: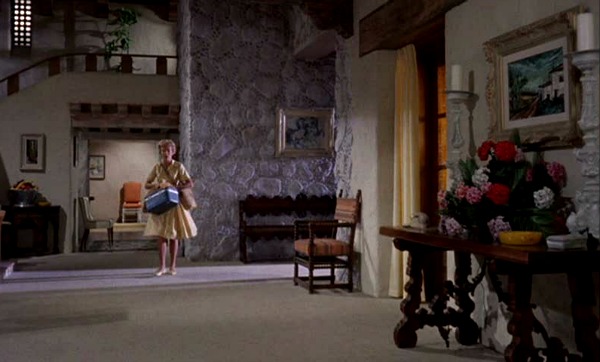 Sharon, posing as Susan, explores the ranch for the first time.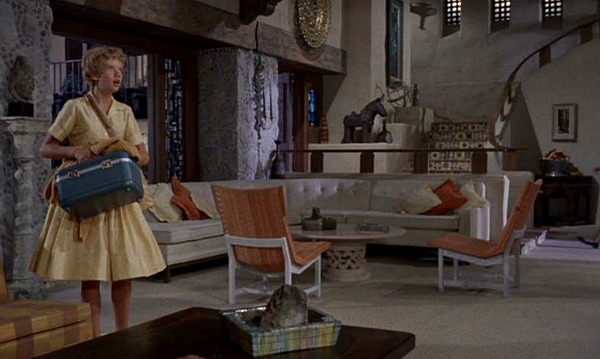 The interiors were all created on a separate soundstage.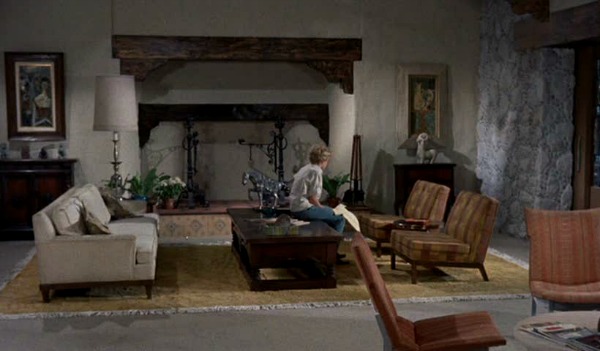 One of the great things about the house is how it's connected to outdoor living spaces.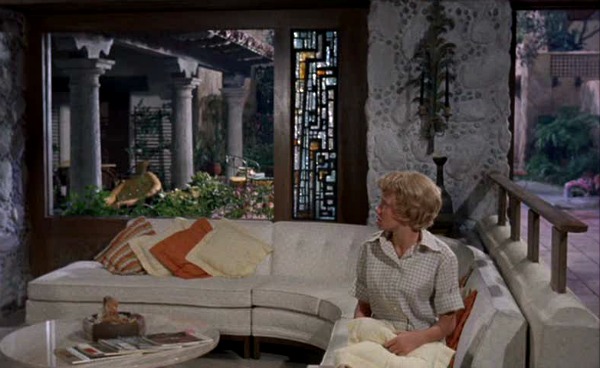 The doors always seem to be open to the courtyard and covered patio.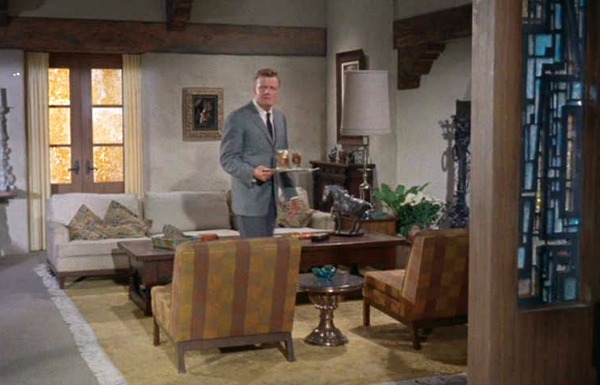 Susan's Bedroom: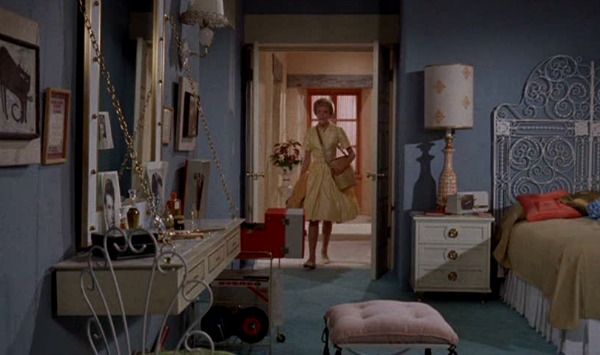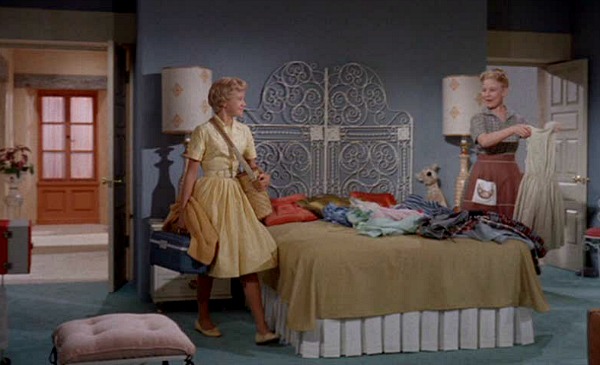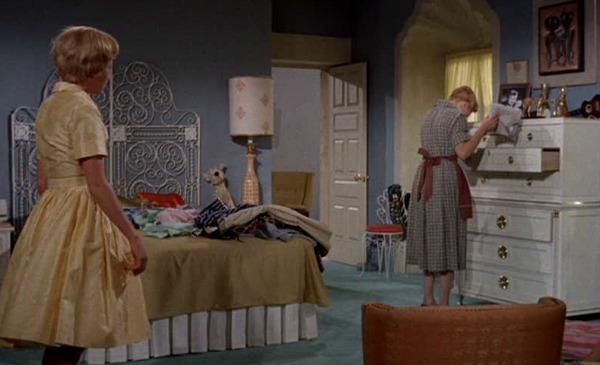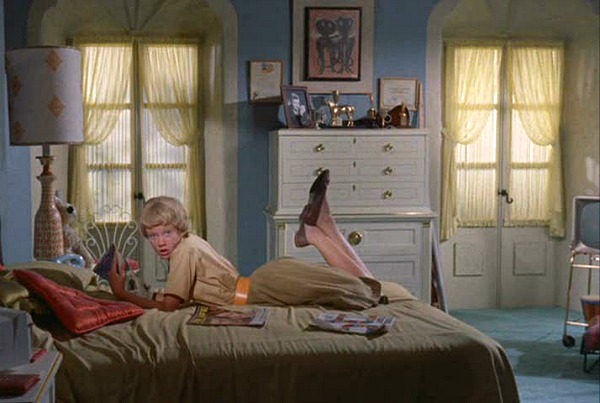 Master Bath: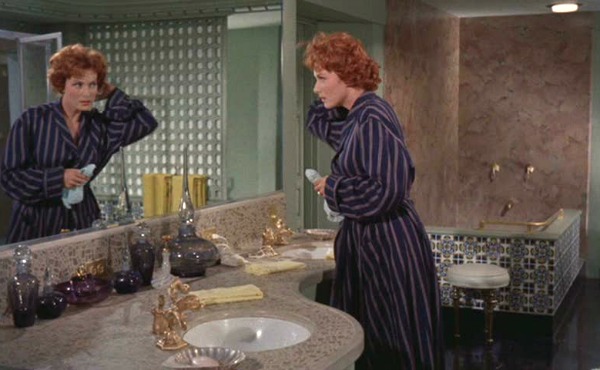 June Parker Beck, who edits Maureen O'Hara's website, tells me:
"I get so many letters from people who want to go to California and see the house where it was filmed.
Maureen doesn't remember much about the structure. Stars are just taken to the shoot for that day. They do their thing and go home."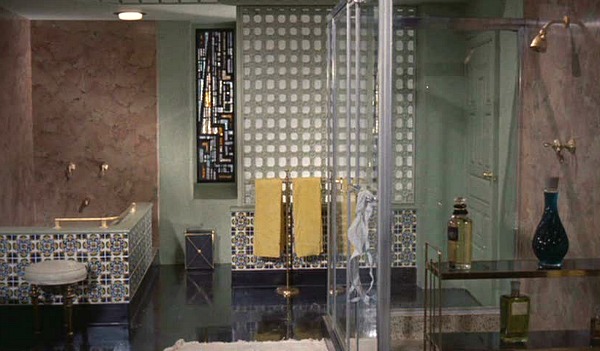 I read a comment on a message board that questioned why everyone apparently had to share this bathroom. Didn't a house this size have more than one?
The Kitchen: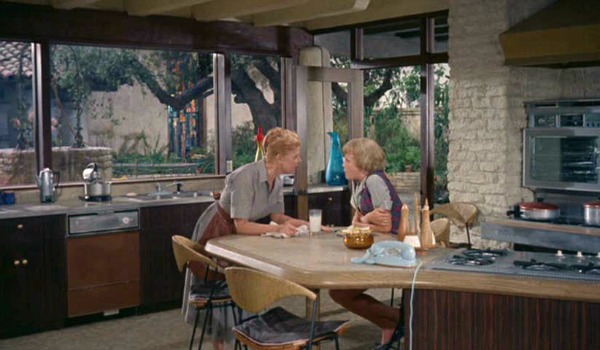 There are lots of big windows overlooking the courtyard in the kitchen.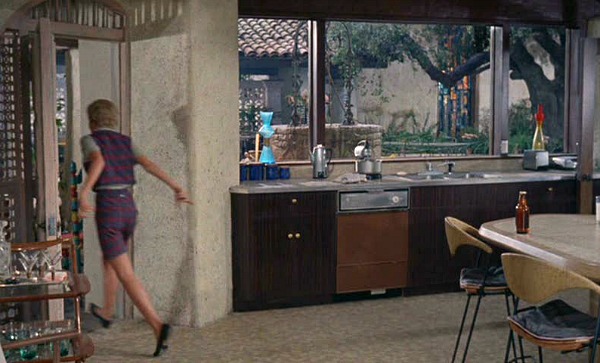 Brian Keith was nervous about the role because he'd never done comedy before.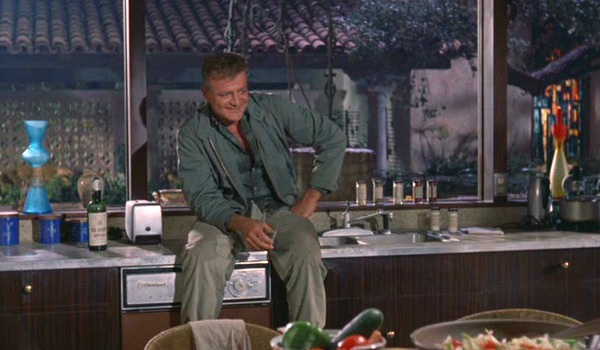 Director Swift said he wished wardrobe gave Maureen O'Hara something "sexier" to wear in this scene.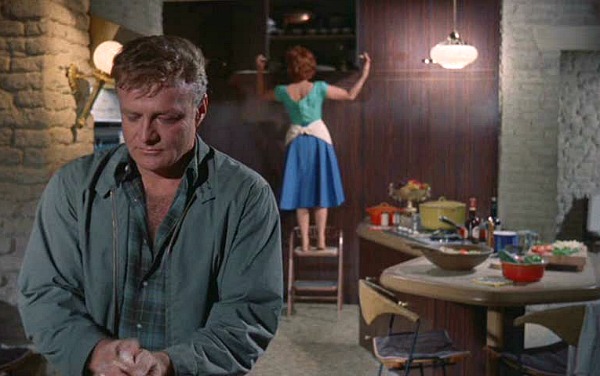 He felt it made her look a little plain, and too much like a "housewife."
I only wish I looked this "homely" while cooking dinner in my kitchen… 😉
The Courtyard: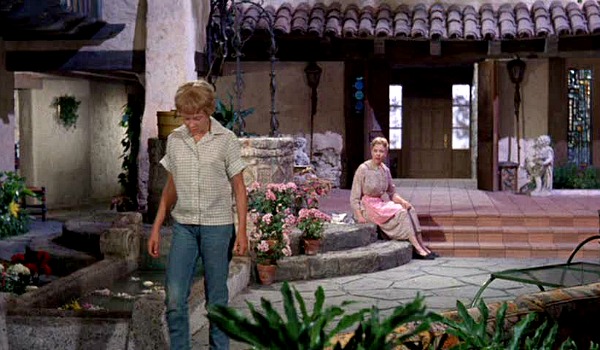 Mills says she grew up on movie sets with her father, actor Sir John Mills: "They were my playground."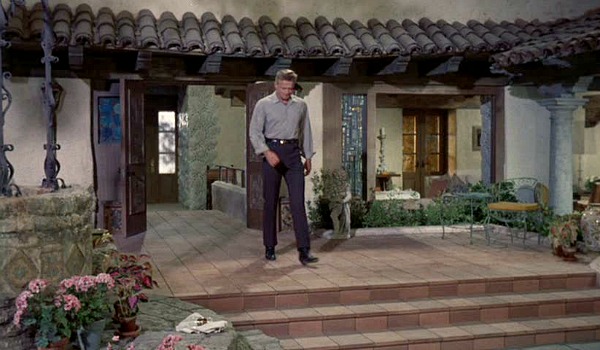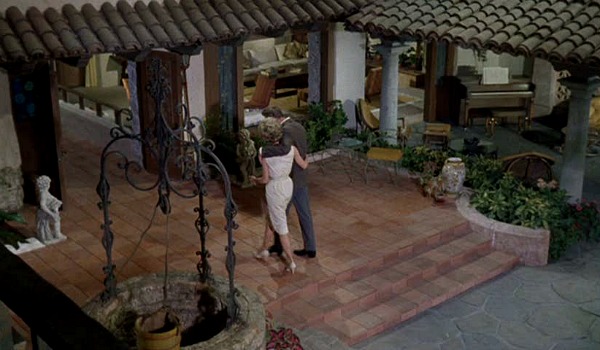 A balcony with a walkway that connects to their rooms runs across the back: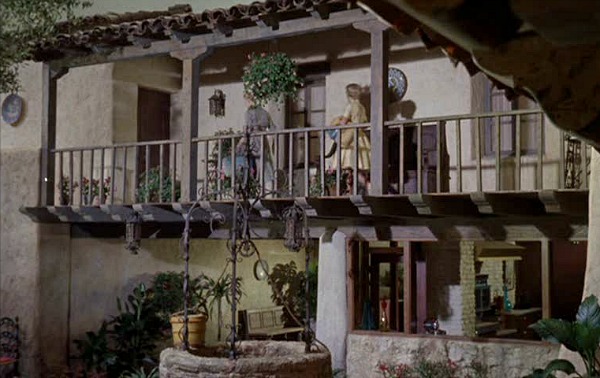 The "Parent Trap" Screenplay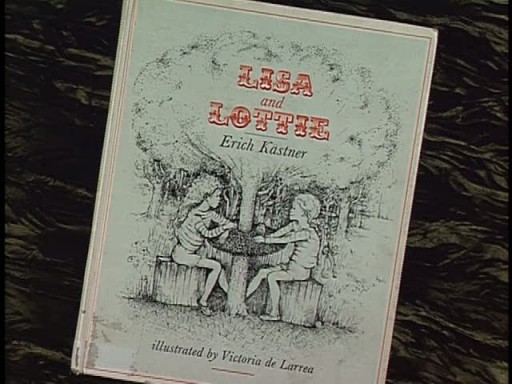 Walt Disney bought the rights to a short story published in Germany called "Lisa and Lottie" by Erich Kästner and asked David Swift, who had written Pollyanna, to adapt it for American audiences.
Casting the Other "Twin"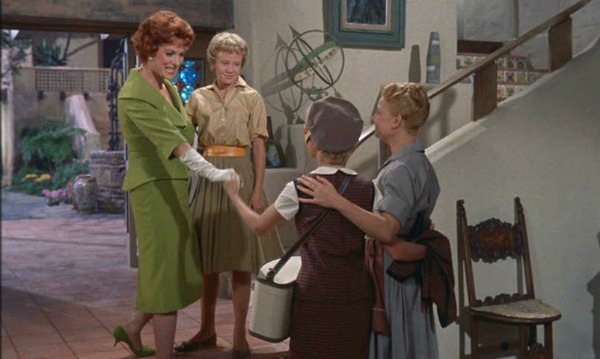 Susan Henning was cast as "the other twin" because she looked enough like Hayley to play her in scenes where she's shown from the back or side (that's her back in the scene above).
She had to sign a contract promising to never tell anyone she was in the movie. Years later, Henning was interviewed for the Special Features on the Parent Trap DVD and was allowed to talk about it.
They gave her a rubber nose to wear, put a roll of tissue paper under her lip to make it stick out a little, and padded her bra. Henning says that she and Mills became friends, and she taught her how to talk with American slang.
The "Other Twin" Played by Susan (Left) in a Set Photo: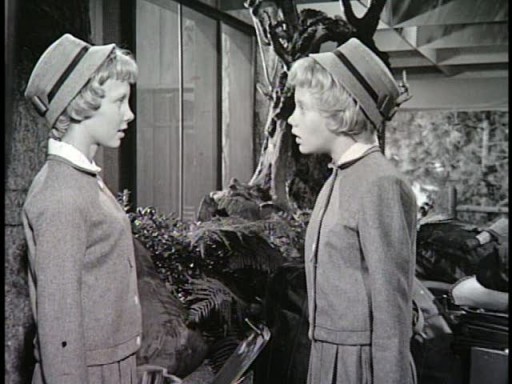 The Wedding on the Ranch: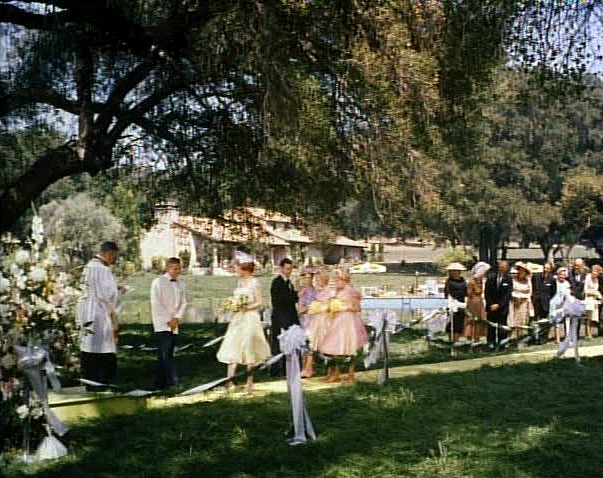 Brian Keith, who died in 1997, said: "I've made I don't know how many pictures. Forty, I guess. I've seen only about a half dozen of them. But the kind of picture I enjoy seeing is something like Parent Trap. I saw that four times. I liked it so much I forgot I was in it, as a matter of fact."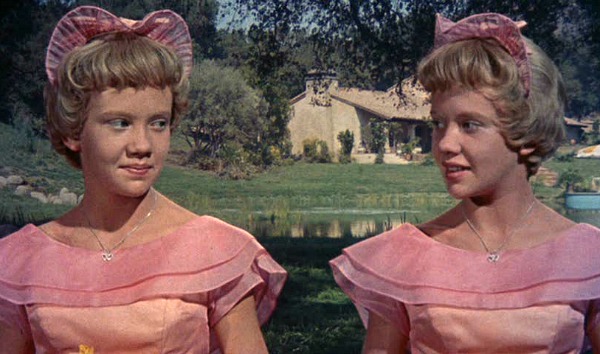 In 1998 they filmed a remake starring Lindsay Lohan as the twins and Nathasha Richardson as their mother. In that version she lives in an elegant house in London.
Visit my Houses Onscreen page to see the others I've featured, listed from A-Z.