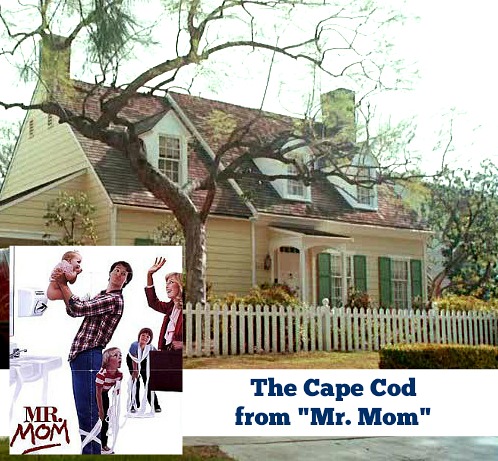 Who could forget the classic 1983 comedy Mr. Mom? Or that cute cape Michael Keaton and Teri Garr lived in?
You can always count on a John Hughes movie to feature memorable houses.
Despite the early '80s decorating, it's easy to imagine how beautiful this traditional Cape Cod could be with a few updates.
Take a look!

The Cape Cod in "Mr. Mom"
This is one Hughes movie that doesn't take place in Chicago.
Instead, they're in the suburbs of Detroit, Michigan.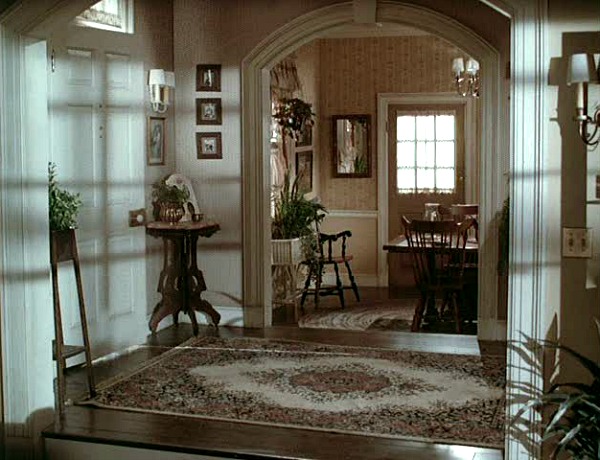 Michael Keaton plays Jack Butler, an engineer at a car manufacturer who is laid off.
Teri Garr is his wife Caroline, who gets a job in advertising and becomes the breadwinner.
She has to adjust to working at a high-stress ad agency, and he has to figure out how to take care of the house and kids.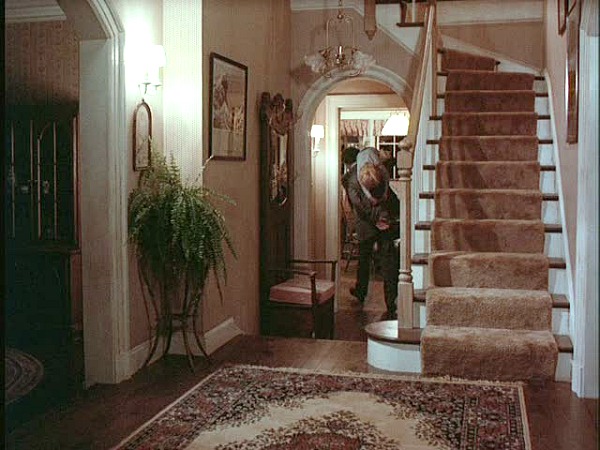 The movie was called Mr. Mum in the U.K. Mister Mama in Greece. And Perfect Daddy in the Philippines.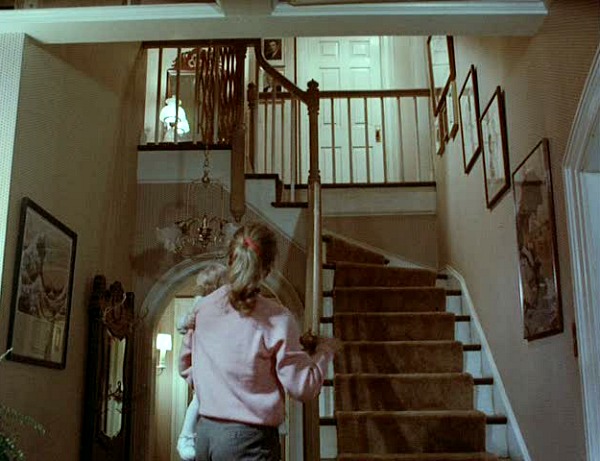 Martin Mull was hilarious as Caroline's smarmy boss Ron. I love the scene where he comes to pick her up in a limo, and Jack (Keaton) walks into the house revving a chain saw.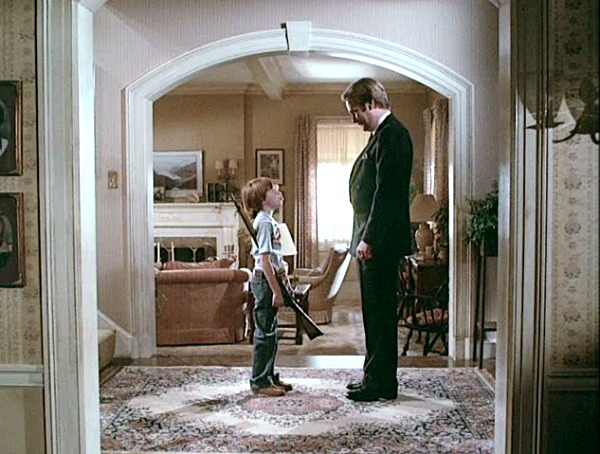 When Jack, holding the chainsaw, tells Ron he's planning to work on some home improvement projects, Ron asks, "Are you gonna make it all 220?" Jack shrugs. "220, 221, whatever it takes."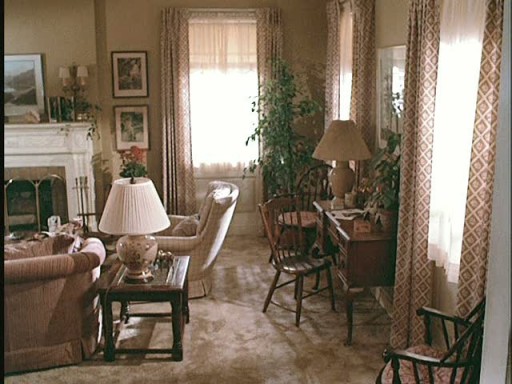 The living room is the scene of Jack's soap-opera fantasy sequence, in which divorcee Joan (Ann Gillian) shows up at his house wearing little more than a raincoat.
Caroline comes home early to discover them together and pulls out a gun.
After she shoots Jack, Ron (Martin Mull) asks her, "Did you use a .38?" To which she replies, "A .38, .39, whatever it took!"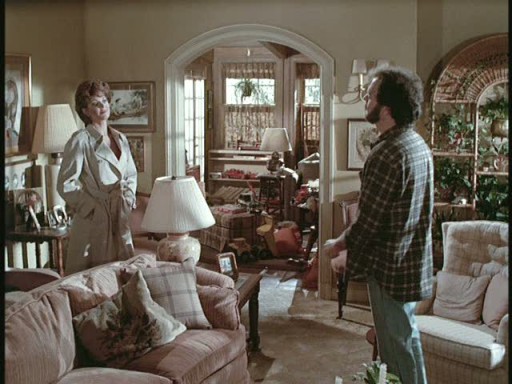 The dining room, where Jack eats alone while Caroline works late. Again: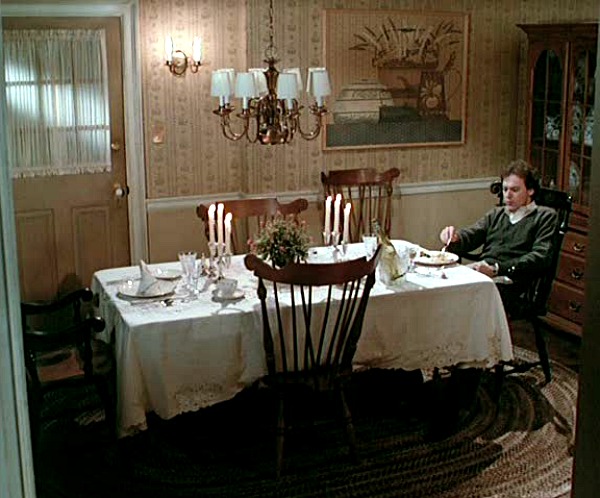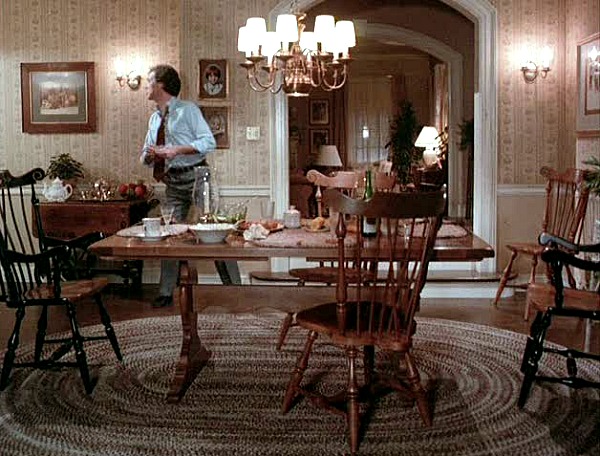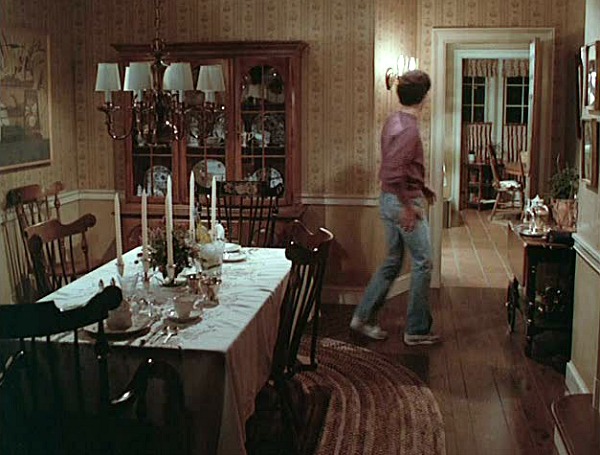 The kitchen is an homage to the '80s. Remember those country oak chairs so many people had then? And the pale wood cabinets–classic!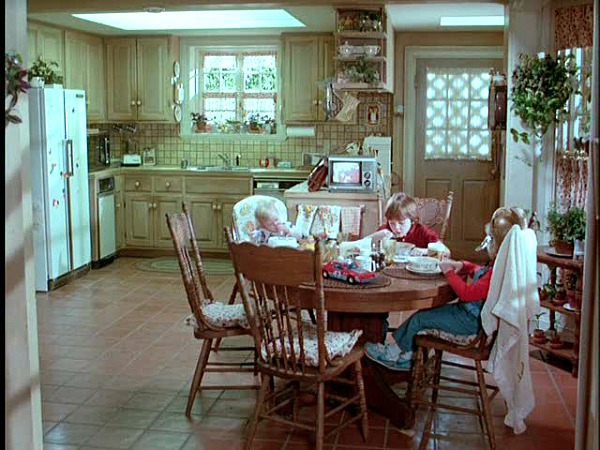 Those tile countertops were really popular for awhile. Then everyone realized what a pain it was to keep them clean!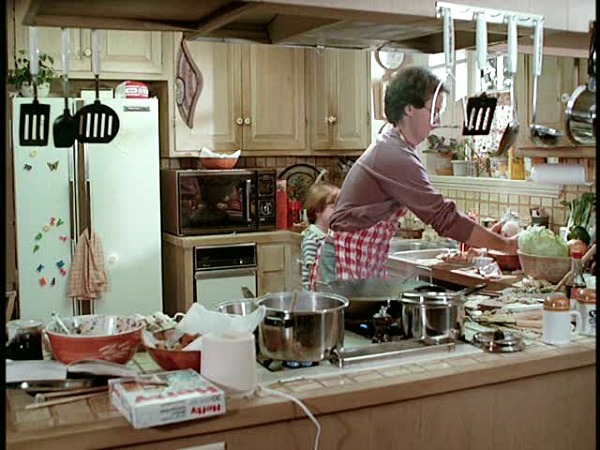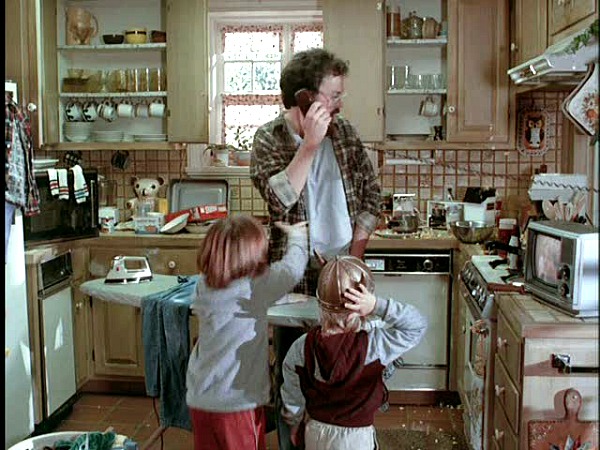 The "housewives" get together each week to play poker with coupons instead of money.
Did you notice how there's a light fixture over the table in this scene that was conspicuously absent in others? (Scroll back up to see other photos of the eat-in area.)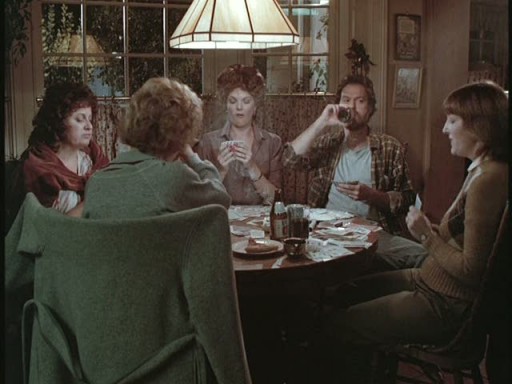 The family room has an entire wall of windows. Today they wouldn't be quite so covered up: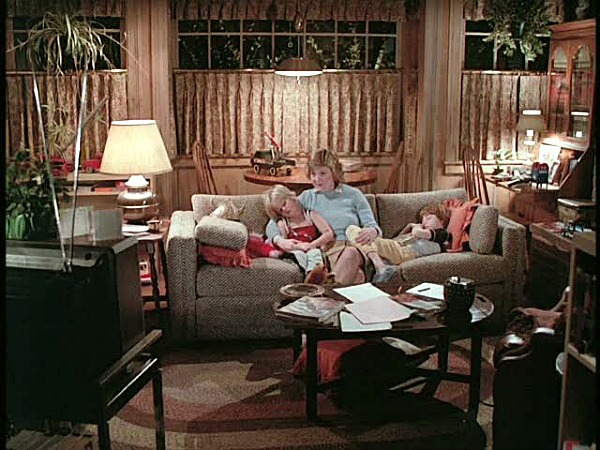 And a big brick fireplace: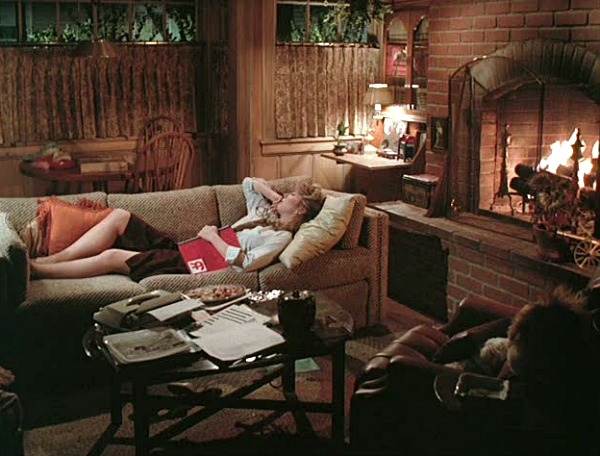 I think the movie on the TV in this scene was Cary Grant's I Was a Male War Bride.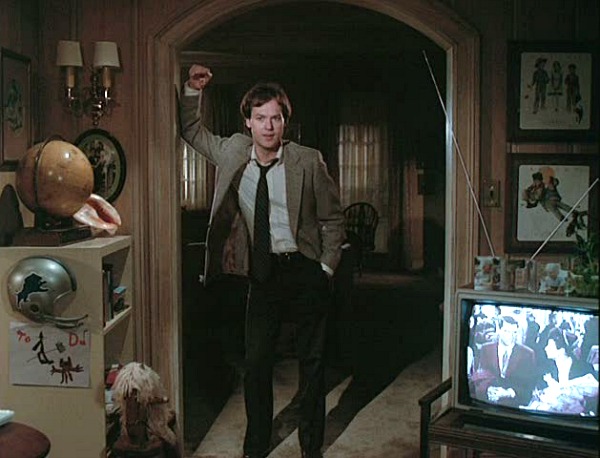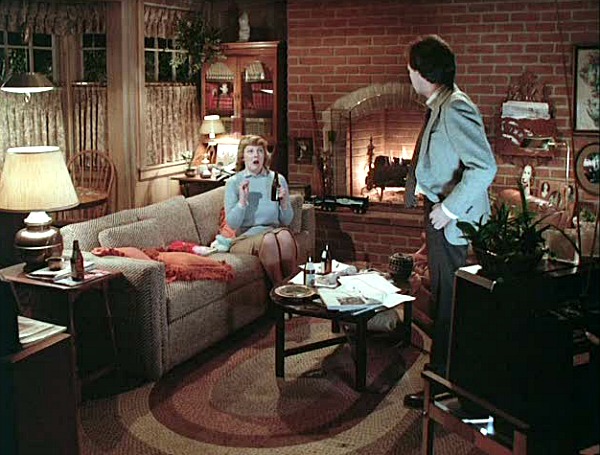 Remember when those race car beds were the new, exciting thing for kids' rooms?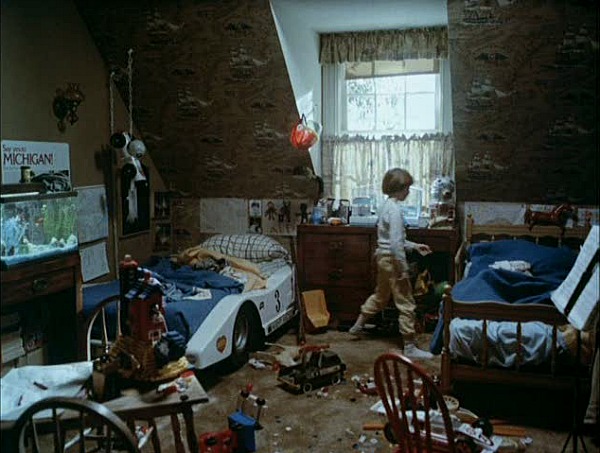 The master bedroom and bath: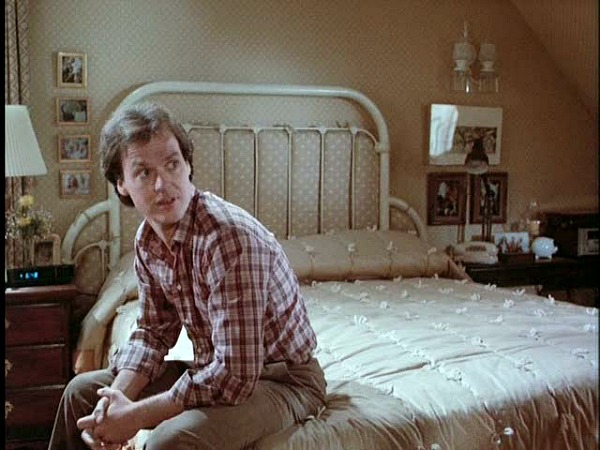 If you had these light fixtures in your bathroom when you were growing up, raise your hand: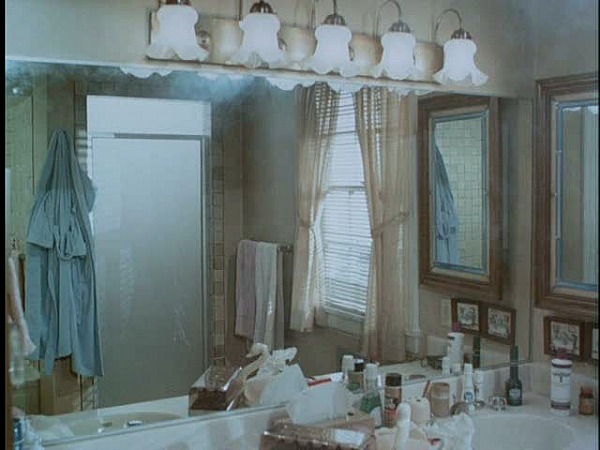 Whenever I watch movies from the '80s, it reminds me how things weren't as staged and styled then as they are now.
Decor was more casual and things were kind of thrown together over time. I don't think people agonized over decorating their coffee tables and mantels and dressers like they do now.
These sets reflect that with rooms that look lived in.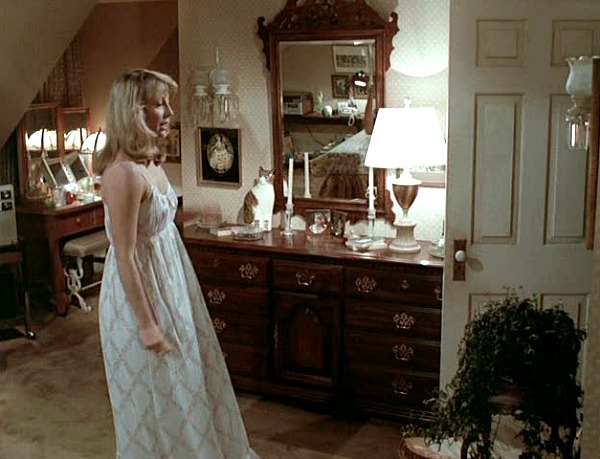 Although the story was set in Detroit, the house where they filmed the exteriors was in California.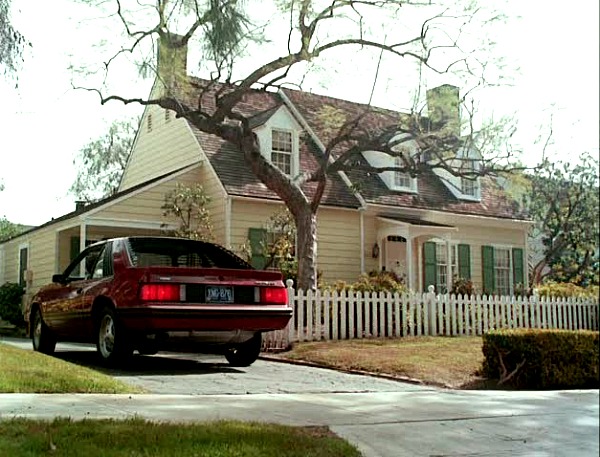 Robert at Movie Locations and More found the house in the Westwood neighborhood of L.A.

According to Redfin, it was built in 1941 and has 3 bedrooms, 3 baths, and 2,400 square feet.

You can see how it looks today via Google Streetview — still charming after all these years!

Visit my Houses Onscreen page to see the others I've featured, listed A-Z.