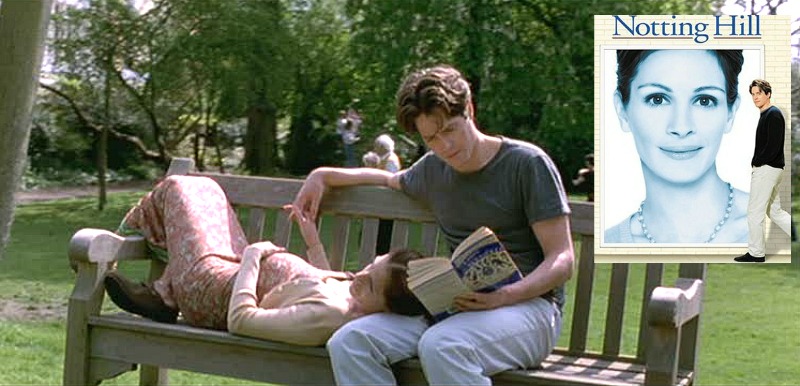 Today I thought it would be fun to revisit the sets and filming locations of the 1999 romantic comedy Notting Hill.
The Hugh Grant-Julia Roberts flick was a hit, earning over $360 million worldwide, and continues to be a sentimental favorite of audiences more than a decade later.
It also spawned the famous line we all remember from the movie: "I'm just a girl, standing in front of a boy, asking him to love her."

The Filming Locations for the Movie "Notting Hill"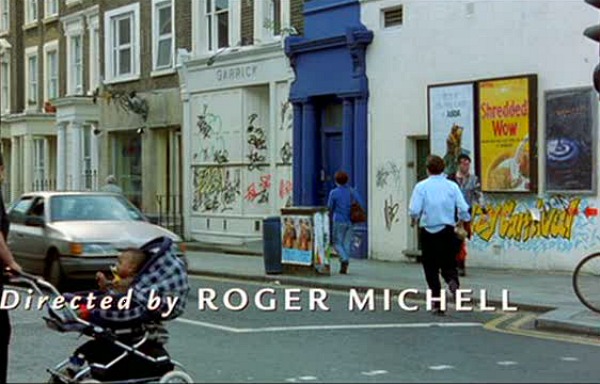 Remember the bright blue door that led to Hugh Grant's flat in the movie?
That was the real-life home of the movie's writer Richard Curtis, located at 280 Westbourne Park Road, but the interiors were filmed on a soundstage.
The exteriors were filmed mostly on location in Notting Hill and Portobello Road.
The new owners became tired of all the attention their famous blue door received, however. Tourists were not only flocking to see it but many of them scratched their names and other messages on it.
It was auctioned off for charity, and a nondescript black door now stands in its place.
2017 Update: The current owners reportedly painted it blue again.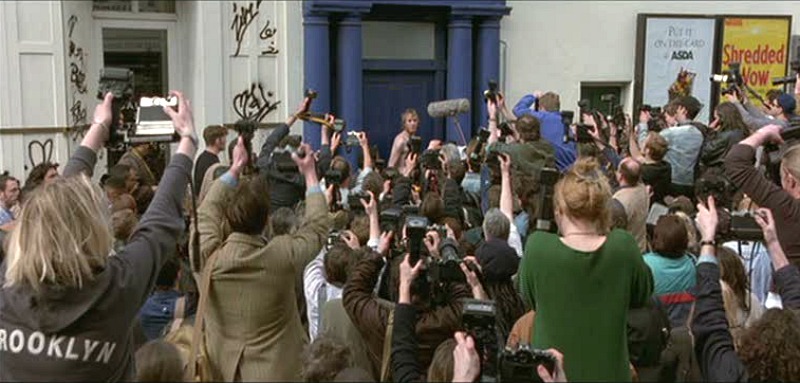 When the paparazzi descended on William's flat, his flatmate Spike posed for them in his underwear.

Inside Hugh Grants Flat in "Notting Hill"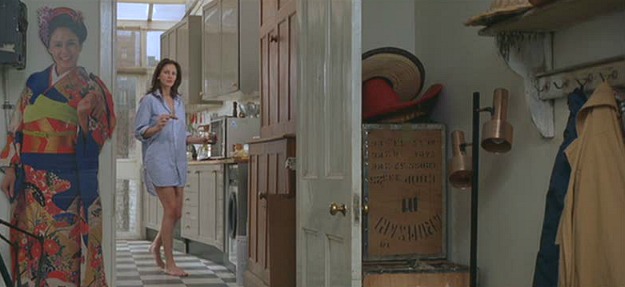 Looking up into the kitchen: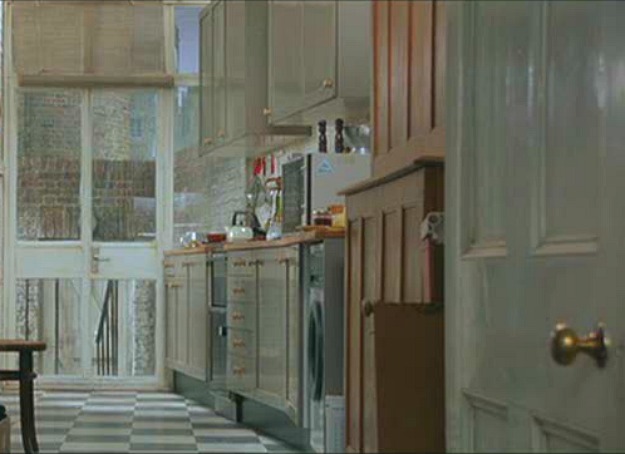 The production designer was Stuart Craig, who is also known for his work on the Harry Potter films.
It was his job to make the sets look real and lived in.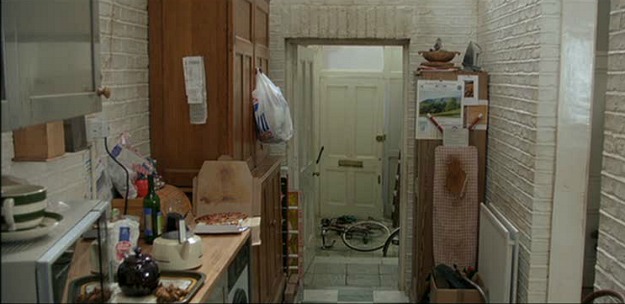 Hugh Grant plays William Thacker, the owner of a travel bookshop who unexpectedly meets Anna Scott (Julia Roberts), a famous movie star, when she visits his store one day.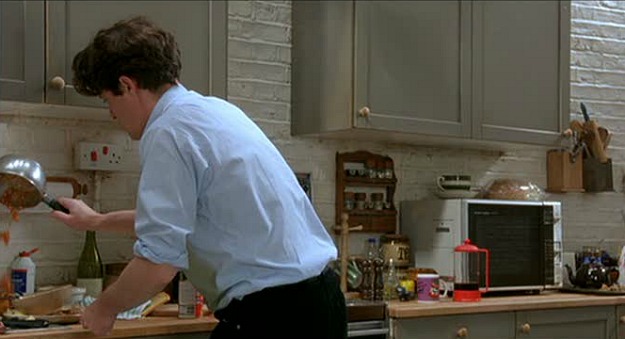 When they were shooting the movie, Julia Roberts was dating Benjamin Bratt.
She later lived out her own "Notting Hill" storyline when she married cameraman. Danny Moder,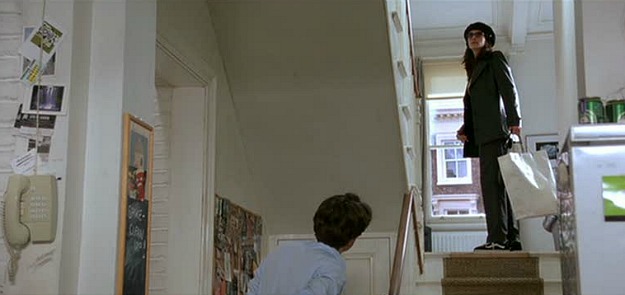 Curtis explained the inspiration for the story:
"I would sometimes wonder what it would be like if I just turned up at my friends' house, where I used to have dinner once a week, with the most famous person at that time, be it Madonna or whomever. It all sprang from there. How would my friends react? Who would try and be cool? How would you get through dinner? What would they say to you afterwards?"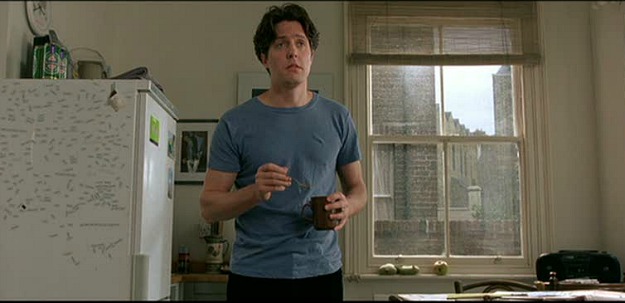 Playing Will's unkempt, slacker flatmate was a breakout role for Welsh actor Rhys Ifans.
He told Interview magazine that he "went method" for the role.
"We were filming in Shepardston Studios, and I couldn't bear the journey all the way from London every day, so I got a tent and I camped in a campsite nearby. Every morning this big limo would come and pick me up at the campsite, to the utter bafflement of the campsite owner. He thought I was some kind of eccentric millionaire."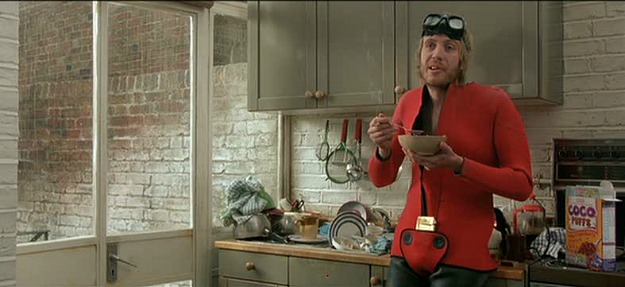 Remember the Chagall painting in the kitchen?
Anna gives William the original in the movie.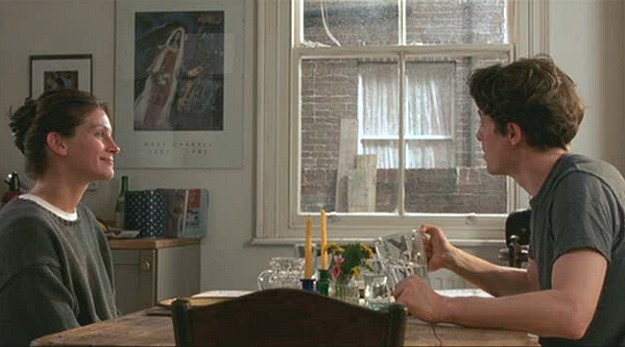 The producers had a reproduction made for use in the film, but they had to get permission from the painting's owners, as well as clearance from the British Design and Artists Copyright Society.
They also had to agree to destroy it afterwards because of concerns that the fake might be too convincing.
According to Wikipedia, the real canvas could be worth between $500,000 and $1 million. So, yeah, that was quite a gift she gave him!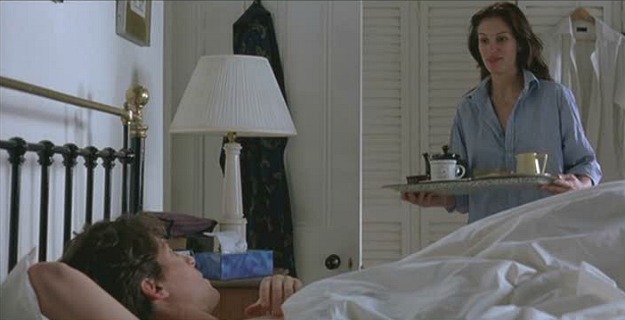 Some of the scenes in the movie showing Anna on various red carpets and flashing her famous smile at award shows is real Roberts footage from actual events she attended over the years.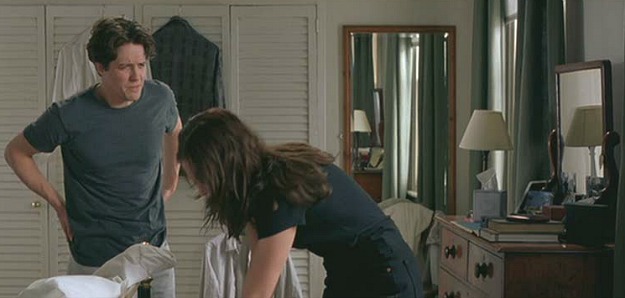 According to Hugh Grant, the movie was inspired by real events:
"This is a story he (the writer Richard Curtis) won't admit to, but he's told me in a drunken moment.
"A friend of his, an ordinary, normal guy, was in Harrods one day and met a very famous woman, and ended up taking her back to his flat in Notting Hill—and all kinds of nonsense ensued.
"And they used to meet up, whenever she came to London their affair would reactivate itself—and that was the genesis of his script.
"But he's so scared of people finding out who this very famous person was that he won't tell anyone that story."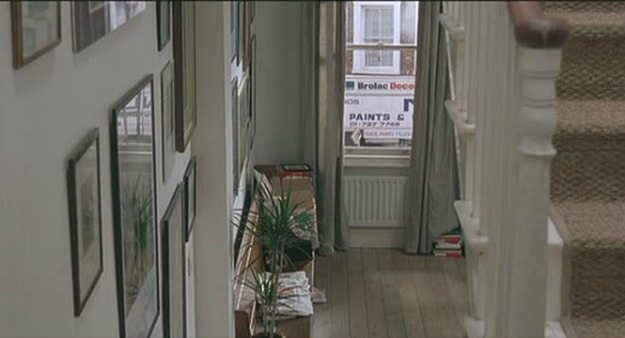 William and Anna on the Roof:

William's Travel Bookstore in "Notting Hill"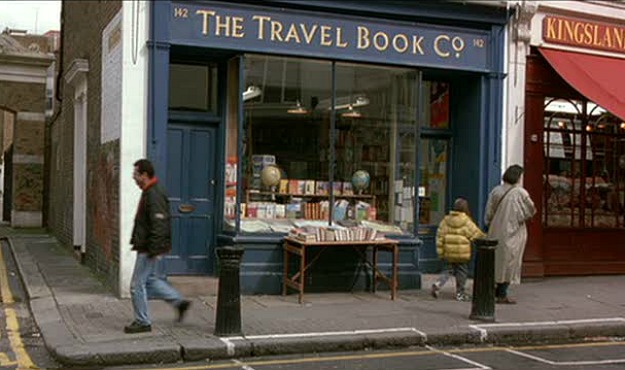 According to Vincent House London:
William's bookshop 'The Travel Company' which was a key part of the film, was located in the Nicholls Antique Arcade. It has since been sold on and is now home to a shoe shop 'Notting Hill, 142 Portobello Road'.
Apparently the real-life travel bookshop that William's store was based on was located close by in a street just off Portobello Road at 13-15 Blenheim Crescent. Although that's closed its doors because of rising rental costs in the area, you can still see where it was if you want to get some pictures.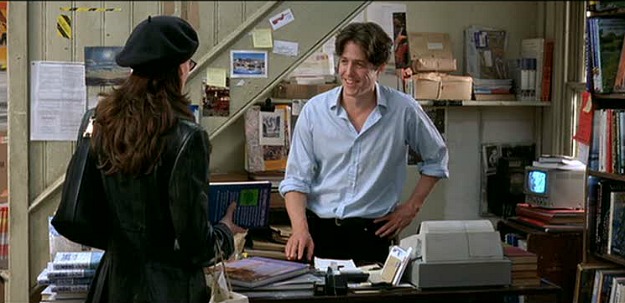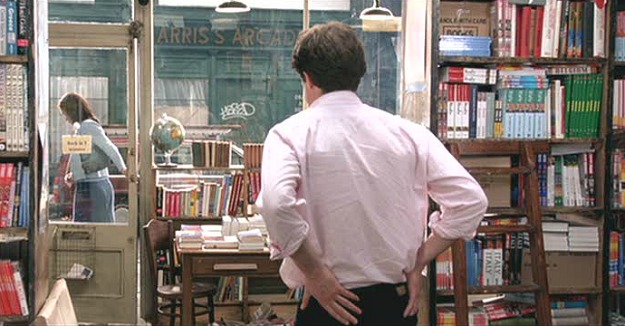 The Travel Book Co. doesn't actually exist at 142 Portobello Road as it does in the film, but it's there in spirit. When the film was shot, Nicholls Antique Arcade was in the spot, and it was  succeeded by a furniture store called Gong. Now, Notting Hill Gift Shop is there, identifiable by its big blue awning—and a sign reading The Travel Book Shop. Because they know that's why you're buying a keychain there.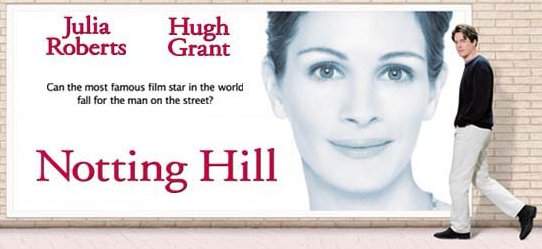 Before the movie, Notting Hill real estate was fairly affordable.
As you can imagine, after the movie's success, housing prices shot up.
Richard Curtis himself, the owner of the blue door, cleverly took advantage of the film's publicity to sell his home afterwards for over £1.3 million. The real estate listing described it as a "grand converted chapel" with its own courtyard garden in back.
I took these screenshots while watching the movie by Universal Pictures.

Visit my Houses Onscreen page to see the other movies I've featured, listed A-Z.