Remember that blue door that led to Hugh Grant's flat in the romantic comedy Notting Hill? That was the real-life home of the movie's writer Richard Curtis, but the interiors were filmed on a soundstage. I thought it would be fun to take a closer look at both! (UPDATE: The real home is now for sale. You can see the photos here.)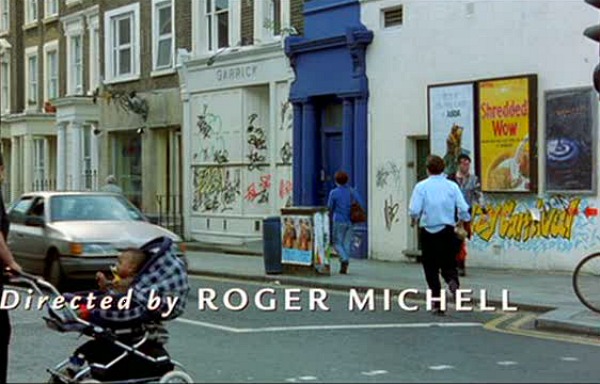 The exteriors were filmed mostly on location in Notting Hill and Portobello Road.When you step inside the blue door to William's flat, this is what you see: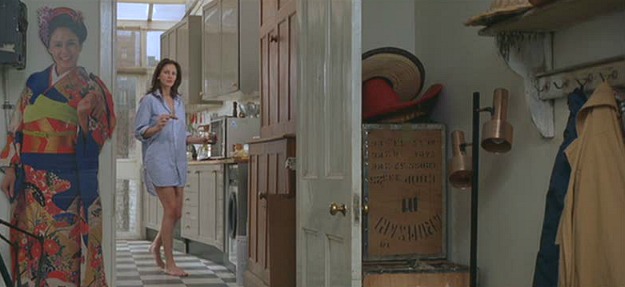 Looking up into the kitchen: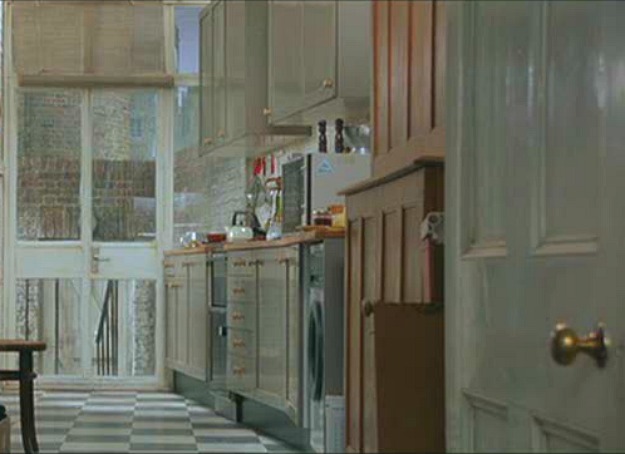 The production designer was Stuart Craig, who is also known for his work on the Harry Potter films. It was his job to make the sets look real and lived in.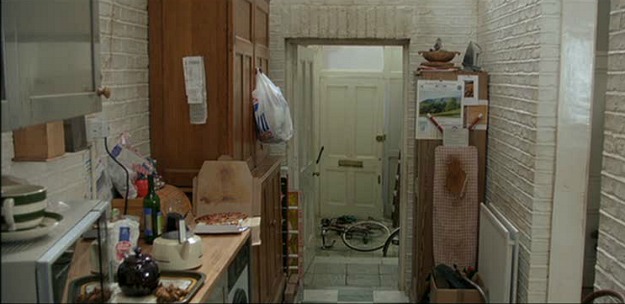 Hugh Grant plays William Thacker, the owner of a travel bookshop who unexpectedly meets Anna Scott (Julia Roberts), a famous movie star, when she visits his store one day. After spilling orange juice all over her, he offers her the use of his bathroom to clean up. He frantically tries to pick up some of the mess while she changes: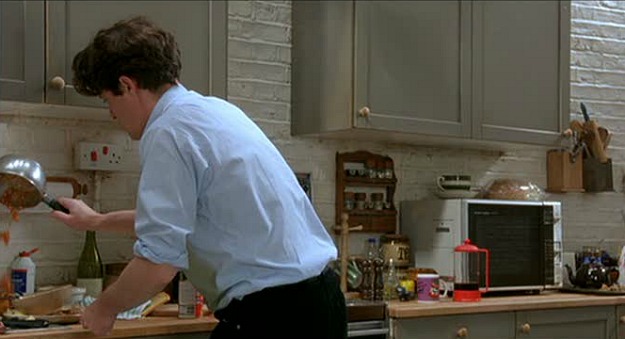 Anna (Julia Roberts) goes upstairs to change: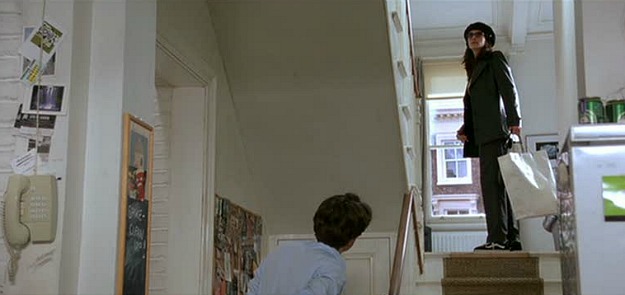 Curtis explained the inspiration for the story:
"I would sometimes wonder what it would be like if I just turned up at my friends' house, where I used to have dinner once a week, with the most famous person at that time, be it Madonna or whomever. It all sprang from there. How would my friends react? Who would try and be cool? How would you get through dinner? What would they say to you afterwards?"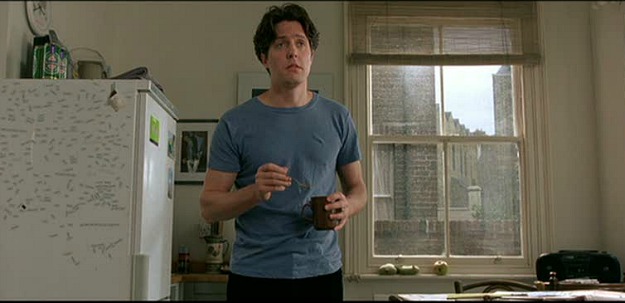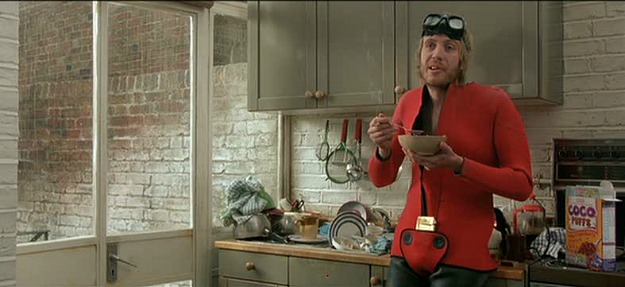 Remember the Chagall painting in the kitchen? Anna gives William the original in the movie.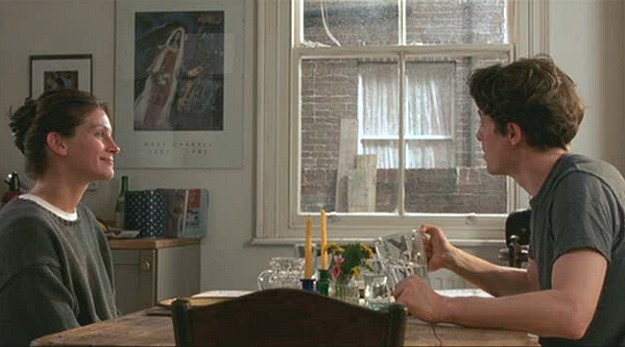 The producers had a reproduction made for use in the film, but they had to get permission from the painting's owners, as well as clearance from the British Design and Artists Copyright Society. They also had to agree to destroy it afterwards because of concerns that the fake might be too convincing.
According to Wikipedia, the real canvas could be worth between $500,000 and $1 million. So, yeah, that was quite a gift she gave him!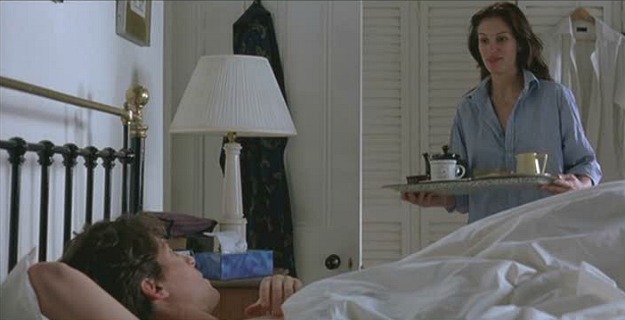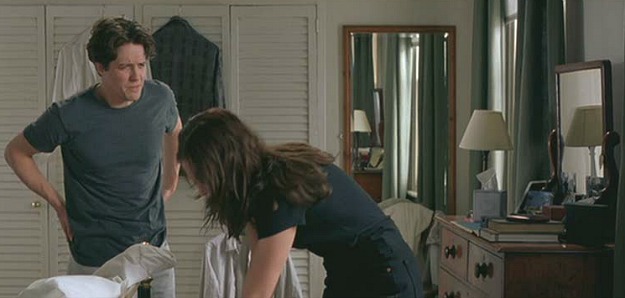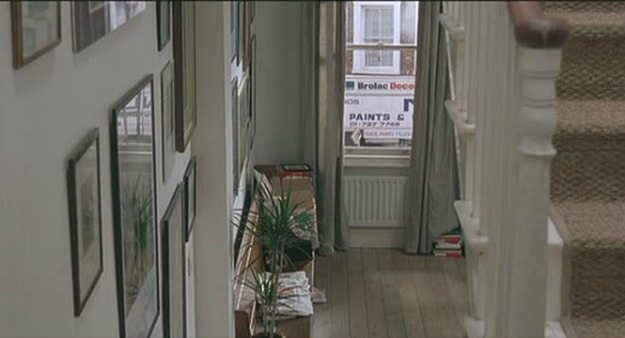 William and Anna on the roof:
When the paparazzi descends on William's flat, his roommate Spike (Rhys Ifans) poses for them in his underwear: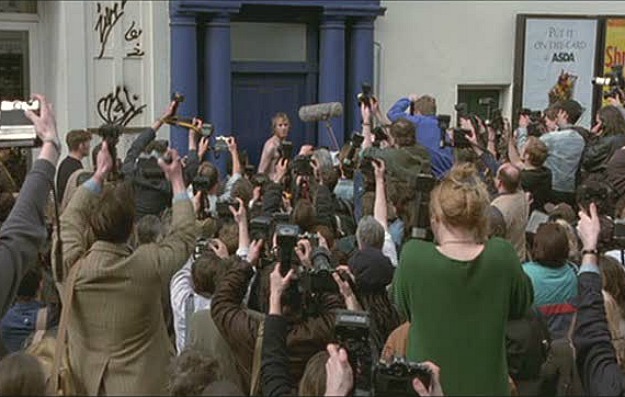 William's Travel Bookstore: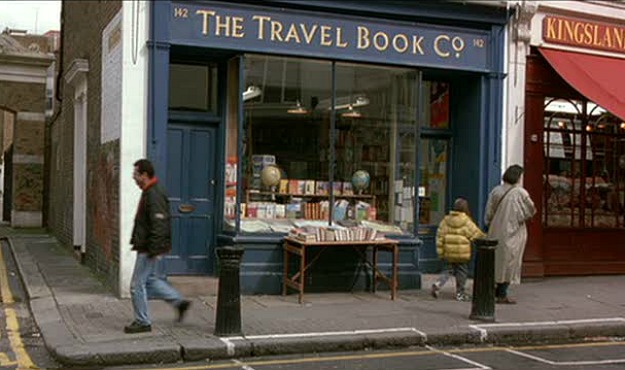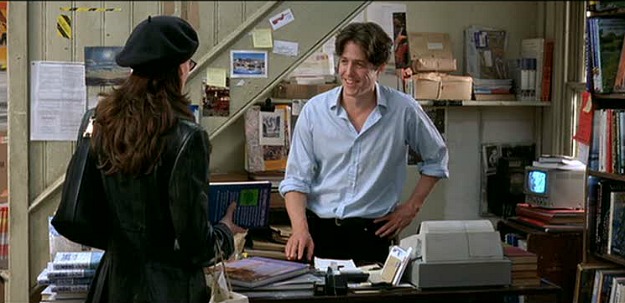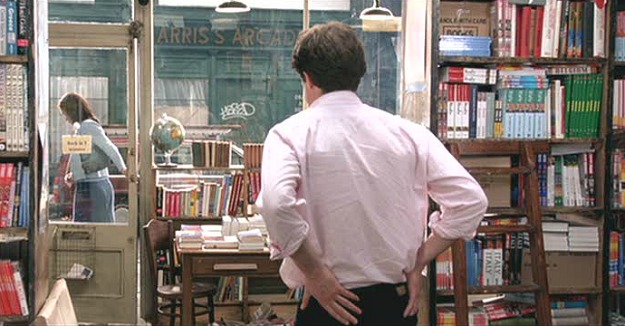 I always get a little teary at the final scene in the movie when William and Anna are sitting on the park bench together, and the camera pans around to show that she's pregnant…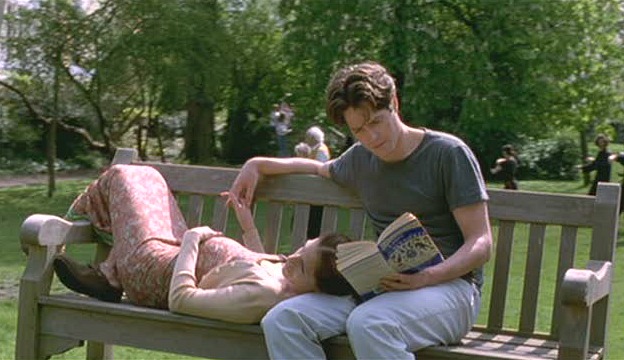 *UPDATE: The real Notting Hill house is now for sale.*
Before the movie, the area's real estate was fairly affordable. Thanks to the movie's success, housing prices shot up. Richard Curtis himself, the owner of the blue door, cleverly took advantage of the film's publicity to sell his home afterwards for a nice profit. 🙂
P.S. Visit Houses Onscreen to see more, including…
(Visited 92 times, 1 visits today)