Sugarberry Cottage is a bestselling house plan from Southern Living.
I frequently run across different versions of it that have been built around the country when I'm scrolling through Pinterest and love the plan's modern farmhouse style.
Today I'm sharing 5 different versions of it that I found. Take a look and see which one's your favorite!

#1. Sugarberry Cottage in Habersham, S.C.
Southern Living sells this house plan, which was designed by Moser Design Group. It has about 1,000 square feet on the main floor and another 600 on the second, with 3 bedrooms and 2 baths.
Part of the charm of the plan is the side porch that can be screened in like this one is.
Southern Living's website says, "Designed by Eric Moser, Sugarberry Cottage embodies all the notions of a historic Lowcountry cottage but with modern amenities. Siding and shutters are made from environmentally friendly and low-maintenance composite materials. A gabled roof with exposed rafter tails and a metal roof underscore the historic look."
This is the model shown on the Southern Living website.
The master bedroom is on the first floor, and the other two are upstairs.
You can see the floor plans here.

Sugarberry #2 by Brookstone Builders:
This Sugarberry was built in North Carolina by Brookstone Builders. The overall look is very similar to the one from Southern Living's site, with white siding and black shutters:
There are some differences, though. Can you spot them?
They added a fireplace to their screened porch, which is a nice touch, since it's on the other side of the one in the living room.
The look of this Sugarberry is a little more contemporary in general.

Sugarberry #3: Southern Living Showhouse in Serenbe
This Sugarberry was built as the Southern Living BOSCH Net Zero Showhouse in 2012 with solar and geothermal technologies in Serenbe, Georgia.
This one's white, too, but without the black shutters the others had.
Ballard Designs decorated the house to showcase their furniture.
You can see how the rest of it looked as a Ballard showcase at Southern Hospitality.
This house was on the market earlier this year for $569,000.

Sugarberry #4 by Riverland Builders:
Here's a Sugarberry with gray siding built by Riverland Builders.
I couldn't find any interior photos of this one, but you can see they chose to extend the porch around the left side.
Also: no shutters on the second-story window. It looks like they added a fireplace inside the screened porch, too.

Sugarberry #5 by John Marshall Custom Homes:
John Marshall Custom Homes built this one, and they went with a brighter siding color — a pretty aqua blue.
For more photos and information about each Sugarberry Cottage:
It's easy to see why this is one of Southern Living's Top 10 bestselling house plans. Do you have a favorite version? What color would your Sugarberry be?
*UPDATE: Check out Brittany's farmhouse that was built with this plan, too!*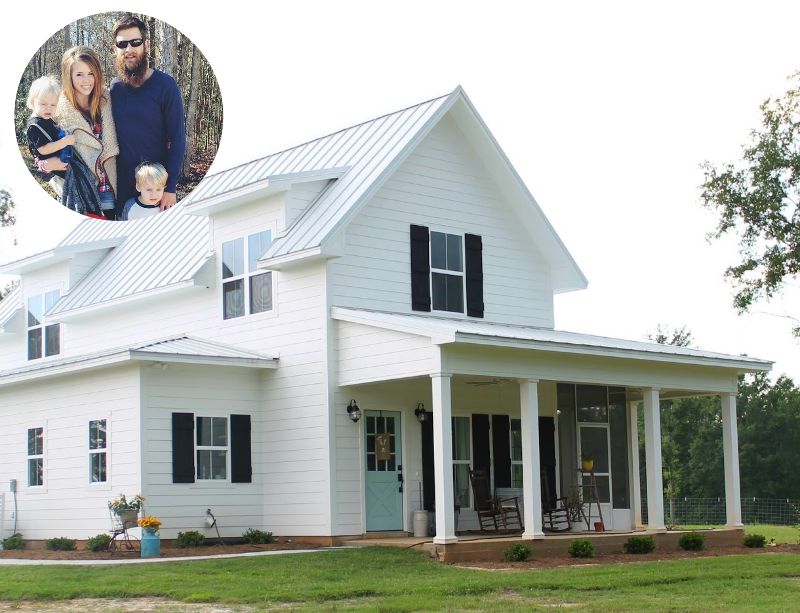 (Visited 6,891 times, 4 visits today)