The Ad Astra Estate in La Cañada Flintridge, California, is a Southern Colonial Revival designed by architect Paul Revere Williams in 1935.
It sits on 2 acres and comes with a charming Victorian guest cottage and a small red barn in back.
Take a look!

The Ad Astra Estate Designed by Paul Williams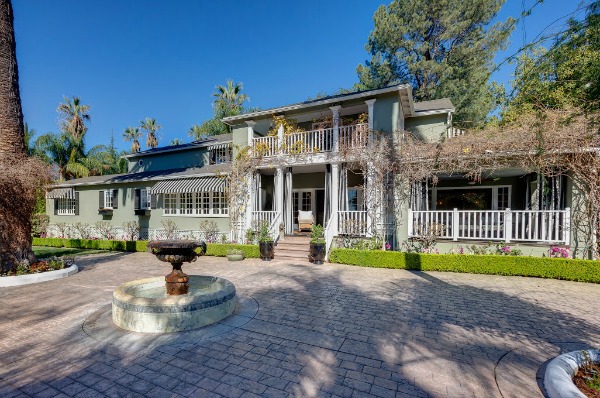 Ad Astra is Latin for "to the stars."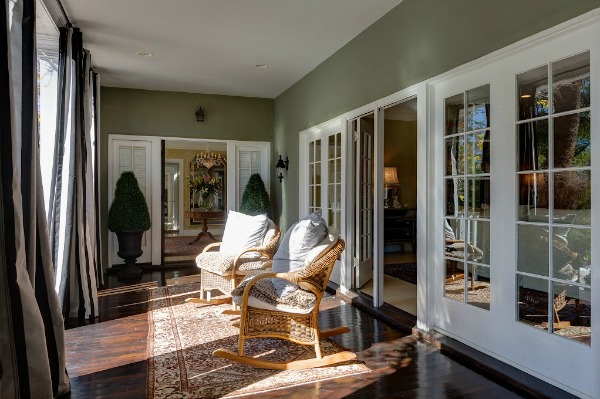 There are indoor/outdoor spaces all around the house like this.
Williams frequently planned outdoor spaces that were extensions of indoor ones for his clients.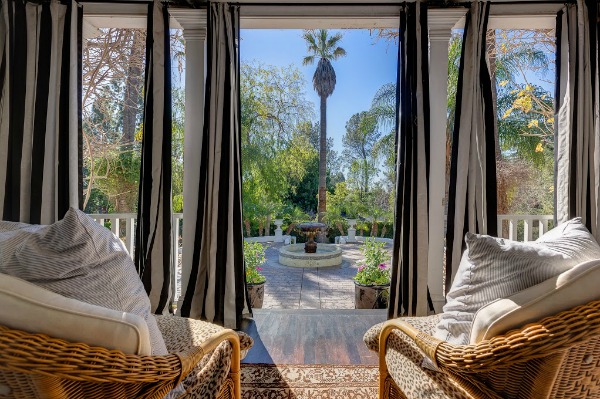 Paul Williams was an African-American architect who was known for modern interpretations of classic styles. He designed houses for numerous celebrities, including Frank Sinatra, Tyrone Power, Barbara Stanwyck, and Lucille Ball.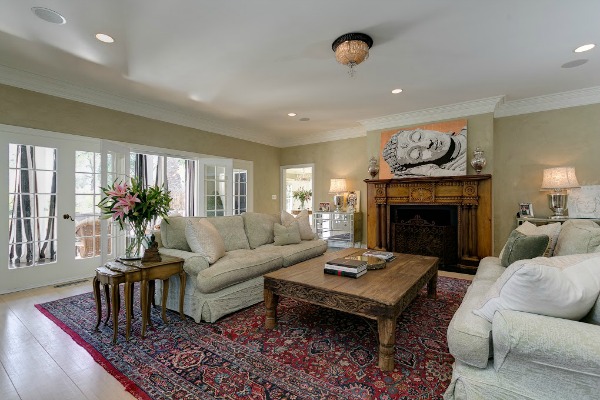 The listing says, "Painstakingly renovated, remodeled and expanded over the last decade, this lifestyle retreat is arguably the most spacious and unique homestead in all of La Canada."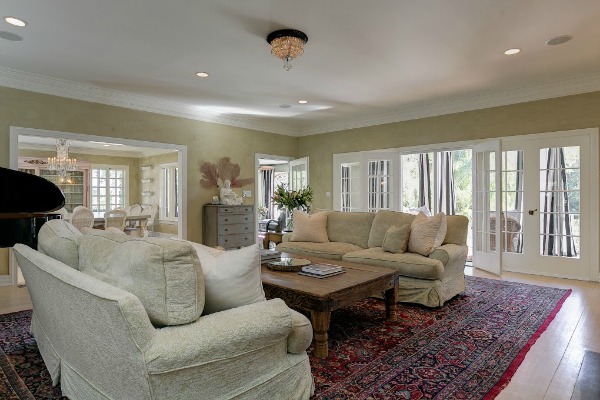 The main house has nearly 6,000 square feet.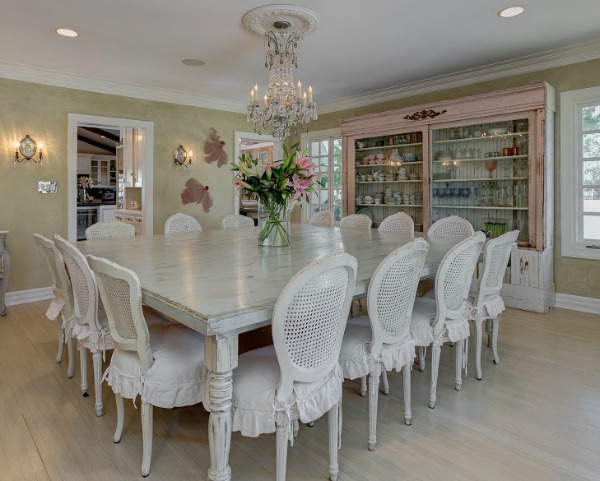 His houses are in demand and don't come on the market very often.
When they do, celebrities like Ellen DeGeneres often snap them up.
You may recall I featured one that Ellen Pompeo bought and remodeled in Los Feliz recently: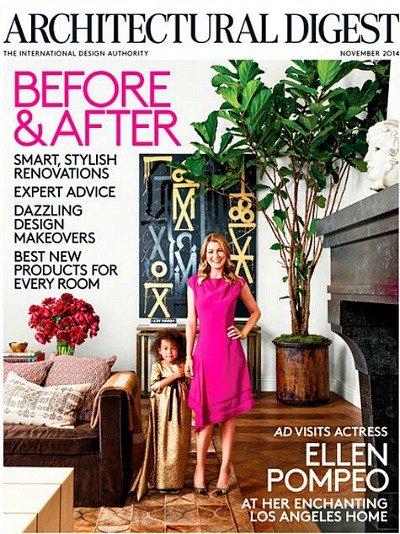 Bret Parsons of the John Aaroe Group told NPR that when Williams homes do come up for sale, real estate agents scramble for the listings: "They're gobbled up in seconds. They're an absolute pedigree for someone to have in their arsenal."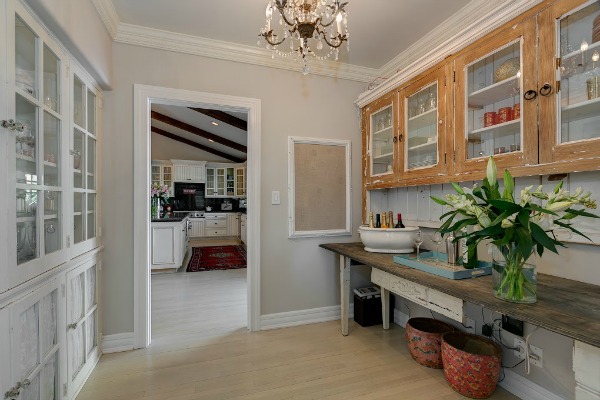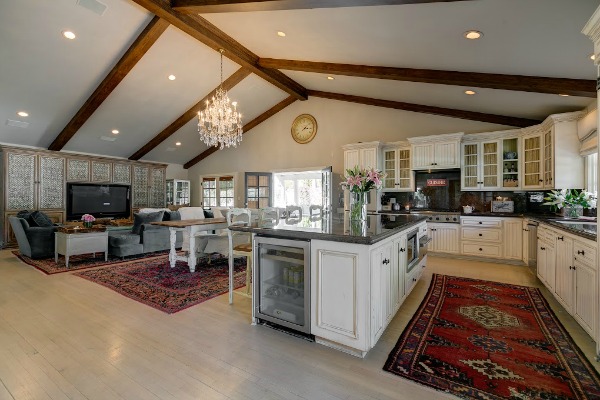 The interiors of this one have been updated so much that I'd love to see what it looked like when it was first built in the 1930s. I have a feeling this isn't the original kitchen. 😉
The listing compares it to an all-inclusive resort:
"From its pool and water slide to its tennis court, putting green and an unparalleled outdoor eat/play/entertain pavilion, this is where the life you've always wanted is lived."
That slide looks like fun, doesn't it?
A bit of TV trivia:
Paul Williams designed the house known as the Colby mansion on Dynasty and its spin-off The Colbys: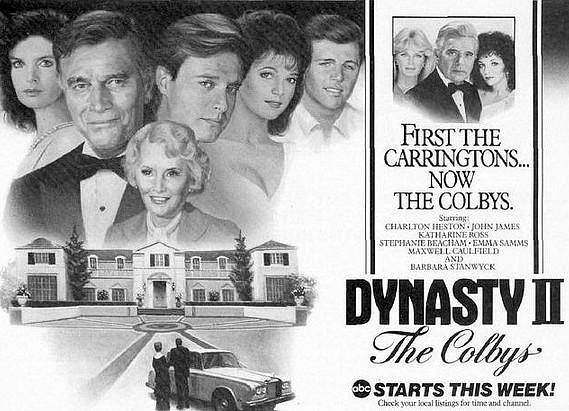 Remember the Belvedere mansion?
Williams was orphaned at the age of 4 and raised by a family friend who taught him he could be and do whatever he set his mind to, regardless of his race.
His granddaughter Karen E. Hudson says he often designed houses in areas where he wouldn't have been allowed to live himself: "The land deed said a black person could not even spend the night."
In a 1937 essay for American Magazine called "I Am a Negro," Williams wrote, "Virtually everything pertaining to my professional life during those early years was influenced by my need to offset race prejudice, by my effort to force white people to consider me as an individual rather than a member of a race."
Williams was the first black architect to become a member of the American Institute of Architects in 1923.
In the 1950s he became an AIA Fellow.
During World War II, Williams worked for the Navy Department as an architect.
The vintage 1940s poster above was put out by the Office of War Information.
Behind the main house sits a Victorian cottage
that dates back to the 1890s:
The guest cottage, which was the original house on the property, is 1,380 square feet.
This was once a working ranch, but the old red barn is now an artist's studio:
What would you use it for?
Thanks to Partners Trust Realty for sharing this property with us.

For more information, check the listing.

Photo credit: Erik Grammer.