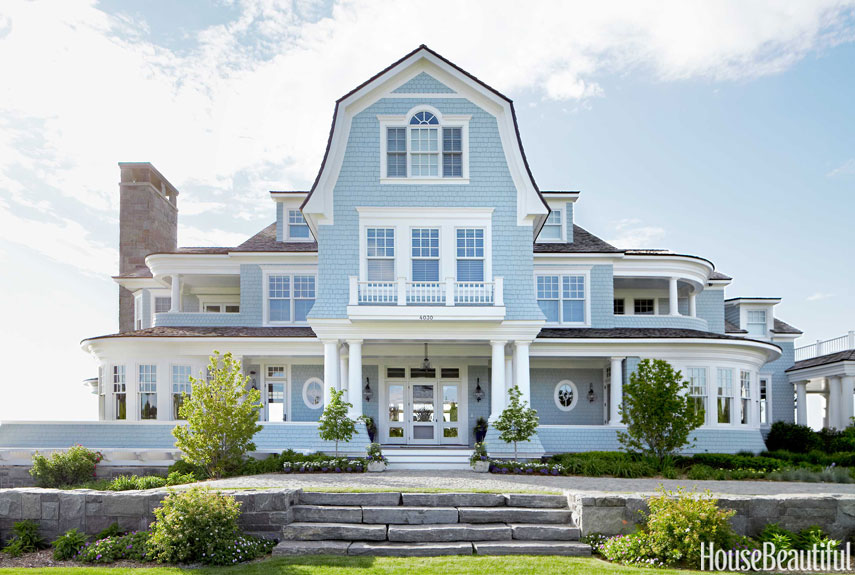 Did you see this Lake Michigan home featured in House Beautiful recently?
It looks pretty "American traditional" from the outside, so I was surprised by all the Moroccan design influences inside.
The article by Christine Pittel says, "Instead of boats and buoys, designer Martin Horner added exotic elements — Moroccan tile, pillows made from Japanese obis, Balinese columns — to a Lake Michigan house. With layers of color and pattern everywhere, this house has cultural treasures from around the world in every room."
On the HB website some readers commented that it was almost "too much blue" for them.
But designer Martin Horner says, "One reason why you can have all this pattern and texture throughout the house is because the palette is so consistent."
"Blue is the common thread that holds it all together. It's the husband's favorite color. Blue is the color of the lake outside, and it winds through the house. It's the color of the backsplash in the kitchen and the tile in the master bath. It's in the spatterware that the wife collects."
Visit House Beautiful to read the story produced by Doretta Sperduto,

styled by Gregory Bissonnette, and photographed by Francesco Lagnese.