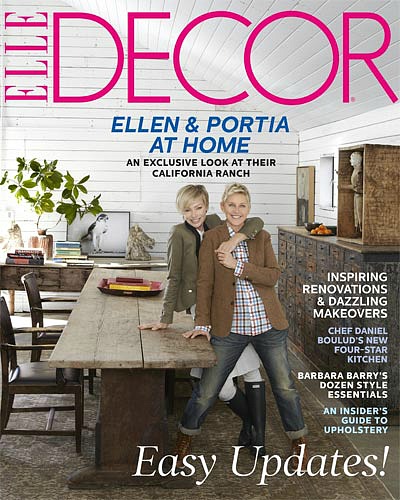 Designer Cliff Fong says, "Ellen DeGeneres has moved more times than any person I know."
When Elle Decor featured the horse ranch she shares with wife Portia de Rossi in Santa Monica, they asked her about it, and here's what she said:
"I can only change the furniture so much and I get bored," Ellen explained. "Then I need a new structure to work on." She insisted that it's not about "flipping" houses, but the creative challenge each house brings.
This unusual property came with multiple buildings on it, including 8 cabins and 2 barns.
They decorated each of the cabins to have a different mood, from "very much like Belgium" to "more contemporary."
Ellen told the mag she was going for "a feeling of country and yet a relaxed sophistication."
Portia adds, "Ellen likes things to be a little more natural and rustic."
The 26-acre Hidden Valley property was owned by the actor William Powell back in the 1920s. By the time they bought it, it had become a run-down professional horse facility that needed a lot of work.
On her show this week she mentioned the wildfires in California and how her farm became the firefighters' headquarters so they'd have a place to sleep and eat and shower.
Check out the article in Elle Decor to read the story written by

Ian Phillips. Photography by William Abranowicz.