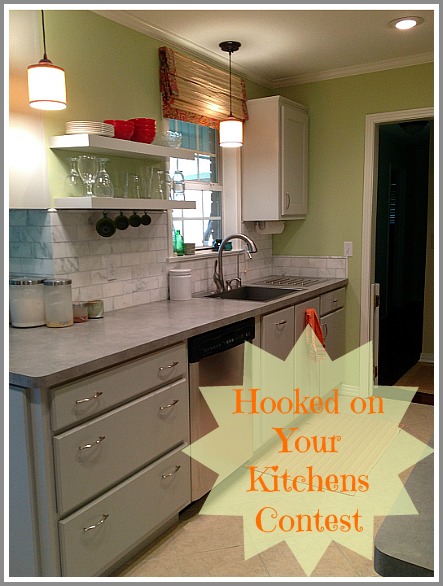 After announcing my "Hooked on Your Kitchens" Contest last Friday, I was amazed by the dozens of entries that immediately started pouring in. Wow. So many great kitchens and so many stories to go with them!
Here are 10 of the entries I've gotten so far. Take a look!

10 Readers' Kitchens
1. Peggy's Kitchen: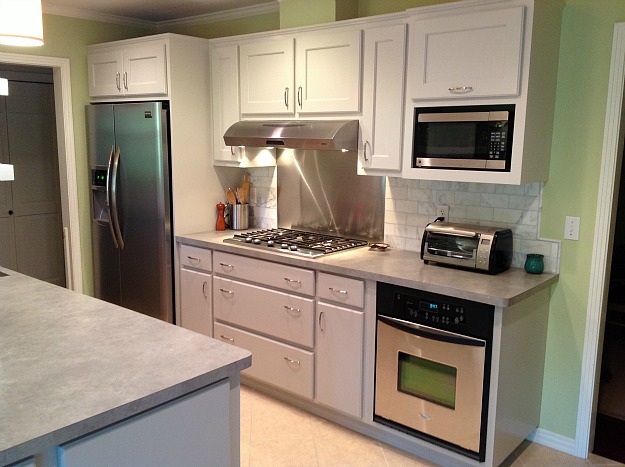 Let's start with Peggy's kitchen (the top photo is hers, too). She writes, "My kitchen is small, but it's got everything I need, and it's efficient to work in. What I like best about it is that my husband and I remodeled it ourselves, and it turned out exactly as I had imagined."

2. Richard's Kitchen: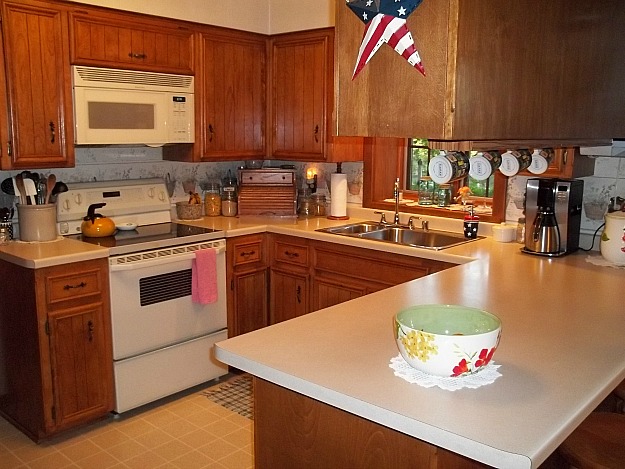 Richard says, "Our kitchen is not real big but my wife loves the space. The kitchen is the center of our home and being open to the dining area and family room lets her cook and still be connected. The window over the sink gives a view of our backyard and the birdbath and squirrels tricks."

3. Susan's Kitchen: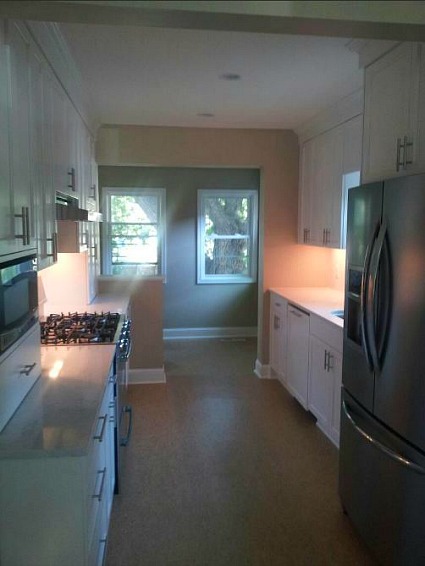 Susan writes that she was inspired to renovate her tiny 1940s kitchen by an episode of Kitchen Cousins: "I watched it numerous times for ideas. We have a small kitchen (and definitely not eat-in) and so did they." Now they have all the things they wanted in the room, like a dishwasher and Cambria counters.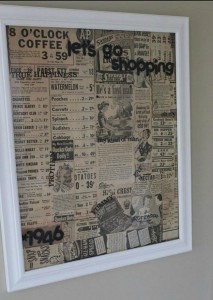 These newspaper clippings were found in the walls when they gutted them: "I made a little framed collage of them to keep in the kitchen, where they originally started."
"When I first got home after they completely finished the kitchen, I walked in and started crying a bit. It was my dream!"

4. Candy's Kitchen: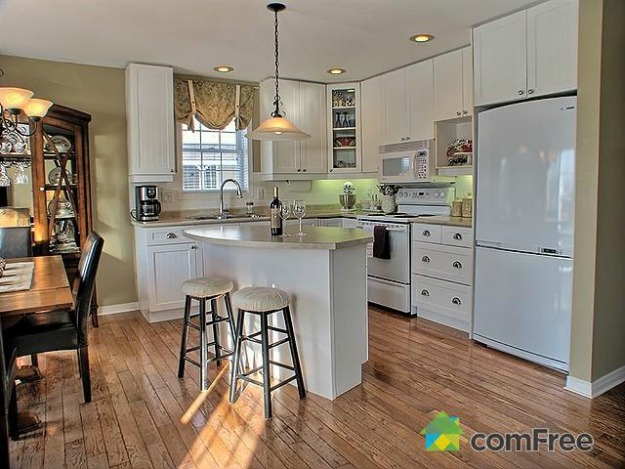 Candy says they're selling their house now, and she'll miss her kitchen: "I love everything about it, but maybe the counter depth fridge most of all. We designed this kitchen ourselves when we built the house. A dishwasher is on the other side of the island."

5. Signe's Kitchen: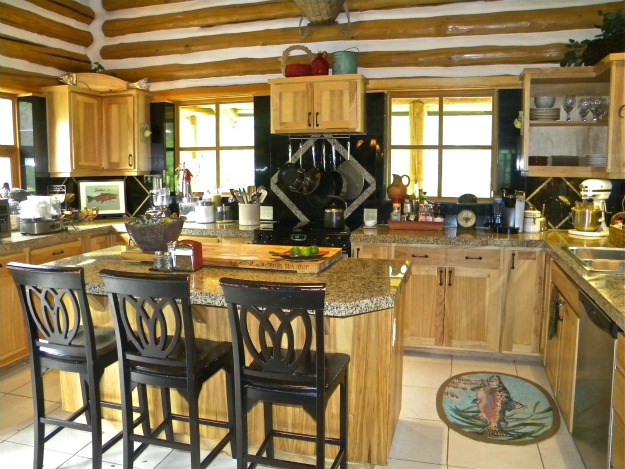 Signe writes, "I live in the greater Puget Sound region of Seattle. I love my kitchen mostly because it functions really well. After over six years of living here, and countless meals prepared for our family as well as hosting many, many huge parties (we LOVE to entertain!), I have fallen in love with how well this kitchen performs!"

6. Dave's Kitchen: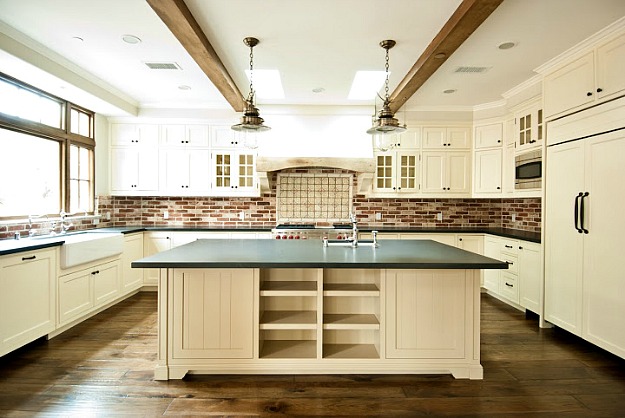 Dave writes: "In February we completed large remodel of our home–these photos were taken just before moving in. We love our kitchen because we wanted something that was nice but didn't feel fancy. The box beams and reclaimed timber over the range help with this, but the backsplash is what makes the kitchen for us."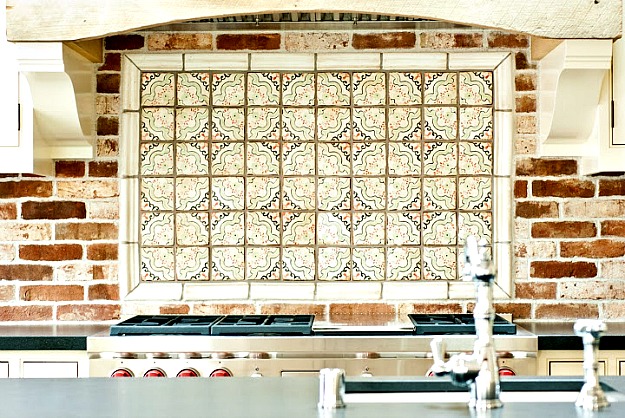 "We knew we wanted a brick backsplash, but had a very hard time finding a brick veneer that looked authentic. Turns out, our property is bordered by a very old brick wall made of bricks that were reclaimed from the 1906 earthquake in San Francisco. When we were completing our kitchen, we were also in the process of demo-ing an unstable portion of the brick wall that was beyond repair. We were able to cut the face of those bricks to create the perfect veneer for the backsplash."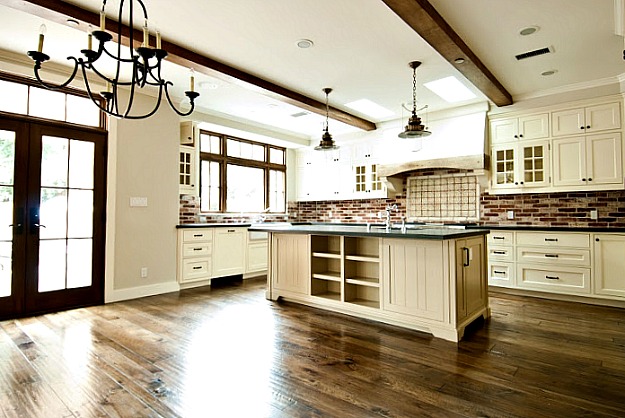 "It's been great to have a piece of history inside our home."

7. Debra's Kitchen:
Debra writes: "I love the wood floors and the whitewashed brick wall. I love my window box with herbs, cloches, apothecary jar, and sunlit view of backyard and pool. I love my London sign that we got at Portobello Road. And I love this guy, too–my son's dog."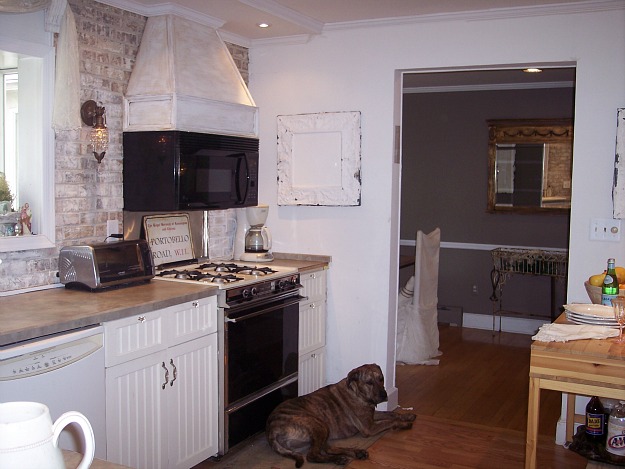 8. Noreen's Kitchen: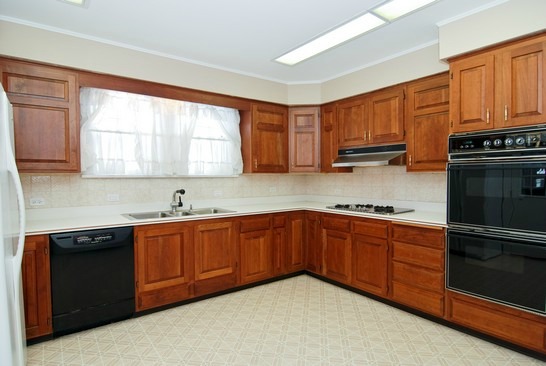 This is how her kitchen looked when she bought it. She says her mom advised her to think twice about the house because of it. But Noreen, who blogs at Spices & Spackle, knew it had potential to be "a real cook's kitchen."
She painted it Restoration Hardware's Spanish Moss, added an old farmhouse table, got rid of the harsh fluorescent lighting, and replaced the old vinyl floor with red oak. It looks a lot warmer now: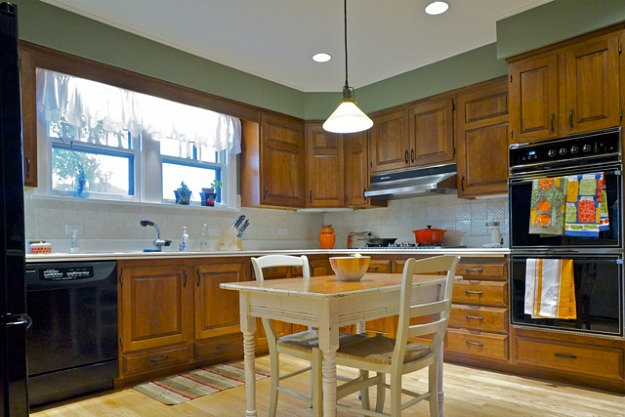 "Now I have a kitchen that is not only functional, but beautiful too," she says. "I look forward to cooking in it every night when I get home from work."

9. Alyson's Kitchen: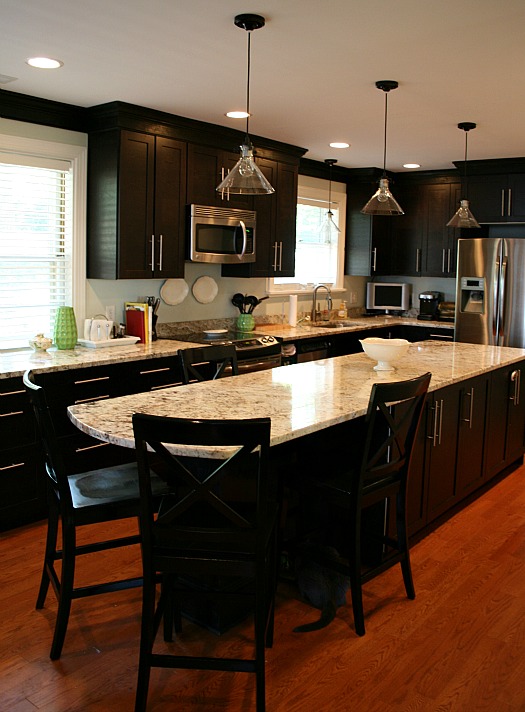 Alyson writes: "We purchased our 1950's home from the original owner. Not only did it smell of mildew, it was extremely out dated. We worked with my sister who is a kitchen and bath designer to customize our kitchen to what it is today."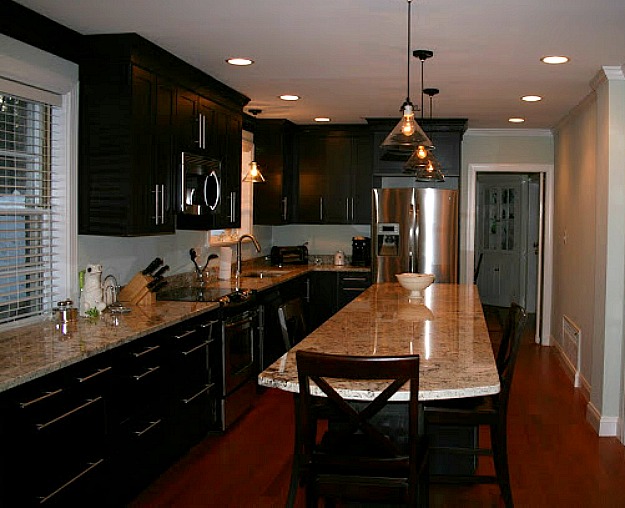 I love my kitchen for some many reasons. First, it was great working with my sister on a project. She truly had the vision behind the space and it is wonderful. Second, I love all the cabinet and counter space. I feel like we really maximized the space and it is so nice to have created an eat-in area. Also, love that is now so convenient to the family room and I can be cooking and also talking to my children or husband.
You can see all of the before and after photos on her blog.

10. Jeanne's Kitchen: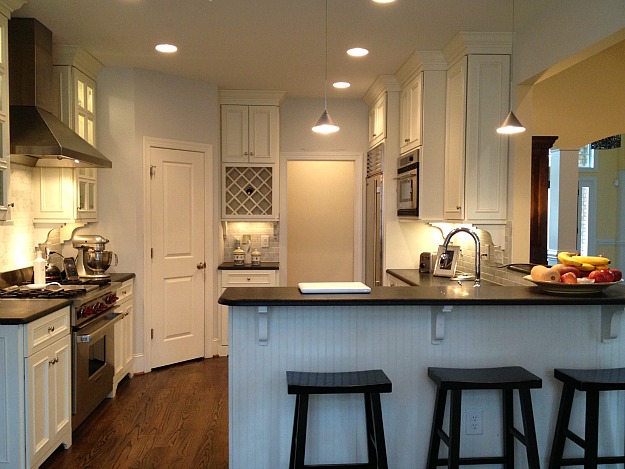 Jeanne says, "I love my kitchen because I picked everything in it & great things come out of it."
I love seeing "real kitchens." Thanks to all the readers who submitted theirs.