One thing I like about Better Homes & Gardens is that it's one of the more "realistic" shelter magazines out there.
This small kitchen makeover that they featured is a good example.
It's in a 1935 Cape-style cottage in upstate New York, and as you can see by this next photo, its beginnings were humble:
See that basement door on the other side of the fridge? They moved it around the corner to make room for more counter space (the floorplan is pictured here).
The homeowners really wanted black soapstone for the countertops but couldn't afford them.
They went with a laminate look-alike instead.
(This is what I mean by realistic. You don't see laminate in many magazines, do you?)
On a side note, what's your feeling about open shelves? Seems to open up a small space like this, that's for sure. But I'm not sure if I could live with them.
A BHG reader left this comment on their website: "Everything in my kitchen is dusty within a day or two, and soon gets the greasy film as well. I see open cabinets everywhere, and I wonder if people really like them after they have used them a while."
The other side of the room has the sink.
Here's how it looked before:
And after, with some closed-cabinet storage on this side of the room:
My favorite part of the makeover has to be the breakfast nook.
It was stuck in 1975 before: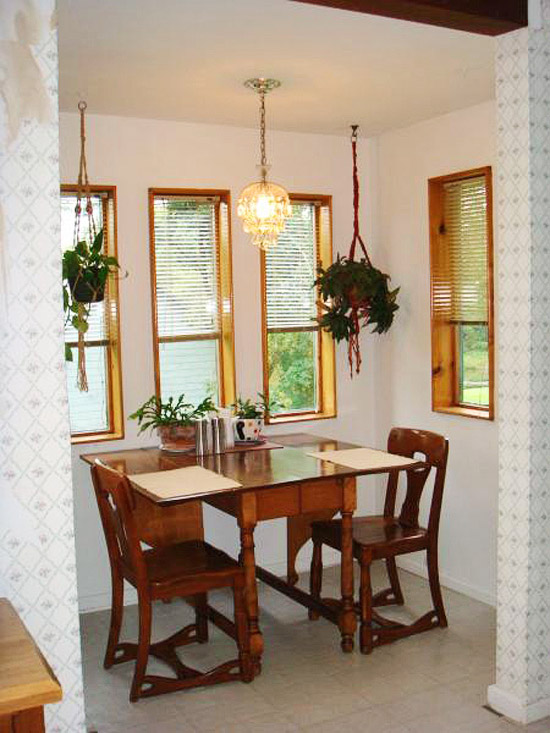 Those windows really didn't go with the traditional Cape cottage style of the house, but they managed to give them a new look without replacing them: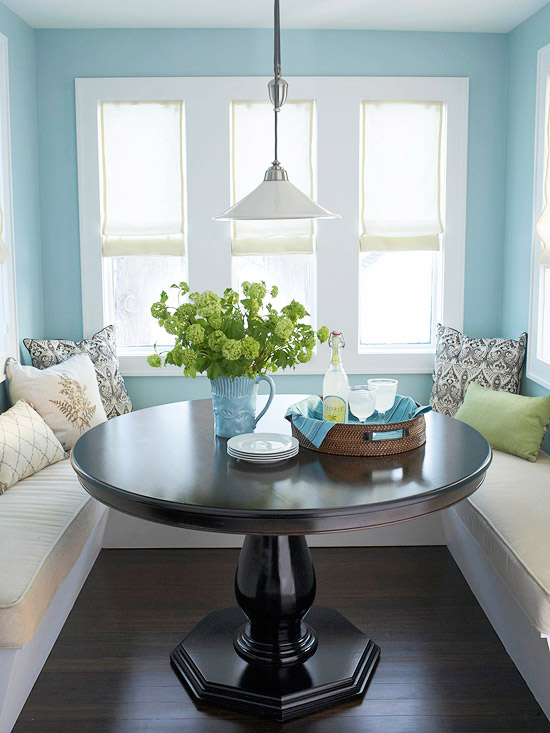 It's amazing what a difference it made when they added trim around those skinny windows and painted them white.
The story was designed and produced by Donna Talley.

Photo credit: Bryan McKay.