My favorite part of the romantic comedy The Holiday? The houses! So let's take a closer look at them, starting with Iris's cozy stone cottage in the English countryside.
*UPDATE: Amanda's house from the movie is on the market! Click here to see the listing photos and details.*
This is the ad that Iris (played by Kate Winslet) places online as part of a "house swapping" program, where you stay free at someone else's place while they're at yours:
Amanda (played by Cameron Diaz) jumps at the chance to spend the holidays in Iris's "fairy tale English cottage." Who wouldn't?
Lucky for us, stills of the sets were taken by Columbia Pictures that show details in the rooms that we might have missed in the movie itself.
The Entry:
Living Room:
Twisty staircase:
The stone fireplace:
The mantel decorated for Christmas:
The Kitchen:
As Graham moves from the living room to the kitchen we get a glimpse of the china hutch:
There's a door to the book-lined library from the kitchen:
This may be my favorite room in the entire cottage, but we see very little of it in the movie:
Iris's Bedroom:
Love the built-ins the bedroom has, which you can see in this scene where Amanda tries to cram all her stuff into them:
The Bathroom:
It looks charming, but it isn't very practical–at least not for someone as tall as Cameron Diaz!
Village Scenes:
Producers chose the picturesque streets of Shere (in Surrey) for the village scenes. They wanted snow so it would look more like Christmas time, so they added it:
Building the Cottage:
Sadly, Iris's cottage isn't real. A fake exterior was built within 2 weeks in the middle of an empty field (screenshots via the DVD Special Features):
They did extensive landscaping around the cottage, even though little of it is shown in the film, and most of what you do see is covered in (fake) snow:
The film crew created everything that you see in the movie, down to the stone wall that seems to have been there forever:
How it looked onscreen:
*UPDATE: Amanda's house from the movie is on the market! Click here to see the listing photos and details.*
The Holiday was written and directed by Nancy Meyers, who always delivers sets that we can drool over. Thanks to her movies, we also have the memorable houses from Baby Boom, It's Complicated, and Something's Gotta Give, which I've featured, too. Do you have a favorite?
P.S. Now check out Amanda's house from The Holiday: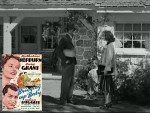 The classic 1938 madcap comedy Bringing Up Baby featured Cary Grant and Katharine Hepburn on the big screen as David and Susan, a zoology professor…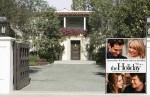 Last week we took a look at Kate Winslet's charming cottage from The Holiday. Today we're taking a peek inside the much more contemporary home…