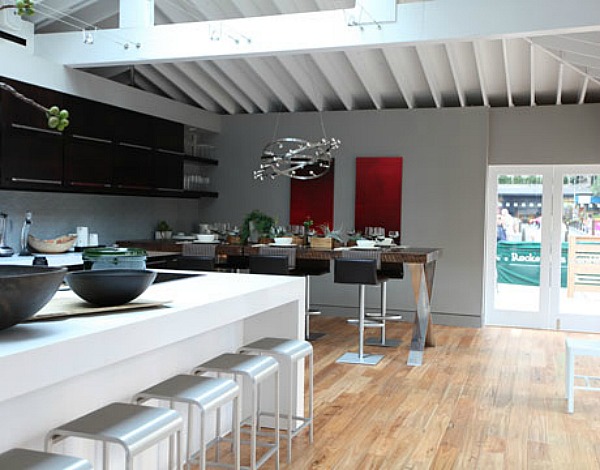 Jeff Lewis from the Bravo TV series "Flipping Out" was chosen to design House Beautiful's Kitchen of the Year 2010.
If you've been watching his show, then you followed along as he worked on it from start to finish. I was sweating right along with him when he had that impromptu meeting in front of about 50 executives and had to explain his vision for it.
The season finale was Tuesday night and they had the Big Kitchen Reveal at Rockefeller Center in Manhattan.
Jeff calls the style of the kitchen California Modern.
"It has a tremendous amount of glass and natural light. We put in as many doors and windows as possible."
He was a little worried about how it would be received because it's much more contemporary than usual for an HB Kitchen of the Year.
The kitchen has open shelving, a CaesarStone island, and a table made from wood that, Jeff says, was "salvaged from the old Vanderbilt polo barn."
It was definitely in the Jeff-Lewis-Style we've all come to know and expect from him.
The kitchen was open to the public in July. Did any of you get to see it in person?
What do you think of the Kitchen of the Year? Do you like his "California Modern" style?

Read more about it at House Beautiful. Photos by Tzirel Kaminetzky.