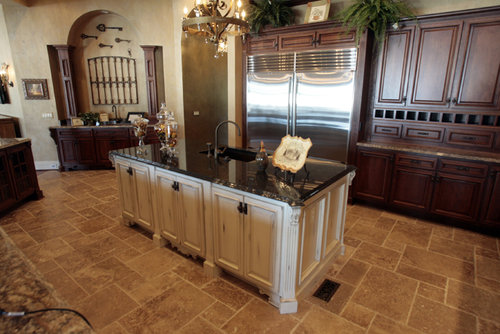 Lately there's been a debate raging around the blogosphere, and I think it's time to settle the issue once and for all: Is it okay to decorate the tops of kitchen cabinets with fake ivy, or is it an unforgivable decorating faux pas?
The Nester devoted an entire week to talking about fake plants and their crimes against nature. She even started a new club called P.O.O.P.I.E: People Opposing Objectionable Pretend plants In the Environment.
I think we all had ivy garlands and ivy clusters tucked above our kitchen cabinets in the '90s, right? There has been a backlash against it in the last few years, though, and a lot of us have taken ours down (sneezing from the dust as we packed them away).
Model homes are still crammed with the fake stuff. My parents just bought a model home and the builder is leaving everything in it, including the silk plants and flowers that cover every niche, ledge, and cabinet top.
I know a lot of you have strong opinions about putting the fake stuff up top of cabinets, so let's hear it. What do you think about ivy? Does a kitchen look cold and sterile to you without it? Or is it a decorating no-no?