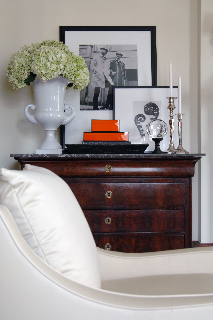 Have you ever been stumped when it came to decorating a side table or dresser? I have! I tend to be a bit of a minimalist, and I don't like a lot of stuff sitting around. But then my house can look kind of bare. So when the Nester over at Nesting Place talked about a tablescape tutorial she read in The Home Book, I took notes. According to designer David Jimenez:
~
1) Layer and lean framed photographs against the wall.
2) Keep your palette simple–black and white with one hit of color.
3) A tray makes everything richer.
4) Use a vase with a strong silhouette.
Here is how Nester's tablescape turned out: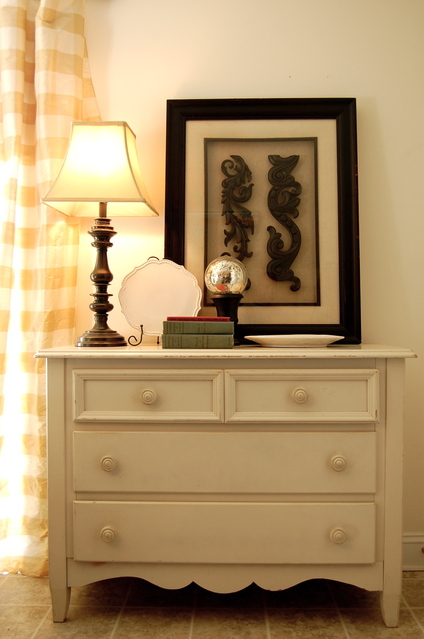 Isn't that lovely? She's hosting a 10 Minutes to a Room You'll Love party today, so I decided to participate and give it a shot!
It wasn't hard to decide which table needed a makeover the most. Here's my sad, neglected, and practically nekkid work table in my home office. It's humble Sauder furniture, and I desperately need a new lamp, but taking the Nester and the Home Book's advice, I set out to see what I could do with it.
~
Before: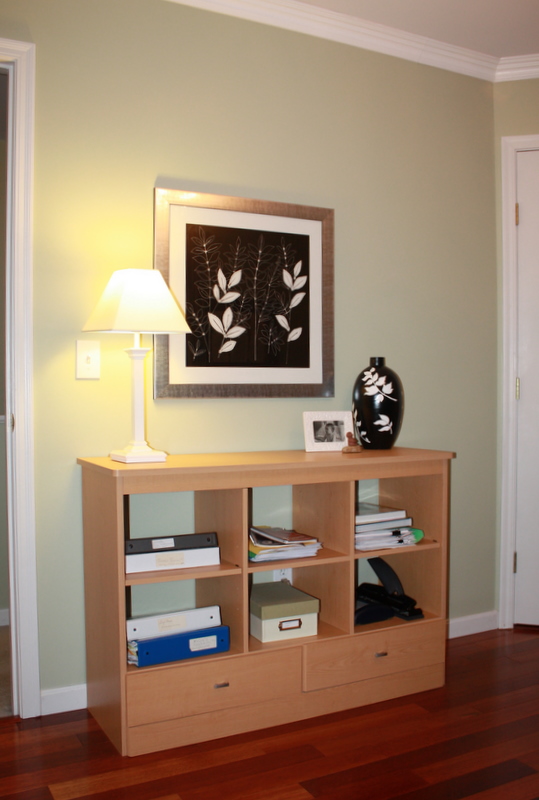 First, I shopped the house to see what I had that resembled the items in the Home Book photo: silver candlesticks, a black and white photo to prop against the larger artwork, colorful books, and a white plate like Nester's. (I had a black tray, too, but it was too wide for my narrow table.)
I took the artwork off the wall and propped it on the table as instructed and recreated the general look of the inspiration photos as closely as possible. Here's how my first attempt turned out:
After #1: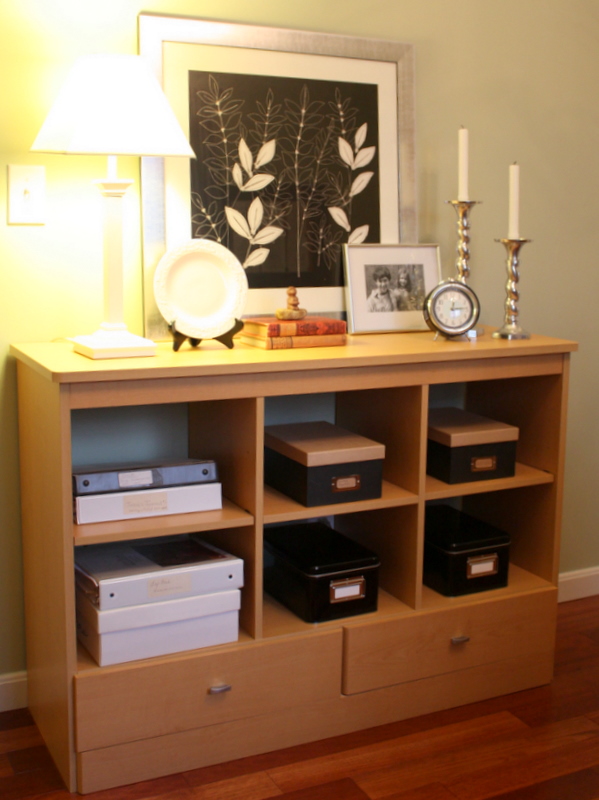 Oh, and I straightened up my cubbies, while I was at it. I got some matching black boxes to put stuff in. That made a big difference!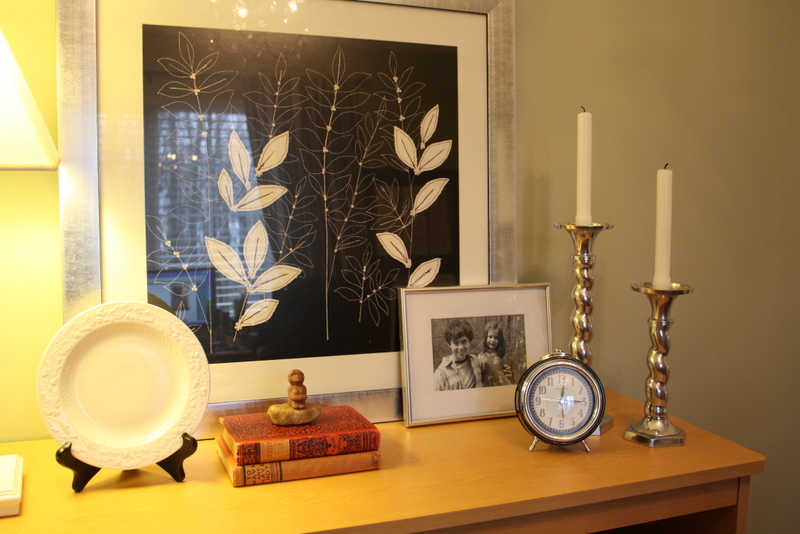 I played around with it some more. What if I took the beat-up old lamp off the table altogether and added a vase instead? I mixed it up a little to create a second look.
Look #2: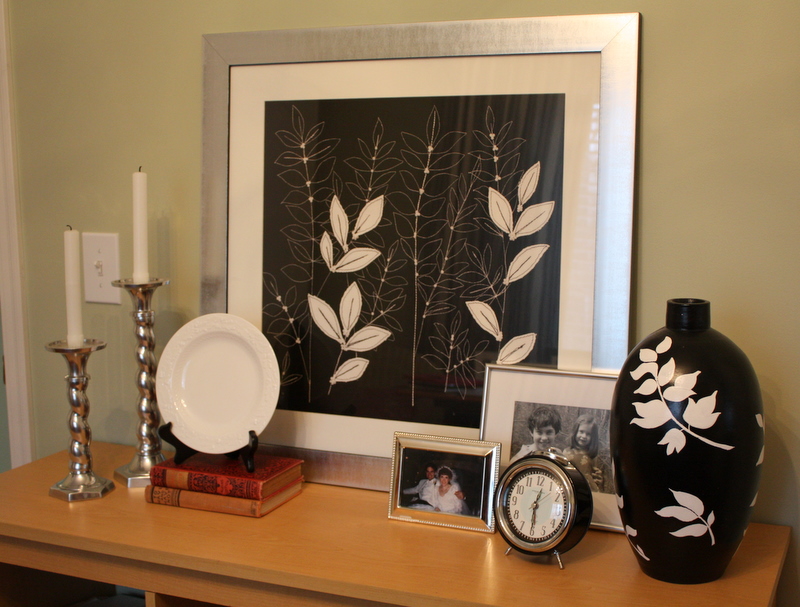 At this point I started getting tired of the black and white and wanted some color. So I brought in all the bright, colorful things I could find, including a candy bowl from the kitchen, just for fun.
Look #3: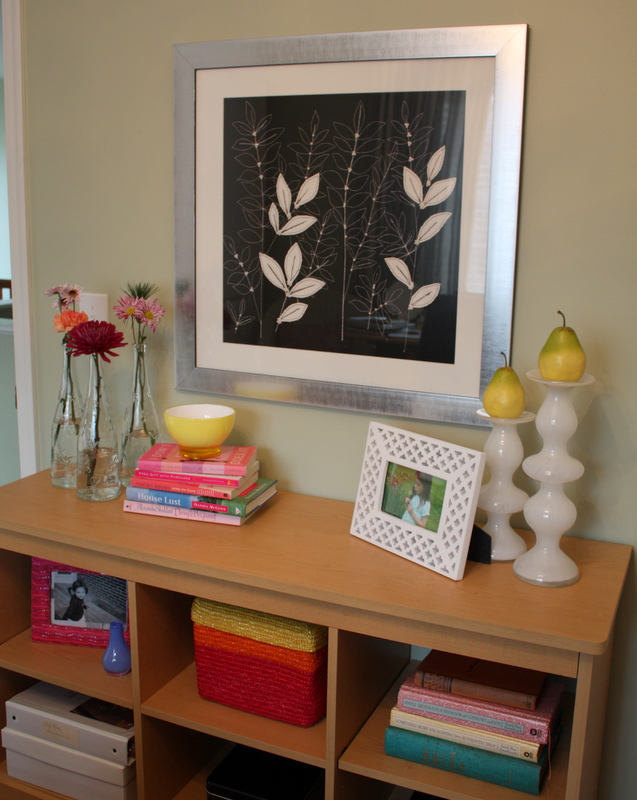 I bought these 3 glass bottles at IKEA for $2.99 each but had never figured out what to do with them. When I was at the grocery store today, I grabbed a bunch of their cheapest flowers ($5) and put them in the bottles. They were just what my room needed!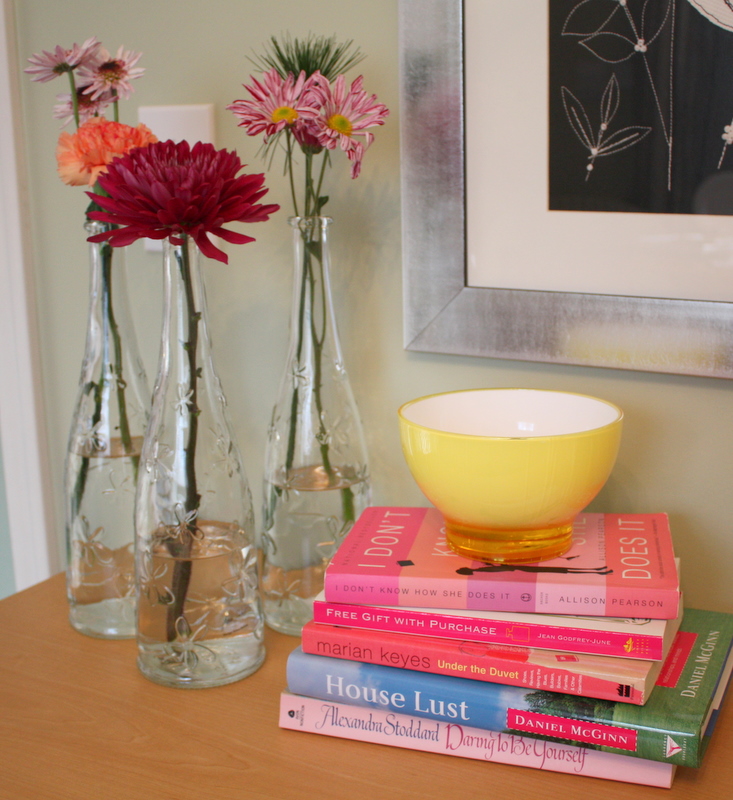 It was fun playing around and trying some new things. Now I've got to decide which look to stick with. I have pictures, vases, candlesticks, and books stacked everywhere. So help me out here. Which look was your favorite? Do you think I'm on the right track, at least?
{If you like black and white decorating, check out my family room. If you like more color, check out my daughter Lily's bathroom.}
For more inspiration, check out all of the fun blog parties going on today:
(Visited 1 times, 1 visits today)
Are you hooked on houses? More to tour: