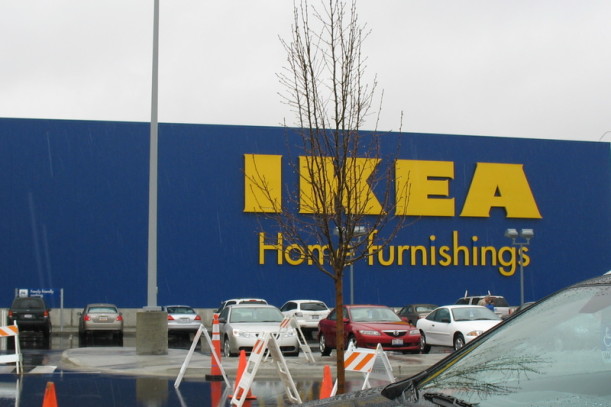 You're going to have to forgive me if you have an IKEA in your town already and don't understand our excitement here in SW Ohio, but this week we finally got one of our own.
My friend Andrea and I went to the Grand Opening today to check it out and took lots of pictures for those of you who want to shop vicariously.
You can see all the highlights of their showroom and won't even need to put on comfortable shoes!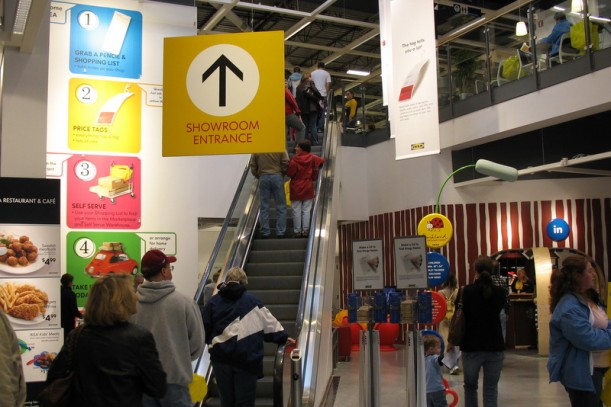 Here's the entrance, where you get your little cart, hook a yellow bag onto the hooks to make an impromptu "basket" in the cart, and head upstairs to the showroom.
I'm sorry, IKEA masterminds, but this does not work very well. I put two small pillows into that bag and it was full. What was I supposed to do with all the other fabulous things I wanted? Balance them on my head? An hour into our shopping we spied a woman with a regular, full-sized cart. Where did she get it?
We asked three different salespeople and got three different answers. One told us to go through a door that didn't exist. When we returned to her and told her it was a dead-end, she said, "Oh, sorry, this isn't my store. In my store there's a door there. It's weird they don't have one."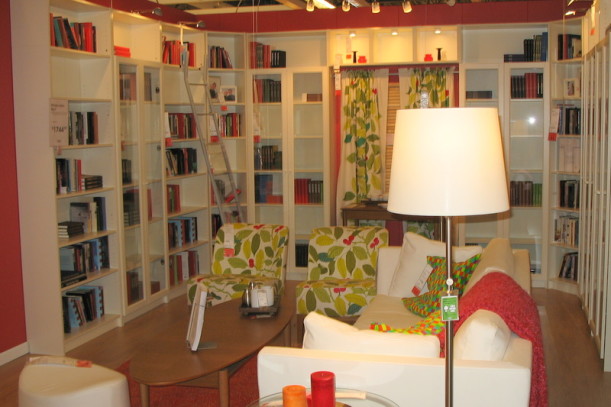 We searched and searched some more. Another salesperson said, "Sorry, the big carts aren't allowed upstairs in the showroom." So we went down to the ground floor, figuring they must be there if that's the only place they were allowed. An employee there told us "They're downstairs," which totally confused us. Did this mean there was a basement level we hadn't found yet? "No," she said. "It's downstairs. There is no basement." Huh?
Now, you tell me. When you are on the ground level of a building and someone asks if you know where the carts are, wouldn't you say, "They're on THIS floor, around the corner"?
We went back and forth with her like we were part of an Abbott and Costello routine for several minutes until we finally realized she was telling us they were on the ground level WHERE WE ALREADY WERE. There was no secret basement where they hoarded the full-sized carts. I was kind of disappointed.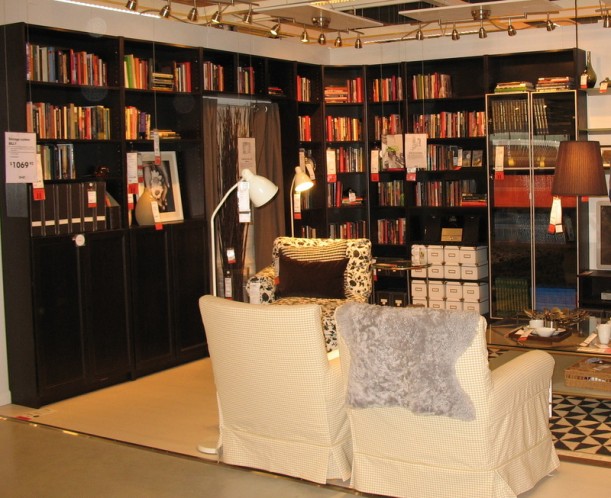 Everything was so cheap it was almost laughable. We kept calling out prices to each other. "This entire cabinet is only $65!" "Look at these shelves for $150!" We pondered how many years a $20 chair might be good for and concluded that it didn't matter. Even if it lasted a week, it was still a bargain.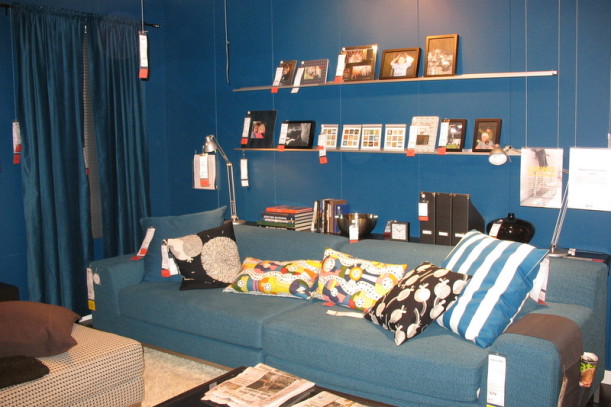 When we were in the elevator I told Andrea that I needed to take pictures for the blog. There were two other women in the elevator with us who said, "That's what we're doing for our blog, too!" We chatted a bit before going our separate ways.
I was just surfing around the Internet to find other posts about IKEA and found theirs. Small world! I recognized them in the photo, and as I was reading their account of cart confusion (we weren't the only ones!), they mentioned meeting us in the elevator. Too funny. To read the story of their shopping experience, go to Mommin' It Up!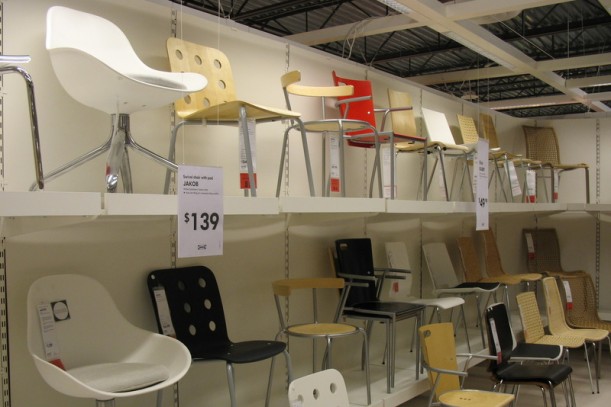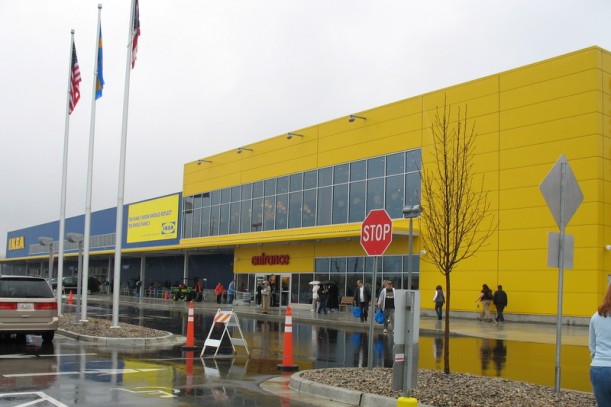 And this concludes our long, exhausting shopping trip to IKEA. It was fun but a little overwhelming. For more information or to request a catalog, go to the official IKEA website.
If you have your own stories to share, we'd love to hear them! If you have IKEA furniture in your house, tell us how it's working for you. Has anyone bought one of those $20 chairs? If so, did they last longer than a week? 😉