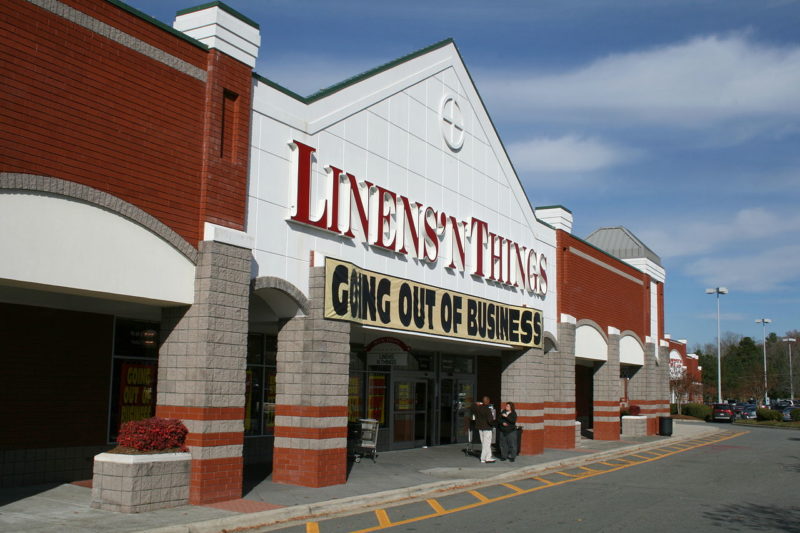 Can you imagine a mall in America without a Linens 'n Things in it? A world in which Bed, Bath & Beyond doesn't have to issue coupons in the Sunday papers because they have no real competition to worry about?
It could be a reality someday. Apparently Linens 'n Things is in serious financial quicksand and sinking fast.
On April 15 the beleaguered home furnishings retailer announced that it would defer payment on its $16.1 million in interest payments and instead work with its creditors, bond holders and vendors in an attempt to avoid filing for bankruptcy.
According to the New York Times:
Since last fall, eight retailers — mostly midsize chains like the electronics retailer Sharper Image — have filed for bankruptcy. But a filing by Linens 'n Things, which has more than 500 stores in 47 states, would be the largest yet.
The payment that was due Tuesday applied to a $650 million issue of debt, comprising several senior notes due in 2014. But the terms of that debt include a 30-day grace period for payment of that interest. Linens 'n Things posted a $242 million loss for 2007 on sales of $2.79 billion.
If you or someone you know works for Linens 'n Things, the prospect of some or all of their stores closing must be a scary thing.
What does it mean for shoppers? Well, there may be some major "Everything Must Go!" sales on the horizon. But for now, if you're holding onto any gift cards from Linens 'n Things, you may want to go ahead and use them. If the retailer ends up filing for bankruptcy, they won't be legally required to honor them any more, as customers found out when Sharper Image closed abruptly in February.
Let's hope they're able to keep their doors open despite the odds. Looks like they're trying to work it out and avoid bankruptcy. Even though Linens 'n Things has never been my favorite store–I never liked the way it was set up and rarely found what I was searching for in it–I am all for having as many home furnishings retailers to shop in as possible! We need to have options, and Bed Bath & Beyond needs to have some competition, don't you think?
MAY 2 UPDATE: According to Smart Money:
Linens Holding Co., the operator of Linens 'n Things home furnishings retail chain, said Friday it filed for Chapter 11 bankruptcy protection with plans to shut 120 underperforming stores, becoming the latest retailer to fall under the weight of declining housing markets and other economic worries. The chain, which private equity firm Apollo Management LP bought for $1.3 billion in February 2006, will continue to operate without interruption. It also expects to be well stocked ahead of the back-to-school and holiday selling seasons as it secures $700 million in debtor in possession financing from General Electric Capital Corp.
UPDATE MAY 8: Is Bed Bath & Beyond next? Lots of people have been landing on this post after searching for "Bed Bath & Beyond Bankruptcy." After doing some sleuthing, I've learned that there's an e-mail being forwarded around that says BB&B filed for bankruptcy. As far as I can tell, there's nothing to back this rumor up. If anyone has heard differently, please fill us in! Go to the Chronic Consumer to read more about this rumor.
UPDATE OCTOBER '08: It's official. Linens 'n Things is closing its doors.