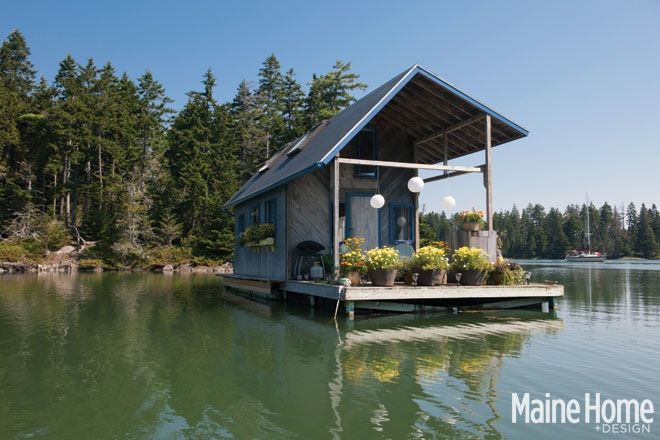 Check out the tiny 240-square-foot floating cottage Foy and Louisa Brown built for themselves in North Haven, an island community in Maine's Penobscot Bay.
It took a decade of nights and weekends to build but was finished in time for their honeymoon.
Now it's a relaxing summer retreat for them each year that's totally off-grid.

A Tiny Floating House
It was featured in Maine Home + Design, which describes it as "an off-the-grid haven from work and island life, where being neighborly means you're always on call. There's a VHF radio onboard, but the cell phone only bleats when the house faces up harbor."
"The best part is getting away from it all," says Foy. "There's no TV, no one to bother you—and no property taxes or permits."
"When you're in your house, you think of all the things you need to do," adds Louisa.
"Out here, you can just relax."
Two propane tanks power the refrigerator, stove, and provide hot water. At night the only light comes from candles and oil lamps, while solar lights illuminate the platform.
Interior walls are mostly pine shiplap, lightly stained and coated with Polyurethane.
Unfortunately, Maine weather doesn't allows for houseboat living year-round. During colder months, it's stored between two piers in North Haven.
Louisa says, "I feel very sad when we have to leave. It's like closing up a summer house."
For more photos and information about their floating home,

read the article at Maine Home & Design by Denise Dowling.

Photography by Nicole Wolf.
(Visited 555 times, 1 visits today)