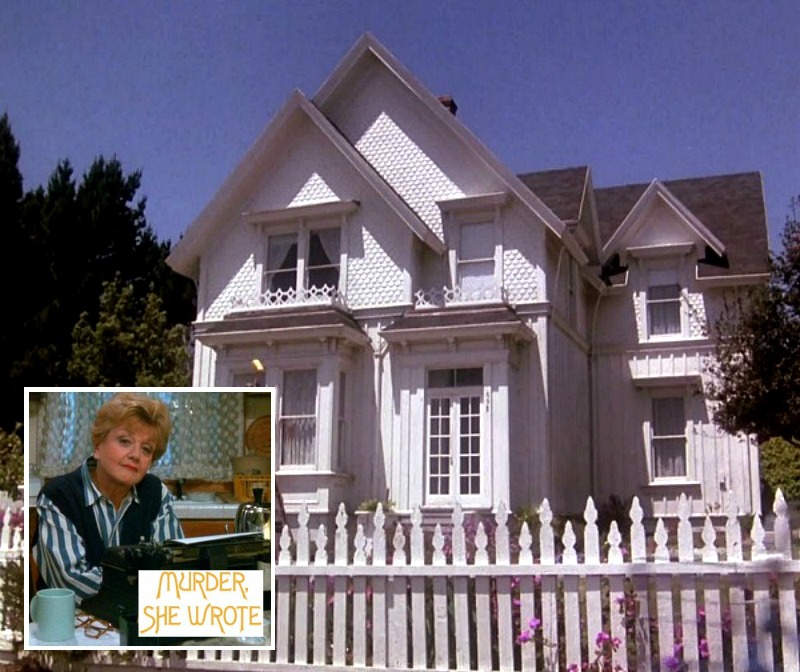 If you watched the long-running mystery series "Murder, She Wrote," then you were probably charmed by both the small town of Cabot Cove, Maine, that Angela Lansbury's character Jessica Fletcher lived in, and her lovely white Victorian.
I decided to track them down and learned the show was actually filmed north of San Francisco in Mendocino, California, instead of Maine.
Take a look!

Jessica Fletcher's House on "Murder, She Wrote"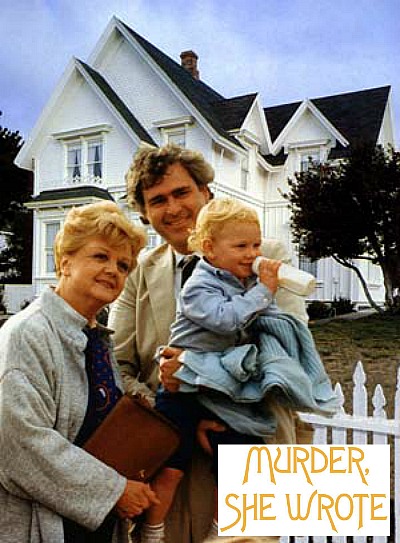 In real life, it's a Bed & Breakfast in Mendocino called Blair House.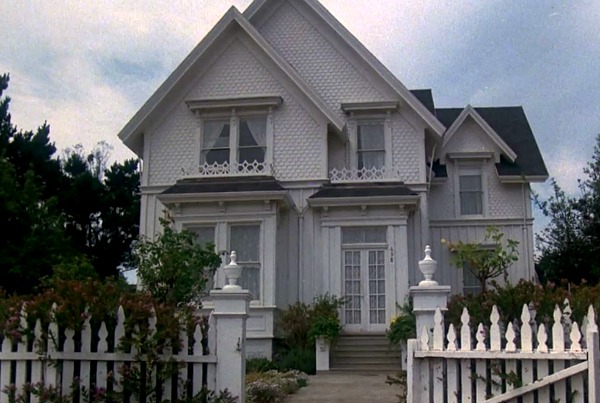 I found this wonderful old photo of the house when it was first built: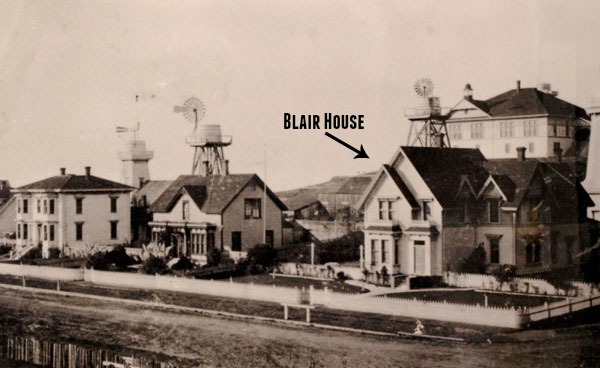 The house was built in 1888 for Elisha Blair and his family by Oliver Johnson, a prominent builder at the time.
According to the proprietors of the inn: "Today the exterior of Blair House is almost as it was in 1888. The framing and flooring are Douglas Fir, the walls and foundation are virgin, clearheart Redwood, which today would be prohibitively expensive, helping to explain the home's excellent condition."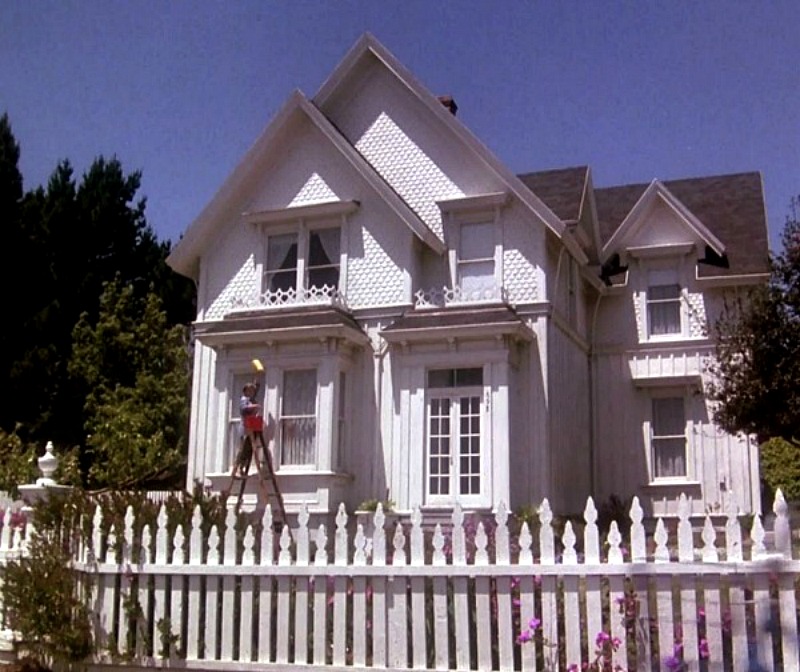 Regarding the town of Cabot Cove, according to IMDb.com:
The Harbor of Fort Bragg was filmed for the docks, exterior pub/bar dressing decorated wharf buildings; interior restaurants above the harbor were also filmed as Cabot Cove sights. At Universal Studios' back lot, the Jaws Lake attraction was filmed as the exterior village.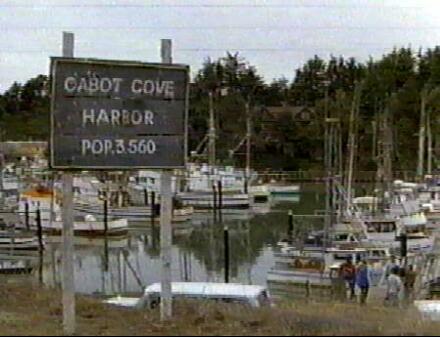 And as for Jessica's house:
The exterior Victorian Best Little Whorehouse set, relocated from stage 12 feature filming, to a hill area on the back lot, was a stand-in for the Mendocino Victorian. The interiors of this house were filmed, redressed, repainted, redecorated, for many of the episodes for other story scenarios.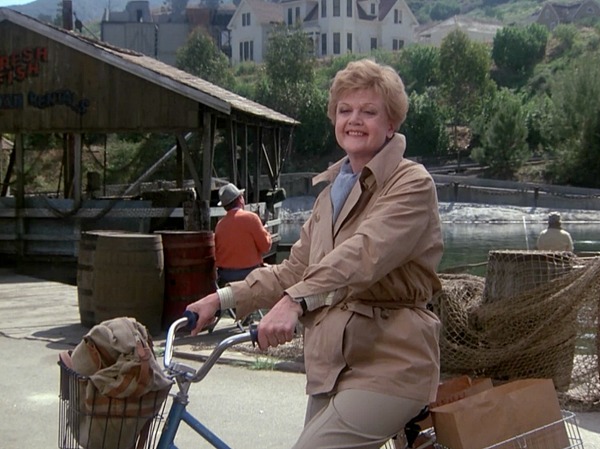 Jessica never drove. She was always biking and jogging around Cabot Cove.
Iamnotastalker reports: The Blair House Inn is extremely proud of its cinematic history and even had a replica of Jessica Fletcher's beloved bike built to put on display in the property's front yard, which I think is just about the coolest thing ever!
They also named their largest room "Angela's Suite" in honor of Murder, She Wrote's lead actress Angela Lansbury.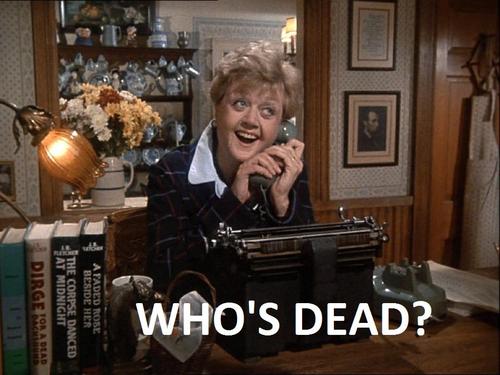 I'd think twice before inviting her to a party at my house because trouble always seems to follow!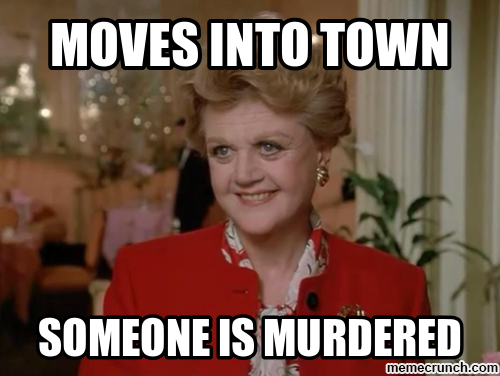 I watched numerous episodes from every season of the show possible to get as many interior shots of the sets as I could to show you. I was surprised to find how few episodes actually take place at her house.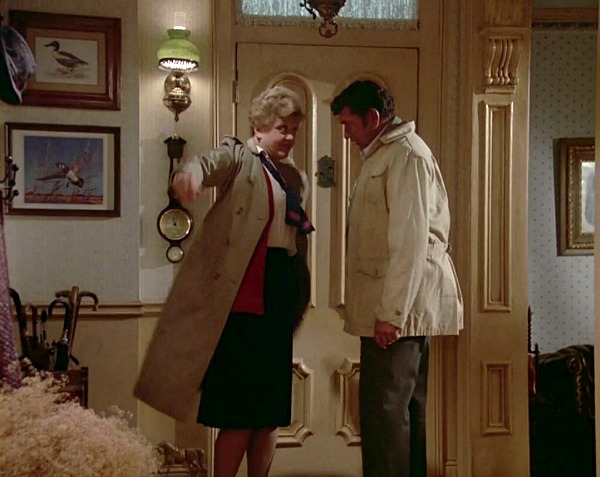 The series ran for 12 seasons, from 1984 to 1996, but they only filmed new scenes on location in Mendocino for 9 of the episodes. We saw the establishing shots of the town and her house each week, though.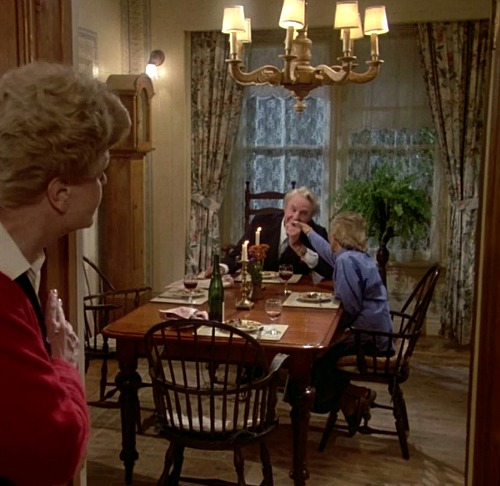 According to the Blair House website:
Many of Mendocino's early settlers, including Blair House owner Elisha Blair, were from the eastern seaboard. As a result, local architecture lent well to depicting the fictional town, of Cabot Cove, Maine. During filming, local buildings were transformed into Cabot Cove businesses simply by changing the exterior signs.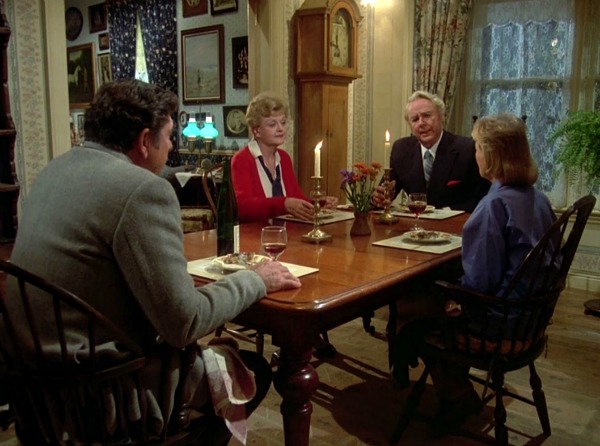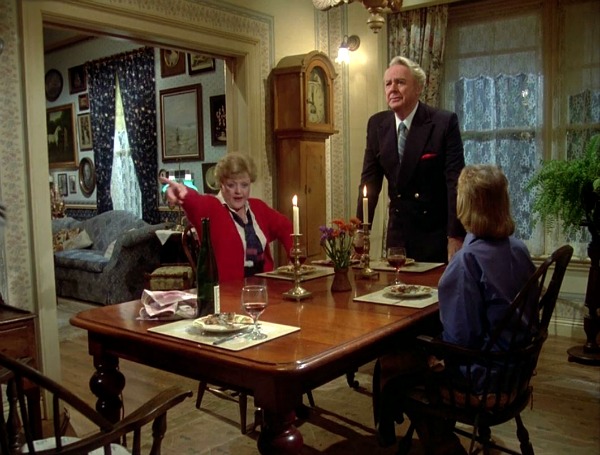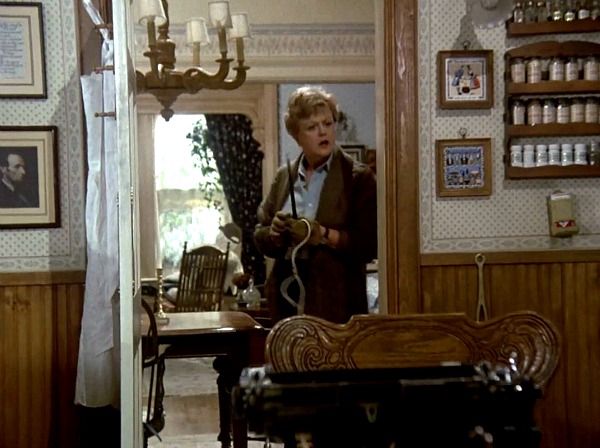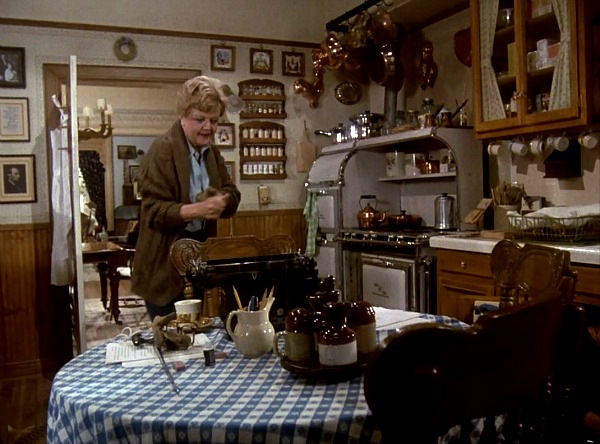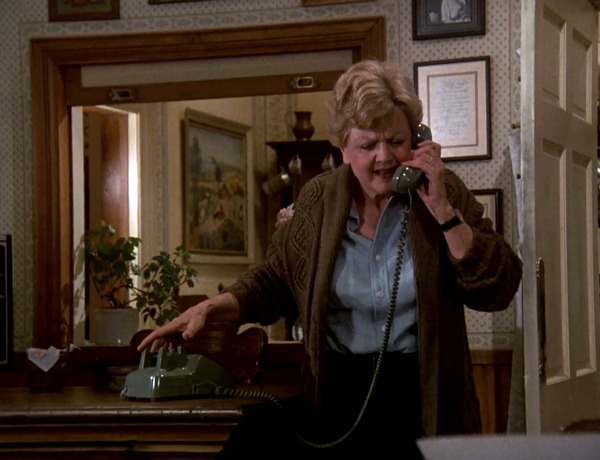 Kids, our phones used to have cords on them!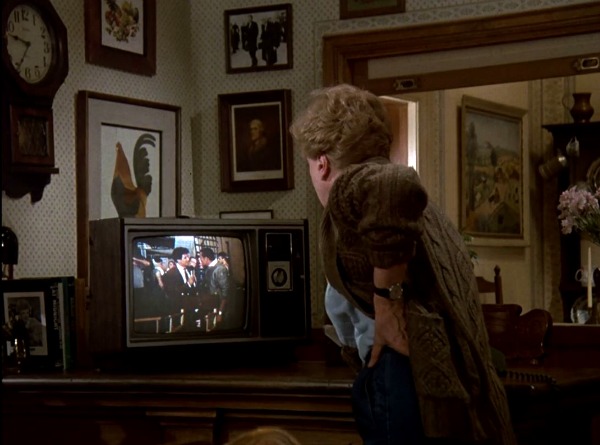 Did you know that both Jean Stapleton and Doris Day turned down the role of Jessica Fletcher?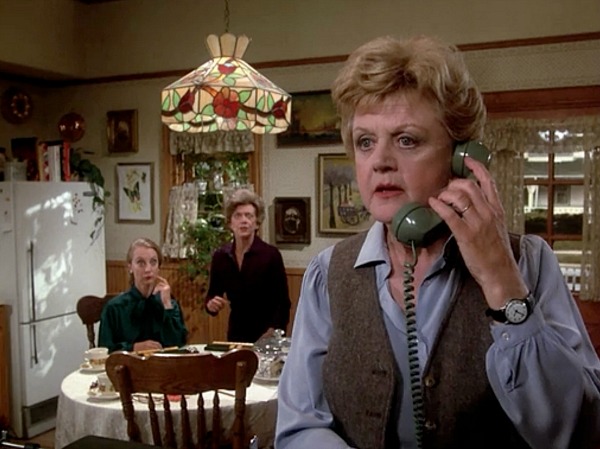 Lansbury received Emmy nominations every year the show was on but never won.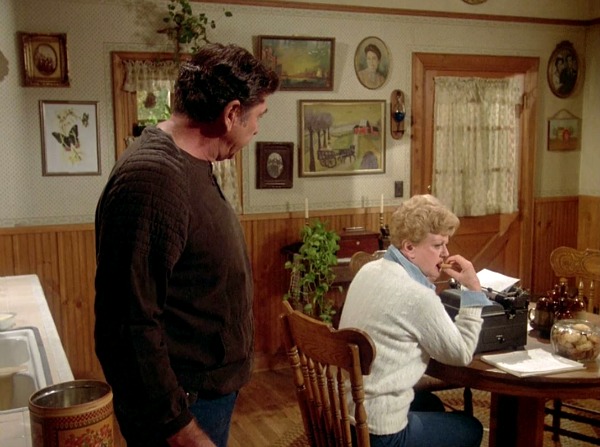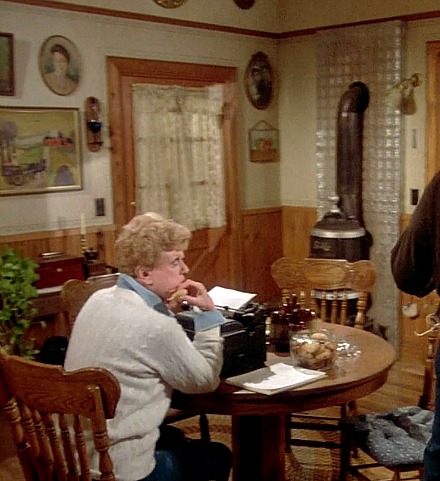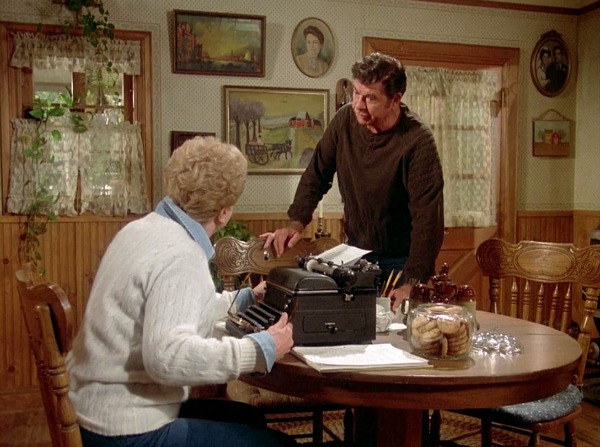 At the beginning of the series, Jessica was always pounding away at an old-timey manual typewriter: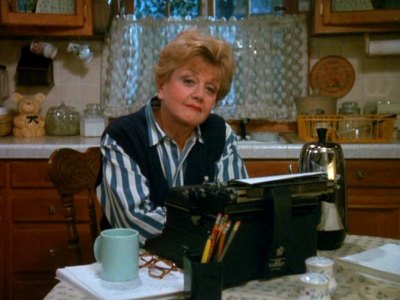 But in later years she upgraded to a computer: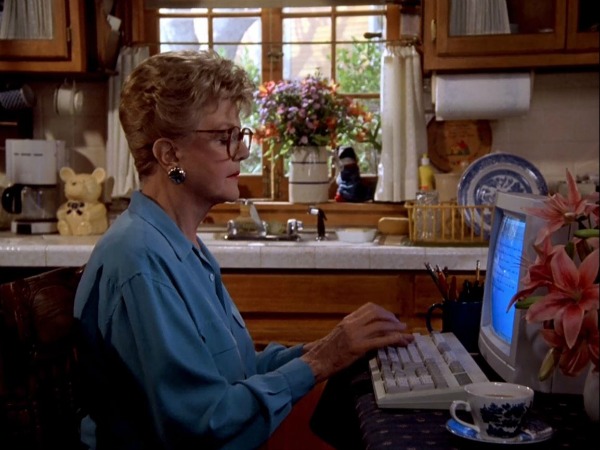 Other movies filmed in Mendocino include East of Eden, The Russians are Coming, and Overboard.
You can see how the house looks now and some of the (real) interiors at Blair House Inn.

Visit my Houses Onscreen page to see other shows I've featured, listed A-Z.