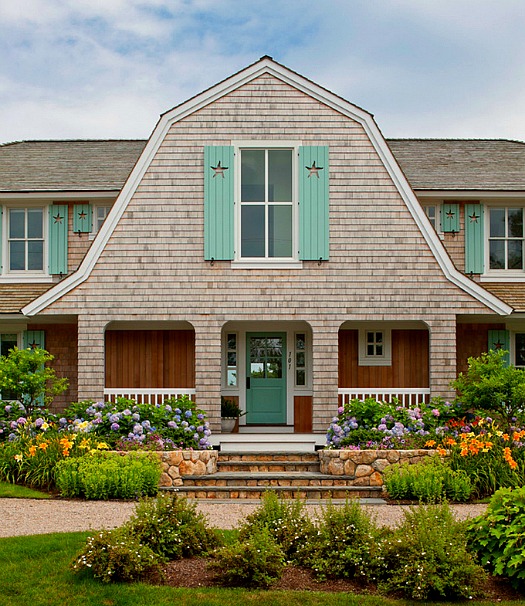 I've been a fan of the work that architecture firm Polhemus Savery DaSilva does for a long time. I have their book Shingled Houses in the Summer Sun and have featured some of their other houses before (one of my favorite remodels was an Italianate-style house from the 1880s).
So I was excited to see "The House at Little Beach," this shingle-style house on Cape Cod with the charming aqua door and shutters. Take a look!

A Shingle-Style House at Little Beach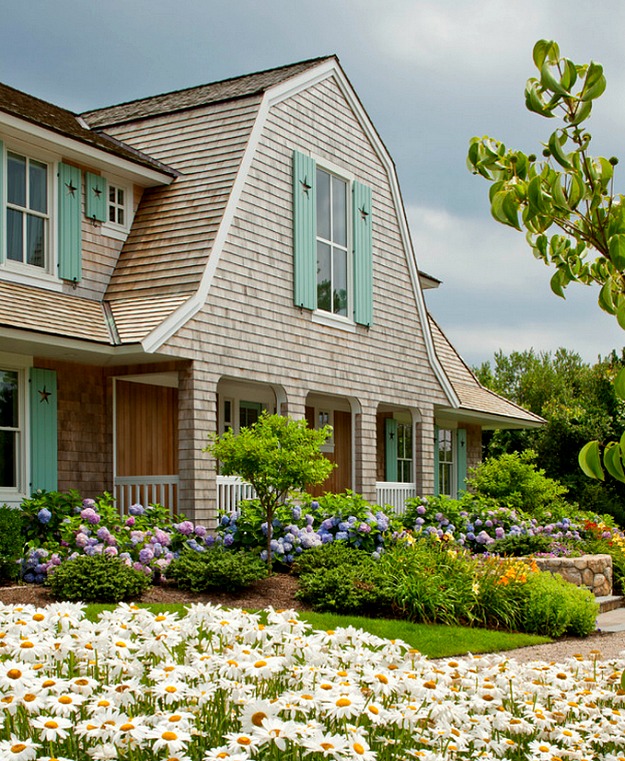 Not only is the house a head-turner. The landscaping is lovely, too.
Those daisies! Those hydrangeas!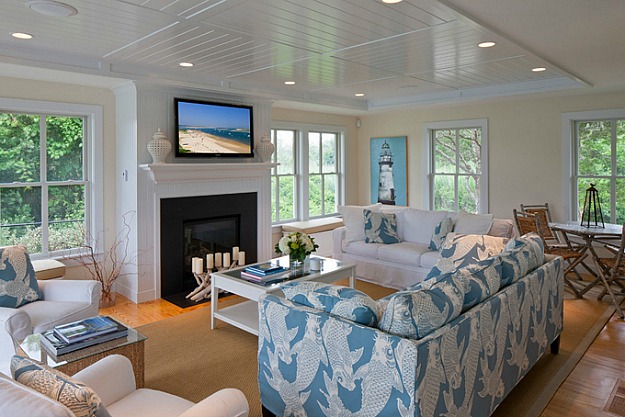 There's a "fish" theme happening here — note the fabric on the sofa above and the pendant lights below:
The tile over the range is gorgeous with beachy shades of aqua, turquoise, and blue.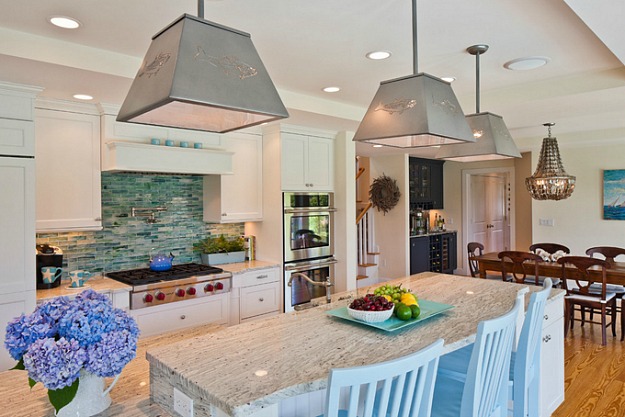 A built-in bar provides convenient storage for bottles and glasses at one end of the kitchen: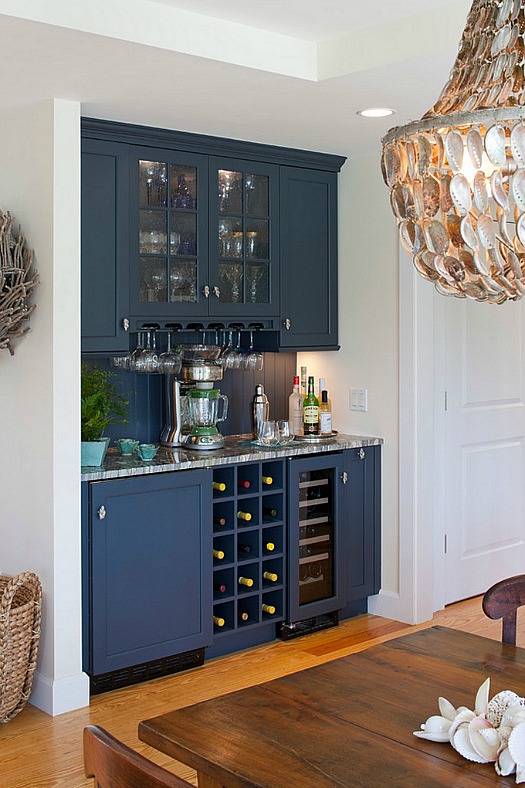 The 2,918 square-foot house was designed and built by Polhemus Savery DaSilva
for a (very lucky) family of four.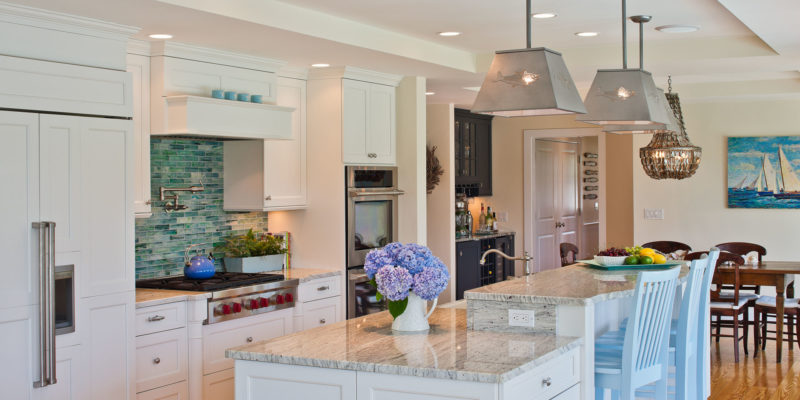 This bedroom has two walls of windows that meet in the corner,
providing uninterrupted views and plenty of sunlight: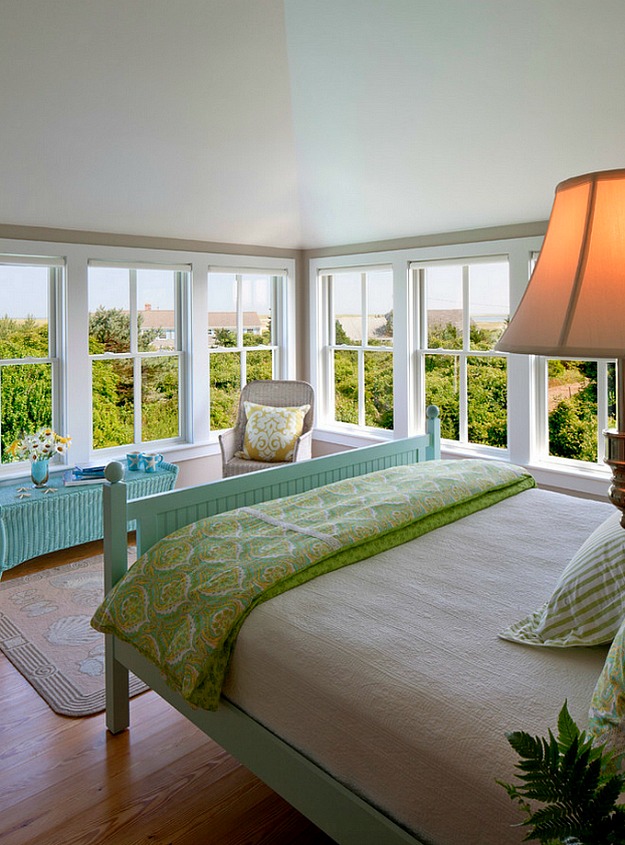 The description of the House at Little Beach on the PSD website reads:
"Interior spaces are simple but well proportioned and brightly lit. The living room has all-day sun from windows facing three directions. Living, kitchen, and dining spaces are open to one another but defined by ceiling shapes and textures. The master bedroom is located to have the best view possible on the site."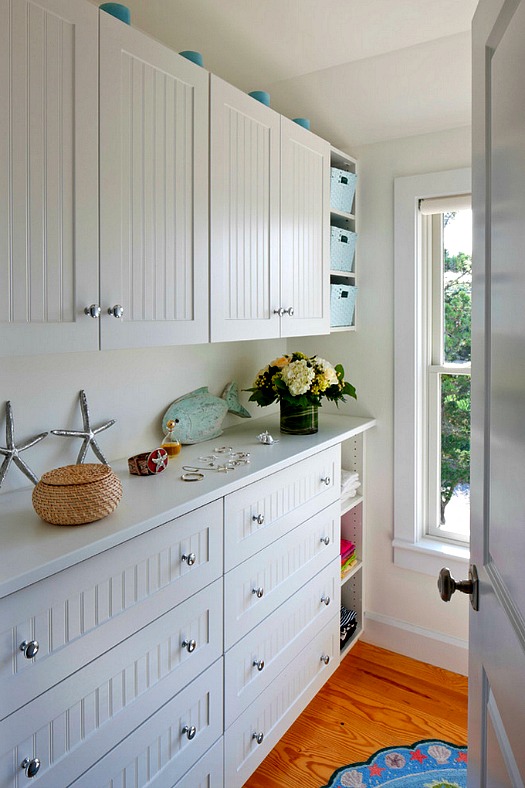 I wouldn't mind sitting right here beside the pool right now (although it's probably a little chilly today!):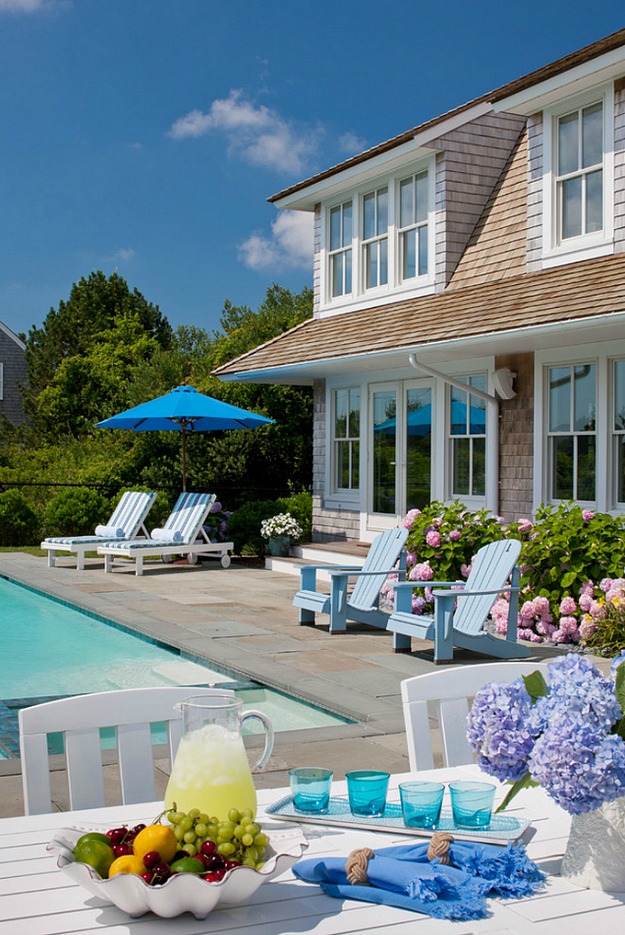 Michael Graves said of their work:
"The world of Polhemus Savery DaSilva is so enormously refreshing, a body of uncompromising domestic architecture."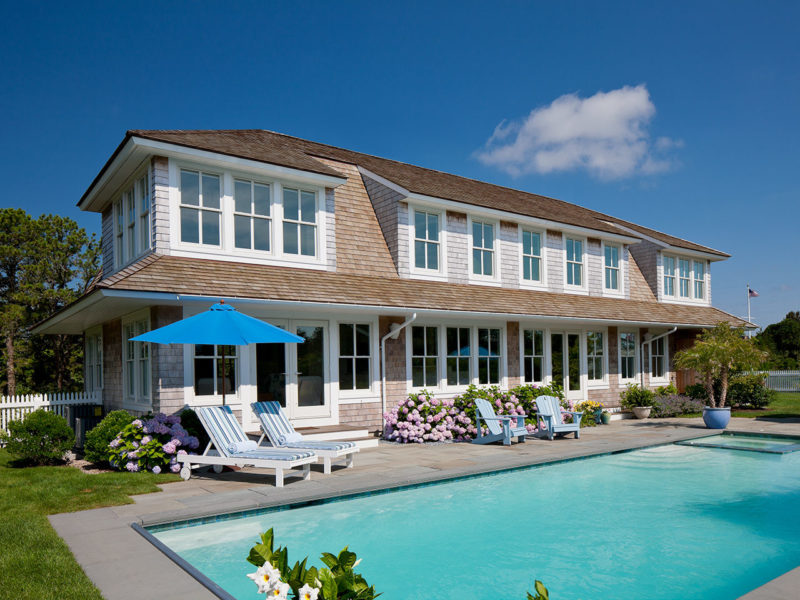 Every side and angle of this house is lovely to look at: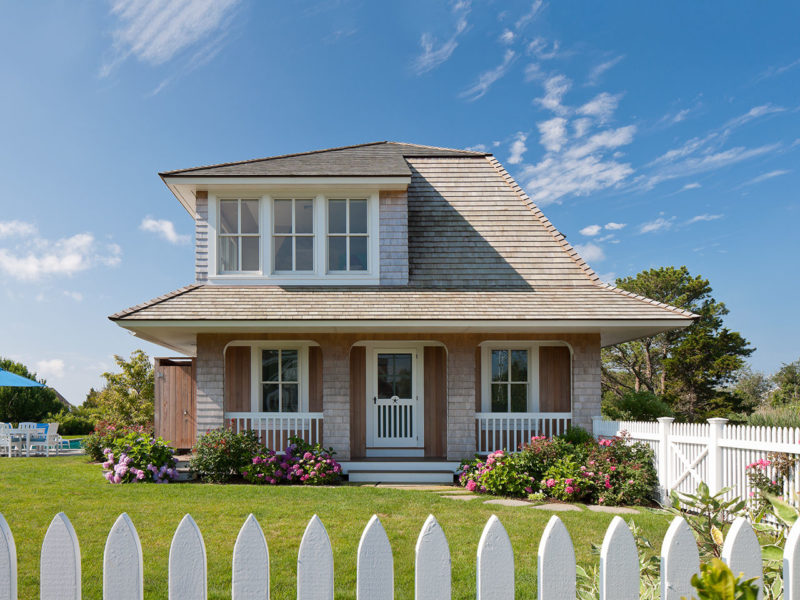 The starfish cut-outs in the aqua-blue shutters are one of my favorite details on the house: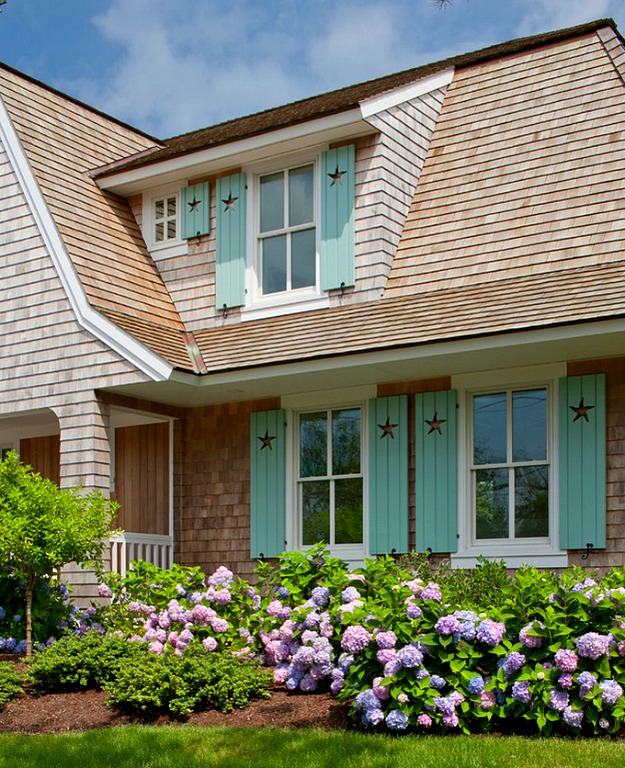 The Polhemus Savery DaSilva website says:
When an umbrella gambrel (a gambrel roof breaks into two different pitches, an umbrella gambrel into three with its lowest facet flaring at the eaves) is hipped and combined with a large overhang, a dominant form, something like a "hat," results.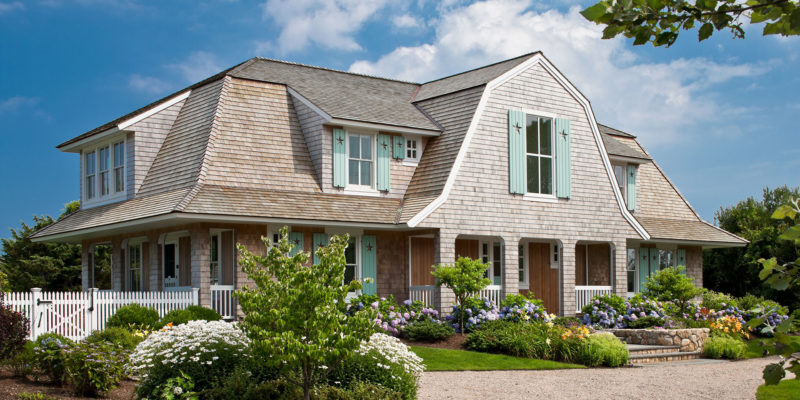 "The house at Little Beach has such a roof, and it also uses the same gambrel, but with a flat gable end creating a distinct shape, as a projecting entry pavilion and porch. It also incorporates dormers for second-floor light, view, and headroom."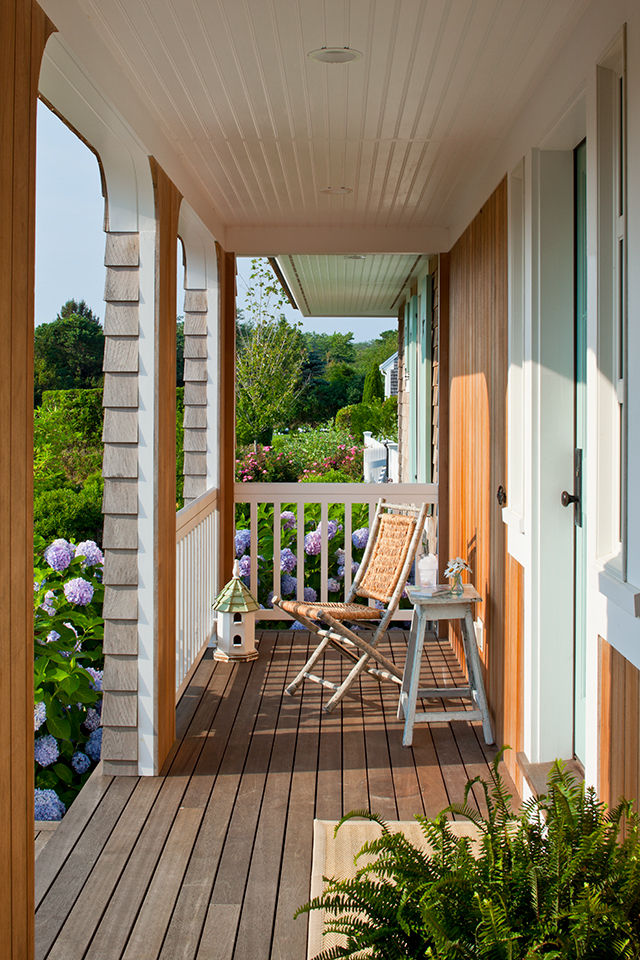 "Oversized windows and shutters bring the overall scale down and add charm. Abundant flowers, a small playing field behind a picket fence, and a pool in the backyard make for an inviting beach house getaway, just right for the family of four for which it was designed and built."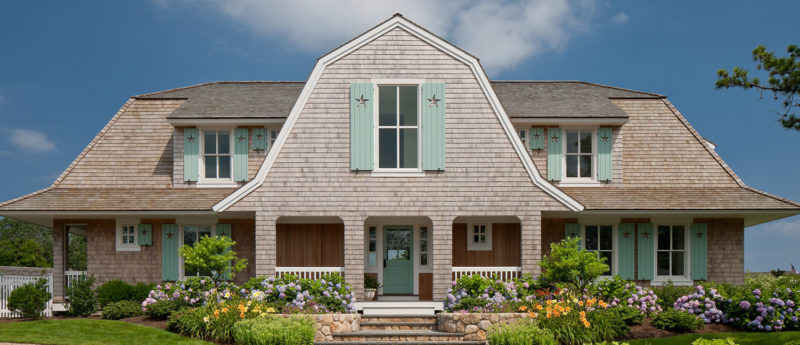 Visit Polhemus Savery DaSilva to see more photos of the shingled house at Little Beach.

(Photos by Brian Vanden Brink.)