Actress Ginnifer Goodwin opens the doors to her home in California for the new issue of Elle magazine. Ginnifer–called Ginny by her friends–films her popular show Once Upon a Time in Vancouver but says she sometimes makes quick trips home to L.A. just to spend one night in her own bed.

Ginnifer Goodwin at Home
Remember when she was on the TV show "Ed"? She played a quirky teenager named Diane: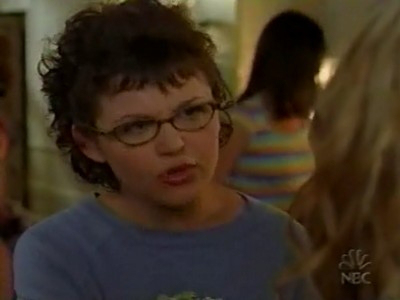 Since then she's had memorable roles in movies like Walk the Line (as Vivian Cash) and on the HBO series Big Love. Now she's starring as a modern-day Snow White on Once Upon a Time.
She's dating her costar Josh Dallas, who plays her Prince Charming.
According to the article, "She chose the airy two-bedroom house in Whitley Heights, a Hollywood Hills enclave where Charlie Chaplin once resided, for its seclusion, but also because of its only-in-Tinseltown bachelorette-pad pedigree: Goodwin bought the place in 2007 from Busy Philipps, and previous tenants include Rachel Bilson and Rose McGowan."
She moved in 6 years ago and enlisted Amy Kehoe of design firm Nickey Kehoe to help her with the decorating. The article says Kehoe was recommended by Ginnifer's Big Love costar and real-life best friend Jeanne Tripplehorn.
To read the story by Nora Zelevansky, visit Elle magazine (photos by Hilary Walsh).
2016 UPDATE: It's on the market! You can see the listing photos here. 🙂

 P.S. Visit Celebrity Houses to see more, including…

(Visited 29 times, 1 visits today)