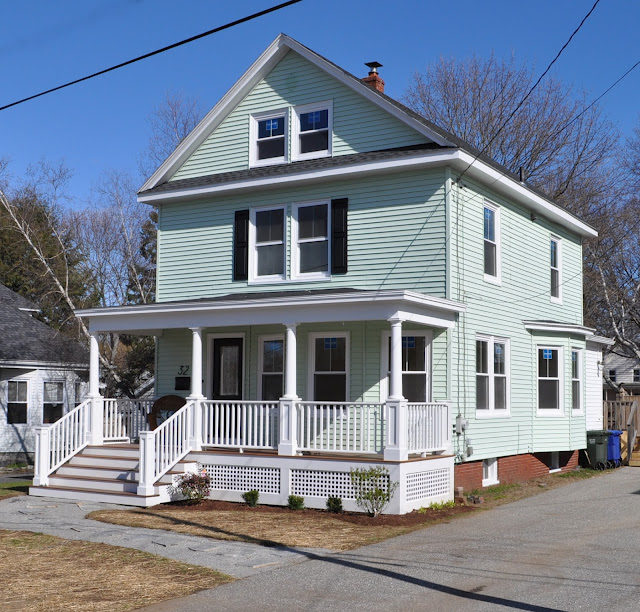 I keep hearing from readers who are selling their houses themselves by promoting them on social media sites like Facebook, Twitter, and blogs.
I have to admit I've always been dubious about whether that worked, especially in this tough real estate market.
So when I heard from Laurel of SoPo Cottage, who told me she sold her renovated 1900 Victorian within 3 days, I had to know more. Here's how she did it, in her words…

How We Sold Our House on Facebook
We were trying to prove you can sell a house with Facebook and a blog. We put our house on the market and had an Open House Saturday and Sunday. We had over 100 people come through the place and are now looking at multiple offers.
I was planning on getting my real estate license and using the usual marketing channels. But I quickly discovered that when you're working on a house 10-12 hours a day (fixing it up), you don't have the time/energy to complete your license.
And as our margins started getting smaller, it became apparent that we needed to do a FSBO (For Sale By Owner) to make a profit.

The 7 Steps We Took to Get the Word Out:
#1. We worked to build the readership of our Facebook page and SoPo Cottage blog. And it took some work! Given Facebook's algorithms, to appear in their newsfeed we needed to be posting every day– ideally 2-3 times per day. It's a challenge to come up with something clever multiple times a day (okay, so I failed on that one….not so clever…and only once a day).
#2. We put up a sign in front of the property, directing them to our social media for more information. My Facebook reach almost doubled within 24 hours of the sign going up in the front yard. Even though we also posted our phone number, we got very few calls. Most people went online.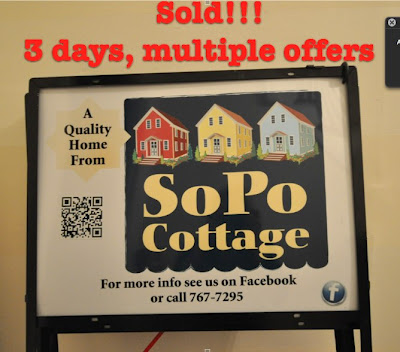 #3. We posted a 'Coming Soon' banner on the Facebook page as we got close to putting it on the market. We put this up about 2 weeks before our Open House. We made sure we did a 'pin to top' – that put it at the top of our FB page for a full week.
#4. We added 2-3 posts on the blog each week with more in-depth information and lots of photos of the house.
#5. We hosted an Open House. Word of mouth (virtual or live) is powerful, and the more people you can get in the door is better–if they like it, they'll be letting their friends and family know. We posted an 'Open House' banner on our Facebook page, 4-5 days before the big day. Also, ask you friends that are well networked if they'll 'share' your posting. We got lots of additional folks from that!
#6. We put up additional signs with balloons the day of the Open House. It ran both Saturday and Sunday and found a lot of people returned the next day or told their friends who came the next day.
#7. We posted on free sites like Zillow and included our blog address. We also used Zillow's link to do a one-time MLS (multiple listing service) post, which helped generate additional traffic and got us wider exposure.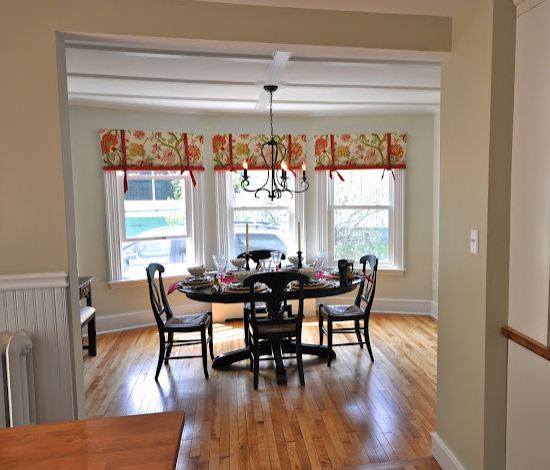 It didn't hurt that their Victorian was all fixed up and looking its best!
So how did all our marketing strategy pay off?  We had so much traffic come through the doors of the Open House, we don't really have an accurate count. Our guesstimate is we had 50-70 people each day.
And because people had read about the work we were doing online, they already knew the house when walked in the door! It was so funny to hear them say 'Oh look, here are the Martha Stewart kitchen cabinets' or 'look at the Pottery Barn light fixtures!'
We had people want to make offers immediately, but we asked everyone to hold off until Tuesday. That way, they had time to work with their bank and have all the necessary paperwork in place.
By Tuesday evening, we had multiple offers in hand, from some wonderful people who really loved the house. The hard part was having to call the folks that didn't get it and deliver the bad news.
Would we use this approach again? Absolutely. It was a lot of fun and we got to meet a lot of interesting people, both online and in person. We'll be continuing the blog and the Facebook page. But I'd really like to have the additional support of a real estate license for the next transaction!

Thanks to Laurel for sharing her story with us.

To see more photos of the renovated Victorian they sold and to

follow along with their current reno project, visit SoPo Cottage.