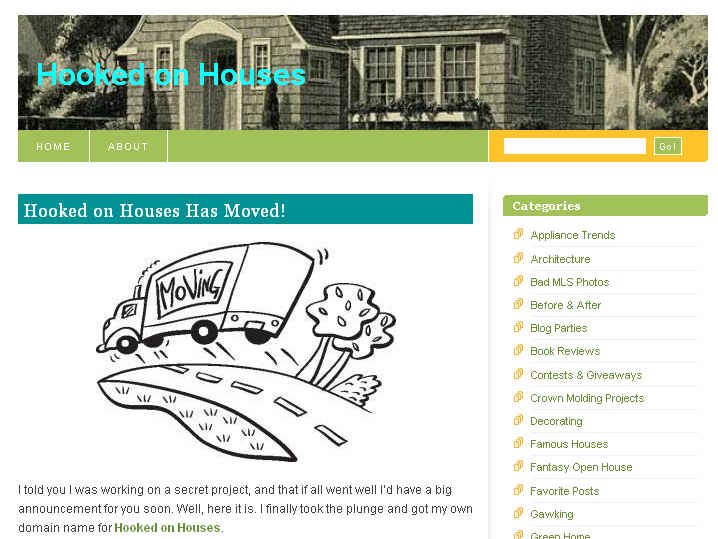 Four years ago I started this blog on a whim. I had no idea what I was doing. And I did pretty much everything wrong from the get-go. I never set out to have a successful blog–I just wanted a place to talk about the houses that interested me. I didn't know the "rules" about blogging. Heck, I had never even read a "house blog" before, let alone written one!
But sometimes ignorance is bliss. Because I didn't know what I was getting myself into, I dove right in and never looked back.
For the first year or so I had a pitiful-looking blog header because I couldn't figure out how to create a better one. I didn't know to label photos for search engines, resize them, or lighten dark screencaps from movies. I didn't grab my domain name early on and someone else snatched it out from under me (otherwise you'd be reading this at hookedonhouses.com).
I didn't have a blog button for the first two years, something readers were always asking for but I didn't know how to make (and my early attempts were pretty amateurish). After switching to a self-hosted version of WordPress, I went for six months with a basic black and white template until I finally hired a designer.
Boy, did I have a lot to learn. To say I was clueless in the beginning would be an understatement. Problogger could have used me as an example of how not to do things. But I kept going. And I'm still here, against the odds.
In blogging, 4 years feels like a lifetime. I've seen so many things change. So many other blogs come and go.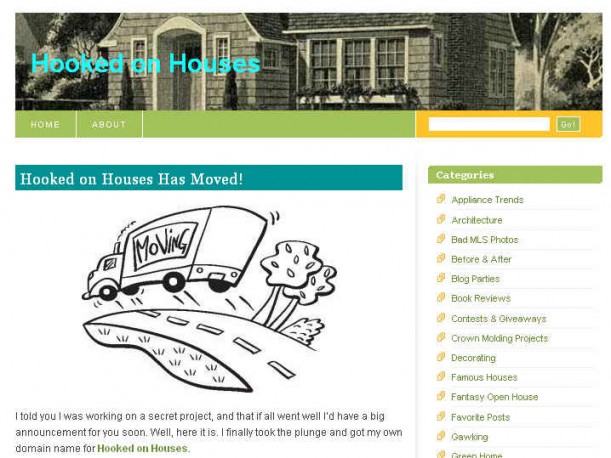 To put things in perspective, when I started out, linky parties were a new concept. Giveaways on blogs were rare and exciting things. None of the blogs I read had ads on them, and no one talked about "monetizing" (now that's the number-one question I get from new bloggers).
Twitter may have been around, but no one I knew was on it yet. And people were always passing out "blog awards" (Does anyone still do that? Maybe I just don't get them any more!).
Early on, when I was excited just to get 100 visitors a day, I visited a blog that had been around for 5 years. Her stats counter showed 1 million, and I was in awe. I set a goal for myself to reach a million with my blog someday, too.
I never would have guessed that by my 3rd year, I'd be getting more hits than that every month. As of today, it's gotten over 27 million of them since I started in 2008. Wow.
So take it from me–you don't have to do everything perfectly. Just do your best. Learn as you go. Accept that you'll probably make some stupid mistakes along the way. The important thing is to take steps in the direction of your dream anyway. Start working on it even when you don't have all the answers.
I get lots of emails from new and would-be bloggers asking me to tell them my secret for making money at this. I was never strategic about any of it. I just started writing and got very lucky that people showed up to read my posts. After the first year, I put some ads in the sidebar to pay for what had become a full-time blogging habit. Thanks to them, I was able to quit my day job in 2010.
Best. Job. Ever. Big thanks to all of my readers for making it possible, and for sticking with me as I fumble along, trying to figure this all out. I still have so much to learn. One thing I know for sure–without you, I wouldn't still be here 4 years and 2,000 posts later! 🙂