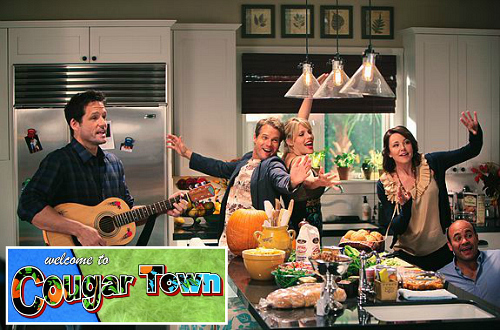 When the Courteney Cox sitcom premiered in 2009, I refused to watch at first because of the terrible title. I assumed it was about older women hooking up with younger guys, which didn't really appeal to me. When I finally caught an episode, I was surprised by how much I liked the show. And the sets are great, too.
Courteney Cox plays Jules Cobb, a single mom to a teenager named Travis. She works as a real estate broker, so score another point for the show–we get to go along with Jules when she shows houses!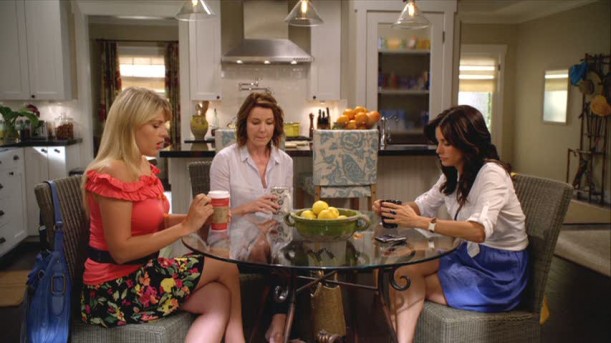 Jules lives in Florida, surrounded by friends dubbed "The Cul-de-Sac Crew." Those are her best buds shown above–Laurie (Busy Phillips) and Ellie (Christa Miller). Laurie works with her in real estate, and Ellie is her next-door neighbor.
Even her ex-husband Bobby (Brian Van Holt) is part of the group. He lives in his boat (called "Jealous Much?") in a parking lot and seems perfectly happy there. (Or at least he did, until Jules decided to surprise him by getting the boat back in the marina…and it sunk.)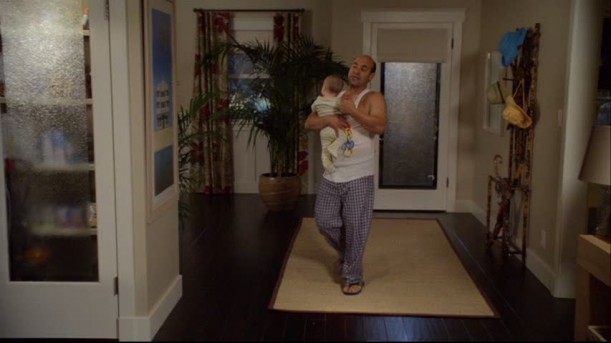 Ellie's husband Andy walks into Jules's house with baby Stan in his arms. No one ever knocks in this neighborhood.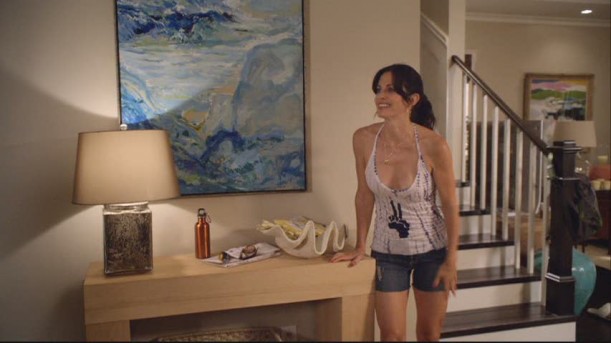 The episode when they got so comfy in their Snugglies that they didn't want to take them off cracked me up: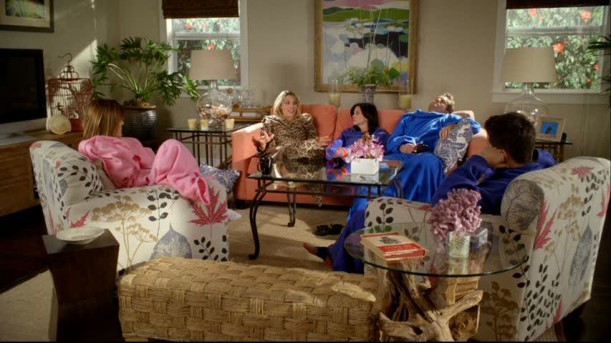 Here's some of the source info I found in a comment left on a post about the show on The Little Big House blog:
Living room lamps are from Pottery Barn.
Entry way lamp is Crate & Barrel's Jolie Lamp ($189).
Blue bird barstool fabric is Aviary Robin at Calico Corners.
Wicker chairs at the kitchen table are at Crate & Barrel ($269 each).
Living room side table (driftwood base with round glass top) is Driftwood End Table from Crate & Barrel ($399).
TV stand in the living room is the Monterey Console from Crate & Barrel ($1299).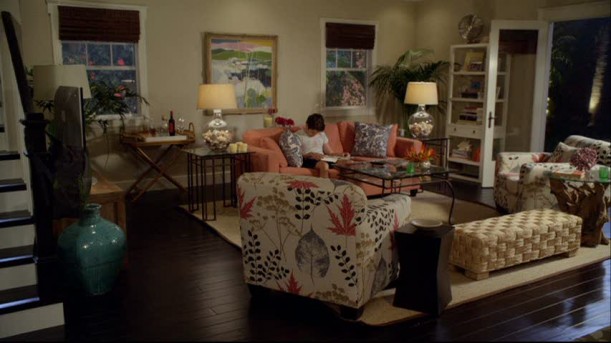 I also found this comment written by set decorator Archie D'Amico in response to some reader questions:
"The coffee table is custom made from an iron worker to match the one in the pilot episode. The painting is a rental from Omega Cinema Props. Cabot McMullen is the production designer, Gary Warsaw art director, Doritt Oberman and Derrick Hinman buyers for the early episodes and I'm the set decorator, Archie D'Amico."
D'Amico worked on "Ugly Betty," too, another show where the sets stole the show.
We don't see these shelves very often, so I was excited to finally get a photo of them when the camera turned that way: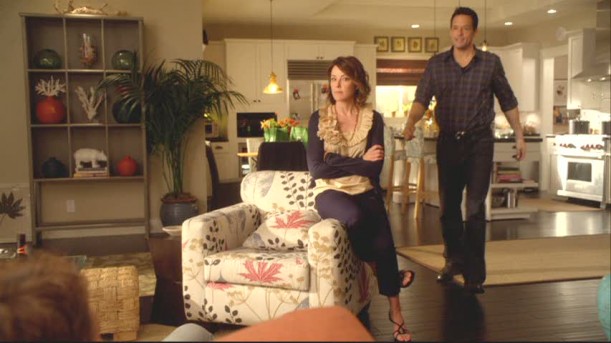 Entertainment Weekly featured the set design last year in a nice two-paged spread. For some reason they took the photos off their website, so here are scans of the pages as they appeared in the magazine (which happens to me my favorite, can't-live-without-it publication):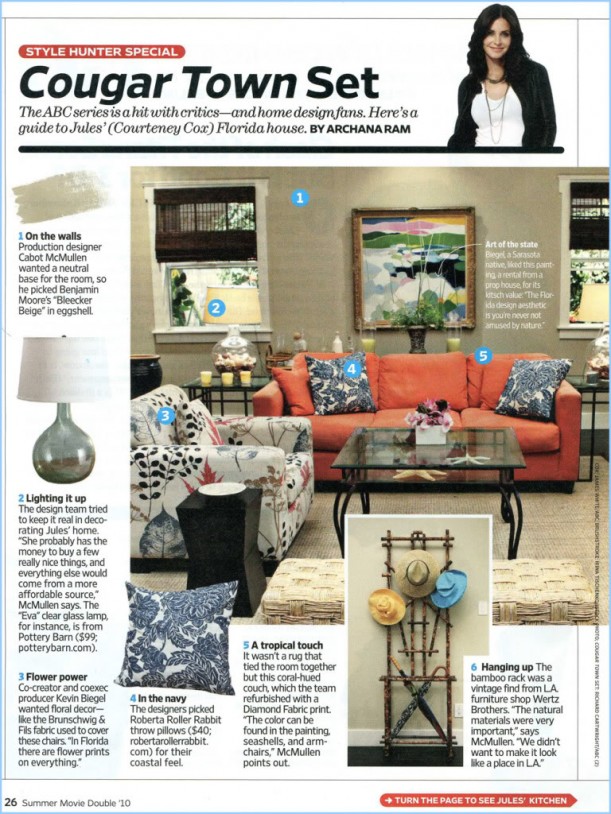 Production Designer Cabot McMullen wanted a neutral base for the walls in her living room, so he went with Benjamin Moore's "Bleecker Beige" in eggshell.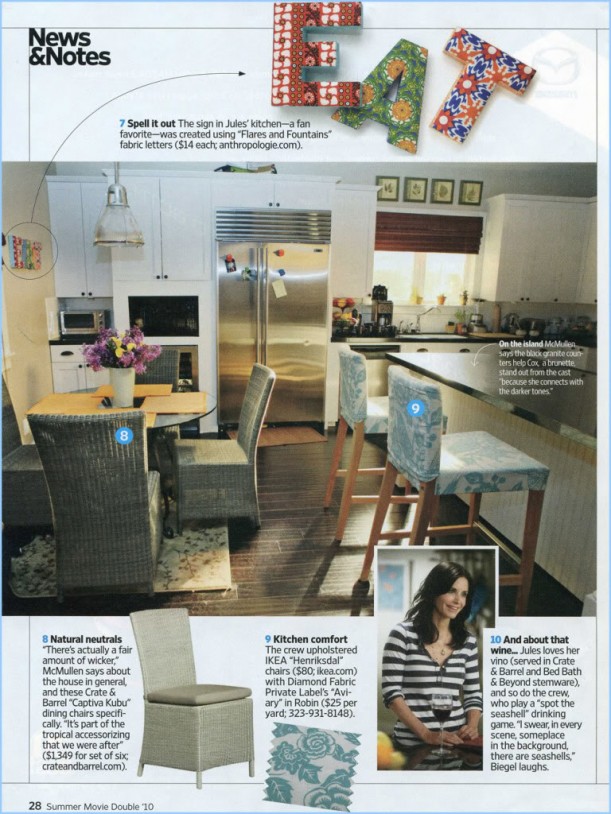 Co-creator Kevin Biegel felt it was important to have some floral decor like the fabric on the chairs. He says, "In Florida there are flower prints on everything."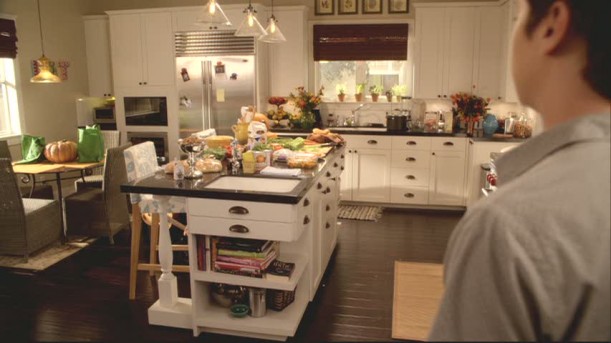 The EAT sign on her kitchen wall is a fan favorite, created with "Flares and Fountains" fabric letters from Anthropologie. I think they're about $14 each, but I've heard these letters are frequently on back order.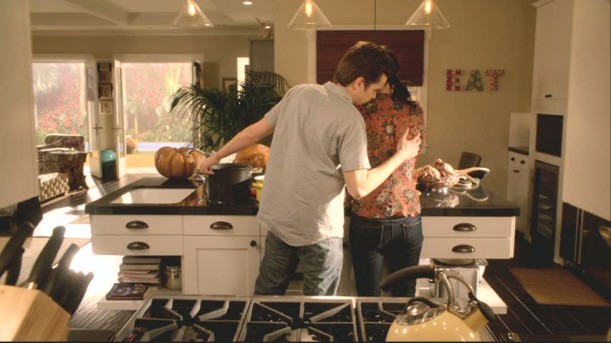 Looking at the breakfast table and EAT sign from the dining room around the corner: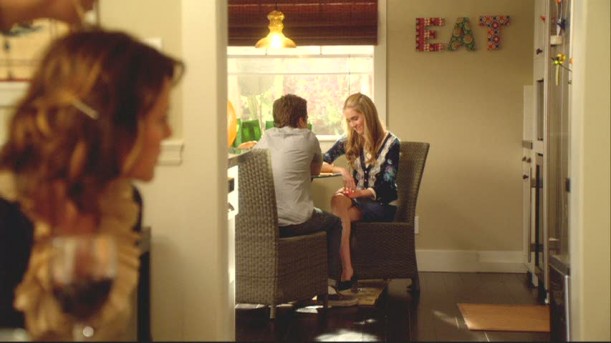 In this shot you can see the hat rack in the front hall: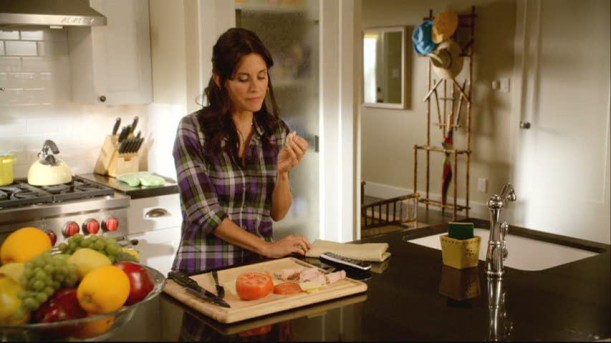 The glass pantry door has frosted glass in the center: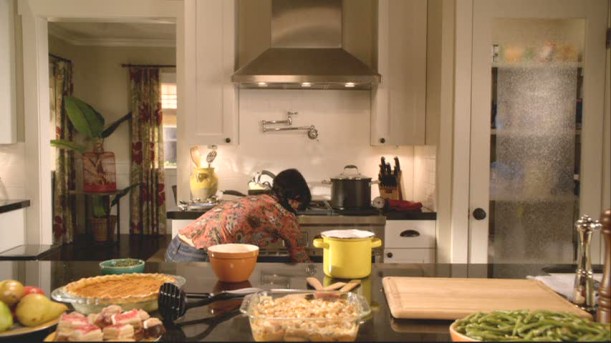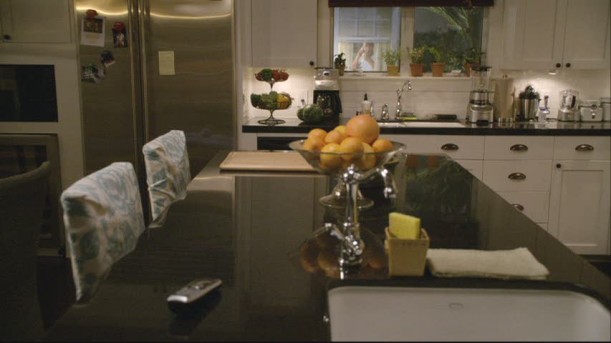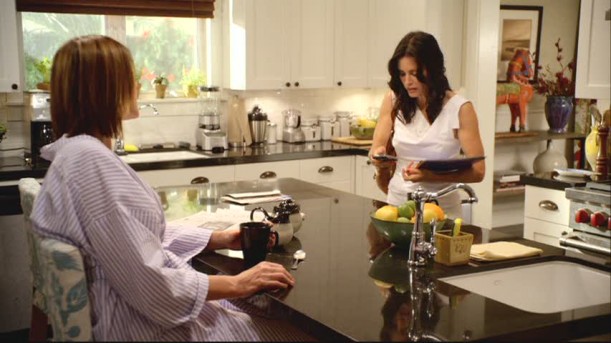 For the first few months of Season One, I was always trying to figure out what room that was off the entry, but we only got a few little glimpses of it, like this: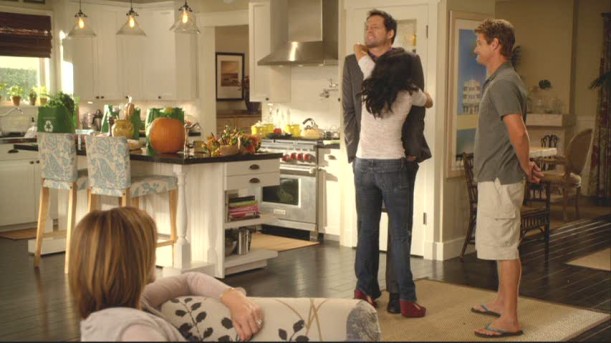 Then Ellie walked by it once and I tried to get a clear shot of it, but the camera moved so fast, it was blurry. You can see it looks like a living room with a fireplace, though: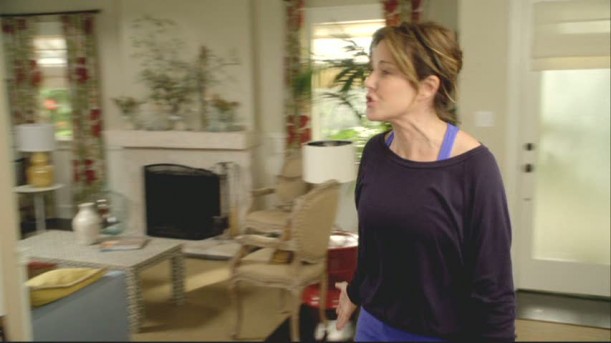 On the Thanksgiving episode, we finally got to see the entire room, which was now transformed into a beautiful dining room: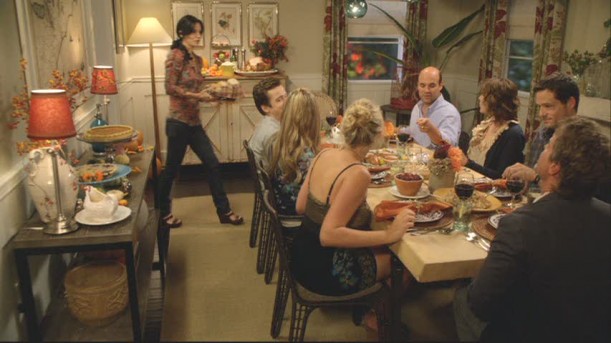 I love the buffet behind Jules: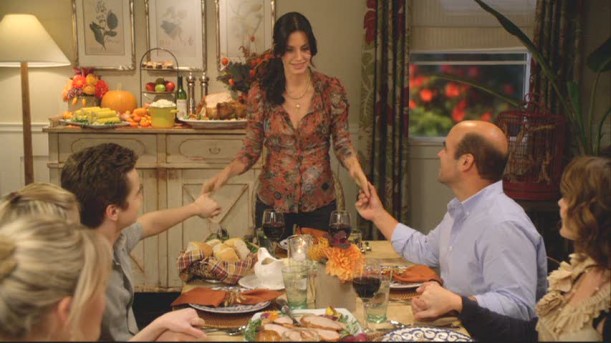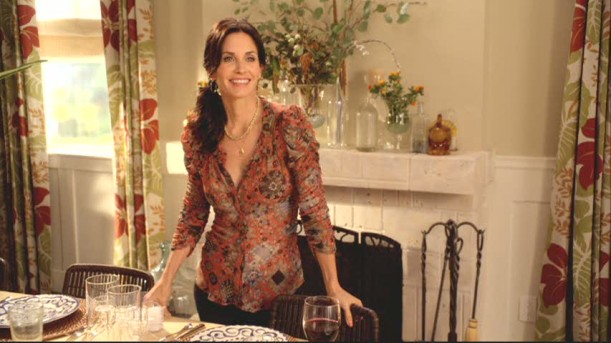 Her bedroom is probably my least favorite set. I mean, it's okay, but I don't get excited about it: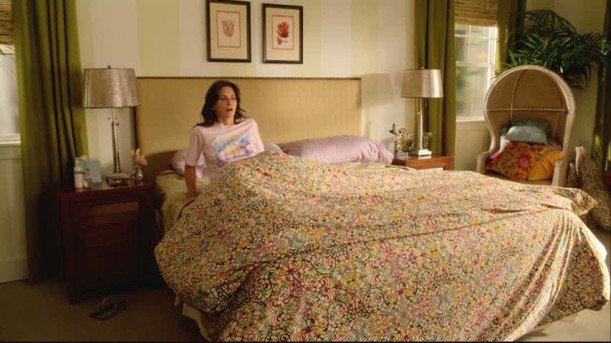 After Travis goes to college in Season 2, they turn his bedroom into a "Jam Room," which was pretty hilarious:

Jules remodeled her master bath and hosted a "Bath Warming Party" for her friends: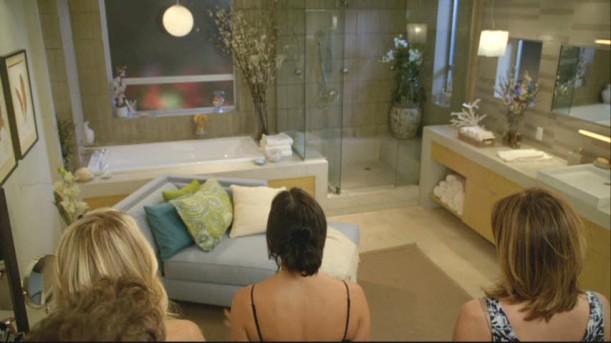 She even has a special new toilet that barks orders at you in Japanese: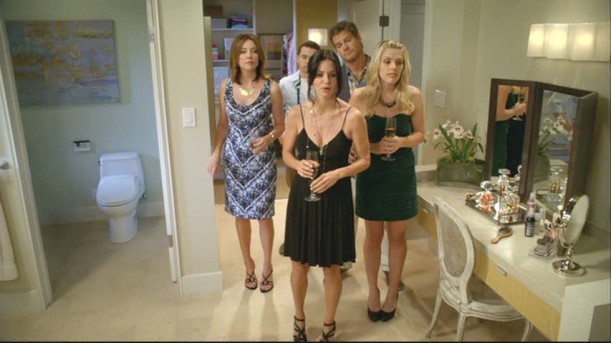 Things start to be a problem when Jules refuses to leave her beautiful new bathroom (but who can blame her?):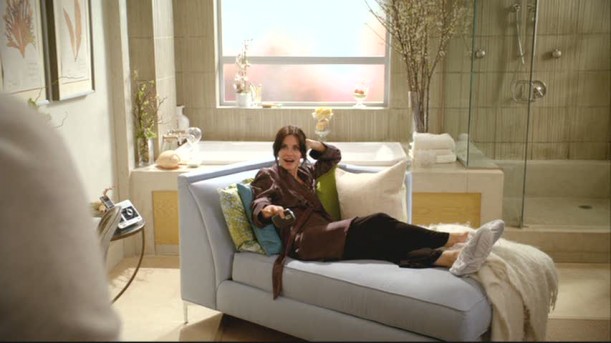 Her friends eventually stage an intervention and carry her out of there.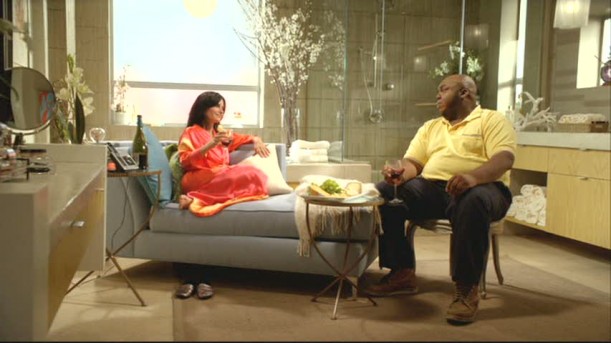 There are a couple of other characters who live on her cul-de-sac.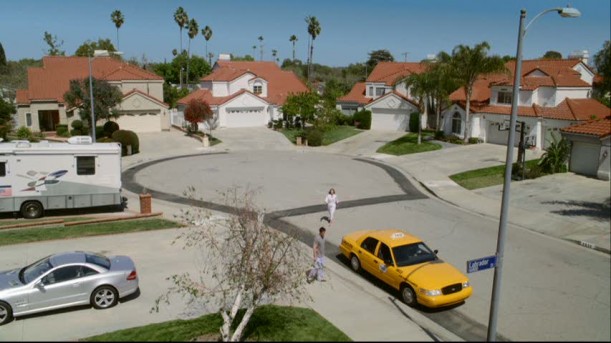 There's Grayson, whose house screams, "A man lives here!" with the brown plaid wallpaper (reportedly from Graham and Brown).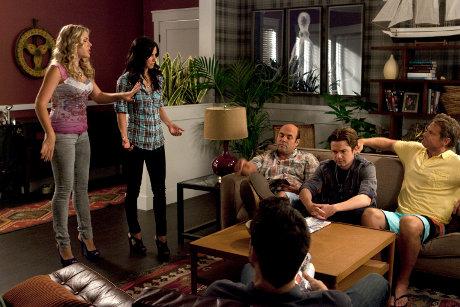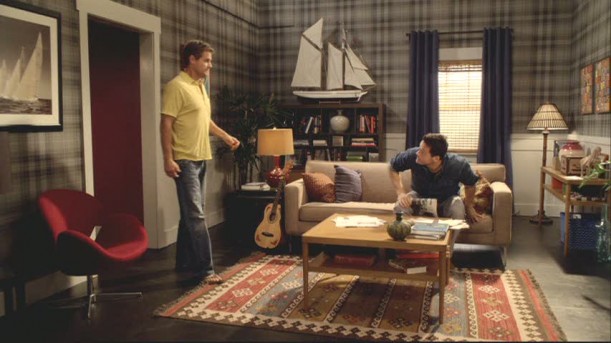 And Ellie, Jules's acerbic best friend who lives with her husband Andy and their (rarely seen) son Stan: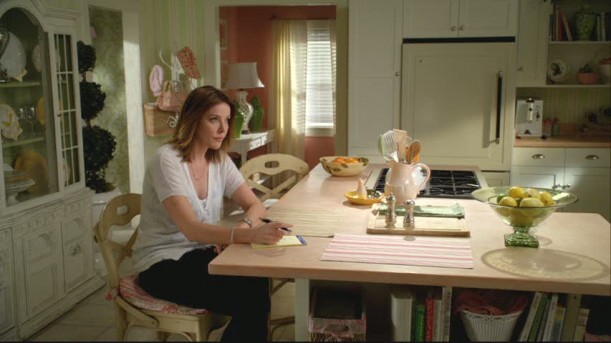 Everything is pale green and pink in their place, maybe to show that Ellie rules the roost? It doesn't look like a man lives here, really.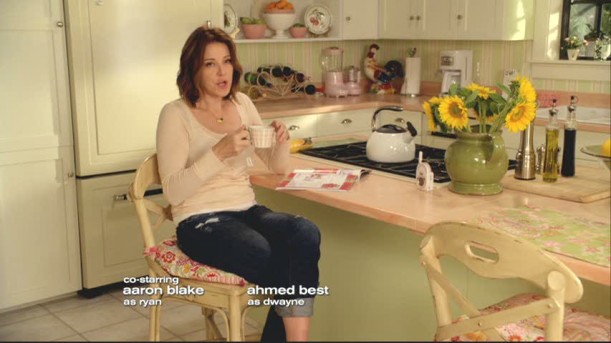 It was an interesting choice to have Ellie's house looking so soft and feminine, when there's nothing soft about her personality. I would imagine her living in a more modern space with lots of sharp edges.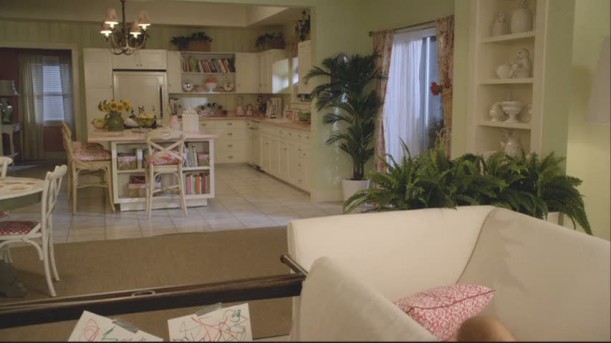 Ellie is played by the hilarious Christa Miller. She used to be on Scrubs, another sitcom by writer-producer Bill Lawrence. Did you know that they're married in real life and have three children together? In an interview she said Ellie is an exaggerated version of her, and things from her real life sometimes get written into the scripts.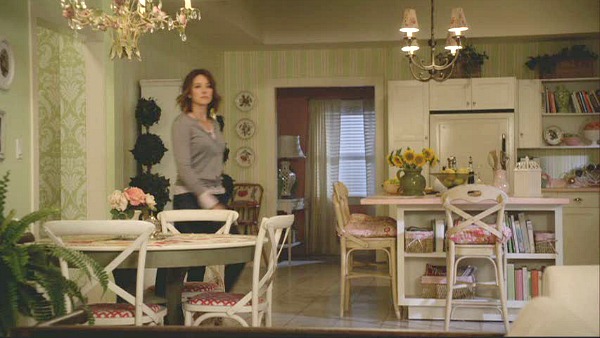 Ellie's husband Andy is played by Ian Gomez, who is married to Nia Vardalos in real life. Ian and Nia starred in My Big Fat Greek Wedding together in 2002, which was based on their real-life courtship and wedding. Nia played herself. John Corbett played Ian. And the real Ian played Ian's best-friend Mike (hope you followed all that!).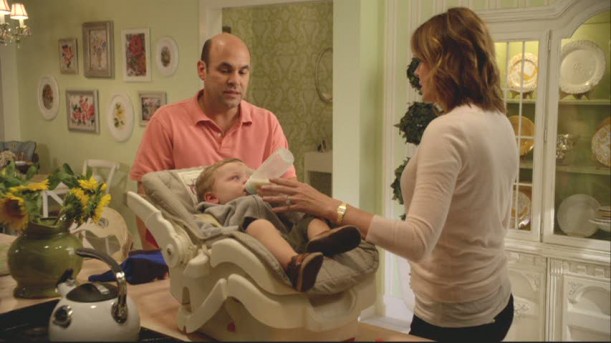 Apparently I wasn't the only viewer put off by the title of the show. They considered changing it to something for Season 2 that better described what it was about. Bill Lawrence joked about going with "Friends and Neighbors" as a nod to Cox's former hit show. But in the end, they left it.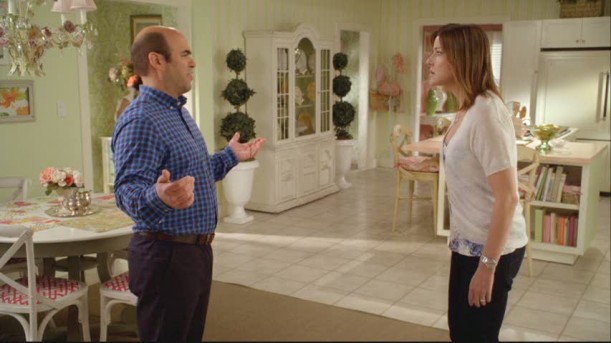 As a running joke, the writers began mocking the name of the show each week with a tiny headline above the title card: "It's okay to watch a show called . . . Cougar Town." And "Titles are hard."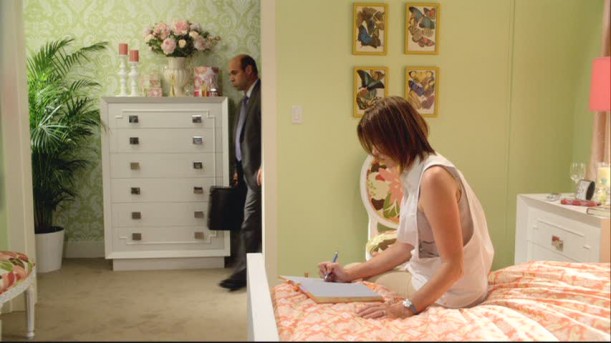 Any other fans of Cougar Town out there? What's your favorite house in the cul-de-sac?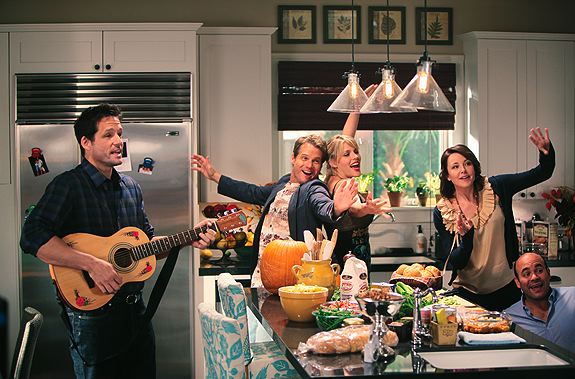 This month we've been taking a closer look at the sets from some of our favorite TV shows, including Newhart. Modern Family and Mad About You. If there are any others you'd like to see, let me know! 🙂
P.S. Visit Houses Onscreen to see more, including…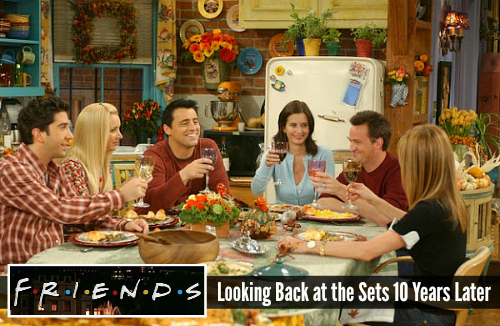 25 Fun Facts You Didn't Know About the Sets on Friends
(Visited 148 times, 1 visits today)