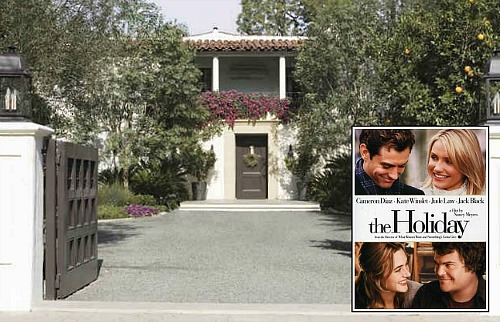 Last week we took a look at Kate Winslet's charming cottage from The Holiday. Today we're taking a peek inside the much more contemporary home that Cameron Diaz's character Amanda lived in.
*2018 UPDATE: It's on the market! Click here to see the listing photos and details.*
This is a real house in Pasadena, and it happens to be one that the architect Wallace Neff built for himself in the 1920s. It has that distinctive, Mediterranean-influenced "California Style" that he became known for.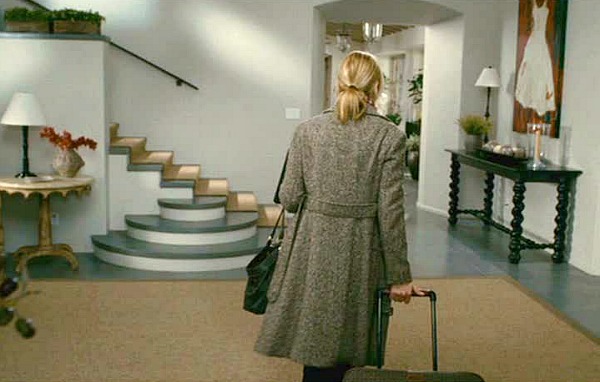 Another beautiful house that Wallace Neff designed was featured in Monster-in-Law. Reese Witherspoon owns one of them in Ojai, too, that I love.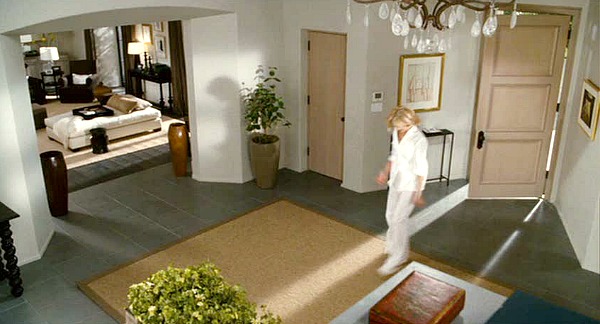 The interiors were elaborate sets built on a soundstage, which reportedly cost a cool million to construct (that's without exterior walls, plumbing, a roof, or electricity!).
Contemporary Staircase:
The movie premiered in 2006 and gave us a look at a lot of trends that would really take off in the years to follow: the color gray, seagrass rugs, and lanterns, to name a few. What other trends can you spot in these rooms?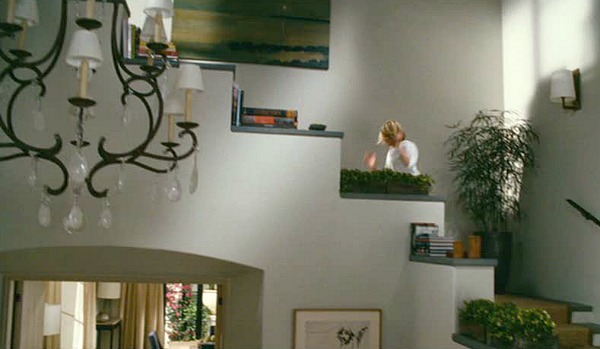 Amanda's Bedroom:
Bathroom:
Amanda's Home Office: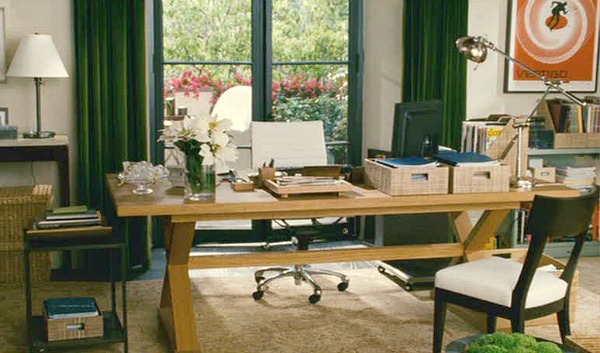 I love how we get a tour of Amanda's house when Iris explores it for the first time. It's fun to see how excited she gets about it. That would totally be me, jumping up and down and squealing.
Home Gym: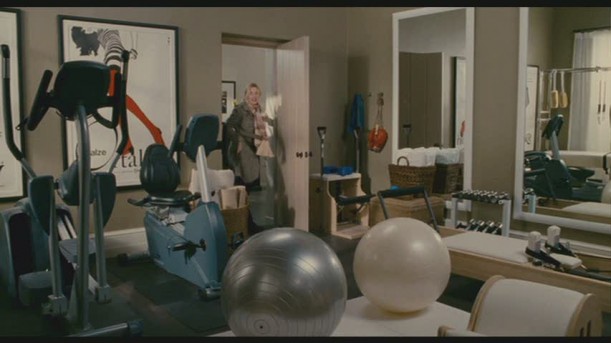 Media Room: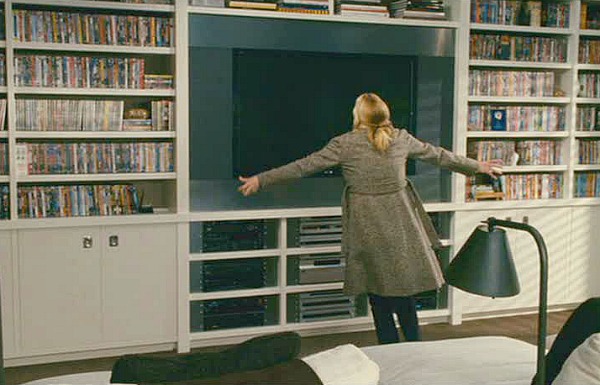 Whereas Iris has a "book room" in her cottage, Amanda has a media room lined with every DVD imaginable. Which would you rather have?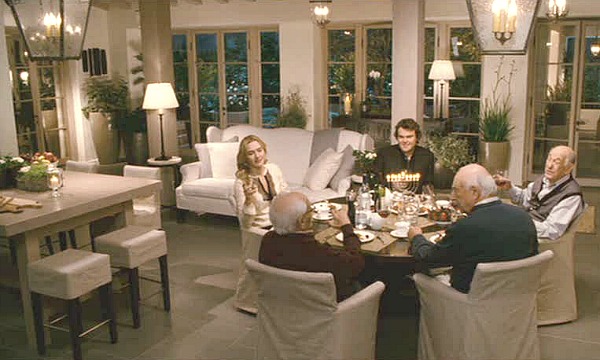 The house looks more welcoming and at ease when Iris moves in. Even the lighting is warmer and not as harsh. The night of her dinner party is a perfect example. The house takes on a mellow kind of glow.
The Kitchen: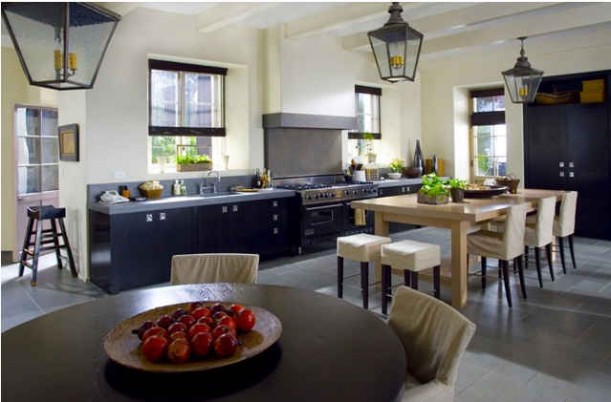 Rufus Sewell plays Jasper, the "bad boy" in Iris's life who keeps breaking her heart. I've been a fan of his since he played Will Ladislaw in the Middlemarch miniseries years ago.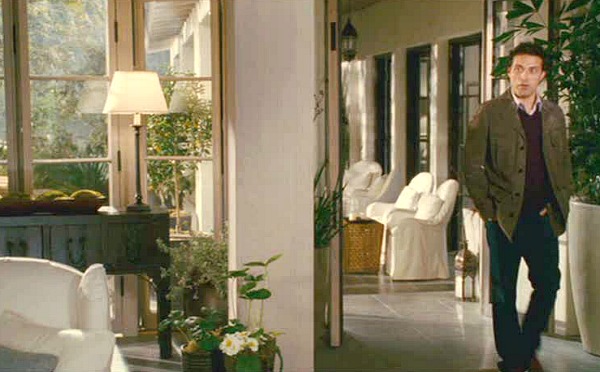 I thought Jack Black was miscast as Kate Winslet's love interest in this movie at first, but he won me over by the end. The movie was reportedly written with him, Kate, Cameron, and Jude Law in mind for the roles.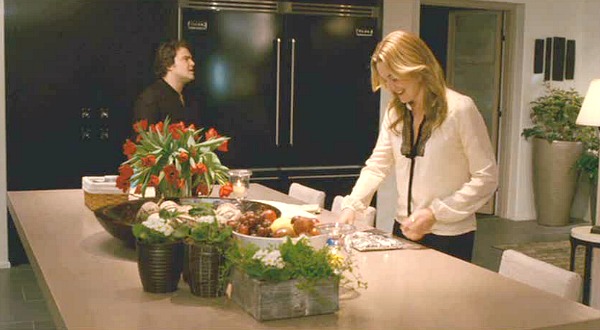 We get the feeling that the kitchen was never really used much before Iris moved in.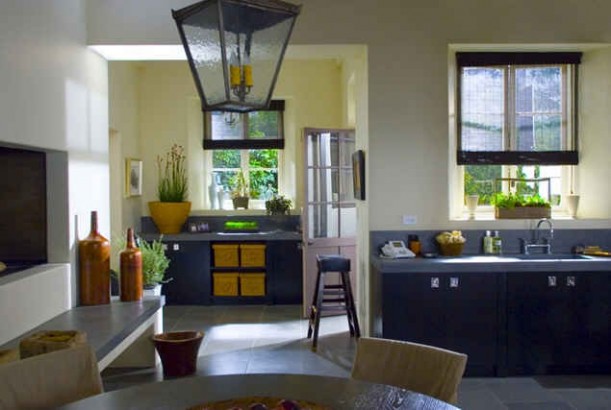 The Living Room: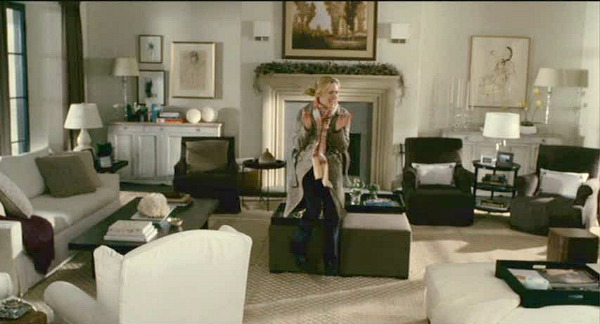 The Production Designer was Jon Hutman, who also gave us the beautiful interiors in movies like It's Complicated and Something's Gotta Give.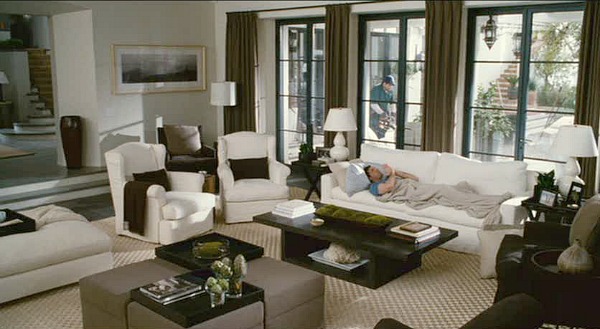 One of the set decorators was Cindy Carr, who also worked on Life as We Know It.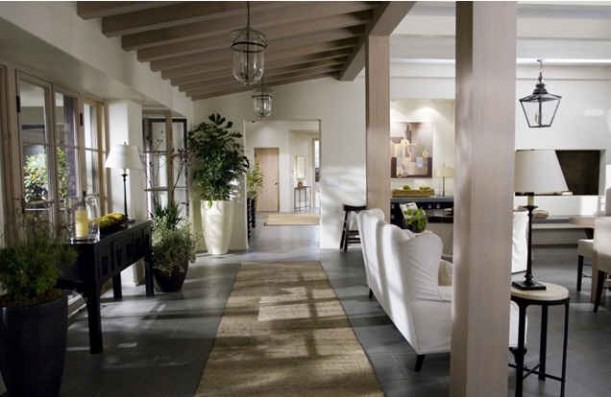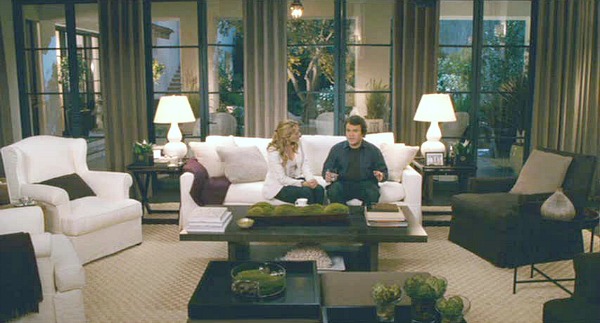 I personally would need more color if I lived in this house, but I thought that it suited Cameron Diaz's uptight character perfectly. This looks like the house where someone with a need for perfection and control over her surroundings would live.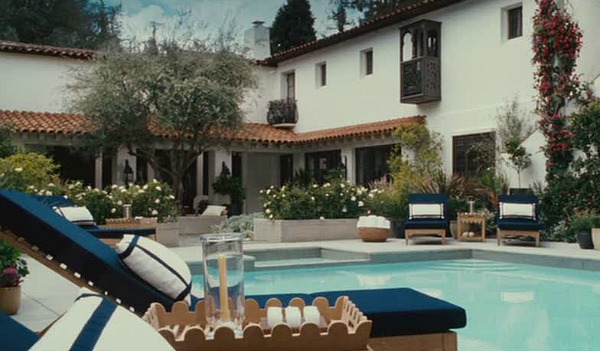 *2018 UPDATE: It's on the market! Click here to see the listing photos and details.*
Are you a fan of the houses in The Holiday? I've also featured Iris's English Cottage and Graham's Mill House. Do you have a favorite?

P.S. Visit Houses Onscreen to see more, including…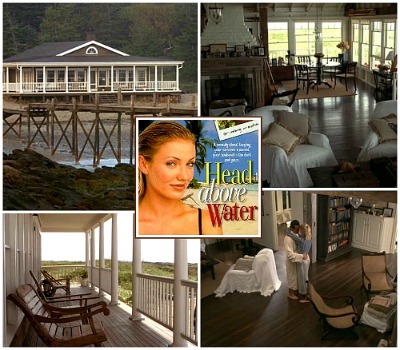 Cameron Diaz's Beach Cottage in Head Above Water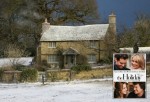 All hail Nancy Meyers, the queen of romantic comedies like The Holiday that never fail to deliver memorable sets. When she teams up with Production Designer…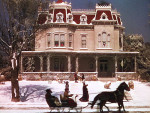 Which Christmas-Movie House do you wish you could spend the holidays in? Vote for your favorite below! (Click the pics to see interiors.) #1: Meet…