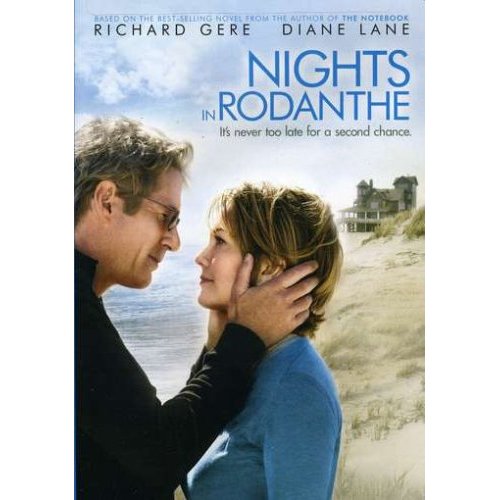 For all of you who have been following the sad saga of Serendipity, the inn from Nights in Rodanthe, I wanted to give you an update. The famous beach house sits on the edge of the Pea Island Wildlife Refuge in North Carolina's Outer Banks and has been in danger of washing away.
Last year the house was declared a "public nuisance," and things were looking grim for its future. Here it is as it looked in the Richard Gere-Diane Lane tearjerker, with the famous blue shutters:
And here is how it has looked more recently, as storms eroded the beach front and brought the ocean right up under the house itself (source):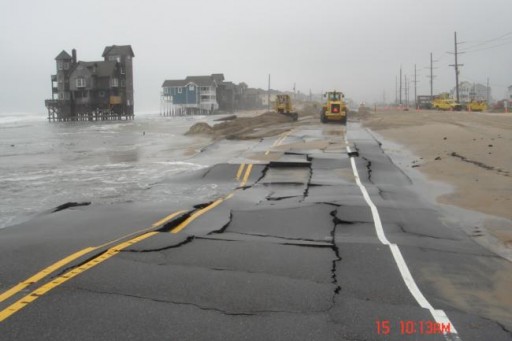 When the house was declared a "public nuisance," it meant that the owners would have to either move it or have it torn down (source). They had been trying to sell it for two years. Without any rental income coming in, it became a real hardship for them. They told the Island Free Press that they had "everything tied up in this house," and didn't know what to do next.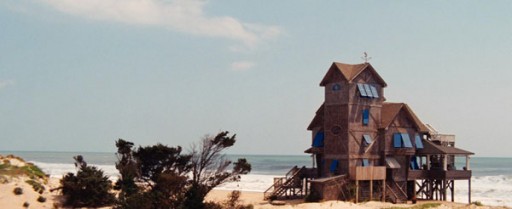 Then came the happy news that a buyer had been found. Ben and Debra Huss had fallen in love with the house and were determined to rescue it. Yesterday I was excited to get an e-mail from them. Here's an edited portion of that e-mail:
In April 2009 we went to Hatteras island to stay at Serendipity. Our intention was to rent the house for a week and enjoy the beach that Richard Gere and Diane Lane walked on. We were very surprised the house was not livable and the seriousness of the encroaching surf was going to destroy the house.
We decided to try to save Serendipity. We purchased the house and a coordinating lot on the ocean 7/8th of a mile south on Beacon road.
Our plans are to move the house this week and relocate it on new pilings around the 15th of Jan. We plan to restore it to the original splendor that it had in the movie.
Thanks to them, Serendipity is going to get a happy ending! They plan to start moving the house today, and there's a webcam set up for anyone who wants to watch the progress (it tends to come and go, so check again if it won't come up right away).
Many thanks to Ben and Debra Huss and all of the readers who have sent me updates from Hatteras Island on the state of the house. I will keep you posted as the house gets moved and restored.
UPDATE: See photos of the house being moved at WRAL.com. (Thanks, Maggy!)
For more information: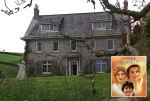 When Emma Thompson's Oscar-winning version of Jane Austen's Sense & Sensibility opens, we meet sisters Elinor and Marianne Dashwood, who have grown up in a grand estate…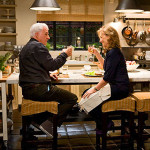 The minute It's Complicated hit theaters last month, I started getting reader e-mails about it. Every day, more people asked me to "Please feature It's…