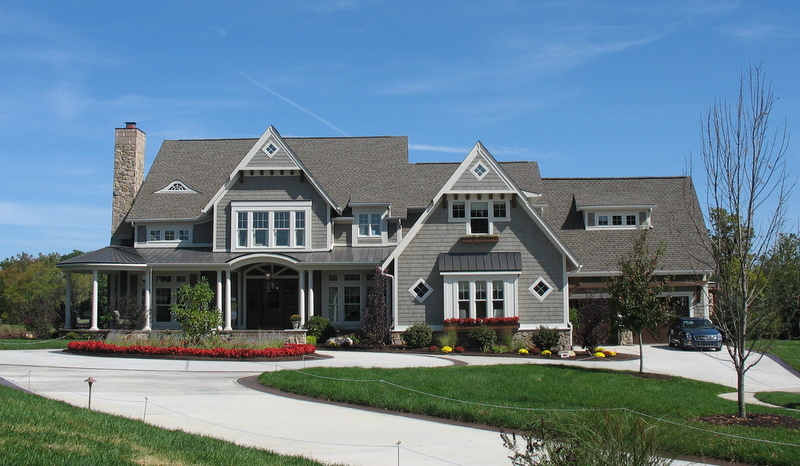 Home-a-Rama! Those of you who have been reading my blog for awhile know that I'm kind of a Home-a-Rama Home Show fanatic. I have only missed one year's show, and that was only because I had just had a baby (I should've planned that pregnancy better).
No matter where I lived, if there was a Home-a-Rama in town, I was there! When I was working as a designer's assistant in the 1990s, we decorated a house for our local Home-a-Rama, and it was one of the highlights of my life. I was so excited, you can't even imagine.
Each year, a group of custom home builders creates a "Dream Street" of new homes, each one trying to outdo all the others. And then some of the top designers in the city are recruited to decorate them to the hilt.
These are "Super Homes." Homes on Steroids. Everything is usually bigger-than-big, over-the-top, and kinda crazy. It can be a little kitschy that way, and you have to just go with it and enjoy the craziness. (If you find yourself saying, "Having your own ice cream parlor in the house isn't very practical, is it?" then you're at the wrong home show.)
After declaring my love for them last year, I was invited to tour the Indianapolis Home-a-Rama: Luxury Edition. How could I possibly say no?
The 5 homes featured in the home show were amazing. They weren't as over-the-top as usual–they actually showed some restraint, almost as if they were reflecting the current economy.
The first one I toured was Willow Bend Court built by Heartwood Homes, which "drew inspiration from the grand shingle style homes of New England."
This was one of my favorites on the home tour. I was disappointed when I first walked in the door and was told that photos weren't allowed. I sighed and slumped all the way through the house, seeing all the things I wished I could take pictures of.
As we were leaving, a woman asked if we had any questions about the house. I told her it was gorgeous, and I was sorry they wouldn't let me photograph it for my blog. I told her about you and how much you love seeing houses from these tours, and that the Home-a-Rama series just wouldn't be as good without the Heartwood Homes house.
She quickly gave me permission to go back through the house and photograph it. Hooray! So if you enjoyed this house, then you have Melissa of Heartwood Custom Homes to thank for making it possible.
I'm not always able to get the best photos on these tours since there are so many people to shoot around. I usually have to stand and wait for my chance and then snap as quickly as possible. To see a professional series of gorgeous photographs of this house–without all the other lookiloos in the way–go to their website and check out the picture gallery.
I also have to mention that the designers were Heartwood Designs & The Inside Job, who say they wanted the home to "harken back to the Gatsby era."