At the beginning of each new year we hear a lot about the decorating trends and colors that are gonna be big (whether we like them or not, ha). So I thought it would be fun to take a look at ten of them they're predicting for 2014 and discuss which ones we like, and which ones we could live without…

10 trends that Better Homes & Gardens says to look for this year:
1. Warm Grays
BHG writes: "Warm grays, those with yellow or reddish undertones, are the neutral of the moment and are as versatile as they are trendy. If you have beige walls, switching to warm gray is easy, yet impactful."
Do you have "gray fatigue" yet? Because there doesn't seem to be any end in sight to it. I'm glad they're talking about warming the tones up a bit this year because the cool grays can sometimes leave me, well, cold.

2. Gold and Brass
BHG says: "For so long, silver and its cohorts have been the first place metal in home decor. But yellow metals are inching back into the spotlight. Embrace the trend with gold accents that have a little softer finish, rather than metals with a full-on shine."
I groaned when I first saw this coming back. We worked hard to swap out all the shiny brass doorknobs and light fixtures in our house. But I like the fresh ways people are using gold in their rooms now, which warm up all those gray rooms out there a bit!

3. Pastels
BHG says: "Think bright, not Easter egg-esque when it comes to pastels. These fun hues lend a feminine aura to flea market finds and rustic and industrial finishes. Or, paired with traditional furniture and styling, can recall a romantic look."
Pastels just aren't my thing. I don't care for Pantone's "Radiant Orchid" Color of the Year, either. But I'm trying to keep an open mind. Maybe it'll grow on me? (Or maybe not.)

4. Taxidermy
BHG says: "Taxidermy is making its way out of the hunting lodge and into the mainstream. Whether it's antlers and horns or stuffed heads and papier-mache models, taxidermy-inspired pieces offer a quirky alternative to standard wall decor."
I've noticed some backlash against this (online, at least). I know whenever I show a room that has any kind of taxidermy in it, there's a vocal number of you that strongly dislikes it. Are you one of them?

5. Dhurries
BHG says: "These flat-weave rugs hail from India and are a stylish alternative to thick-pile rugs."
This one interested me because I've been shopping for an area rug for my family room. They come in some beautiful patterns and colors.

6. Wallpaper
BHG says: "Rather than wallpapering a whole room, try it on just an accent wall or in a small space, such as an entryway or powder room."
Accent walls seem to be more popular than papering entire rooms these days, like they did in this bedroom. Have you been convinced to try it in your house yet or are you resisting this trend?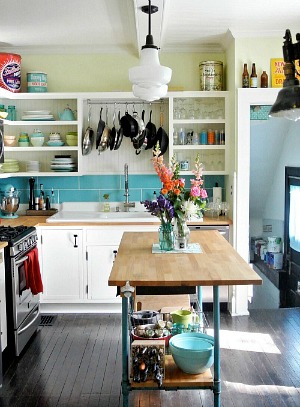 7. Schoolhouse Style
BHG says: "School is in session in the decorating world. Repurposed schoolhouse furniture, beakers used as vases, and vintage flashcards as art will add a bit of flea market whimsy to your home."
I like a little schoolhouse style, especially in a kitchen like this. (You can see more pics of this bungalow kitchen here.)

8. Painted Furniture
BHG says: "Those old, awful pieces you see sitting forlorn in the corners of secondhand shops are no longer being ignored. Innovative homeowners are seeing past the tacky finishes and dated hardware and, with just paint, retro pieces are revived for the 21st century."
Yes, and this is why you can no longer find as many great deals on ugly old furniture, can you? It started with painting everything white, but now the trend seems to be more about painting things in bright colors like hot pink. You can also find plenty of new pieces that come in fun colors like these turquoise blue beds. (You can see the rest of that color-filled cottage here.)
I have to say, though, I think people are starting to appreciate the look of beautiful wood in rooms again after years of painting everything in sight. I know I am!

9. Statement Light Fixtures
BHG says: "Good lighting is essential to any room, but now it can be more stylish, thanks to gorgeously executed fixtures available everywhere. We are especially in love with circular pendants with industrial details, like the brass one over the island in this kitchen."
Light fixtures definitely seem to have taken on more importance in decorating than I remember them having even ten years ago. Most of us used to live with the standard fixtures that came with our houses and not think twice about them, but we're not content with the basics any more, are we?

 10. Colorful Front Doors
BHG says: "Another Pinterest favorite is a front door painted in a cheery hue as an easy way to spruce up your home's exterior."
I like this trend. I still have the magazine pics from Ann Rae's house with the turquoise door pinned to the bulletin board next to my desk. (I loved her kitchen, too!)

What other trends are you seeing? I'm surprised Gallery Walls like the one shown above didn't make the list. I think they've gotten more popular as more people try to figure out how to fill the blank walls behind their new flat-screen TVs. I also think the color navy deserves a mention. It's popping up everywhere. What do you think?
I'd love to hear your thoughts on these trends and the others you're seeing. Which ones are you loving right now, and which ones are you hoping have had their day and will go away?

{Visit BHG to read the article and see more pics.}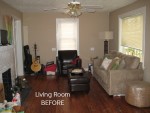 Michelle and Brian are newlyweds enjoying first-time home ownership in a 1950s bungalow. She says, "It's been a labor of love, and we've enjoyed the…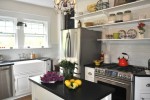 For years the open-concept kitchen has been touted as the best kind. Something every house should have. Countless walls have been knocked down as a result, and…