When we left off in my Family Room Makeover Saga, we had just repainted it and replaced the carpet with hardwood floors. We aren't spending any more money on the room for a while since our wallet took such a hit from the flooring, but it's coming together. Wanna see how it looks now?
I've been playing with different things that I found around the house to see which colors I like with the Sherwin-Williams Sea Salt paint color. It looked pretty good with nothing but neutrals, but it's been so cold and snowy here that I was in the mood for more color right now.
I'm sure I'll be switching things around in here a lot, but this is how it looks today. Obviously we need a rug and pillows and some artwork, etc. But if I waited to show you the room when it was totally finished, who knows how long you'd have to wait??
I ordered the black and white "Concorde Medallion" window treatments from Ballard Designs last year. The background was much more tan than I expected, but I think it warms the room up and coordinates pretty well with the tan linen ottoman in front of the sofa.
I think the room could look really pretty with lots of silver and gold in here next Christmas.
There's a lot of experimenting going on in here. I keep moving things around. I stole borrowed this glass lamp from Dave's study to see how green would look in the room with the new wall color:
These big glass vases are the only new things I let myself buy for the room so far (they were from Target, so not too expensive). I put some river rocks and an electric candle inside one of them and it looks really pretty flickering at night:
We installed the same hardwood that the builder put in the foyer and kitchen of our house when it was built 10 years ago, so we now have it throughout the first floor. It's Bruce Hardwood in "Gunstock Oak."
Unfortunately, the wood in the other rooms is 10 years old, so it is pretty faded compared to the new. We'll have to get them refinished eventually. But I'll deal with that later…
I pulled various pillows into the room to see which colors I like in here for Spring (because Spring has to come someday, right??).
If you missed it, you can see all the "before" photos and details about the makeover, like how we trimmed out the windows, here. Let's take one more look back at how the room looked at the beginning of January, back when it still had Eddie Bauer "Pecan" paint on the walls and carpet on the floor:
And here's how it looks today:
I'll keep you posted as I get things like a rug, new pillows, and art for the walls. Several of you gave me ideas for different things to try on our fireplace wall that I might experiment with, too, if I can convince my Handy Man to change things up a bit. 😉
*2015 UPDATE: Here's how it looks a year later, with a rug!*
Dave's home office got new paint and flooring, too, and this week we've been painting the kitchen (I posted a pic on Instagram if you want to see how that's coming along), so we've been living in "makeover mess" here for weeks. Anyone else tackling any house projects right now? Do tell!


P.S. Visit "My House" to see more, including…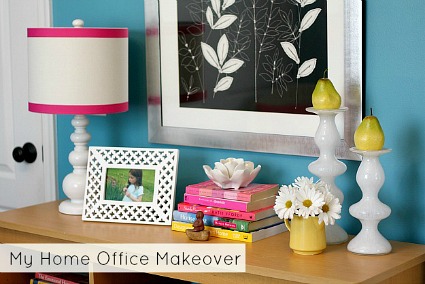 Where the "Blog Magic" Happens
(Visited 578 times, 1 visits today)