1. How KariAnne Created a Transom Window for Her Kitchen
Oh, how I love KariAnne's house. Her blog Thistlewood Farm delights and inspires me, and this post about how she added character in her kitchen with a DIY transom window did, too. Now I'm looking around my house, trying to figure out where we could use one in ours. (You may remember I featured her house when it was decked out for fall. Gorgeousness.)

As the mother of a teenager, I love seeing spaces like this game room Becki created for her sons. Check out all the before and after pics and details on her blog Curious Details.

3. Feeling Pressure to Lead a Magazine-Worthy Life?
I loved Beth's heart-felt post at Home Stories A to Z about how our quest for perfection at home can paralyze us. It's so true. Along with all the inspiration we get online, we can feel more pressure than ever to lead lives that are picture perfect. (I featured her sons' bedroom makeover here — still one of my faves.)

4. 23 Signs You're Secretly an Introvert
My introversion has defined a lot of my life. For one thing, I have always found ways to work from home because I couldn't focus in an office environment filled with people (thank goodness for the Internet!). I could relate to almost every point in this article, and some of them made me laugh out loud (like #14 — I hate talking on the phone). Who else can relate? 🙂

5. How to Decorate Large Living Rooms
Furnishing a big room — especially with those two-story-tall walls that builders have gone a little crazy with — can be a challenge. Long-time readers know I've been griping about the two-story room trend for years. (My personal solution was to build a playroom above our family room.) If you've got a too-big room you aren't sure what to do with, check out Melissa's advice at The Inspired Room.

6. Why Fall Sometimes Makes Me Sad
We're moving my son Jake into his college dorm this weekend. He's excited and I'm excited for him (he got into one of the top engineering schools in the country — proud mama here), but it's hard for me to wrap my mind around the fact that he's leaving home. My baby! So I got the sniffles while reading Tina's beautiful post at The Enchanted Home about how fall can be bittersweet for those of us with older kids. Our nest isn't empty yet, but I know how fast the years fly by and plan to treasure every minute of "daily motherhood" I have left.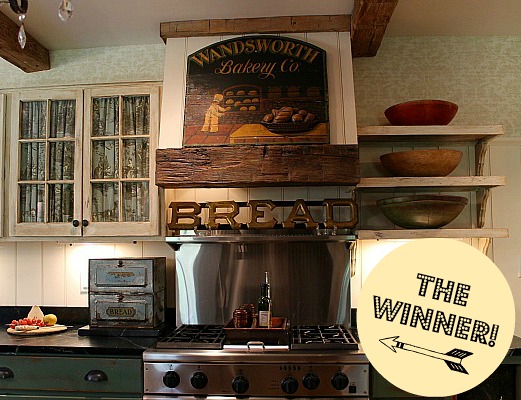 Congratulations to Renita, the winner of my Kitchen Contest! She promises to share more of her house projects as she finishes them, so stay tuned. I also have to say thanks again to all of the readers who submitted photos and shared their spaces with us. I loved seeing the beautiful and creative kitchens you cook in.
Enjoy the holiday weekend! We're packing up the car for college and heading out soon. I read an article that said that you shouldn't let them see you cry when you drop them off ("save your tears for the ride home") — wish me luck!
(Visited 6 times, 1 visits today)