There's nothing quite like that "new year smell" when the air is cold and crisp and filled with possibility. I took down all of my holiday decorations and now it feels like I'm starting with a clean slate. I'm sitting in my sunroom, looking out at the first snow of the winter, and thinking about the 12 new months on the calendar waiting to be filled.
After giving things a good ponder, here are 7 things I hope to do in 2012…
1. Breathe More. I work way too much, which is one of the hazards of doing something you love for a living. I rarely take a full day off–there's always email to answer, houses to research, and posts to write. I have to keep up with Twitter, Facebook, Pinterest, and all that stuff, too.
But when I work too much, I get cranky and out of sorts, and my family doesn't deserve that. I've got to put more boundaries on my work hours, and when I start getting stressed out, I need to take the time to just sit back, relax, and breathe.

2. Give the Blog a New Look. It's been over 2 years since my blog got its last redesign, and it's time for an update. I've been researching logo and blog designers I might want to work with, so if you have any suggestions, let me know!
3. Simplify My Blog Life. Despite the universally accepted blogging advice about diversifying your income with small ads, big ads, text links, affiliate programs, giveaway posts, and on and on, I've decided to do the opposite in an effort to simplify my life. I may reconsider this down the road, but for now:
I'm no longer accepting small ads from private sponsors. Haven Home Media will continue to handle all of the larger banner ads for me so I can focus on the things I love to do (and that doesn't include sales, billing, and accounting).
I phased out the text links and affiliate ads last year and have no plans to bring them back.
I won't be doing any giveaways. If free stuff is what you're looking for, you can find it on just about every other blog out there. I'd rather write about houses.
I'm approached about publishing books, writing guest posts, speaking engagements, and a million other things all the time. I plan to say no to 99% of them this year. Some people blog in hopes of getting into magazines, getting a book deal, or getting on TV. That's great for them, but I'm already doing what I love, and believe it or not, blogging is it! 🙂
4. Cover More Cottages. When I removed the "Advertise Here" link in the nav bar at the top of my blog, it made space for a new page. It was easy to decide what to add in its place: my favorite cottages. I'll continue adding to it throughout the year. I know I'm not the only one who loves looking at cozy little houses with lots of character. If you do, too, check it out!
5. Come Up with a Better System for Handling Email. It has become increasingly difficult to keep up with it all. Toward the end of 2011 I started taking a day off from posting each week just to catch up and will probably continue to do so.
Some of my blogger friends have hired Virtual Assistants to help them with theirs, but I just can't imagine turning it over to someone else. I'd still want to see every email and would be telling them exactly how to respond to each one, so it wouldn't save much time in the long run! I need to figure out what other tasks I could delegate, though, to give me more time to tackle my inbox.
6. Share More Snapshots of My Life (with Instagram). I just got an iPhone and was determined to figure out how to take those cool photos that other bloggers are always posting on Twitter and Facebook.
The photo I took from my sunroom at the top of this post was done with the Instagram app on my phone. This week I started posting snapshots on Facebook and having fun with it. I'm learning as I go!
7. Read More. I was an English major in college because I love to read. Now most of the reading I do tends to be online. I want to take the time to read more books from cover to cover this year–especially the kind I can learn from and be inspired by. I have a stack of them waiting for me!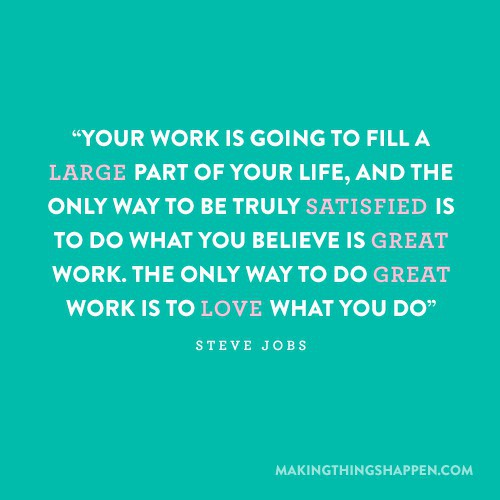 I read the Steve Jobs biography over the holidays and it was fascinating. I love this quote of his (above) because it's so true. For a lot of years I worked hard at things I didn't love, and my life truly changed the day I began writing about the things I'm passionate about.
What are your hopes for the new year? Any resolutions or goals for 2012? I'd love to hear them!

(Sunroom photo taken on my iPhone with Instagram–see more of my sunroom here. House with yellow door via Tiek Built Homes; yellow pitcher via Better Homes & Gardens; yellow foyer by Meg Braff Interiors.)
(Visited 1 times, 1 visits today)