Okay, so I resisted it as long as I could, but I finally broke down and joined Pinterest recently. It hasn't totally rocked my world or changed my life, despite all the hype I had heard about it, but it is kind of fun to play with. It's basically a place to "pin" pictures you're "interested in" (Get it? Pinterest?).
Lately I've been seeing a lot of wonderful little built-ins like this on the site, so I started a board called "Hooked on Nooks." Here are a few I pinned to it:
Via The Zhush 
Check out this spot in the kitchen that's perfect for Spot. I need this for my little dog Maizie. I'm always tripping over her when I'm trying to cook!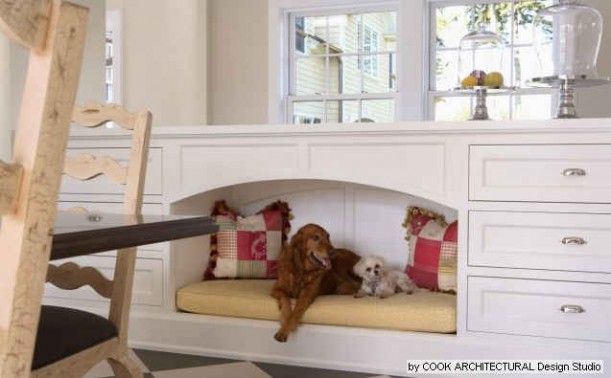 Here's another sweet built-in doggy bed from Traditional Home:

I love books, and just looking at Iris's cozy book nook from her English cottage in The Holiday makes me happy:
My daughter Lily has her own board on my Pinterest page, called "Lily's Favorite Things." Here's a nook that she added to her board, writing, "This bed looks very warm and soft! I wish my bed was in a small space like that!"
Wasn't that a guest room that Emily Henderson decorated on "Secrets of a Stylist"?
One of the problems with Pinterest is that it's sometimes really hard to track down the original source of the photos. It links to the blog or Tumblr account or whatever that it was found, but 9 times out of 10 when I go back to them, they don't tell where they got them in the first place.
Tum Tum Tree
And I can't tell you how many times I've seen photos from my blog that are credited as "Google Images."
Houzz
Here's one I definitely recognized, though, as a nook from Kathryn Ireland's house in Ojai, which is now owned by Reese Witherspoon (you can see my post about her house here):
Are you on Pinterest? Are you addicted to it? Resisting it? I'm not on it every day, but when I do start playing around on there, it's easy to get sucked in and lose track of time. If you belong to Pinterest, you can follow my boards @hookedonhouses.
P.S. Don't forget I'm having a Fall Linky Party on Friday–show us how you're decorating for fall!
(Visited 4 times, 1 visits today)